Podcast: Play in new window | Download | Embed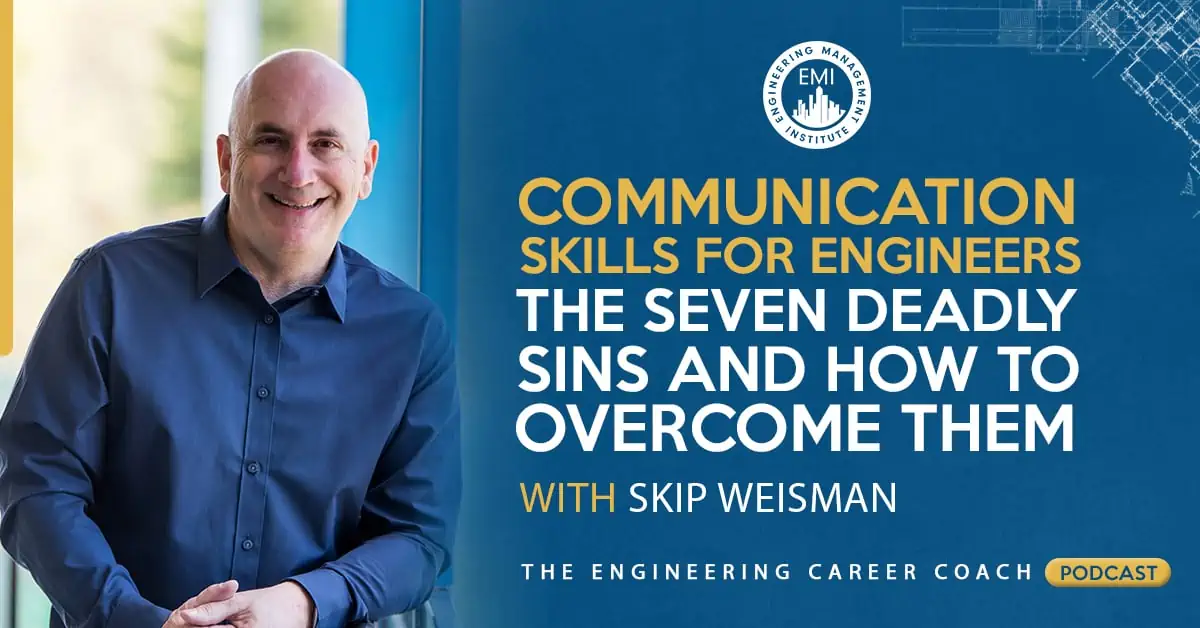 This episode of The Engineering Career Coach Podcast focuses on communication skills for engineers. I interview Skip Weisman who is an internationally recognized expert in workplace communication skills for engineers and discuss workplace communication, one of the skills that is critical to building your engineering career.
"The way we communicate with others and with ourselves ultimately determines the quality of our lives" – Anthony Robbins
In the Take Action Today segment at the end of the show, Skip gives us two practical tips to immediatley improve our communication skills.
Skip Weisman works with small business owners and their teams to create "championship company cultures," by getting all individuals in the work environment to communicate more effectively together. He was a CEO for 5 different professional baseball franchises in the U.S. and has been invited to speak to engineering organizations and associations to help engineers and project managers to communicate more effectively within their own organizations, as well as to serve clients at much higher levels to improve project profitability. Weisman has appeared on Fox Business News and is often quoted in articles for Forbes.com and US News & World Report on workplace communication issues.
According to Weisman, engineers take a 67% risk of damaging important relationships with people every time they speak. Skip gives us the three potential outcomes with regards to communication skills for engineers: (1) building relationship, (2) eroding trust, and (3) instantly destroying the trust.
Communication Skills for Engineers
Listen to this session and learn the seven biggest mistakes engineers make that cause virtually all of their communication problems:
Lack of specificity – lazy communication habits, communication that is not specific enough
Lack of desirable behaviors – telling people what not to do (e.g. do not forget to do this or that, etc.) instead of what we do want them to do
Lack of immediacy – putting off a difficult conversation (e.g. bad news, problems), communication procrastination
Lack of respectful rebuttals – using BUT (e.g. we wanted to give you a raise BUT), people know something bad is coming, use AND instead
Lack of appropriate tone and body language – raised voices, yelling, pointing, stems from lack of emotional intelligence
Lack of focused attention – when you are multitasking when someone is talking to you, this is devaluing the other person
Lack of directness and candor – not talking about the elephants in the room, people talking in general context hoping people get what they really mean
Weisman also discusses in detail the reasons why these communication mistakes occur and perpetuate and he also gives some simple strategies to overcome these mistakes.  He really digs into the importance of communication skills for engineers.
Books mentioned in this session include:
Resources and links mentioned in this session include:
Toastmasters
Skip Weisman's website
The 7 Deadliest Sins of Leadership & Workplace Communication
Sponsor for this session: 
PPI2Pass Review Courses for FE, PE and SE Exams
Which of the seven communication mistakes do you think you need to reduce or eliminate in your engineering career and life?
We would love to hear any questions you might have or stories you might share with regards to communication skills for engineers, especially about how you have overcome your communication mistakes with Weisman's or your strategies.
Please leave your comments, feedback or questions in the section below.
To your success,
Anthony Fasano, PE, LEED AP
Engineering Management Institute
Author of Engineer Your Own Success