Podcast: Play in new window | Download | Embed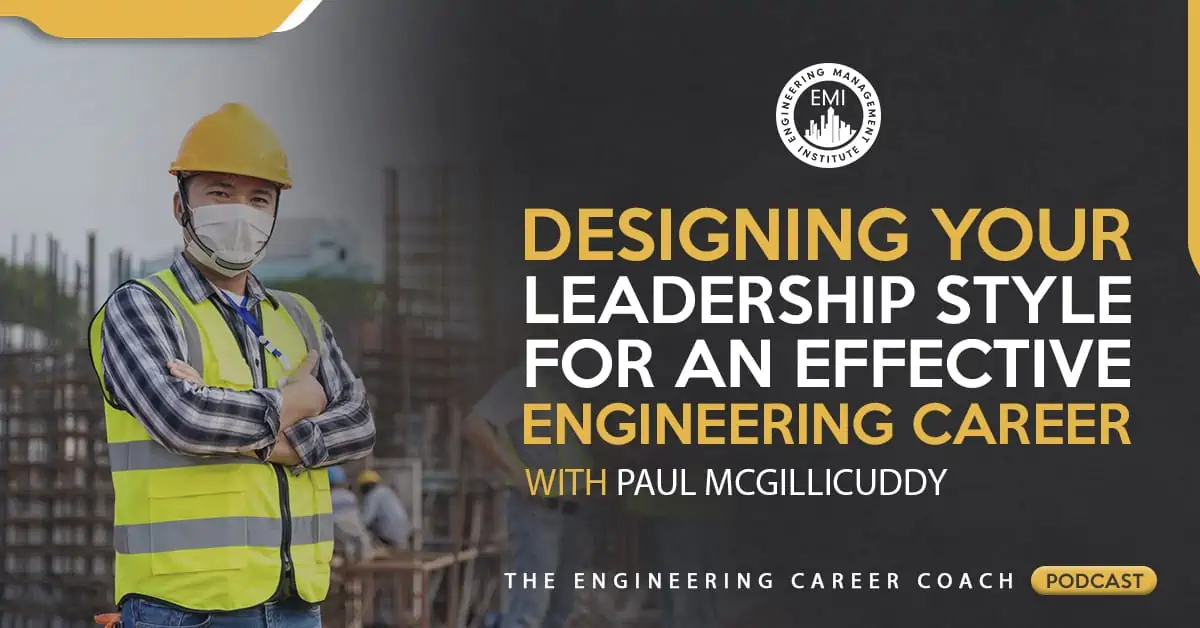 In this session of The Engineering Career Coach Podcast, Chris Knutson interviews retired major general Paul McGillicuddy on leadership and how to design your leadership style. They dig deep into leadership traits, where to find leadership training, how to deal with a difficult boss, and many more straight from Paul who has an amazing role of leadership in his entire career.
Leadership is a skill that can be learned, observed, and put into practice in daily life. There is definitely no shortage of leadership opportunities in our work regardless of our position or title.
"A leader is best when people barely know he exists, when his work is done, his aim fulfilled, they will say: we did it ourselves." – Lao Tzu
Paul is a retired Air Force General Officer with 31 years of service to our nation.  He flew multiple aircraft including the T-37, T-38, F-111, F-16, U-2, RQ-4 and the KC-10.  He's also a decorated Gulf War veteran having received a Distinguished Flying Cross for gallantry in action.  In addition to this he also had the opportunity to command three wings both in the U.S. and deployed and in his final position in the Air Force he served as the Vice Commander for the U.S. Air Force for the entire Pacific region, where he was second in command of over 45,000 people stationed across the Pacific region.
In the Take Action Today segment of the show, Paul shares a mindset that you can implement to experience change in your leadership practice.
Listen to this session and learn how to be effective as a leader. Here are some key points Paul discussed in this episode:
Leadership is not all about you; it's about taking care of the people that work for you.
When you screw up or make mistakes, you have to make amends and apologize, sincerely and quickly.
You need to be a leader and experience it.
Lead by example. You have to earn their respect and trust.
Every decision that comes to you is not met with 100% satisfaction.
Leadership is a continuous learning process.
The need to be understood is as great as the need for oxygen.
Traits of a good leader:
Integrity – You have to have integrity as a leader. Act in a manner that you would like your entire organization to act.
Humility – Kindness and humility go hand in hand.
Kindness – The best leaders are kind, have empathy, and can put themselves in your shoes.
Willing to be out front.
Where to find leadership training:
Practice your leadership style by joining a professional organization similar to your career, or other organizations like Boy Scouts, your church, etc.
Watch your good leaders and take notes, and watch your bad leaders and take notes to make sure you will not do the same thing they're doing.
Dealing with difficult boss:
Adjust to your boss' leadership style as long as he/she operates with integrity.
It wasn't the job of my boss to get along with me; it is my job to get along with my boss.
Time management skills:
Manage your calendar. Make sure the things you need to do are in your calendar.
Learn to delegate and trust. Ask yourself: Why am I doing this? Why can't someone else do this instead?
Process emails in batches and get everything done.
Never leave work until work is done.
Networking tips:
Prefer face-to-face networking or via phone call.
Go from small connection to a much larger connection and see opportunities to help each other.
Books mentioned in this session include:
Jefferson Davis and His Generals: The Failure of Confederate Command in the West (Modern War Studies)

7 Habits of Highly Effective People

Resources and links mentioned in this session include:
Leadership 101- A New Paradigm?
Humble Pie Breakfast for Champions
Engineering Career Summit
Boomerang App
The Email Game
Leaders Eat Last TECC Book Note
Ways to connect with Paul McGillicuddy
Twitter: @phmcgillicuddy
Paul McGillicuddy LinkedIn Profile
Paul H. McGillicuddy LLC Website
E-mail Paul McGillicuddy 
Sponsor for this session:
PPI2Pass Review Courses for FE, PE, and SE Exams
How should you start training to be a good and effective leader?
We would love to hear any questions you might have or stories you might share on how you plan to use this episode to change your mindset and to become a better and effective leader.
Please leave your comments, feedback or questions in the section below.
To your success,
Anthony Fasano, PE, LEED AP
Engineering Management Institute
Author of Engineer Your Own Success