Podcast: Play in new window | Download | Embed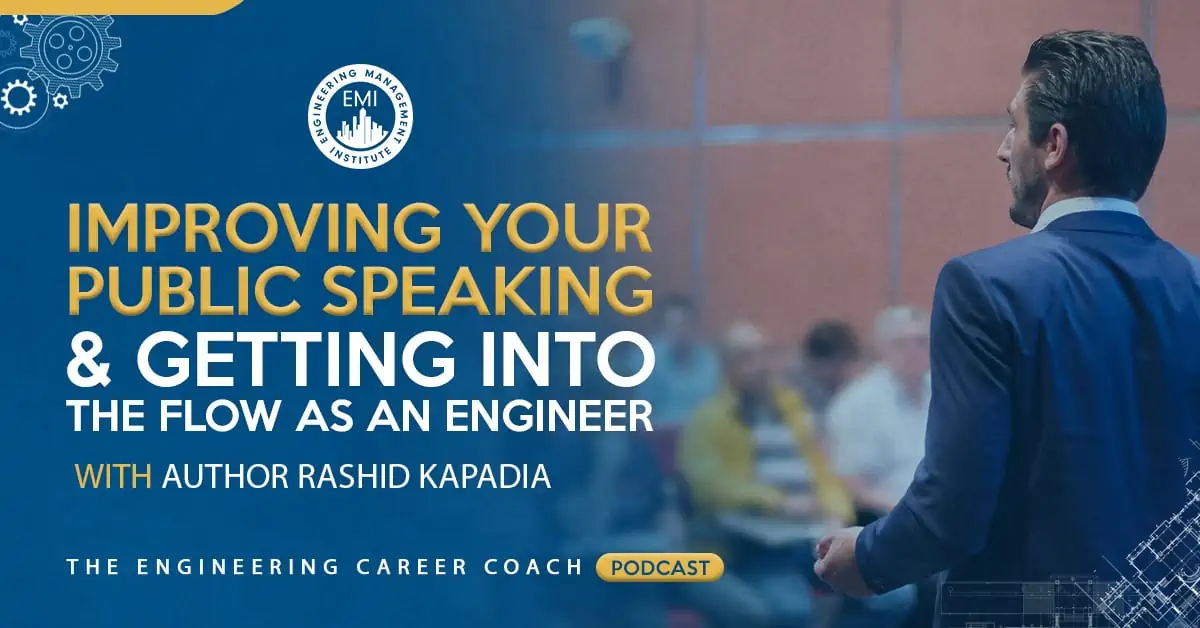 In this session of The Engineering Career Coach Podcast, I interview Rashid Kapadia who is an author of book entitled Necessary Bridges, and he talks about how engineers can improve their public speaking skills and get into the flow or put themselves in an atmosphere to succeed.
"May what I do flow from me like a river, no forcing and no holding back, the way it is with children." ― Rainer Maria Rilke
Rashid N. Kapadia, PMP, is a speaker, project manager, engineer, consultant, and author. Born & raised in India, he started his career in the merchant navy, where for over 17 years he progressed from marine engineering apprentice to chief engineer.
Rashid moved to the US in 1995 pursuing a Masters degree in Marine Management and other advanced marine commercial certifications in Chartering and Agency. In the US, over 17 years, he worked for 3 organizations providing leadership in commercial merchant shipping, chartering & operations, marine and offshore engineering and repair operations, project management, and business development.
In 2014 he took a career sabbatical to write a book and polish his public speaking skills. In 2015, along with his wife, he co-founded Necessary Bridges, Inc. Rashid is a lifelong student and an avid reader, constantly looking for new knowledge that can be applied to uplift engineers and solve problems.
In the Take Action Today segment at the end of the show, I give you some tips on how to get a good night sleep.
Listen to this session and learn some of the key points Rashid discussed in this episode including:
Steps to take to improve your public speaking.
Learn the analogy of public speaking with lubricating oil.
What is flow? It is a state of mind and body when you perform at your best and feel your very best. Do the very best you can and feel very good as a result of that.
Try to transition to a state of flow and acquire mastery.
Surround yourself with flow triggers, anything which captures your attention.
Part of the good flow is having a good rest, plan your sleep routine.
Put yourself in an atmosphere or go into the zone that will make it easier for you to get into the flow.
Practice pre-speech relaxation techniques and focus entirely on your audience.
What can engineers do to improve public speaking?
First, you must have the commitment and belief that public speaking will help you in your career.
Second, you must create a project charter which is a formal document recognizing the existence of a project. Sample of project charter can be found here.
Books mentioned in this session include:
Necessary Bridges: Public Speaking and Storytelling for Project Managers and Engineers

Flow to Psychology of Optimal Experience

The Rise of Superman: Decoding the Science of Ultimate Human Performance

Sleep Smarter: 21 Proven Tips to Sleep Your Way To a Better Body, Better Health and Bigger

Resources and links mentioned in this session include:
Necessary Bridges website
Steven Kotler's talk at Google
Sponsor for this session:
PPI2Pass Review Courses for FE, PE, and SE Exams
What other techniques have you used to help you improve your public speaking skills?
Please leave your comments, questions and feedback in the comments section below.
To your success,
Anthony Fasano, PE, LEED AP
Engineering Management Institute
Author of Engineer Your Own Success
Photo courtesy of Rashid Kapadia