Podcast: Play in new window | Download | Embed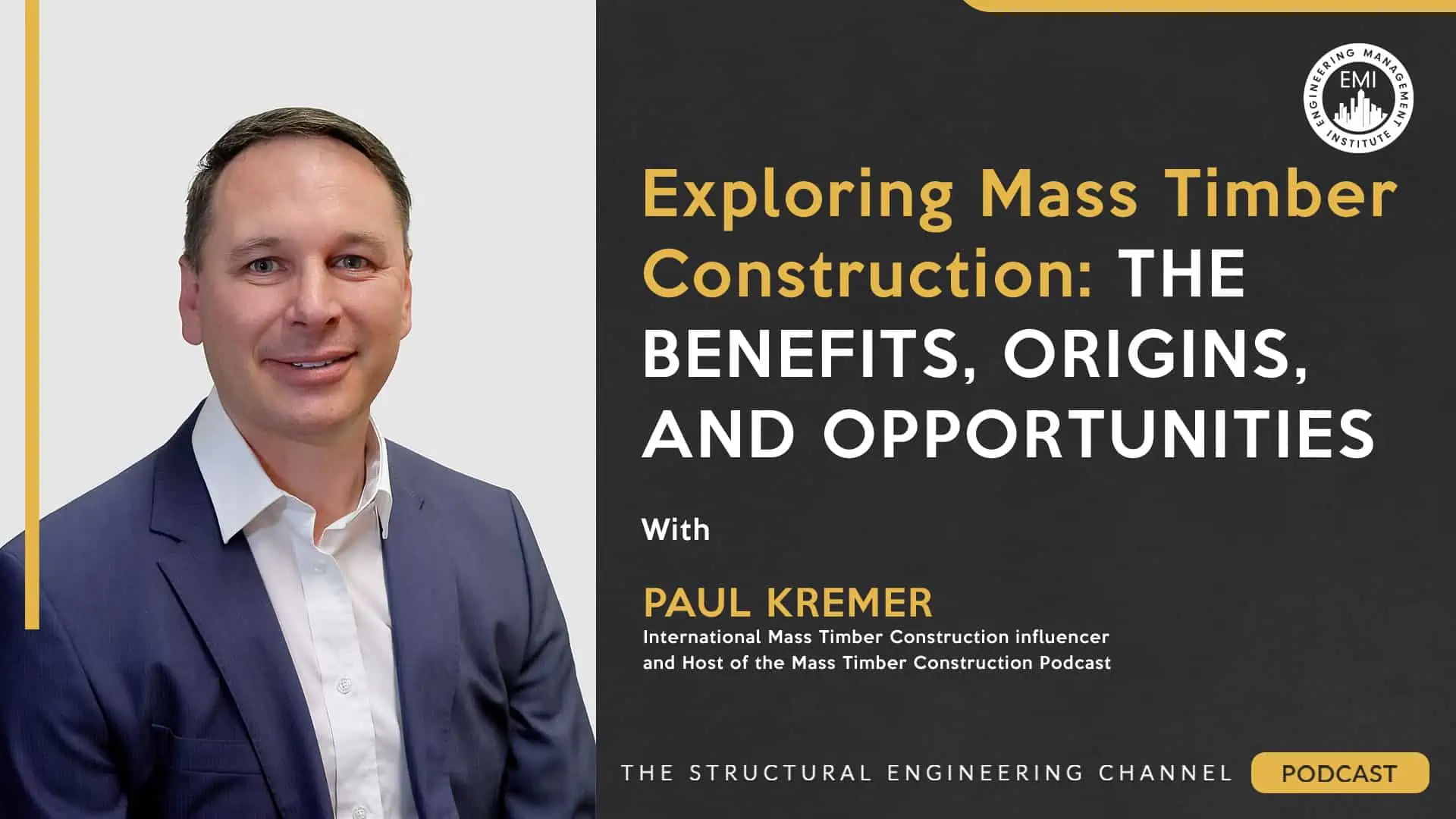 In this episode, we talk to Paul Kremer, an influential figure in Mass Timber Construction and host of the Mass Timber Construction Podcast. He discusses the origin and benefits of mass timber construction, its connection to Building 4.0, and how to get involved in the field.
Engineering Quotes:


Here Are Some of the Questions We Ask Paul:
What is mass timber construction and how did it came about?
What are the benefits of using mass timber besides its quick construction time?
Could you go into the growth of mass timber, e.g., its adoption rates and how it's progressing in North America, Australia, and other parts of the world?
Can you explain what the Building 4.0 concept is and how mass timber construction fits into it?
From the engineering side, what does that look like for the structural engineer if they have a mass timber project?
Could you go into some of the more notable mass timber construction projects around the world?
For engineers who are trying to get into mass timber, do you have any advice or resources that they can go to learn more about it and to get into it?
Here Are Some of the Key Points Discussed About Exploring Mass Timber Construction: The Benefits, Origins, and Opportunities:
Mass timber construction involves using large format panels made by laminating or gluing boards of timber together. The technique has its origins in a patent for Composite Timber filed in 1923 in the U.S. and has been used to build mid-rise structures up to around 20-30 stories high. Mass timber construction is effective because it requires no wet trades or steel reinforcement and is being developed in hybrid forms that incorporate concrete cores and other materials to enable taller buildings.
Mass timber is a renaissance of using timber as a construction material, which sequesters carbon from the environment and is a renewable resource. Mass timber construction has health benefits for the occupants of the building, including good air tightness and stable internal climate conditions. While mass timber may be more expensive than concrete in terms of dimensional thickness, it can save labor, time, and site costs, resulting in up to 20% savings over other construction approaches.
Mass timber is only 1.6% of global concrete production, and 1% in the U.S. specifically. European manufacturers are more competitive due to their experience and the special mechanical properties of their timber species. Despite this, mass timber can still be cost-effective due to its stiffness and spanning capabilities, and can provide numerous benefits such as carbon sequestration, renewable resources, and health benefits.
In Singapore, most of the mass timber used is European and designed using the Euro Code, requiring the European technical assessment to harmonize with the code. There is a design of the structure and verification testing on the ground in Singapore using various laboratories. The Europeans have a good hold on how to distribute their product globally.
Building 4.0 refers to the integration of digital technology into the construction industry, with tools such as BIM, machine learning, virtual reality, and augmented reality. The goal is to create a more efficient building process, with digital fabrication as the ultimate objective, where buildings are constructed from digital files that are sent directly to computer-controlled machines for assembly on-site. While this is still a utopian view of the future, Building 4.0 aims to transform the industry through modern methods of construction and the use of digital technology.
Digital design can lead to perfect alignment in construction, as seen in a large building project where service risers were precisely placed using a digital model and CNC machines. However, the challenge lies in achieving collaboration between architects, developers, and planning teams to ensure the BIM modeling is accurate and can be translated seamlessly into the construction process.
Mass timber construction requires a different approach compared to traditional construction methods. It is important to start by designing the building with timber in mind, rather than trying to adapt a steel or concrete design. Considerations include load transfers, connections, and building shortening. Schools and universities need to incorporate education on mass timber construction to increase awareness and understanding of this renewable building technology. Woodworks in North America offers an open-source guide and local support for engineers and architects working on mass timber projects.
In Europe, apprenticeship programs are attached to engineering courses where students work with materials and tools, gaining hands-on experience in restoring, manufacturing, and connecting timber. This practical knowledge is crucial for understanding the design, construction, and production of timber panels and ensuring a successful outcome. Without this knowledge, the construction process can be a fragile ecosystem.
The genesis for mass timber globally started in the UK with two notable buildings: Bridport House and Stad House. Lend Lease designed and delivered the Forte Building in Melbourne, which was the world's tallest building made of mass timber. This sparked competition among countries around the world, resulting in the construction of many tall buildings made of mass timber. The tallest residential tower is Ascent in Milwaukee, and the largest volume of mass timber is at Nanyang Technical University in Singapore. The tallest hybrid building will soon be built in Sydney for Atlassian, using a combination of steel and post-and-beam construction.
There are many resources available for those interested in mass timber construction. The Woodworks Association is a good resource, as well as upcoming conferences in Portland and Norway, and the CLT Handbook. Timber should be used in concert with other construction materials, as it is not an isolated material. Timber's carbon sequestration capabilities make it a practical choice for sustainable construction.
Students must try to stand out from other graduates by gaining knowledge and expertise in mass timber technology and its role in the digital building ecosystem. Mass timber offers an opportunity for engineering and global sustainability, and employers are increasingly interested in candidates with unique attributes. The mass timber sector is growing rapidly, and investing in this field could be a good way to secure a unique and promising future.
More Details in This Episode…

About the Guest: Paul Kremer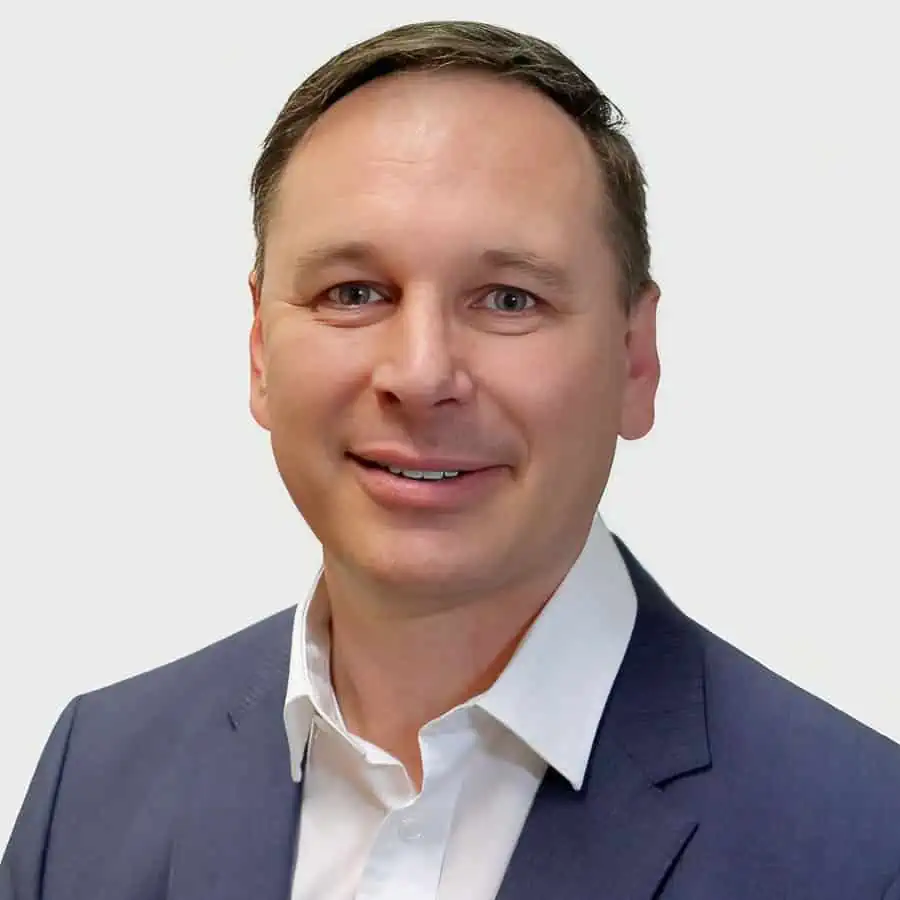 Paul is an international mass timber construction influencer and is the host of the Mass Timber Construction Podcast. Paul has been instrumental in evolving the construction market in Australia and New Zealand over several years, working specifically in the prebuild and panelized construction sectors. Paul is an Associate Professor in Engineering at Deakin University and Research Fellow at the University of Melbourne.
About the Host: Mathew Picardal, P.E., SE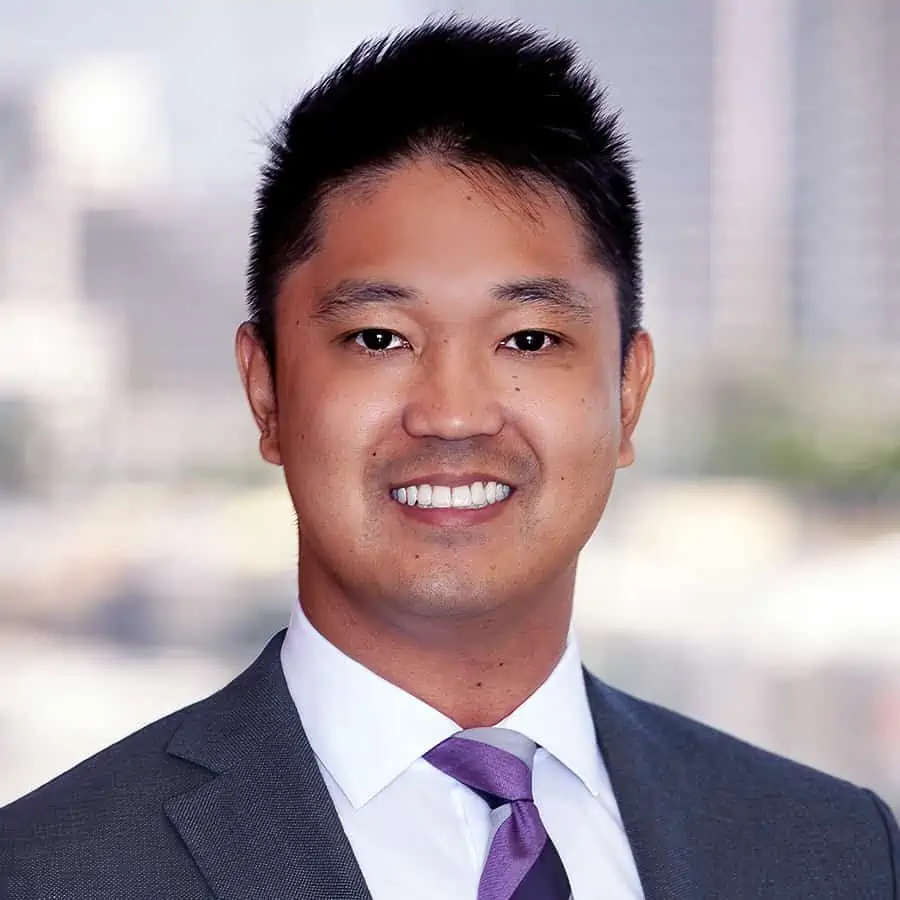 Mathew is a licensed engineer, practicing on structural projects in California, with an undergraduate degree from Cal Poly Pomona and an M.S. in Structural Engineering from UC San Diego. He has designed and managed various types of building structures, including residential wood apartment buildings, commercial steel buildings, and concrete parking structures and towers. He also hosts the new YouTube channel "Structural Engineering Life," through which he promotes the structural engineering profession to engineering students who are not familiar with the industry perspective.
Books Mentioned in This Episode:
CLT Handbook: Cross-Laminated Timber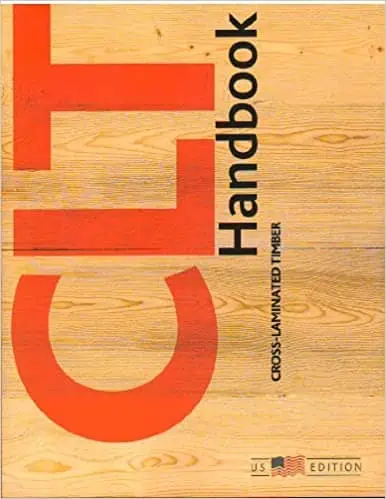 Sources/References:
Mass Timber Construction Journal
Bridport House
Forte Tower Melbourne
Ascent Skyscraper in Milwaukee
Nanyang Technological University in Singapore
Woodworking Industry Associations
Connect with Paul Kremer on LinkedIn
Please leave your comments or questions in the section below on the benefits, origins, and opportunities of mass timber construction.
To your success,
Mathew Picardal, P.E., SE
Host of The Structural Engineering Podcast