Podcast: Play in new window | Download | Embed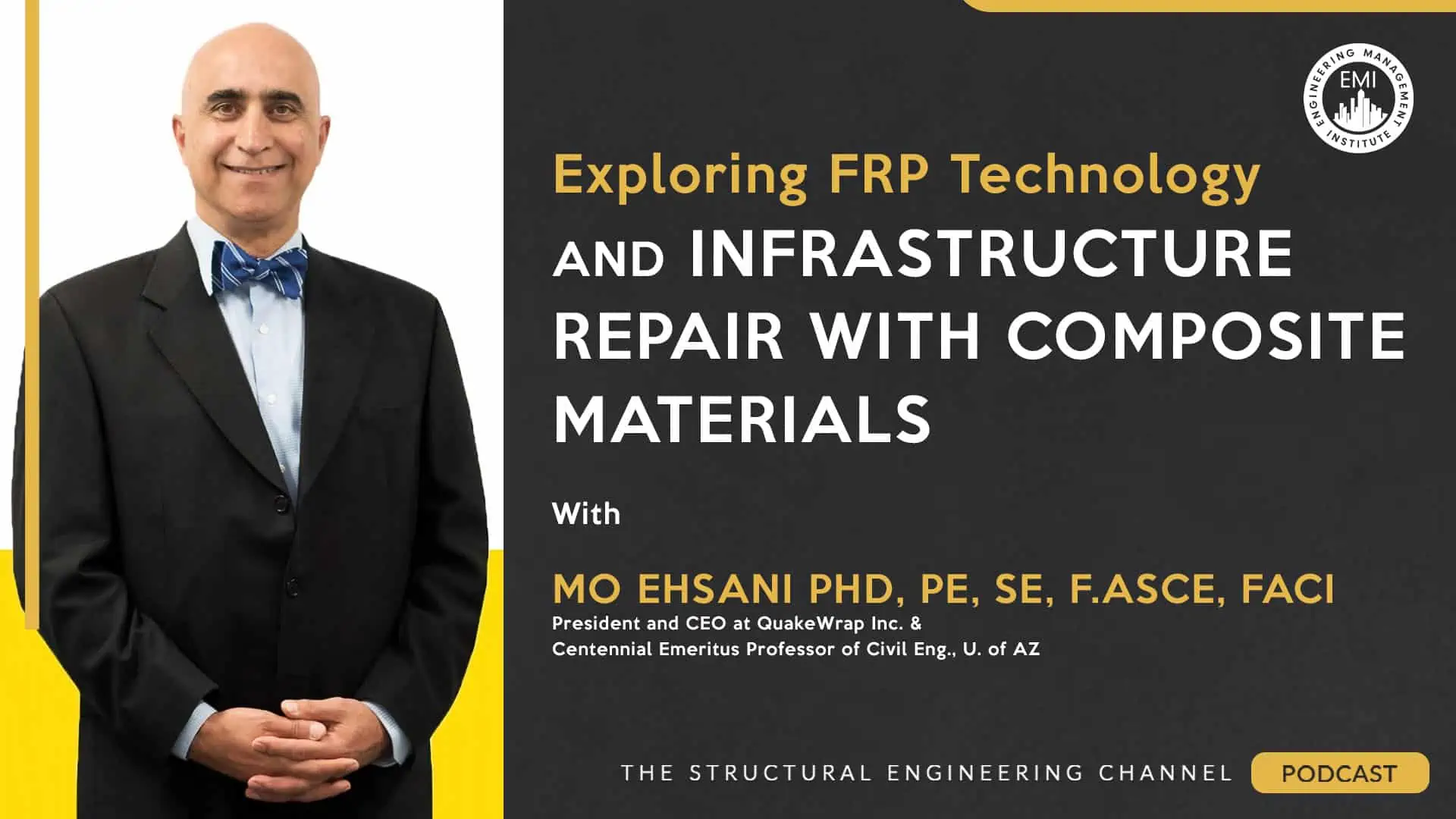 In this episode, we talk to Mo Ehsani Ph.D., PE, SE, F.ASCE, FACI, from QuakeWrap, Inc. about how the field of structural engineering has evolved with the introduction of composite materials like FRP (fiber reinforced polymer), the advantages that FRP technology has over traditional concrete and steel repair solutions, and the differences between infrastructure repair projects in the water and on land. He also shares some examples of successful infrastructure repair projects that have utilized FRP technology and provides insights into how this technology can benefit structural engineers.
***You can view the video version of this episode here.***
Engineering Quotes:


Here Are Some of the Questions We Ask Mo:
How has the introduction of composite materials like FRP affected the approach to infrastructure repair projects in the field of structural engineering?
What are the advantages of FRP technology compared to traditional concrete and steel repair solutions?
How easy is it to use carbon fiber wrap for repairing tension elements, and what materials are required for the repair process?
Are there any limitations to FRP technology, and if so, how do you overcome them?
When using Quake Wrap for retrofitting, would the engineer of record design it or would you be some type of consultant, how does that typically work for structural engineers?
How does the use of FRP materials extend beyond seismic retrofitting to address infrastructure repairs both in water and on land, specifically concerning corrosion projects and the impact of corrosion on concrete?
What measures can be taken to prevent water from getting into a structure and reinforcing its existing seal?
Can you provide additional examples of infrastructure repair that you would like to discuss?
Can you share your experience of pursuing a non-conventional career path in structural engineering? What were some of the challenges you faced along the way, and how did you make decisions about your career path?
How can an entrepreneurial mindset be beneficial when pursuing something that you are passionate about, even if you don't initially know how to do it?
Here Are Some of the Key Points Discussed About FRP Technology and Infrastructure Repair with Composite Materials:
The initial idea behind composite materials like carbon fabric, which are strong in tension, was to earthquake-proof bridges by wrapping them around the columns, but over the years these materials have proved to be very versatile and are now commonly used for corrosion repair, strengthening, and other structural engineering applications due to their lightweight, easy application, high tensile strength, durability, and corrosion-resistant properties.
FRP technology offers advantages over traditional concrete and steel repair solutions, such as being able to retrofit buildings without adding thickness or weight, which is particularly useful when space is limited. Unlike traditional reinforcement methods, using FRP materials does not require chipping away concrete or adding an extra layer of protection. They are lightweight, easy to transport, and quick to apply, with curing times typically around a day. Additionally, FRP materials can provide up to two to three times the strength of steel and can be applied directly to the tension face of an element, maximizing the moment capacity.
The ease of construction with FRP technology is a significant advantage because the carbon fiber wrap comes in a roll and can be easily cut to the desired length, making it simpler to apply, especially in occupied buildings.
The strength of composite materials like FRP comes from the orientation of the fiber, and this offers unique opportunities to use the materials efficiently. Unidirectional fabrics are effective for strengthening a beam for flexure, but not for shear reinforcement, and engineers can control the strength of the material based on the orientation of the fibers. This is different from enduring materials like steel, which have the same strength in both X and Y directions.
The ACI committee has a prescriptive design guideline for externally bonded FRP products, which is easy to follow and provides worked-out examples. While FRP companies can collaborate with structural engineers to become part of their team, they may also provide design and construction services as a design-build company, making the process easier for owners and assuming full responsibility for the work.
There has been a variety of materials and products developed for repairing structures, including underwater structures, pipelines, and sea walls. These solutions are designed to keep oxygen away from the host structure, which is the main source of corrosion. One of QuakeWrap's most popular products is PileMedic, which uses laminates to create a shell or tube around a column, allowing it to be filled with rebar, concrete, or grout to strengthen the structure.
The use of epoxy that cures in water and the PileMedic laminate solution can save construction projects a lot of money by avoiding the need to build a coffer dam and dewater the area. Additionally, the PileMedic laminate solution is superior to previous methods because it creates a product that is 360 degrees of the same strength, avoiding weak points and allowing for greater strength and load capacity. By confining the column, even weaker concrete can work like higher-strength concrete, resulting in even more strength and durability.
Urgent requests are handled every day, which include fixing infrastructure problems like a broken sewer trunk or repairing construction errors like improperly reinforced concrete. A cast-in-place concrete issue in a mansion in the Bahamas needed fixing because that was testing at a much lower PSI than expected. There was a bridge repair project in New Mexico where the contractor left out half of the steel from the deck of one bridge. In this case, FRP products were used to fix the issue, which has been in service for over 15 years now. Great importance must be placed on ensuring that these repairs are not only functional but also aesthetically pleasing, as exposed carbon fabric can draw unwanted attention and lead to damage.
Pursuing a career in a new field can be an uphill battle, especially when introducing new technology. If you believe in your idea, stick with it and be prepared for many failures and disappointments. Owning a business requires a combination of activities, including research and development, interacting with clients, and administrative work. Access to a lab facility and working with other universities for larger projects can be beneficial for R&D. Passion and belief in what you do are crucial for success in any field.
Opportunities in the business world are unpredictable, and pursuing your passions and being open to new ideas can lead to unexpected successes and innovations. Embracing challenges and problem-solving can create new opportunities and open doors for growth and development.
More Details in This Episode…

About the Guest: Mo Ehsani Ph.D., PE, SE, F.ASCE, FACI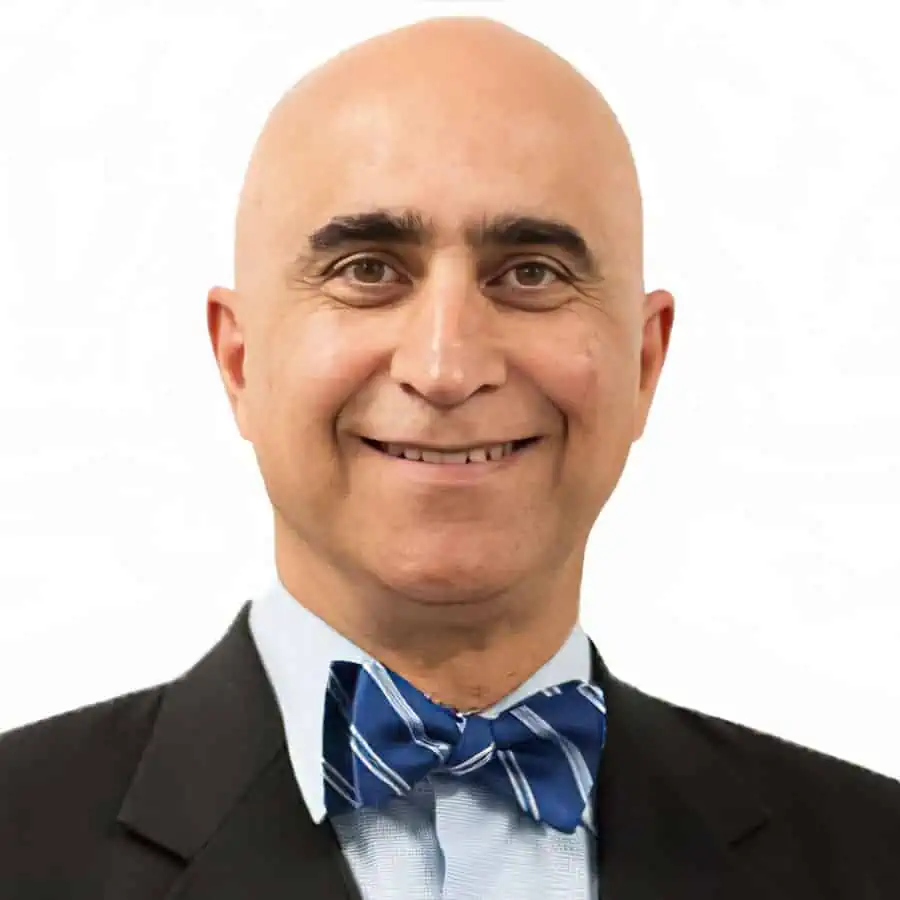 Mo Ehsani Ph.D., PE, SE, F.ASCE, FACI, is Centennial Professor Emeritus of Civil Engineering at the University of Arizona and President of QuakeWrap, Inc., headquartered in Tucson, Ariz. He is a pioneer in the development of structural applications of fiber-reinforced polymer (FRP) technology and an internationally recognized expert on the subject. He has received B.S., M.S., and Ph.D. degrees from the University of Michigan. His research focuses on innovative solutions for infrastructure repair and renewal. His studies have been published in numerous academic and industry publications, including those published by ACI, ASCE, EERI, and more.
Mo Ehsani is a Fellow of the American Society of Civil Engineers (ASCE) and the American Concrete Institute (ACI). A past director of the Arizona Chapter of ACI, He has served as President of the Structural Engineers Association of Arizona. He is a registered professional engineer in multiple states including AZ, CA, FL, MD, and NY.
Mo has developed several unique products for the repair and retrofit of structures with FRP; these products are subject to many pending U.S. and International Patents. Some of these products can be viewed by clicking here.
Mo has also been featured on CNN, National Public Radio, the History Channel, and in other media, including Engineering News Record (ENR), for his expertise in the strengthening of structures.
About the Host: Mathew Picardal, P.E., SE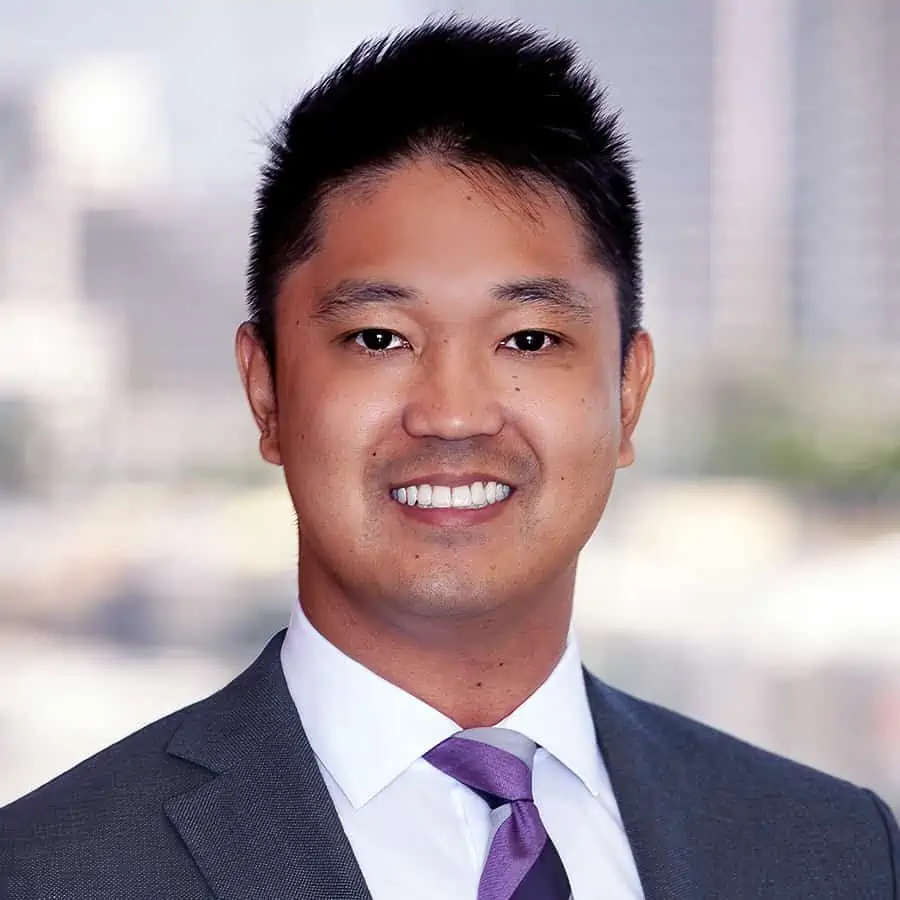 Mathew is a licensed engineer, practicing on structural projects in California, with an undergraduate degree from Cal Poly Pomona and an M.S. in Structural Engineering from UC San Diego. He has designed and managed various types of building structures, including residential wood apartment buildings, commercial steel buildings, and concrete parking structures and towers. He also hosts the new YouTube channel "Structural Engineering Life," through which he promotes the structural engineering profession to engineering students who are not familiar with the industry perspective.
Sources/References:
QuakeWrap
PileMedic
American Concrete Institute (ACI)
ACI PRC-440.2-17: Guide for the Design and Construction of Externally Bonded FRP Systems for Strengthening Concrete Structures
Connect with Mo Ehsani Ph.D., PE, SE, F.ASCE, FACI, on Linkedin
Send Mo Ehsani Ph.D., PE, SE, F.ASCE, FACI, an Email
This Episode Is Brought to You by Simpson Strong-Tie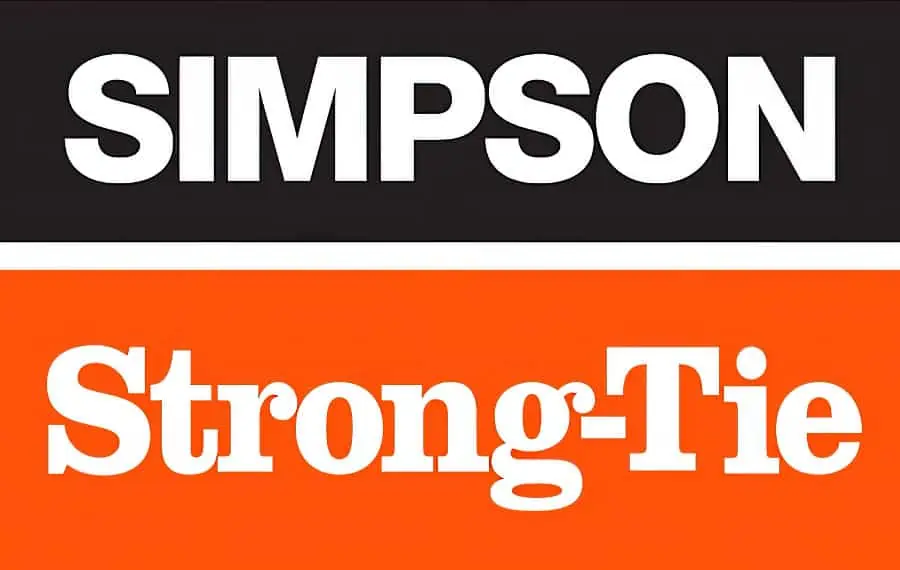 Simpson Strong-Tie is a building-industry leader committed to helping people design and build safer stronger homes, structures, and communities. Our employees are passionate about innovative technology, engineering, and building a better world. We believe true success is achieved together. Come build with us at strongtie.com.
Please leave your comments or questions in the section below on your thoughts about FRP technology and infrastructure repair with composite materials.
To your success,
Mathew Picardal, P.E., SE
Host of The Structural Engineering Podcast