Podcast: Play in new window | Download | Embed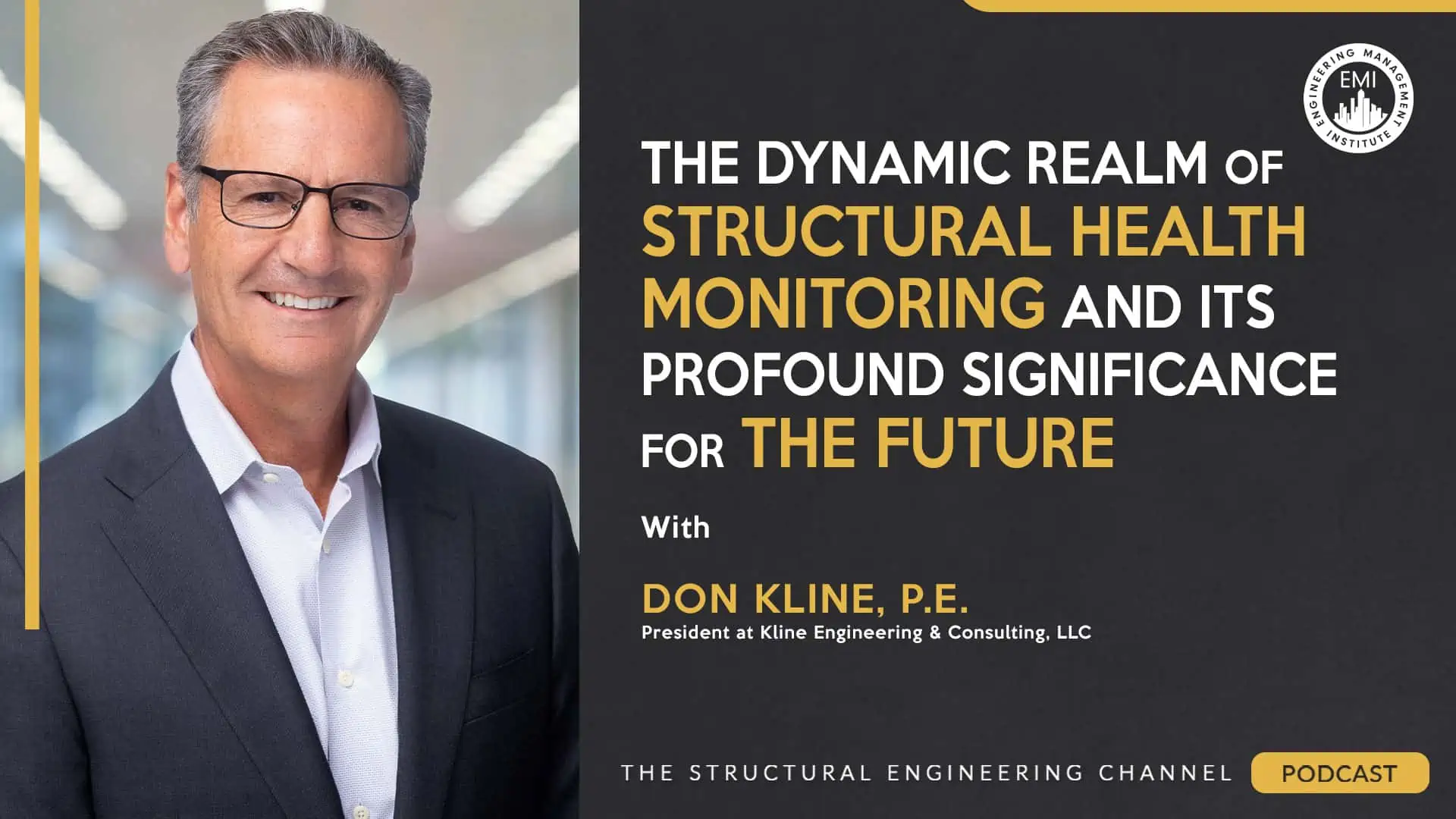 In this episode, we talk with Don Kline, P.E., president and founder at Kline Engineering & Consulting, LLC, about the dynamic realm of structural health monitoring, exploring its profound significance, diverse applications, and cutting-edge solutions brought by InfrastructureTek.
***The video version of this episode can be viewed here.***
Engineering Quotes:


Here Are Some of the Questions We Ask Don:
Have you had experience evaluating and rehabilitating concrete structures in your practice?
What is the current state of the smart building and structural health monitoring technology industry, particularly for structural engineers who may be unfamiliar with these emerging trends?
How do these sensors continuously monitor the structural health of a building, especially when concrete is concealed, and is the data accessible through an app or other means?
Do you embed these sensors in the concrete during the pouring process, where they remain throughout the entire lifespan of the building?
What are the key reasons that structural health monitoring holds significant importance?
Could you explain the process of retrieving and accessing the data obtained from structural health monitoring systems?
Were you involved with a startup company named InfrastructureTek?
Who typically receives and manages the data from these sensors, and how does the process of data transmission and response work?
Do you see potential applications for sensors in monitoring ground motion during earthquakes, assessing building integrity during seismic events, or detecting damage to rebar and reinforcing in structures on the East Coast during heavy winds or earthquakes?
Could you elaborate on the potential benefits of having data from sensors in real-life buildings, as opposed to limited lab experiments, and how this data could enhance understanding and mitigation of various types of damage, including seismic and corrosion?
What are your thoughts on the slow adoption of technology in the construction industry, despite the exciting advancements available?
What advice do you have for aspiring structural engineers, especially those interested in fields like seismic engineering, concrete structure evaluation, rehabilitation, or emerging technologies?
Here Are Some of the Key Points Discussed About the Dynamic Realm of Structural Health Monitoring:
Kline Engineering & Consulting, LLC, specializes in both the design of new tension concrete structures and the evaluation, repair, retrofit, and strengthening of existing structures, including buildings and bridges, with a team of engineers who are proficient in both aspects.
Concrete structures remain stable until corrosion of the rebar and reinforcing steel occurs, leading to cracks and issues. Current technology for smart monitoring is limited, with wired systems and fragmented solutions. However, a partnership with the innovative European company, Infra Salute, aims to introduce comprehensive structural monitoring technology to the United States, addressing the need for more effective, long-term solutions.
Two sensors, roughly the size of hockey pucks, are employed for structural health monitoring: a corrosion sensor that detects corrosion when the protective layer is compromised, and a moisture sensor that tracks changes in concrete humidity and moisture content over time, offering comprehensive data.
The product offers versatile applications: embedding it during original construction ensures continuous monitoring for over 70 years without the need for power or maintenance, and it can also be added to existing structures by coring a hole and packing it with grout or incorporated into repair patches for structures like parking garages or bridge decks, providing flexibility in structural health monitoring.
Structural health monitoring holds immense significance for structural engineers due to its potential to detect issues like corrosion before they manifest as costly cracks and spalling, leading to more economical repairs. It can enhance safety by providing early warnings in structures that may not receive frequent monitoring, potentially preventing catastrophic events like the Champlain Towers collapse.
The technology used for structural health monitoring involves sensors embedded in the structure, like credit card readers, with data extraction done externally through readers mounted permanently or handheld devices. The reader sends the data to the cloud using cell phone technology, enabling engineers or asset owners to access and evaluate the information conveniently.
The startup venture InfrastructureTek (ITECH) involves a collaboration with a specialized contracting firm focusing on structural repair, evaluation, and retrofitting, as well as establishing a strategic partnership with a European company to bring cutting-edge technology to the United States.
ITECH focuses on developing and supplying technology and materials, providing engineering support and offering installation services. The primary approach is to collaborate with local engineers, facilities firms, and asset owners who can utilize this tool for evaluation and monitoring. Customization of data and dashboards is available, making it adaptable to specific needs. Larger asset owners and their consultants may also use the data, but structural engineers and facility managers are the intended users who can provide recommendations to owners.
These sensors are just scratching the surface of what's possible. In the future, smart buildings could provide real-time data on structural performance during extreme events like earthquakes or high winds, leading to improved building codes, predictive modeling, and better construction and maintenance practices. The potential for this technology is vast and could revolutionize the industry.
In California, despite the mostly dry climate, there are still areas where corrosion can be a concern. This technology can be particularly valuable for detecting breaches in waterproofing on structures like Plaza decks, offering early warnings to prevent potential issues before they escalate.
Many industry organizations, like ACI and PTI, move slowly and are cautious about promoting proprietary products, which can hinder innovation adoption. Often, innovation in construction comes from Europe and other parts of the world before being adopted in the United States over time, as seen with post-tensioning technology.
For aspiring structural engineers, two career paths are worth considering: joining design or facility management firms specializing in repair and getting creative with solutions or working for repair contractors or suppliers for valuable industry exposure. Active involvement in industry associations and cultivating relationships are key while finding a genuine passion for the work and continuous learning will lead to long-term success.
More Details in This Episode…

About the Guest: Don Kline, P.E.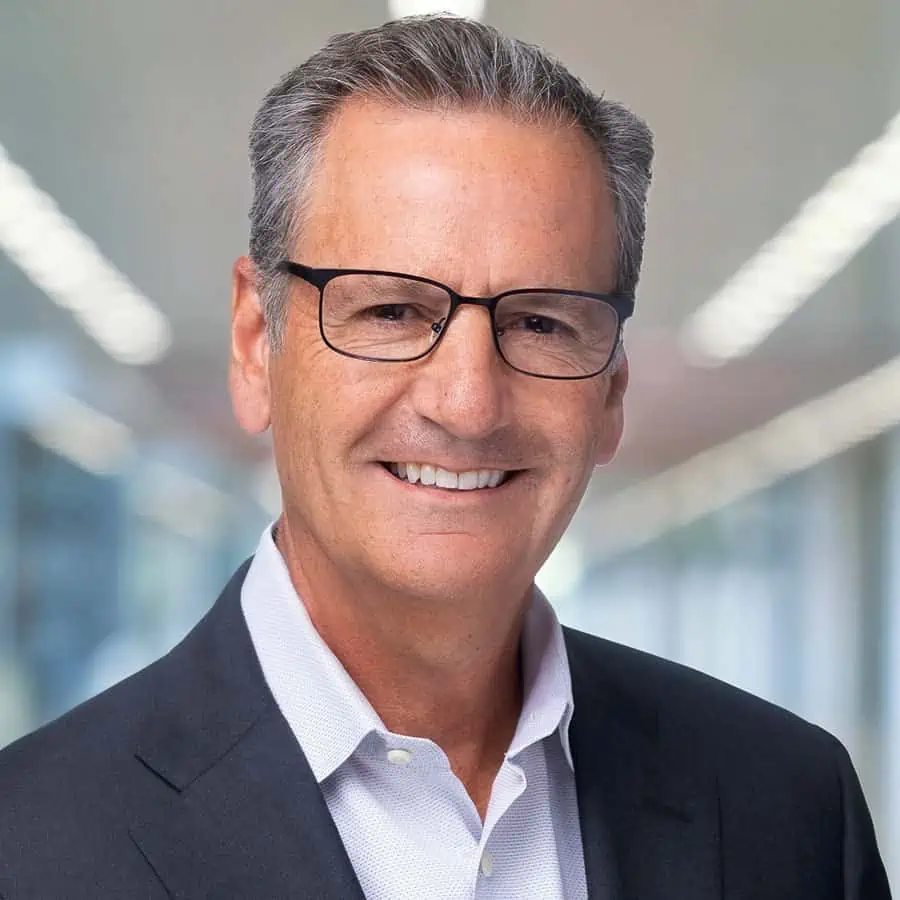 Mr. Kline graduated from UVA with a B.S. in aerospace engineering, and he earned his M.S. in civil/structural engineering from VA Tech in 1989. Early in his career, Mr. Kline worked in a mid-size structural engineering office for Haynes Whaley Associates (now IMEG). He spent 17 years working in a variety of roles at VSL (international leader in post-tensioning and related engineering). During his tenure at VSL, Mr. Kline worked in engineering and business development, and he eventually became VSL's business lead for the eastern part of the USA.
In 2007, Mr. Kline founded Kline Engineering & Consulting, LLC, a structural engineering consulting firm. Mr. Kline has over 30 years of experience in the design, construction, repair, and preservation of concrete structures. Mr. Kline is a leader in the design, construction, evaluation, and repair of post-tensioned (PT) structures. Mr. Kline has designed numerous commercial and residential buildings, parking structures, as well as other types of structures such as tanks. Today, Mr. Kline remains the founding principal at Kline Engineering & Consulting, LLC.
In 2022, Mr. Kline became co-founder and owner of InfrastructureTek, LLC. InfrastructureTek provides sensor and monitoring technology for structural health monitoring of concrete structures. Mr. Kline is a member of PTI, ACI, ICRI, The National Capital Chapter for ACI, and the SEA-Metropolitan Washington Chapter. He serves on PTI's Board of Directors, as well as technical committees for Building Design (DC-20), Repair, Rehabilitation, and Strengthening (DC-80), and the Code Change Task Group. He serves on ACI Committees 318 T (Structural Concrete Building Code – Post-Tensioning), ACI 320 (Post-Tensioning Code), ACI 423 (Prestressed Concrete), ACI 362 (Parking Structures), and ACI 301-I (PT Specifications). Mr. Kline has published papers in various periodicals including Concrete International, Structure Magazine, and the PTI Journal. He has presented papers at ACI, PTI, ASBI, and fib conferences.
About the Hosts:

Mathew Picardal, P.E., SE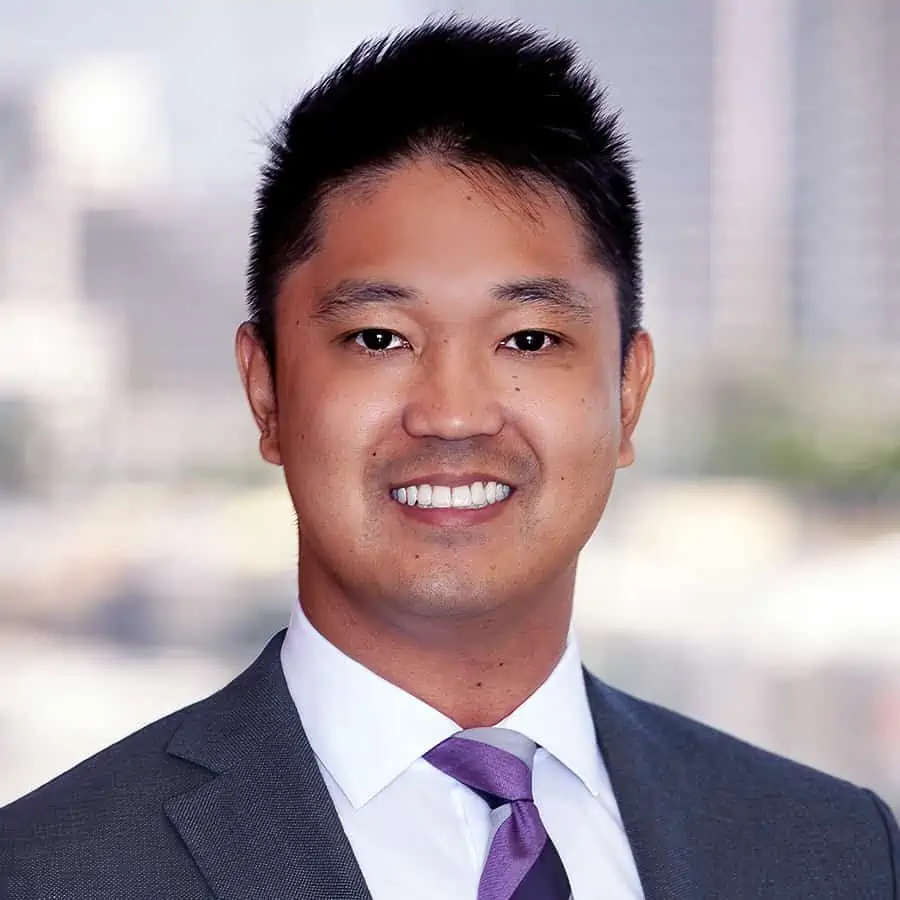 Mathew is a licensed engineer, practicing on structural projects in California, with an undergraduate degree from Cal Poly Pomona and an M.S. in Structural Engineering from UC San Diego. He has designed and managed various types of building structures, including residential wood apartment buildings, commercial steel buildings, and concrete parking structures and towers. He also hosts the new YouTube channel "Structural Engineering Life," through which he promotes the structural engineering profession to engineering students who are not familiar with the industry perspective.
Rachel Holland, P.E.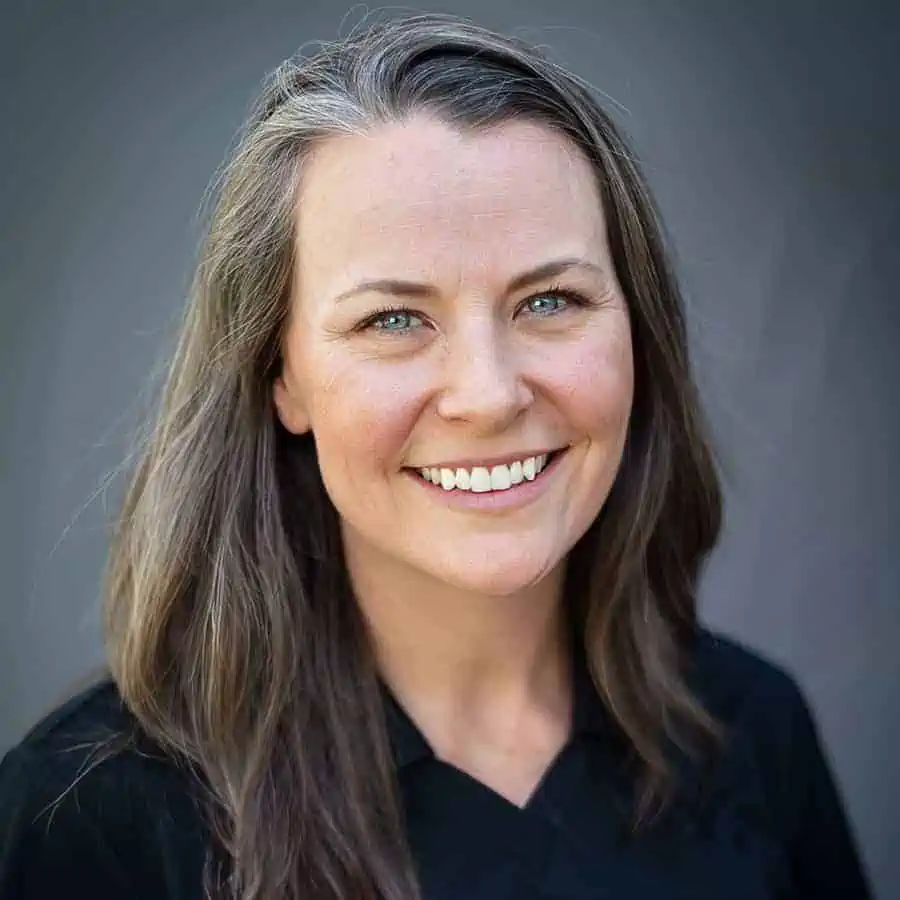 Rachel is an experienced R&D engineer, developing and patenting multiple new structural connectors. She also offers her expertise to both the end user and specifiers as a branch engineering supervisor. She represents Simpson Strong-Tie as a deck expert, educating others on how to properly build code-compliant decks. Before her career working for a manufacturing company, she spent many years working for engineering consulting companies. She earned her Architectural Engineering undergrad degree from California Polytechnic State University, San Luis Obispo, and a Master of Business Administration (MBA) from California State University, Monterey Bay. Rachel is a licensed P.E. in California, Arizona, and New Mexico.
Sources/References:
Kline Engineering & Consulting, LLC
InfrastructureTEK
VSL International
Structural Group
Virginia Tech
Champlain Towers Collapse
Structural BR
American Concrete Institute (ACI)
Post-Tensioning Institute (PTI)
International Concrete Repair Institute (ICRI)
Connect with Don Kline, P.E., on LinkedIn
Please leave your comments or questions in the section below on how structural health monitoring has helped your engineering business.
To your success,
Mathew Picardal, P.E., SE, and Rachel Holland, P.E.
Hosts of The Structural Engineering Podcast