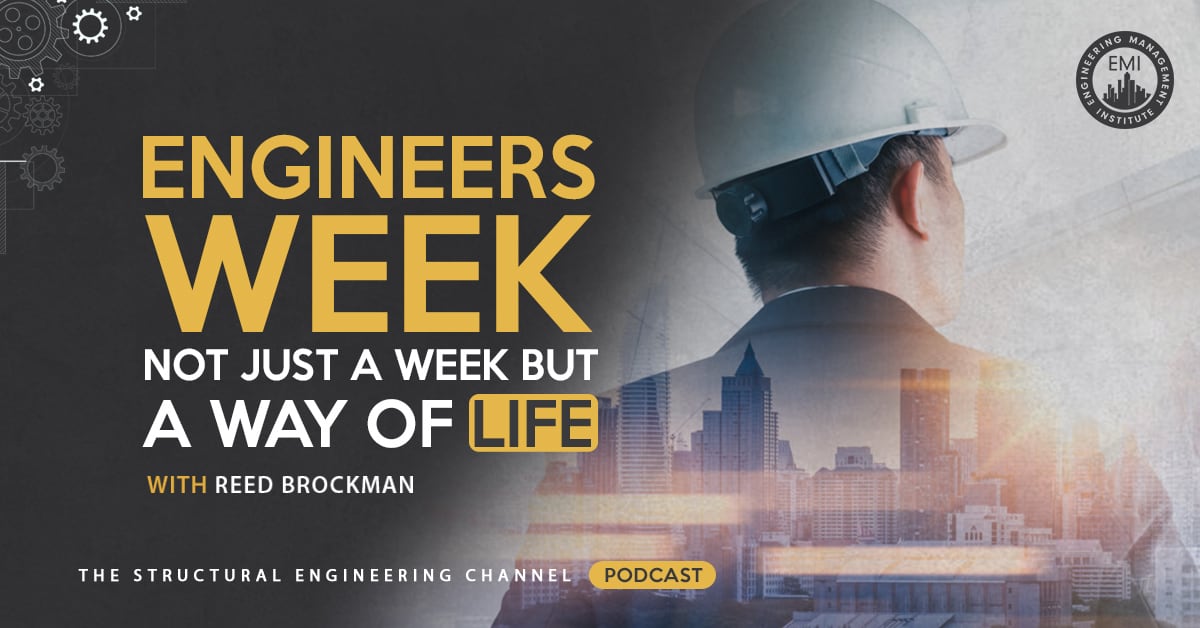 In this episode of The Structural Engineering Channel podcast, we talk to Reed Brockman, Associate Vice President and Bridge and Tunnel Inspection Leader at AECOM. We discuss National Engineers Week (EWeek) and, more specifically, the importance of inspiring the youth of today to become more aware of engineering and the state of the infrastructure in our world. 
Engineering Quotes:



Here Are Some of the Questions We Ask Reed in This Episode:
What is your favorite project that you have worked on to date and why?

What does a tunnel inspection entail?

Why is Engineers Week important to our profession?

Can you tell us about your TV show?

You currently serve as the

Chair of the Pre-College Outreach Committee

of the Boston Society of Civil Engineers. What made you become so active in association work?

What impact has your organizational involvement had on your career or you personally?

Based on what you've seen in your career, what excites you most about the structural engineering industry? What worries you most?

How can events like EWeek be utilized to strengthen the future of our profession?
Here Are Some of the Key Points Discussed About Engineers Week:

Tunnels, unlike bridges that have a finite beginning and end, do not have that many systems to it. A tunnel evolves a lot with the input of electrical engineers, mechanical engineers, lighting, air quality, and drainage systems, as well as making sure people can get through the exits in case of an emergency. 

Engineers Week (the week itself) is just a randomly picked week. The important thing is that students in schools understand that there are careers in engineering, and that they can do something that is really exciting to people. Students, as well as the public, should be aware of the state of the infrastructure and appreciate the people who take care of the infrastructure. Engineers in the profession need to understand that the children of the future will be the ones who are going to take care of our infrastructure. 

I decided to become involved with ASCE simply because someone asked me to become involved with some of their activities. I acted on that and loved every minute of it. 

Children dream of their dream city of the future, but for whatever they come up with, they have to explain how it's going to work, and they can't say, "by magic." It must be by some kind of scientific principle or engineering design that makes sense. 

Getting involved with a professional association has made me much more outspoken and comfortable when talking to people and sharing some ideas that would help the industry as a whole. 

The combination of my full day job and the outreach efforts adds up to working together to help the community to have a better infrastructure. 
More Details in This Episode…
About Reed Brockman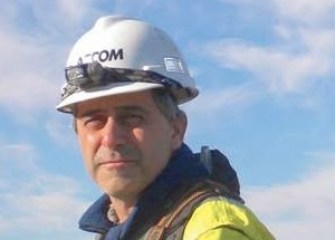 Mr. Brockman has 31 years of bridge and tunnel inspection experience and is an authority on state-of-the-art structural inspection methods. He has been the technical lead on several inspection contracts and has managed a wide variety of projects, ranging from the inspections of large tunnel systems to long-span bridges. His wide variety of inspections include most of the tunnels in Massachusetts (for both highway and rail), the Fort McHenry Tunnel in Baltimore, the GA- 400 Tunnel in Atlanta, and the Holland Tunnel in New York City. 
Mr. Brockman also has years of tunnel design experience, designing portions of Boston's Central Artery Tunnel and a water tunnel for the Narragansett Bay Commission. He was a lead structural designer for the Department of Energy's Spallation Neutron Source in Oak Ridge, Tennessee (ranked #3 in Popular Science Magazine's list of "Most Ambitious Experiments in the Universe Today").
Sources/References:
Structural Engineering Life
Civil Engineering Today YouTube Channel
BNN | Boston Neighborhood Network
BSCES – Boston Society of Civil Engineers Section
ASCE
Future City
Transportation YOU
Connect with Reed Brockman


This episode is also brought to you by Maser Consulting P.A., a privately owned, multi-discipline, consulting and engineering design firm with a unique balance of public and private sector experience. Established in 1984 by Richard M. Maser, PE, PP, CME, Chairman & Chief Executive Officer, the firm has an expert staff of licensed engineers, planners, surveyors, landscape architects, and environmental scientists with offices strategically located nationwide. Click here to learn more about Maser Consulting P.A. today.
Please leave your comments or questions in the section below on engineers week.
To your success,
Mathew Picardal, P.E., & Alexis Clark, P.E., M.ASCE
Hosts of The Structural Engineering Channel