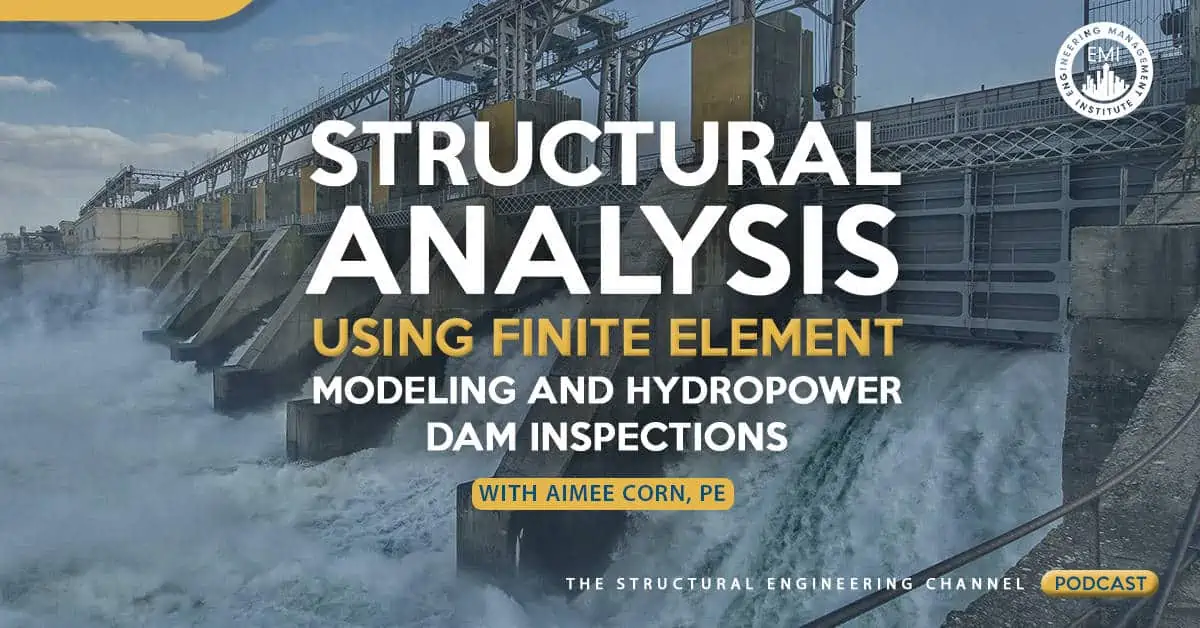 In episode 21 of The Structural Engineering Channel podcast, we talk to Aimee Corn, PE, who is a civil and structural engineer at Gannett Fleming. Aimee will be talking to us about structural analysis using finite element modeling and hydropower dam inspections. She also talks about her career journey and shares some great tips on communication and overcoming failure in your engineering career.
Engineering Quotes:



Here Are Some of the Questions We Ask Aimee in This Episode:
Your technical work has focused a lot on dams. You've developed non-linear models of 40- to 300-foot-tall arch dams. Can you talk to us about the structural engineering that goes into that?

What are some of the places where you use finite element modeling or where you find it most helpful?

What goes into a hydropower dam inspection?

How important are written communication (e.g., email, technical reports, memoranda) and verbal communication (e.g., presentations, phone calls) skills on these projects and in the workplace in general?

What is the Potential Failure Mode Analysis (PFMA) process and how it is used?

What are some of the resources and ways that students can get into the dam industry?

How can a person evolve their professional association participation beyond just joining as a member?

Do you have an overall life or career philosophy you can share with us?
Here Are Some of the Key Points Discussed About Finite Element Modeling and Hydropower Dam Inspections:
A lot of what I have done in my career so far was building finite element models of primarily concrete arch dams to evaluate the safety of them to ensure they can survive floods and earthquakes. That involves both linear and non-linear models.

One of the things that is great about the dam industry is that it doesn't have codes and standards. It is thus not restricted by the International Building Code or ASCE7. We do, however, have guidelines, and that is where the structural side comes in — having an understanding of the mechanics and the basic principles to understand how the dams are behaving. 

We use finite element modeling in a project that is going to be too complicated to do by hand, e.g., large seismic events or a time history analysis. The best place for us to always start is by hand, and to understand which technique is required to resolve the problem. I think it creates more harm to just jump right in to the finer element analysis immediately because you don't have a handle of the problems and the questions you are trying to answer. 

Inspection starts long before you get out into the field. You need to make sure that you have gone through the drawings and previous inspection and analysis reports to ensure that you have a good handle on things.

There is a very stringent process that goes along with hydropower dams and what needs to be done. This is because hydropower dams in the U.S. are regulated by the Federal Energy Regulatory Commission (FERC). A lot what I do has to do with the FERC Part 12D inspection — which is checking all of the critical sections of the dam to ensure that things are behaving like they are expected to behave. 

Potential Failure Mode Analysis (PFMA) is one of the aspects that is incorporated into the inspection. It is there to help you understand the infrastructure, what could go wrong, and what you can do to prevent it from going wrong. Familiarizing yourself with the failure modes helps you to identify what you are looking at during the inspection. 

The Potential Failure Mode Analysis process is designed to determine all the ways a dam can fail. It also helps to understand how the dam functions and can help in developing the dam safety program.

As an engineer, there is a lot of information that you need to communicate. Being able to take complicated information and put it into terms that the client can understand — and make decisions on — is extremely important.

For people who are interested in getting involved in the dam industry, two professional societies focus on dams. They are 

The United States Society on Dams (USSD)

 and 

The Association of State Dam Safety Officials (ASDSO)

.

Finding ways to jump into leadership roles is a great place to evolve your professional association participation beyond just joining as a member.

It's OK to not always have the perfect 50/50 balance. There will always ebb and flow, and knowing where to put your priorities comes with experience. You need to know when to say no and step back when needed, as it is better to step back before you are fully burned out.

Always remember that failure is going to happen, but it is not the end of the world. It is how you respond to it that is going to make you who you are.
More Details in This Episode…
About Aimee Corn, PE
Aimee Corn, PE a Civil/Structural Engineer with Gannett Fleming since 2015, was involved in the opening of their Denver office. After graduating with her BS from Seattle University, she made her way back to Colorado to attend Colorado State University for her master's degree and graduated with her master's in 2014. Her love of dams was discovered after landing an internship with a geo-civil group. She switched to a thesis-based M.S. focused on analyzing potential failure modes using finite element modeling of post-tension anchored concrete gravity dams. Her work has focused primarily on finite element modeling of existing concrete gravity and arch dams, Potential Failure Mode Analysis (PFMA), and Federal Energy Regulatory Commission (FERC) Part 12D inspections, along with risk assessment and risk-informed decision making (RIDM). She currently serves on the Structural Engineering Institute Board of Governors after being appointed by the ASCE President-Elect in 2018.

Sources/References:
COVID-19 Coronavirus News and Information Related to Engineering
About Melissa Marshall
Structural Engineering Institute | ASCE
Gannett Fleming
Connect with Aimee Corn, PE
The United States Society on Dams (USSD)
The Association of State Dam Safety Officials
Structures Congress 2020 – American Society of Civil Engineers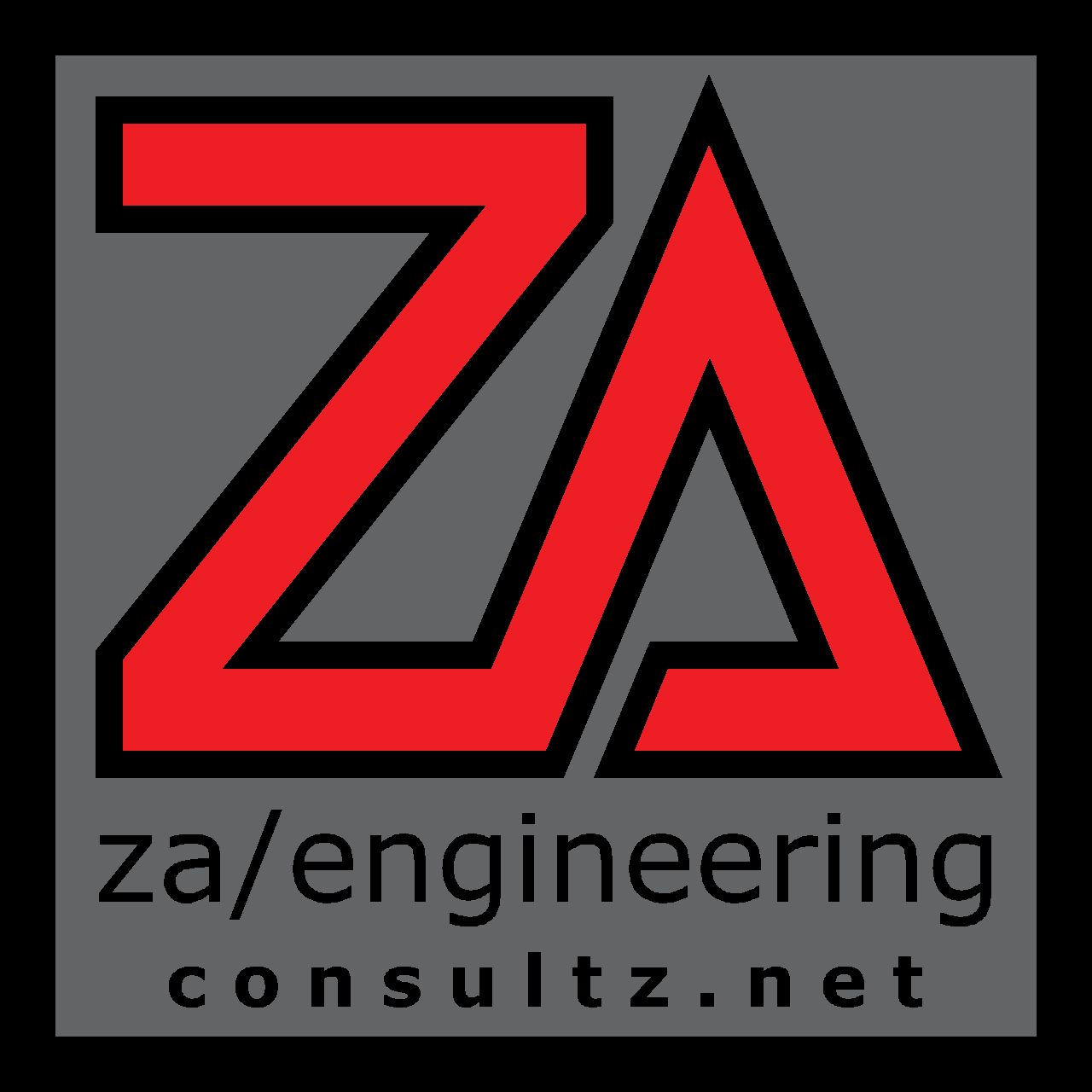 This episode is brought to you by za/engineering, a structural consulting firm located in Long Island, New York, and services projects throughout the northeast. za/engineering specializes in working with existing structures, providing building inspection and evaluation services, and structural design for repairs, reuse, and remediation of existing building structures. You can find them at www.consultz.net
Please leave your comments or questions in the section below on Finite Element Modeling.
To your success,
Mathew Picardal, P.E., & Alexis Clark, P.E., M.ASCE
Hosts of The Structural Engineering Channel