Podcast: Play in new window | Download | Embed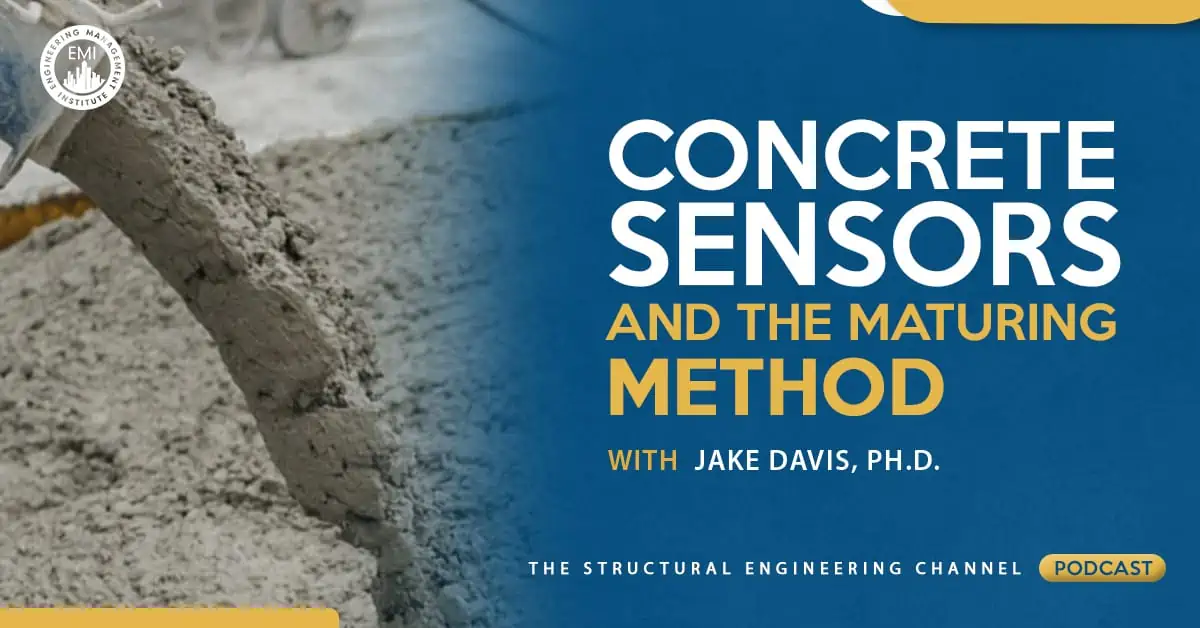 In this episode, we talk to Jake Davis, Ph.D., a scientist with extensive experience in clean environmental science and technology from Hilti Concrete Sensors in Hilti North America. He talks about concrete testing technology, concrete sensors, and discusses the maturity method.
Engineering Quotes:



Here Are Some of the Questions We Ask Jake:
What are concrete sensors, and how do they work?
When using these sensors, do you use real-time strength calculations instead of doing break testing?
What is the concrete maturity method?
How do concrete sensors supplement traditional concrete testing or monitoring methods?
How do you see maturity meters technology affecting the construction industry, and how might it evolve further?
On which project types is this technology most impactful?
How does maturity meters technology fit in with design code?
What makes implementing the maturity method an attractive solution to the project?
How has the adoption of these technologies and the maturity method happened over the years?
How do you see this technology affecting the structural industry currently, and how do you envision it evolving in the future?
Here Are Some of the Key Points Discussed About Concrete Sensors and the Maturing Method:
Concrete sensors have many components that are part of the entire system. The hardware is the sensors that are installed before the concrete is poured. These sensors take a reading of temperature and relative humidity throughout the curing process. They connect wirelessly to a cell phone app that records real-time temperature and humidity. Before the concrete is poured, tests are done in the lab at many different temperatures and a model is built. These parameters are then uploaded to the software before the pour happens. The cellphone app can then take the parameters, compare them to the real-time readings, and calculate the real-time strength of the concrete.
Pouring cylinders at the construction site is a good way to determine that the concrete is what the structural engineer requested. The temperature-dependent hydration reaction is what causes concrete to gain strength during curing. It is what makes sensors good at working out what the in-place concrete strength is.
The concrete maturity method is a way to calculate the prescribed time of curing. Maturity helps you to understand the fluctuating temperature profiles of the concrete impact curing at different rates. Maturity methods are any set of models that allow you to measure your in-place temperature and calculate your in-place strength. It is a way to understand how temperature affects strength gain over time.
Using the maturity method in a project is a great way to tighten up on time constraints. You will know how your concrete is behaving and will be able to tighten up schedules around it.
The maturity method is used in big projects where the same concrete mixture is used repeatedly, such as PT ducts. It is also used in projects where you need to know what the in-place temperature is. It is powerful for contractors to know when the concrete will be ready to move to the next level. The sensors also help the contractors know what the strength of the concrete is at any given time.
Pouring cylinders have their place in determining if the correct concrete mix is delivered. They are not very accurate in determining the concrete strength after a few days, especially if there have been hotter days after the cylinder was poured. Using sensors is a much more direct way of measuring the strength of the concrete in real time because temperature differences correlate to strength differences.
Maturity meters are part of the design code, specifically ACI 301, which is the specification for structural concrete. It is one of the approved methods for estimating in-place strength. ASTM C1074 goes into depth about the technique in maturity meters.
A lot of the underpinning sciences of the maturing method have been around for a long time. Things like wireless connections did not exist four decades ago, which caused problems with retrieving the data. Without technology like cell phones, doing the analysis manually to get real-time data would have been challenging. Construction has been slow to take up new technologies. It is one of the ways that we can see projects adopting methods of getting more data.
We have this technology now to have a more sophisticated job site that will help us to plan according to the data that we get on-site. It helps to work more efficiently and can help to save time on larger projects. In the future, there is going to be more thought put into what concrete mix needs to be ordered and knowing how it will behave ahead of time.
More Details in This Episode…
About Jake Davis, Ph.D.
Jake Davis is a Research and Development Senior Manager for Hilti Concrete Sensors in Hilti North America. He is responsible for the development and oversight of the concrete testing laboratory — specifically for maturity testing. He also coordinates customer schedules for concrete mix design characteristics and performs overall research into new technologies for the construction industry.
Before the acquisition of Concrete Sensors by Hilti, Jake was a Director of Science and Research for Concrete Sensors, with over 15 years of materials characterization experience. Jake graduated from the State University of New York with a BS degree in physics. He received his MA from Boston University in Physics and his Ph.D. from Boston University in Materials Science and Engineering.
Sources/References
Hilti North America
Contact Hilti Concrete Sensors
Connect with Jake Davis, Ph.D., on LinkedIn
NSPE
Please leave your comments or questions in the section below on concrete sensors and the maturing method.
To your success,
Mathew Picardal, P.E. & Alexis Clark, P.E., M.ASCE
Hosts of The Structural Engineering Podcast