Podcast: Play in new window | Download | Embed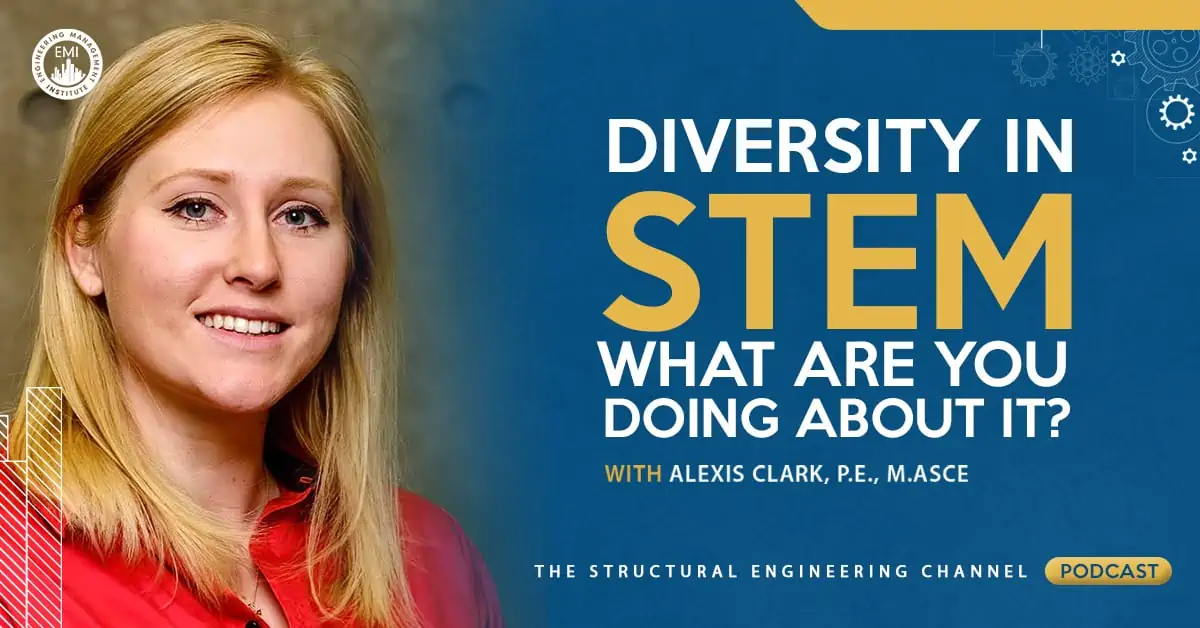 In this episode, I talk to Alexis Clark, P.E., M.ASCE, who you're used to hearing from as our show's co-host, but instead, in honor of International Women's Day, Alexis talks to us about the nonprofit organization she works with to enhance the diversity of women in STEM.
Engineering Quotes:


Here Are Some of the Questions We Ask Alexis:
What is The GEMS Camp and their mission, and how you were introduced to it?
Why is this so important?
How has The GEMS Camp grown over time and what can we expect of GEMS in the future?
Why did you personally get involved with this organization?
Have you experienced professional benefits from being involved with GEMS?
What are some of the ways our listeners can empower women of diverse backgrounds to pursue a career in STEM or engineering?
Here Are Some of the Key Points Discussed About the Diversity in STEM:
The GEMS Camp is a niche organization, but its impact is huge. GEMS is an acronym for "Girls interested in Engineering, Math, and Science." The program is focused on some of the most diverse groups and building confidence in underrepresented Black and Latina teen girls. Most of the girls are socially or economically disadvantaged students.
Other programs are usually general education-based and are not focused on increasing diversity within women who pursue those different STEM activities. Many of the girls have been "programmed" by their communities that they should not focus on technical fields like STEM because they are not suited for the roles. The camp focuses on STEM as well as helping the girls to work through their psychological barriers from past experiences.
The  two elements to getting girls to realize that they can pursue a career in STEM are:

They need to see someone who looks like them and that is doing what that they want to do.
They need a champion mentor or sponsor who points directly at them and believe in them.

The GEMS Camp is important because many studies have shown that more diverse teams with more diverse perspectives are stronger than a team with a more monotone perspective. More information on this can be viewed in the SE3 2020 Survey Results – Diversity, Equity and Inclusion.
The GEMS Camp started in 2010 with a small group of girls getting together in a library or college to get extra math or science classes. It has now evolved into a weeklong residence in a college dorm where they are taught all about STEM, careers in STEM, and how to work through the cultural and psychological blocks that have developed in them.
The GEMS Camp is for girls in the grade 7 to 9 range. Once they pass grade 9, they can go to a separate program called the STEM Pathways Institute. This program is for rising sophomores who are potentially going to college. There they are helped to prepare for resumes, interviews, college applications, essay writing, and all the things that they need to do to get to a semi professional level. There is also a Global STEM Travel program that was started in 2018, where the attendees are taken to different parts of the world to see famous engineering feats and learn about them in an applied science and math context.
GEMS is about bringing girls to the belief that they can succeed. At the beginning of the camp, the girls had an interest in STEM, but they did not have confidence or believe that there was a place for them in STEM. By the end of the week, they are beaming, excited, enthusiastic, and they believe that STEM is a place where they can belong.
Volunteering is important, especially for young engineers, because the young students find it easier to relate to them. You learn a lot about the different aspects of running and steering an organization. It gives you a different avenue to exercise decision-making skills, leadership and mentoring skills, forward-thinking skills, and many more that you can use later in your career.
You can empower women of diverse backgrounds to pursue a career in STEM or engineering by making sure that you are always positively contributing to the conversation.
If you are a woman and a person of color, you need to be the representation that the younger folks need. You can be the turning point because although the density of diversity in STEM has never been higher, it is still falling noticeably short of where it should be. Invest in the next generation by letting them see that you are successful and fulfilled in your career.
If you are part of the majority in the STEM industry, you can make an impact by educating yourself in the diversity in STEM, learning to empathize with the world that others come from, identifying your biases, and actively attempting to reverse them in your workplace. You can also volunteer on a board to help them get the resources that they need, and consider donating a small amount of money to these organizations every month.
More Details in This Episode…
About Alexis Clark, P.E., M.ASCE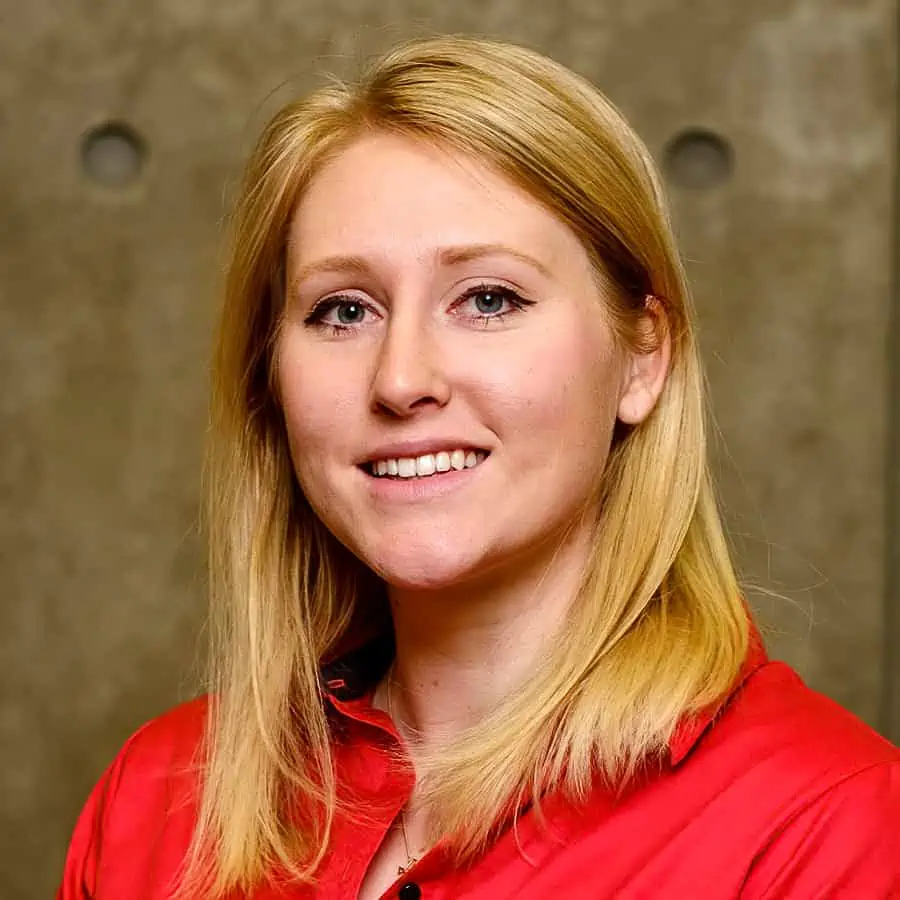 Alexis Clark is a product manager at Hilti North America, and is responsible for the development and growth of the chemical anchoring product portfolio in the U.S. and Canada. In her tenure at Hilti, she has exhibited her passion for the engagement of building professionals and designing resilient structures through roles in technical marketing and field engineering. Alexis holds a professional engineering (P.E.) license in the State of Texas.
Alexis is passionate about engineering, engaging the next generation of STEM professionals, and empowering women. She has been published in STRUCTURE Magazine and Texas Civil Engineering Magazine, delivered presentations at various industry conferences, and is an avid infrastructure advocate. She has held a variety of leadership roles throughout the American Society of Civil Engineers (ASCE) local, state, and national levels. Alexis currently serves a three-year term on the ASCE-SEI Structures Congress National Committee. She has served as a judge for Concrete Canoe since 2015, has mentored in the Fort Worth ACE Mentor program since 2017, and is currently serving her third year as President/Chair of the Board of Directors for the nonprofit The GEMS Camp, whose mission is to build confidence in underserved and underrepresented teen girls (Black and Latinx) in STEM.
Alexis will complete her master's in business administration at Auburn University in December 2021, and received her B.S. in Civil Engineering from the University of Texas at Austin.
Sources/References:
International Women's Day 2021 theme – "Women in leadership: Achieving an equal future in a COVID-19 world"
Article: The Value of Engineering Is Limitless: Applying Engineering to Sales, Marketing, and Business
The GEMS Camp
SE3 2020 Survey Results – Diversity, Equity and Inclusion
Hilti North America
Connect with Alexis Clark, P.E., M.ASCE, on LinkedIn
Please leave your comments or questions in the section below on the importance of the diversity of women in STEM.

To your success,
Mathew Picardal, P.E.
Co-Host of The Structural Engineering Podcast