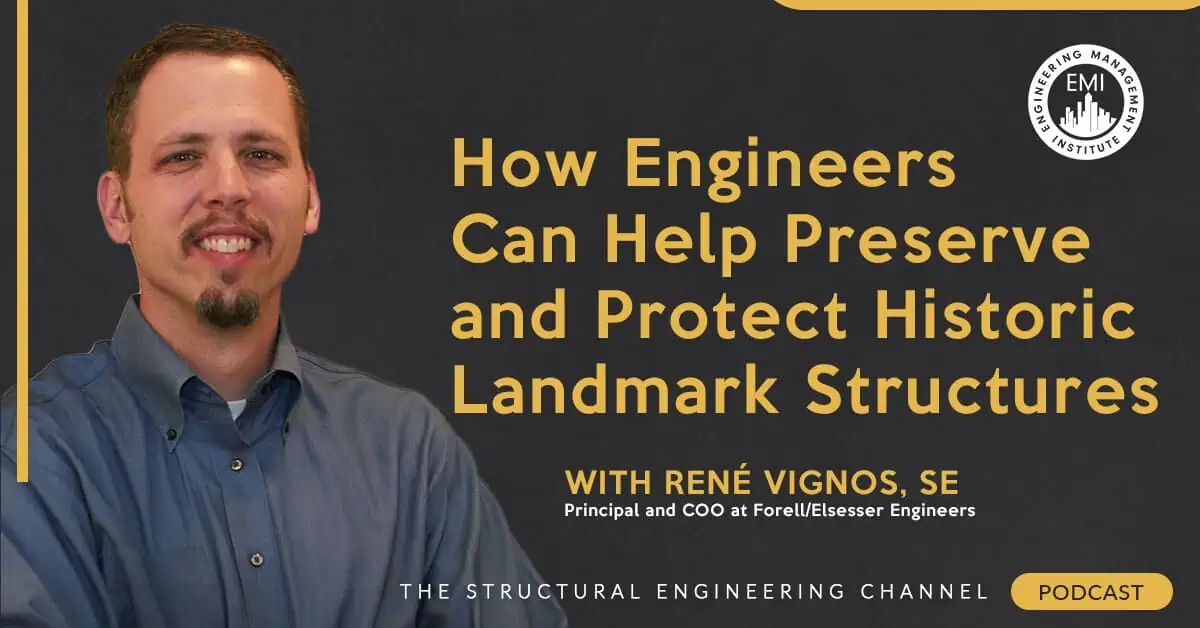 In this episode, we talk to René Vignos, SE, a structural engineer and Principal with Forell/Elsesser Engineers in San Francisco, about retrofitting historic buildings and how engineers can help preserve and protect historic landmark structures.
Engineering Quotes:


Here Are Some of the Questions We Ask René:
What interests you about working on projects that preserve historic structures?
What are the first steps you take when you start one of these projects?
What are some of the challenges with retrofitting historic buildings in seismic zones?
Why and how have you used base isolation technology to retrofit historic buildings?
What have been some of the challenges in using this technology in a historic building?
What challenges did you face in retrofitting Memorial Stadium at UC Berkeley and how did you overcome those challenges?
What are some of the things engineers can do to help preserve and protect historical sites?
Do you have any advice for young engineers starting in their careers?
Here Are Some of the Key Points Discussed About How Engineers Can Help Preserve and Protect Historic Landmark Structures:

To enjoy working on projects that preserve historic structures, you must enjoy the history behind the structure. Seeing the old drawings that were done more than 100 years ago is quite an experience. Looking at how much time the workers put into making all the details in the building is very enjoyable.
Many things must be done when starting projects that preserve historic structures. All the drawings that you can find of the building must be gathered. There could also be photos of the early construction of some of the historic landmark structures that can also be a great help in understanding their cladding systems. Tour the structures thoroughly and take as many photos of them as possible. The materials used must be taken into consideration. Pull testing rebar, brick tests, and laser scanning are some of the tests that must be done.
Most historic landmark structures are built using unreinforced brick, nonductile concrete, and an array of heavy brittle materials. The heavy building materials make the structure heavy, and the seismic force is related to how heavy the structure is. Having highly brittle materials and high seismic forces can make it difficult to find a way to get structure in the building to make it work. Very robust systems like concrete can be used, but preserving the historic element that everyone wants to see must always be of utmost importance.
Base isolation is separating the building from the ground laterally. When the ground shakes violently, the isolators filter the vibrations out and the building gets a small fraction of the seismic energy. It reduces the movement and the force that the building experiences.
Base isolation can be a technical task because the historic landmark structures are heavy and brittle. An active jacking method is used by inserting needle beams through a wall that can be individually jacked up to lift the wall and replace the foundation with the isolators under it.
The Memorial Stadium at UC Berkeley was primarily constructed with non-ductile concrete, which made it very brittle. This big, brittle structure is sitting on an active earthquake fault. The exterior wall is the main part of the structure that everyone wanted to preserve, so a new structure was built behind the exterior wall to save and preserve it. Bunker-type structures were built under the parts of the stadium that were on the earthquake fault. It allowed those parts of the building to move in response to what the ground is doing.
Engineers can help preserve and protect historical sites by checking things in the code for historic buildings. Have a mindset of thinking outside the box and doing things more creatively to preserve as much as possible of the historic landmark structure. Look at existing and new technologies that will help you to get around the problems you face. Work with other engineers who have experience in working on historical structures and learn some of the tricks of the trade from them.
If you use a simple form of analysis, you will get a more conservative structure. The more you account for the behavior of structures, the more benefits you can give that structure. If you are interested in retrofitting, take note of the classes and seminars that go in-depth on nonlinear analysis and performance-based design.
Stay curious and always want to learn more. Keep pushing because it is what makes structural engineering interesting. You will differentiate yourself from others if you keep up with the new technologies that are always changing. Having good relationships with the people you interact with will always be a benefit to you.
More Details in This Episode…

About the Guest: René Vignos, SE
René Vignos is a structural engineer and a Principal with Forell/Elsesser Engineers in San Francisco with nearly 30 years of experience in the evaluation, design, and retrofit of new and existing structures. He has extensive experience with the retrofit of historic structures and has had the privilege of working on many interesting retrofit projects, including the Utah State Capitol, California Memorial Stadium at UC Berkeley, the Oregon State Capitol, the Oregon Supreme Court, and most recently the Salt Lake City Temple of the Church of Jesus Christ of Latter Day Saints.
About the Hosts

Mathew Picardal, P.E.
Mathew is a licensed engineer, practicing on structural projects in California, with an undergraduate degree from Cal Poly Pomona and an M.S. in Structural Engineering from UC San Diego. He has designed and managed various types of building structures, including residential wood apartment buildings, commercial steel buildings, and concrete parking structures and towers. He also hosts a new YouTube channel through which he promotes the structural engineering profession to engineering students who are not familiar with the industry perspective.
Cara Green, P.E.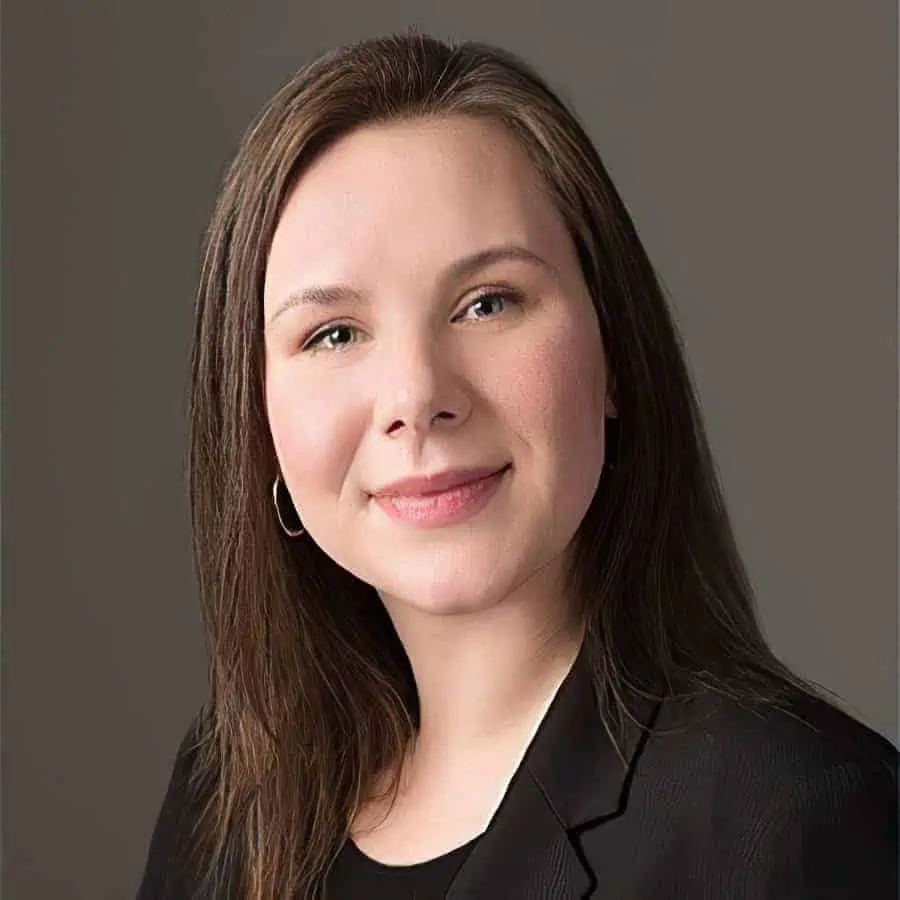 Cara Green, P.E., works in Hilti's North American headquarters as the Structural Engineering Trade Manager for the U.S. and Canada. She is currently an EIT in Texas and received her bachelor's in civil engineering from the University of Alabama in Huntsville.
Sources/References:
Forell/Elsesser Engineers, Inc.
ASCE 41
Connect with René Vignos, SE, on LinkedIn
This Episode Is Brought to You by Colliers Engineering & Design

Colliers Engineering & Design is a multidiscipline engineering firm with over 1,800 employees in 63 offices nationwide — and growing fast! Colliers Engineering & Design maintains an internal culture that is nurtured through the promotion of integrity, collaboration, and socialization. Their employees enjoy hybrid work environments, continuous career advancement, health and wellness offerings, and programs and projects that have a positive impact on society. Colliers Engineering & Design stays on the cutting-edge of technology, and their entrepreneurial approach to expansion provides personal and professional development opportunities across the firm. Leadership's dedication to the well-being of their employees and their families is demonstrated throughout the wide range of benefits and programs available to them. For more information, visit the career page on their website at colliersengineering.com.
Please leave your comments or questions in the section below on how engineers can help preserve and protect historic landmark structures.
To your success,
Mathew Picardal, P.E. & Cara Green, P.E.
Hosts of The Structural Engineering Podcast