Podcast: Play in new window | Download | Embed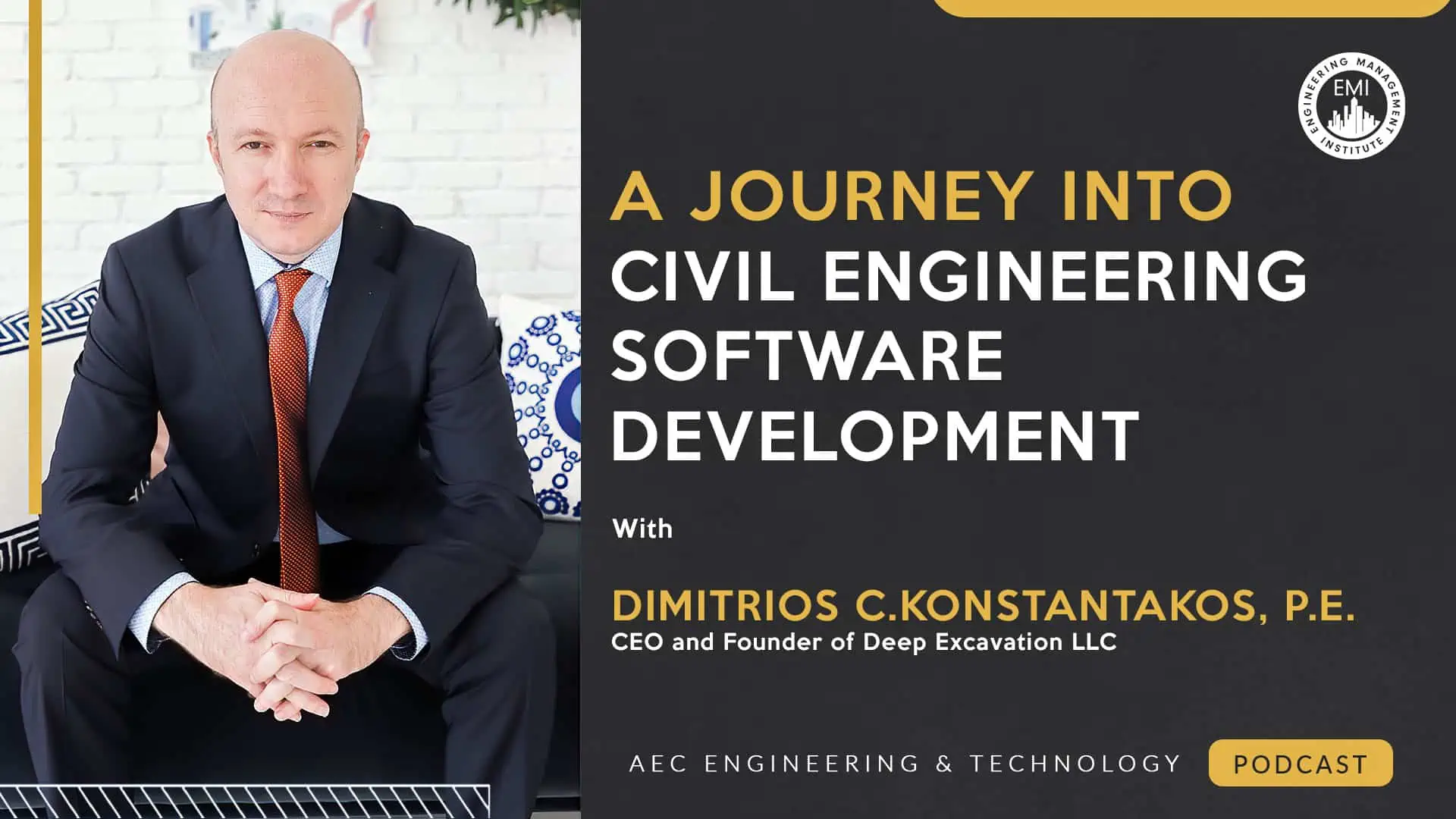 In this episode, I talk to Dimitrios C. Konstantakos, P.E., the founder of Deep Excavation LLC, who has developed highly effective civil engineering software. We delve into his remarkable journey of creating this software from scratch and explore the crucial role that engineers play in shaping the future of our cities and infrastructure.
***You can view the video version of this episode here.***
Engineering Quotes:


Here Are Some of the Questions I Ask Dimitrios:
How did Deep Excavation's civil engineering software, used by thousands of engineers worldwide, come to be from essentially nothing? Can you share more about how it all started and the process of deep excavation on the software side?
Could you talk about the process of starting with a minimum viable product to ensure market demand and how it led to quick success for your business?
From 2006 to 2010, what were some of the specific challenges that you faced in gaining traction for Deep Excavation's civil engineering software within the industry, and how did you overcome them?
Can you provide more information on Deep Excavation, including its civil engineering software and target audience?
How is augmented reality becoming significant in the construction industry, especially in terms of providing more simplified and visual information for owners?
How is marketing different in the context of construction projects, and how are trends in visualization helping to educate project owners?
How are younger engineers utilizing your software, and what advice would you give to them as they begin their careers?
What is the importance of output verification in technology, software, and artificial intelligence, and how can we ensure accurate results?
How do mid to senior-level engineers and project managers utilize the software, and does this change the previous question's answer on the importance of output verification and relying on experience and expertise?
What is the timeline for the shift from hourly rates to lump sum pricing becoming more common in the industry?
What is the value of human-to-human connection in engineering and how does the increasing use of software to translate verbal instructions into work products affect that value?
With all the advancements in technology, what are the reasons why a competent engineer in the seat won't be replaced by AI?
Could you provide some real-life project examples of how deep excavations are being utilized in today's construction industry?
What is the extent of your software's usage in different countries around the world?
How do you envision your clients all over the world utilizing Deep Excavation software to shape the infrastructure of cities in the next 10 to 15 years, and what role does it play in helping them solve the world's emerging problems?
How do you envision the future for your company and what developments are currently on your radar?
Here Are Some Key Points Discussed in This Episode About A Journey into Civil Engineering Software Development:
Dimitrios developed the software to solve his engineering problems and identified a gap in the market for a more efficient solution. Through perseverance and validation from the industry, he eventually transitioned from a sole developer to providing a vision for the company and tailoring solutions to the needs of their clients, leading to their success.
It took Deep Excavation four years to gain significant market traction, with the added challenge of trying to convince a conservative industry to adopt a new solution after the market crash of 2008-2009. The geotechnical community is especially risk-averse due to the nature of their work with soils and underground structures, making it difficult to introduce new technologies and ideas.
The success of a software company is dependent on meeting market demands and being adaptable to changing market conditions. It is important to continually iterate and improve upon the product to meet the needs of clients and stay ahead of the competition. A strong demand for construction is necessary for a software firm in the engineering industry to be successful.
Deep Excavation's software provides a unique solution by combining technical expertise, soil knowledge, and design codes to help engineers and contractors design underground structures such as foundations and retaining walls. The software can be used for small-scale projects as well as large-scale projects, including modeling an entire subway line within a city. Additionally, the software provides estimates for construction costs and schedules. The icing on the cake is the ability to visualize the designs in augmented reality using HoloLens glasses.
Owners and project owners prioritize what they can see and understand in terms of value and impact, rather than technical details. Visualization is crucial, especially for large infrastructure projects with the potential for cost and schedule overruns. The industry needs to do better at providing understandable visualizations, even without the funding of larger companies.
The construction industry has traditionally used 2D drawings as legal documents, but the future is moving toward 3D models for construction, which will eventually be built directly by construction robots.
Young engineers need to understand that dealing with the underground is risky and can't solely rely on software output. It's important to have a strong theoretical and practical background and guidance from experienced professionals. The software should guide the engineer to a rational design process and run structural tests. Learning engineering principles and gaining experience every day is crucial for success.
The primary responsibility of engineers is to provide safe and effective solutions to problems, and while software and other tools can assist in this process, they should not replace the engineer's expertise, experience, and knowledge of engineering principles.
The use of software enables firms to deliver greater value in less time or investigate more alternatives and provide a more complete solution. The value brought is not solely based on the time spent but also on the level of expertise and experience that the engineers have developed over the years. As technology continues to advance and produce solutions in a shorter amount of time, charging hourly rates will become increasingly impractical, and charging based on the value provided will become the norm.
The increasing use of generative AI in the engineering profession may lead to a shift away from charging hourly rates for work to instead charging based on the value provided. This shift may occur within a 10- to 30-year time horizon as generative AI technology advances.
Although AI can enhance engineering solutions and reduce time, human oversight is still necessary for professional liability and adjustments. In the future, it may no longer be feasible to charge clients per hour for engineering services due to advancements in technology.
Incorporating AI creatively can improve productivity, minimize risks, and deliver value without replacing engineers. But failure to adapt to new technology and think outside the box can lead to being replaced.
Deep excavation has been used in various projects around the world, such as subway station designs in New York, Los Angeles, Turkey, Greece, London, and Australia, as well as excavations for Amazon buildings, landslide stabilization projects, and tunnels.
Deep Excavation has clients all over the world, including in countries like South Africa, Australia, New Zealand, Singapore, Japan, China, India, Turkey, Greece, Germany, Spain, France, England, Ireland, Canada, New Mexico, Argentina, Chile, and Brazil, and even in more exotic places like New Caledonia.
Deep Excavation is working on better simulating large-scale subway projects to forecast demand and cost, and assess the impact on existing infrastructure. They are passionate about delivering better solutions to help engineers evaluate such projects more quickly. By making excavations safer, the company is contributing to saving lives and infrastructure. The software helps engineers address both smaller and greater challenges and develop solutions that benefit society.
Deep Excavation's focus is on continuing to develop solutions to support its clients in delivering more economical and valuable outcomes at a faster pace. They are committed to shaping the future and staying ahead of the competition. The goal is to enable their clients to charge more for their time and the value they bring to the table.
More Details in This Episode…

About the Guest: Dimitrios C. Konstantakos, P.E.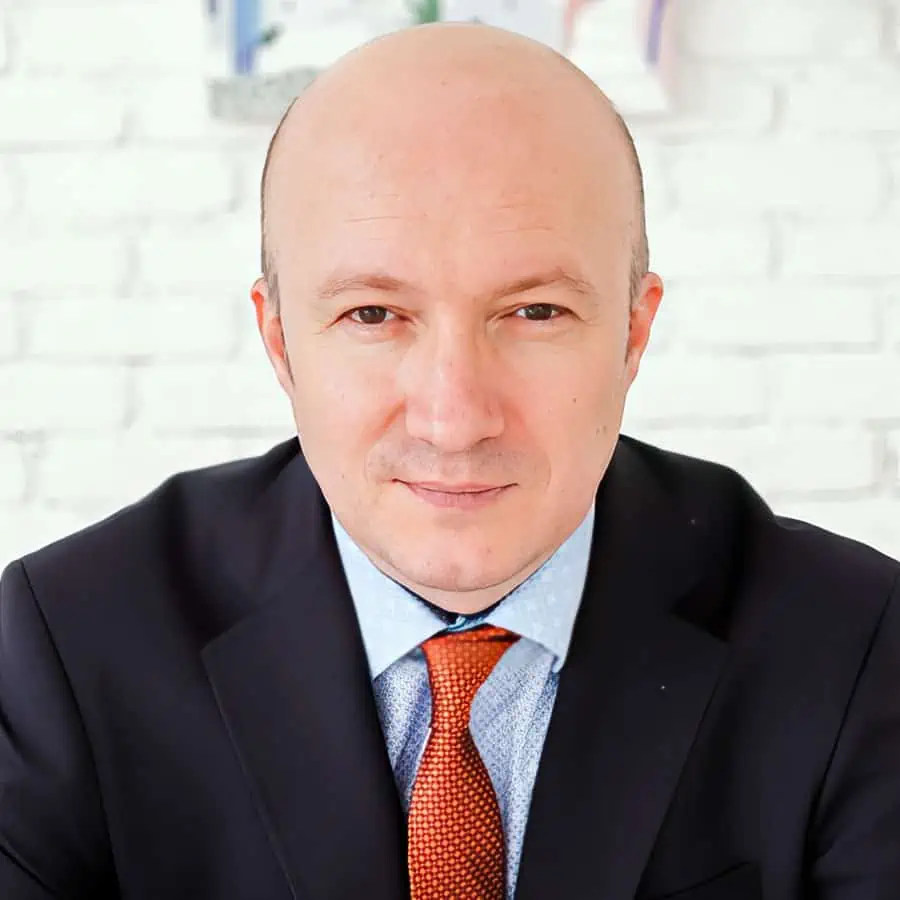 Dimitrios C. Konstantakos, P.E., the CEO and founder of Deep Excavation LLC, serves as the chair of the ASCE/G-I Technical Coordination Council and also teaches as an Adjunct Professor at New York University. From 2013 to 2016, he served as the Chair of the ASCE/G-I Earth Retaining Structures Committee. He holds a Master of Science degree from the Massachusetts Institute of Technology and a Bachelor of Science from the University of Massachusetts in Lowell. His areas of specialization are deep excavations, soil-structure interaction, slope stability, helical piles, deep foundations, and software development with relative publications.
Mr. Konstantakos has applied his passion for deep excavation design and has been the master developer of the international software program DeepEX dedicated to the subject. The DeepEX software is currently used by more than 1,200 engineers and contractors worldwide and embodies a wide range of standards and specifications. He has also developed software programs for soil-nailed walls, helical piles, deep foundations, and geotechnical instrumentation. He holds professional licenses in New York and Europe. Mr. Konstantakos has authored several publications.
About the Host: Nick Heim, P.E.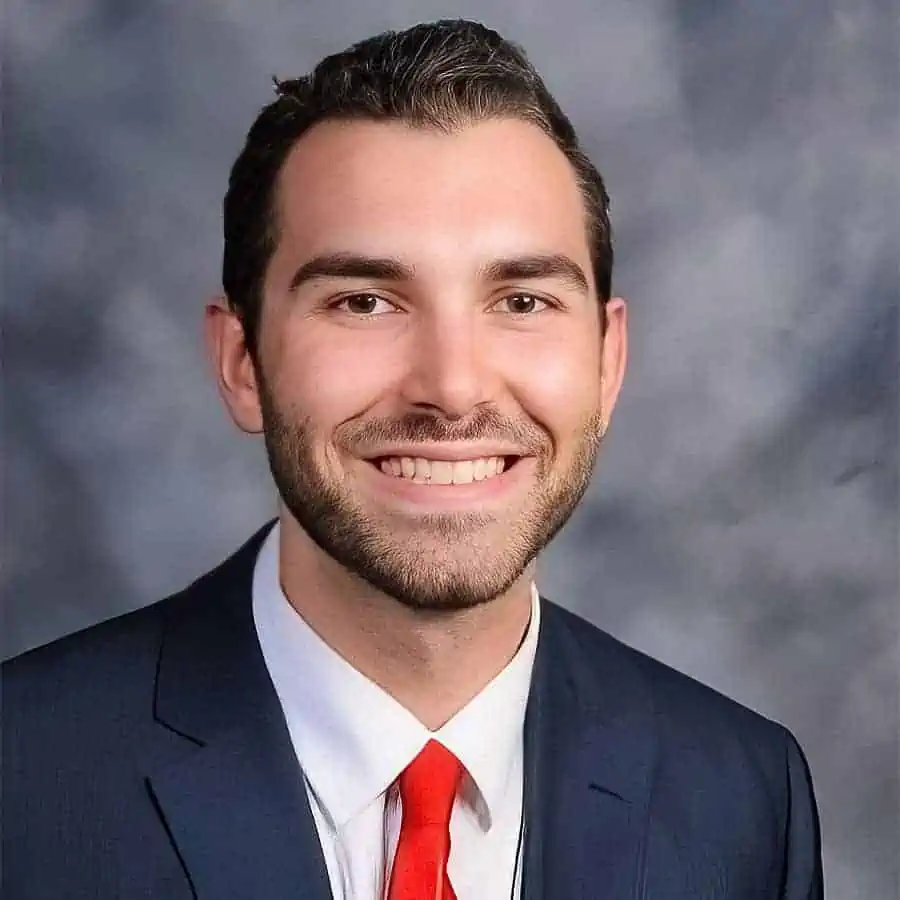 Nick is a field and VDC engineer at StructureCare, owner of Green House Property Management, and the host of the AEC Engineering and Technology Podcast. Nick's interests lie at the intersection between the built world and technology, and he can be found looking for the ever-changing answer to the question, "How can we do this better?" He can be found on LinkedIn, producing content about the use of technologies in his civil engineering career and small business.
Sources/References:
Deep Excavation
Microsoft Hololens
Connect with Dimitrios C. Konstantakos, P.E., on LinkedIn
Send Dimitrios C. Konstantakos, P.E., an email
This Episode Is Brought to You by Tensar: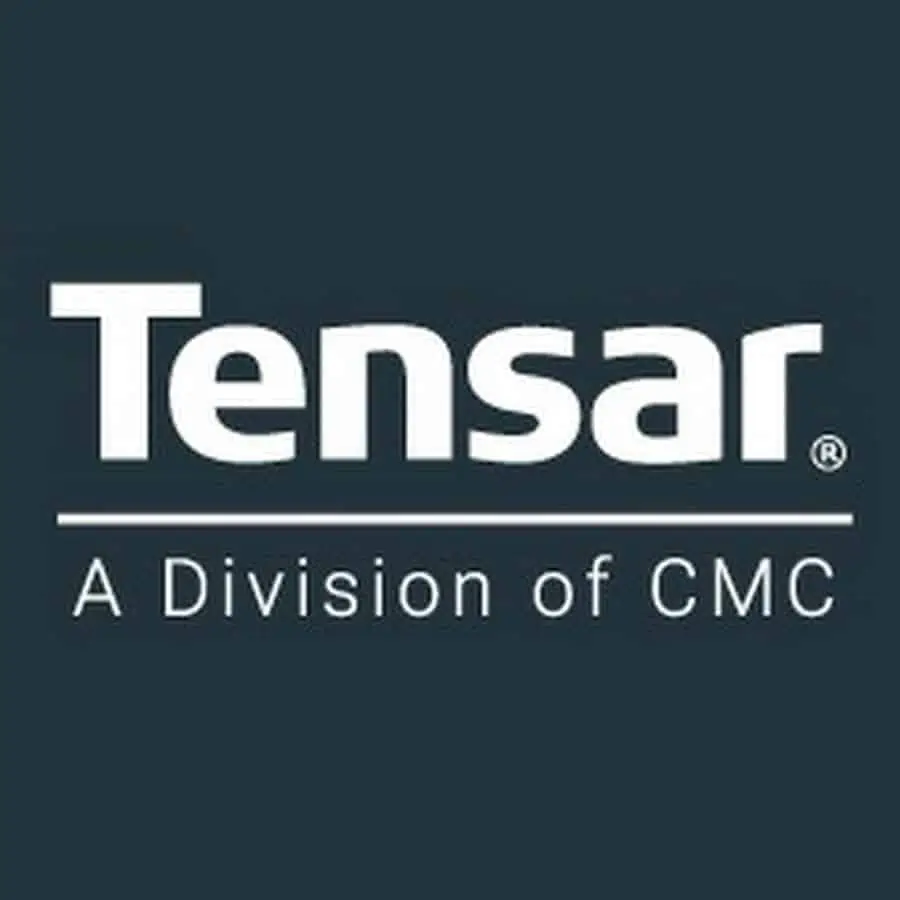 Tensar, a division of CMC, is a world-leading manufacturer and provider of ground stabilization and soil reinforcement solutions. Our innovative geogrid technology has benefited thousands of civil construction and engineering projects around the world for over 50 years. With our Tensar+ design software, you can design for higher performance and with greater confidence. Designers can export specifications that compare the benefits of Tensar geogrids with other soil stabilization methods. https://www.tensarplus.com
We would love to hear any questions you might have or stories you can share on civil engineering software development and how it can benefit the civil engineering industry.
Please leave your comments, feedback, or questions in the section below.
To your success,
Nick Heim, P.E.
Host of the AEC Engineering and Technology Podcast