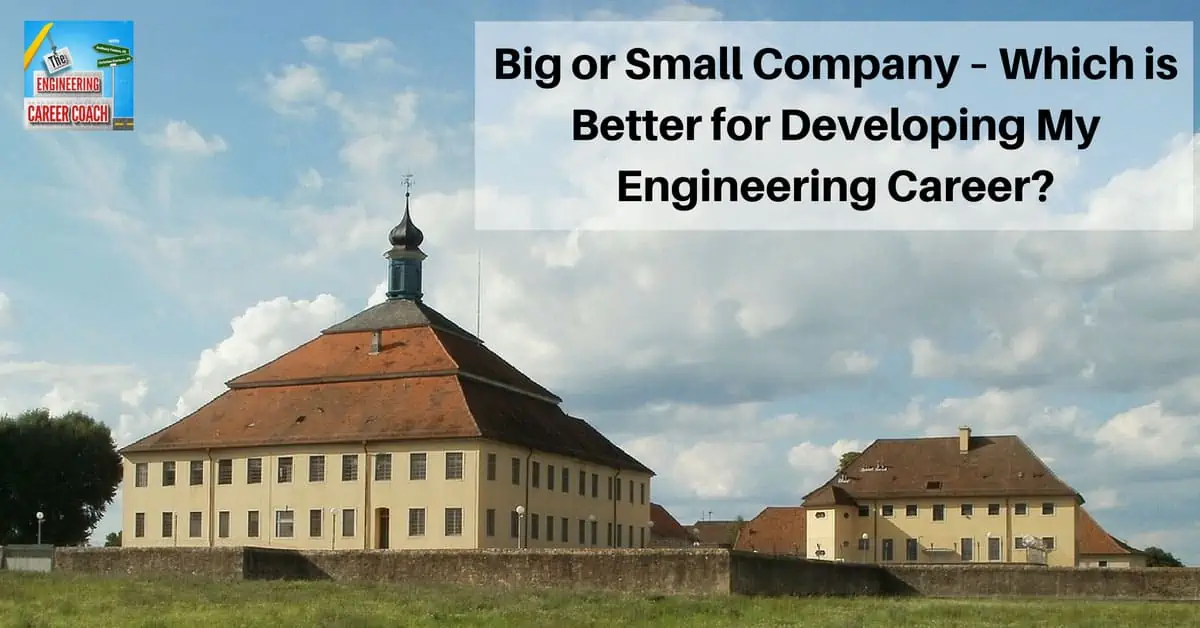 I have been asked by many engineering professionals, especially engineering students and younger engineers, "Is it more beneficial to my career development to work in a small or large engineering company?"  This is an excellent question, but unfortunately one that doesn't have a straightforward answer because it really depends on so many different things.  First and foremost it will depend on your career goals and which situation will put you in the best position to achieve them.  It also depends specifically on which companies you are looking at as not every small or large company offers the same benefits or drawbacks.
That being said, in this post I will offer some advice from my own experience as well as some information I recently received from an executive at a large (the largest) engineering company.
I spent most of my career working at small to mid-sized engineering companies.  When I graduated, I worked for a company that had about 5 employees total.  This was a great experience because it allowed me to get involved with every aspect of a project including fieldwork, office work, and team/client coordination.  I learned so much about the engineering industry in this position.  One of the major drawbacks was that the benefits were not as good as those at a mid-size or larger firm.  For example, there was no reimbursement available for graduate school or other courses that I wanted to take.
I also worked for a mid-sized engineering firm where I also felt I had the opportunity to get involved with most aspects of each project, although it did take a little longer for me to be able to communicate directly with the clients.  I also found in a mid-sized engineering company the process for being promoted took a little longer because there was more of an official process to go through than at the smaller firm.  The benefits were also much better than the smaller firm.  In fact, the company I worked for covered about 80% of the cost of my master's degree in civil engineering.  They also covered the fees for my P.E. exam as well as the associated books and review course.  Overall, working for a mid-sized firm was very beneficial to my career advancement and I would highly recommend exploring this option.
I have never had the opportunity to work for a large engineering firm, however at a recent engineering conference I attended a panel on career success and asked this very question to an executive from AECOM.  AECOM is the largest engineering company in the world with approximately 50,000 employees!  This executive went through this process of deciding on working for AECOM or taking a position with a smaller company.  Many people claim that when you work at a bigger company, there is a greater chance that you get pigeonholed into working on one specific task for large periods of time.  While this may be true and this executive said that he feared this, his experience at AECOM has been anything but this.  In fact, he said his experience with a larger company has given him the ability to work on larger and more interesting projects than he may have been able to work on at a smaller firm.  I had never thought about it from this perspective.  Large companies usually get to work on very high-profile, larger, and complex projects which could give you invaluable experience and enjoyment in your career.  They also most likely will have a great benefit package and potential for graduate school reimbursement.  This executive also warned us that his experience may not be standard for all large companies and it's important to really explore the company, the people that work there and the projects they work on before making your decision.  One other benefit of large companies is the potential opportunity for travel and/or relocation to one of their other offices either within your country or abroad.
I hope you found this post to be helpful in your engineer career advancement and I would ask those of you who have had to make this decision to please share your thought process, decision and results.
Also, feel free to listen to any of my past radio shows for advice from experts on engineering career topics similar to these.
We would love to hear any questions you might have or stories you might share on developing your engineering career.
Please leave your comments, feedback or questions in the section below.
To your success,
Anthony Fasano, PE, LEED AP
Engineering Management Institute
Author of Engineer Your Own Success