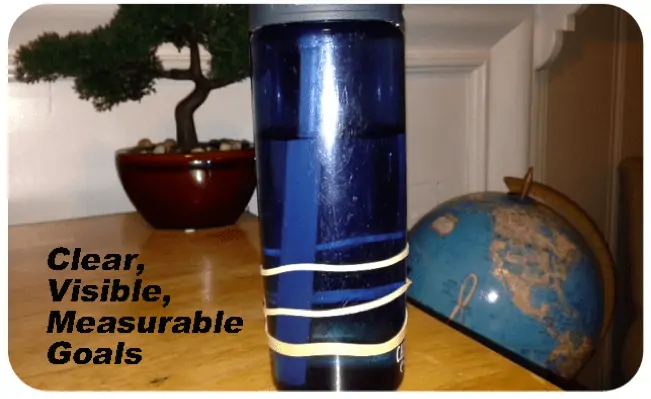 Recently I struggled with achieving an important personal goal, and in this post I want to share the strategy that helped me do so, and also give you a blueprint for achieving your own goals.
My Challenge
Drinking water is a critical part of maintaining an optimal level of health. However, many people, including myself, neglect to do so, because we are running around from one appointment to the next every day. I recently did some research and learned that it is recommended that you drink at least half of your body weight in ounces each day—ideally, your exact body weight. Therefore, if you weigh 200 pounds, you should be drinking 100 to 200 ounces of water each day. I was coming nowhere near to this.
Then, a few weeks ago, I had engineer-turned-wellness-expert Stephanie Cook as a guest on Session 22 of my podcast. She talked about the importance of drinking water and gave a great strategy for ensuring you do so. She said to drink from a large water bottle throughout the day, and every time the bottle is empty, to fill it up and put one rubber band on it. At the end of the day, you can see how much water you drank by counting the rubber bands.
So I tried it, with a minor tweak to the process she suggested. I have a 20-oz. water bottle (see photo above). I set a goal of drinking 100 ounces of water each day. Each morning, I filled up the water bottle and put five rubber bands on it. Every time the bottle was empty, I took a rubber band off, put it on my wrist, and filled up the water bottle again.
Amazing Results
The results of this experiment were amazing; I achieved my goal on the first day and found myself exceeding 100 ounces by days two and three. Why? The answer is simple. I set a very clear goal that was measurable and visible. I can see the goal staring at me every day, and that is a motivator. When I see the five rubber bands on that bottle, it drives me to take a sip, knowing that by drinking and removing those rubber bands, I am improving my health dramatically.
Another example is, when I was studying for the Principles and Practices of Engineering Exam (the PE exam), I typed out on a piece of paper "Anthony Fasano, PE." I taped this piece of paper to the top of my monitor screen and stared at it all day long. Every time I wanted to skip studying on my lunch break, I would just look up, see my goal, and get my books out.
What to Do After You Set Clear Goals
Okay, so you set a clear goal that is measurable. That is only the initial step in the process of actually achieving that goal. Now you have to take action. Let me share with you a process for achieving your goals that I learned from my all-time favorite book, The Monk Who Sold His Ferrari, by Robin Sharma (affiliate link). This simple process is laid out in Chapter 8 of the book, and I believe that anyone can use it to achieve the loftiest of goals.
The Five-Step Process for Realizing Your Goals
Step1: Form a Clear Mental Image of the Outcome
As early on in your day as possible, think about your goal; specifically, think about the positive outcome of achieving it. So, in my example, I considered the benefits of drinking water, which include increased energy, removal of toxins from the body, boosting of the immune system, improved skin complexion, and more. By considering these benefits, you motivate yourself to take action.
Step 2: Put Public, Positive Pressure on Yourself
One of the best ways to put public pressure on yourself is to make a public pledge. For example, when I decided that I was going to take the PE exam as a young engineer, the first thing I did after registering for the exam was to e-mail my boss and other colleagues the date that I was going to take it. That gave me added motivation to ensure I prepared thoroughly, so as to not let them down. In the case of my water example, I explained the process I was using to my family and told them that if they didn't see multiple rubber bands on my wrist, they were to question me on it.
Step 3: Never Set a Goal Without Attaching a Timeline to It
This is an absolutely critical step and one I am sure I don't need to explain in detail to engineers. Most engineers I know have project deadlines—and usually finish their projects late the night before they are due. Why? Because they have a deadline to meet. In the case of my water example, my timeline was 24 hours. My goal was to drink 100 ounces of water in 24 hours.
Step 4: Apply the Magic Rule of 21
The book states that in order to cement a new habit into your life, you must do it consistently every day for 21 days straight. If you research this online, you will see that that number changes depending on whom you talk to, but what remains the same is the idea that you have to do something repeatedly and consistently for it to stick. I have been using the rubber band process for about three weeks now, and it is pretty well cemented into my daily routine. It is also helpful to take whatever actions you choose at the same time every day. For example, it is important for me that I fill up my water bottle every day right after breakfast, so I can start the process early. That action is now a habit for me.
Step 5: Enjoy the Process
Have fun as you journey toward your goals, whatever they may be. What I enjoyed most about establishing this water-drinking habit was that I felt better throughout the day and I knew I was improving my overall health.
Once again, I am grateful to Robin Sharma, author of The Monk Who Sold His Ferrari (affiliate link), for laying these tips out.
I believe that if you set clear goals that are visible to you and follow these five steps, you can achieve anything.
Why not start today?
To your success,
Anthony Fasano, PE, LEED AP
Engineering Management Institute
Author of Engineer Your Own Success