Podcast: Play in new window | Download | Embed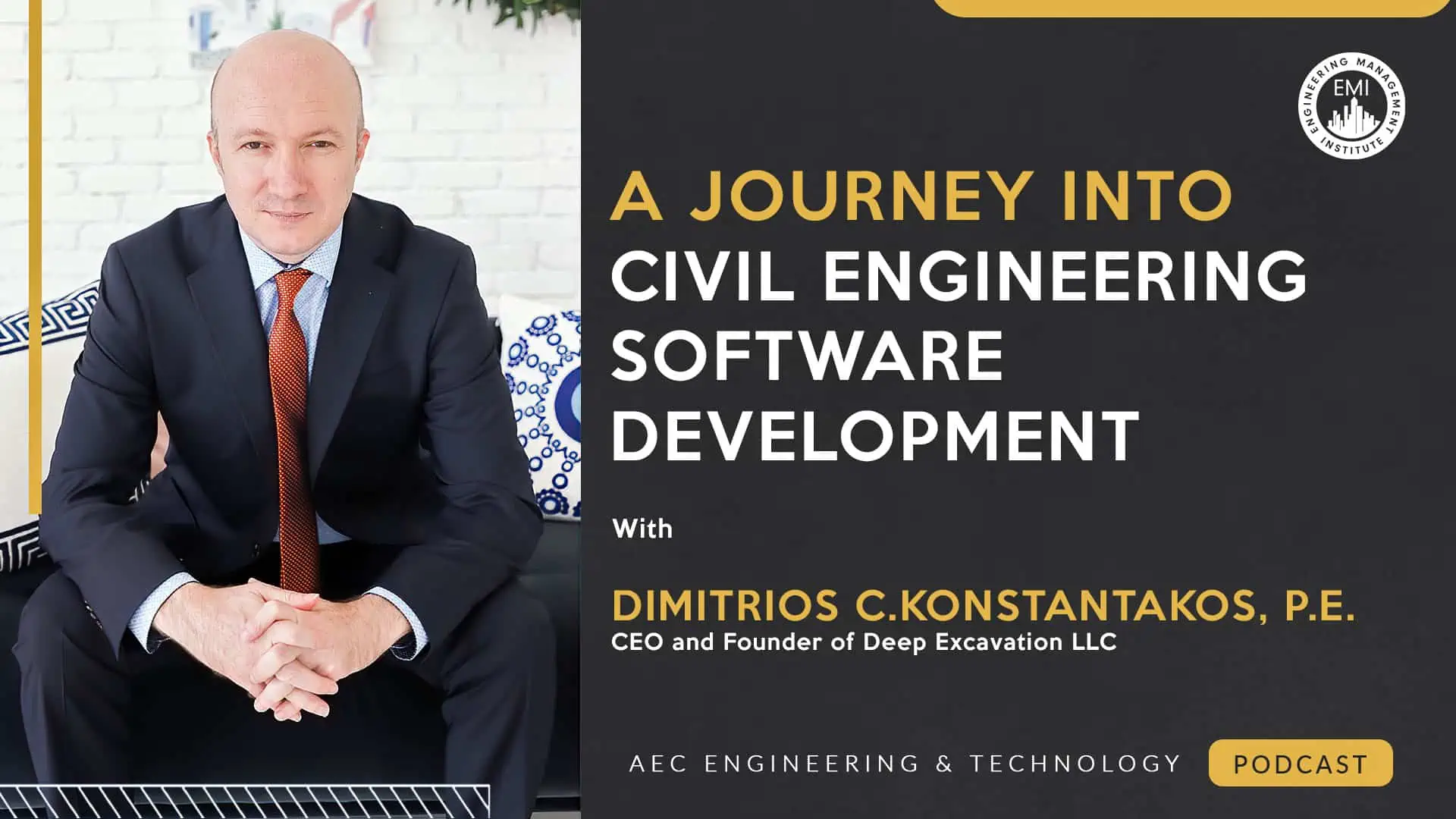 In this episode, I talk to Dimitrios C. Konstantakos, P.E., the founder of Deep Excavation LLC, who has developed highly effective civil engineering software. We delve into his remarkable journey of creating this software from scratch and explore the crucial role that engineers play in shaping the future of our cities and infrastructure.
***You can view the video version of this episode here.***
Engineering Quotes:


Here Are Some of the Questions I Ask Dimitrios:
How did Deep Excavation's civil engineering software, used by thousands of engineers worldwide, come to be from essentially nothing? Can you share more about how it all started and the process of deep excavation on the software side?
Could you talk about the process of starting with a minimum viable product to ensure market demand and how it led to quick success for your business?
From 2006 to 2010, what were some of the specific challenges that you faced in gaining traction for Deep Excavation's civil engineering software within the industry, and how did you overcome them?
Can you provide more information on Deep Excavation, including its civil engineering software and target audience?
How is augmented reality becoming significant in the construction industry, especially in terms of providing more simplified and visual information for owners?
How is marketing different in the context of construction projects, and how are trends in visualization helping to educate project owners?
How are younger engineers utilizing your software, and what advice would you give to them as they begin their careers?
What is the importance of output verification in technology, software, and artificial intelligence, and how can we ensure accurate results?
How do mid to senior-level engineers and project managers utilize the software, and does this change the previous question's answer on the importance of output verification and relying on experience and expertise?
What is the timeline for the shift from hourly rates to lump sum pricing becoming more common in the industry?
What is the value of human-to-human connection in engineering and how does the increasing use of software to translate verbal instructions into work products affect that value?
With all the advancements in technology, what are the reasons why a competent engineer in the seat won't be replaced by AI?
Could you provide some real-life project examples of how deep excavations are being utilized in today's construction industry?
What is the extent of your software's usage in different countries around the world?
How do you envision your clients all over the world utilizing Deep Excavation software to shape the infrastructure of cities in the next 10 to 15 years, and what role does it play in helping them solve the world's emerging problems?
How do you envision the future for your company and what developments are currently on your radar?
Here Are Some Key Points Discussed in This Episode About A Journey into Civil Engineering Software Development:
[Read more…] about AECT 017: A Journey into Civil Engineering Software Development