Podcast: Play in new window | Download | Embed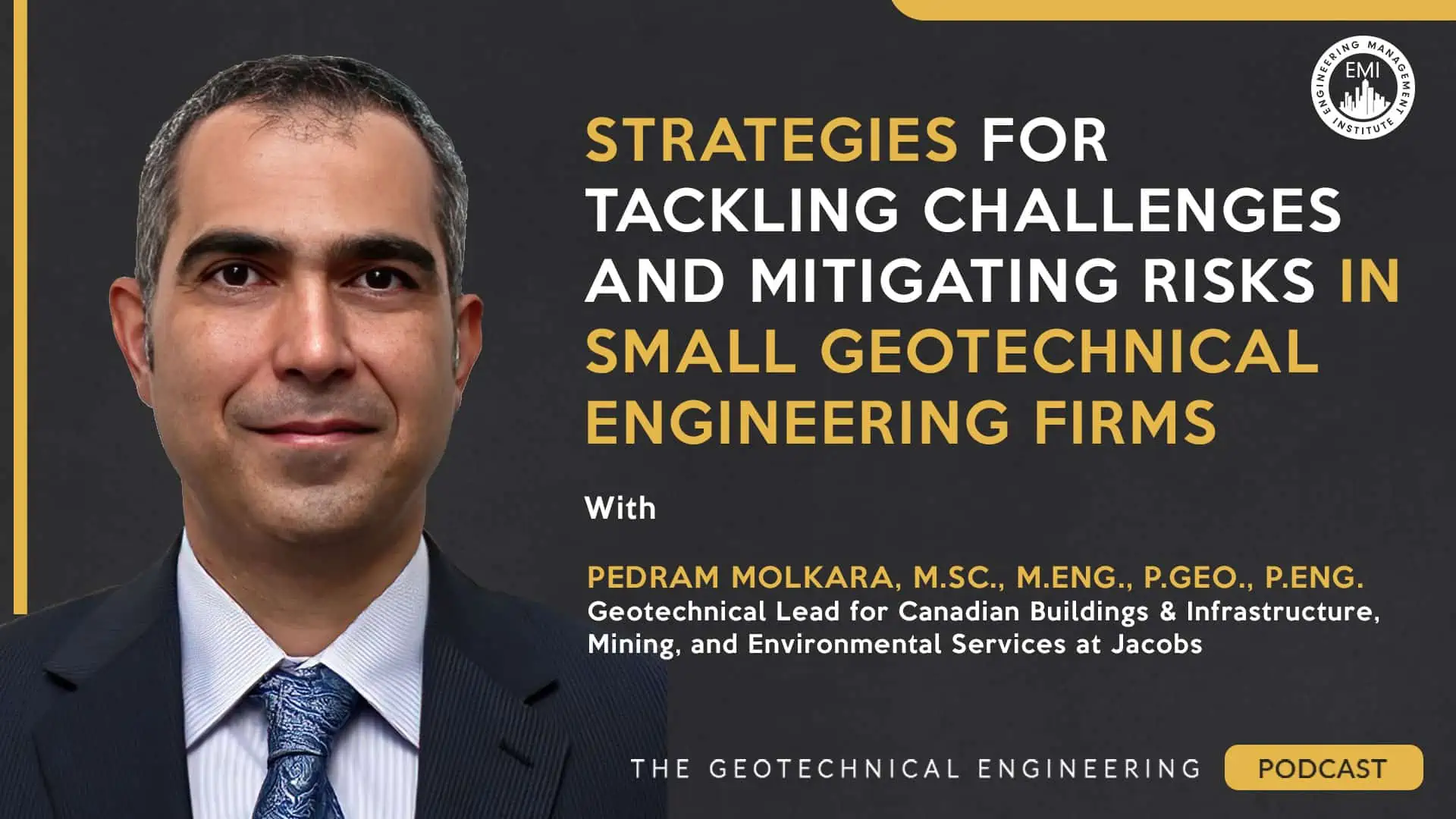 In this episode, I talk with Pedram MolkAra, M.Sc., M.Eng., P.Geo., P.Eng., geotechnical lead for Canadian Buildings & Infrastructure, Mining, and Environmental Services at Jacobs, about the present status of geotechnical engineering. Pedram sheds light on the hurdles faced by small geotechnical engineering firms, the risks and liabilities involved, and the critical skills required for project management in the field of geotechnical engineering.
***You can view the video version of this episode here.***
Engineering Quotes:


Here Are Some of the Questions We Ask Pedram:
Have you noticed any changes in the university systems for training young engineers in geotechnical and geological engineering?
How can a small geotechnical engineering firm differentiate itself to succeed in the industry when competing with larger firms?
What are the main risks and liabilities that geotechs must take into account when carrying out their work?
How do you effectively manage high-stakes projects in project management and geotechnical engineering, and what are some essential skills for achieving success?
Can you share your experience in rehabilitating and reviewing over 50 earth dams and conducting multiple dam safety inspections, and could you explain the significance of conducting regular dam safety inspections?
As the founder of the Canadian Geotech group at Jacobs, can you elaborate on how you maintain quality and consistency across all geotechnical projects and manage to stay up to date with all the latest developments in the field?
Can you share how your basketball league and triathlon involvement help you maintain a work-life balance?
Here Are Some of the Key Points Discussed About Strategies for Tackling Challenges and Mitigating Risks in Small Geotechnical Engineering Firms:
[Read more…] about TGEP 076: Strategies for Tackling Challenges and Mitigating Risks in Small Geotechnical Engineering Firms