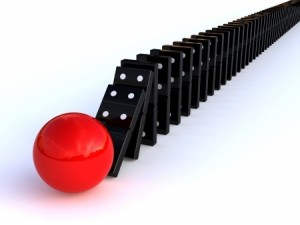 As we gear up for a wonderful 2014, I wish you the absolute best in achieving the loftiest of goals. While many people talk about goal setting this time of year, there is one thing that must be considered when you go through the goal setting process: the impact a goal will have on your career and life when you achieve it.
It Only Takes One Goal
The other day, I was in the car listening to the radio and it was a countdown of the top songs of the year. When it was time for song #1, the DJ explained that the song was by a group who, after this song went to the top of the charts, soon had three other #1 hits. He said, "One song changed everything for these guys." That statement really made me think about how their success is analogous to all of our careers. I know in my career, when I published my book Engineer Your Own Success, it was a career- and life-changing event in many ways. I wanted to write about this today because I think it is a great way for us to focus on the bigger picture when setting and pursuing goals. If you are setting or have recently set goals for yourself, think about those goals for a second. Think about the impacts that each goal is going to have on your career and life when you achieve it. Do you notice that some goals will have much more impact than others? These are the goals you should really focus your energy on. While this may sound obvious, it's very easy to get distracted and spend time and energy on goals that aren't as powerful.
The Domino Effect
I read and listen often to Michael Hyatt, who has a great approach when it comes to goals, and I heard him say something that explains this best. He said to pursue goals which, when achieved, will have a domino effect in your life. When you achieve the goal, many other things will start to happen because of that achievement. I urge you to set goals that will create that domino effect in your engineering career and life. For example, let's say that you have a goal of obtaining your Professional Engineering (PE) license. What might some of the effects of achieving this goal be?
Increased responsibilities at work, including project management duties
A promotion to project manager or another position within your firm
Employment offers from other reputable engineering companies
An increase in salary and/or a bonus from your current employer
The flexibility to start your own engineering firm when ready to do so
I would say that obtaining a PE license might be a very powerful goal for any engineer. It's up to you to determine what your domino effect goal will be this year.
How to Set Goals
This month, we are opening up our January webinar to all engineers at no charge. The webinar is entitled How to Get Focused on Your Goals in Your Engineering Career: A Case Study from a Young Engineer, and you can register by clicking here.
In this webinar, my friend Peter Helseth, PE, will discuss his resolution from 2013 and how he strategically achieved a goal of running 1,000 miles by November 3rd after over 117 hours of determination. He'll also discuss how to set an appropriate goal for the year and longer-term stretch goals for your career.
On the call you will learn:
[+] How to make sure you achieve a goal once you set it;
[+] What steps you can take to increase your chances of success;
[+] How to set an appropriate goal for the year and longer-term stretch goals for your career;
[+] How to make 2014 your best year ever!
Please join us for this complimentary webinar so that you can set goals that will change your career and life.  It is time to create your domino effect. Register now to reserve your seat. There will be a recording available for those who can't attend.
To your success,
Anthony Fasano, PE, LEED AP
Engineering Management Institute
Author of Engineer Your Own Success