Podcast: Play in new window | Download | Embed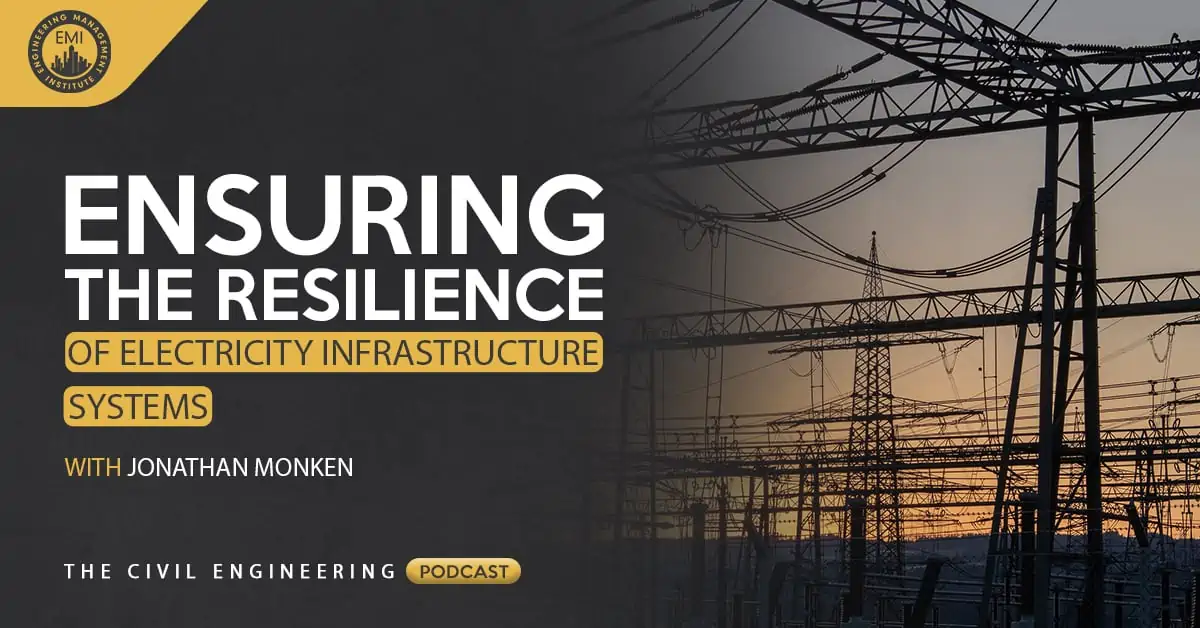 In episode 58 of The Civil Engineering Podcast, I talk with Jonathon Monken, Senior Director, System Resiliency and Strategic Coordination in the ITS Division of PJM Interconnection about the resilience of electricity infrastructure systems, Black Sky events, and what civil engineers can do to help reduce risk to the electricity infrastructure systems.
Here are some of the questions I ask Jonathan:
Can you describe for us the top three resiliency issues that our electrical infrastructure faces in the U.S. today?
What are, if any, interdependencies with natural gas and communications in the electricity infrastructure system?
What components of the electrical system need to be addressed first?
Can you explain what Black Sky is?
What are some of the mitigation steps that can be taken at the regional level to lessen the duration of outages?
How does resilience planning different from planning for reliability and efficiency?
What is your definition of resiliency?
How can the industry ensure the protection of our nation's electricity infrastructure systems from cyber-attacks, or at least give operators a chance to limit the impact from a cyber-attack?
Are there physical barriers that can be used to improve resilience or this a cyber defense only?
What might be the best role for civil engineers to help in resilience planning to reduce risk to the electricity infrastructure system?
Engineering Quotes




Here are some key points discussed in this episode on the Resilience of Electricity Infrastructure Systems:
Natural gas and communications are the two most important aspects in the operation of the grid. When you look at the communication aspect of things, the way that the grid is operated now is increasingly relying on automation and it's a very distributed operation of how we work. The low price of natural gas due to fracking and the availability of natural gas has created a circumstance where we've seen a huge turnover in our fleet of generations in our territory and in many areas around the US and globally where people are moving very quickly to natural gas.
There is not an unlimited pool of money out there, and you can't do every infrastructure project that you want to.
There is a lot of things that can be done at the distribution level to improve smart grid technologies, automation and to ensure you can be more effective in real time balancing of the system, to avoid those circumstances where you see unpredictable events occur and the grid is not designed to react quickly enough to be able to mitigate that.
Black swan is an occurrence that is from a statistical perspective is very unlikely to happen. Black Sky is the conversions of that level of probability, if not even higher, from a probability perspective, but it is something that directly affects the grid and effects infrastructure.
There are only 6 buckets that really fall all into the level of impact that would reach a black sky level. Three of them are malicious (man-made) and three of them are naturally occurring.

On the malicious side, it is:
Cyber-attacks
Kinetic Activity
Electro Magnetic Pulse
On the naturally occurring side, it is:
Severe terrestrial weather
Space weather, like solar flares
Earthquakes

The common threat of Black sky is something that is capable of generating a widespread long duration outage that exceeds the scale and the duration of outages that we've ever seen previously, to a point where you have to take a totally different perspective on how we plan for.
Gaining a better understanding of the interdependencies issues is something that needs to be understood by all parties that are involved in outages.
Reliability and efficiency standards are the most easily quantified metrics that we have within the electricity industry. You should try and figure out what your quantified metrics are for success.
When you look at the dictionary definition of resilience, it talks about elasticity, it's all about your ability to bounce back from a particular event. You must understand that the impact is going to happen. You also have to operate under the assumption that there is going to be a significant impact on your system and that alters how you approach the problem and how to design your plan to mitigate against that particular threat.
When it comes to the electricity infrastructure systems in cyber-attacks, make sure you recognize the threat and your employees understands the threat and realize that there are a lot of emerging tools and technology that can you help with intrusion detection, threat isolation, and characterization.
You can have the best cyber defense ever, but if you don't have good physical security to marry up to that, it doesn't really matter.
More details in this episode…
About Jonathan Monken:
Jonathon Monken is Senior Director, System Resiliency and Strategic Coordination in the ITS Division of PJM Interconnection, where he works to build enterprise-level resilience in the areas of business continuity, physical and cyber security, risk management, operations, and planning. He's served as Vice
President, U.S. Operations for the Electric Infrastructure Security (EIS) Council developing best practices for government and industry to improve the resilience of life support infrastructure systems from "Black Sky" events, which we'll get into in this episode.
Jonathan also served as Director of the Illinois Emergency Management Agency (IEMA), where he oversaw Illinois' disaster preparedness and response, nuclear safety and homeland security programs. He's also a highly-decorated Army officer, having deployed to Kosovo and two combat tours in Iraq.  He currently supports the National Cybersecurity and Communications Integration Center at the Department of Homeland Security in his Army Reserve capacity.
A graduate of West Point with Bachelor of Science Degree, Jonathan also holds a Master's in Business Administration from Northwestern University's Kellogg School of Management.  

Sources/References:
TECC 144: Ensuring the Resiliency of the Power Grid and Critical Infrastructure
PJM
Infrastructure Report Card
EIS Council
Engineering Management Institute Ask Us Page
This episode is brought to you by PPI, the leader of civil engineering FE or PE exam preparations. Use promo code CIVIL for 20% discount at PPI2Pass.com/coach.
EPRO Handbooks mentioned in this episode:
Please leave your comments or questions in the section below on the resilience of electricity infrastructure systems.
To your success,
Christian Knutson, PE, PMP
Engineering Management Institute