Podcast: Play in new window | Download | Embed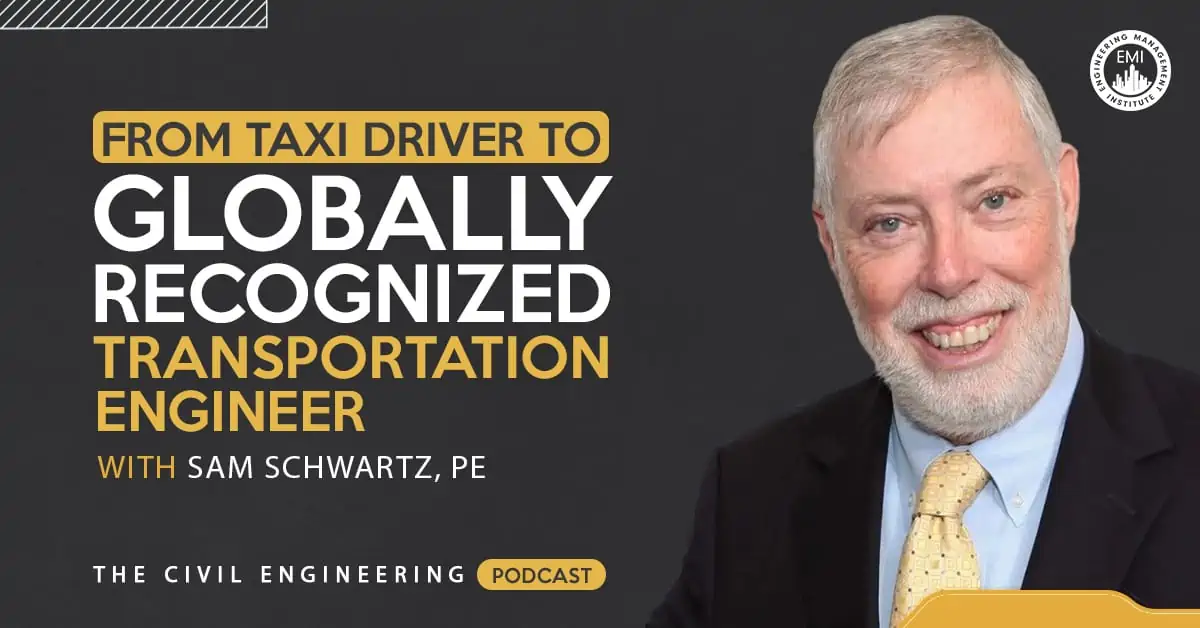 In episode 085 of The Civil Engineering Podcast, I talk with Sam Schwartz, PE, President, and CEO of Sam Schwartz Consulting, LLC, a firm that specializes in transportation planning and engineering. During the episode, Schwartz discussed his career journey that started with him as a taxi driver, but has evolved into Schwartz today, being known as a globally recognized transportation engineer.
Here are some of the questions I ask Sam Schwartz:
How would you describe yourself?
Tell us about your experience as a Taxi driver and how it helped your overall professional development?
What is Gridlock Sam?
What are your goals in building your company?
Engineering Quotes:
Here are some key points discussed and quotes from this episode:
It was my job to restore the bridges of New York City and I had to do a lot of quick learning, which I did. The Bridges of New York City are stronger today than they ever were before.
Traffic does repeat itself to some extent, so every year I put out a Gridlock Sam Calendar that shows the predictive future traffic on the roads.
There are so many predictive elements in traffic. We know for instance that, the day before Thanksgiving, there will be a five mile long traffic jam at the George Washington bridge at 5 pm.
Getting people out of their cars has health and environmental benefits to it. It allows cities to function better and use less space for automobiles. We can build more parks, where automobiles used to be.
People embarked a century ago on how to move vehicles faster, not thinking about how they will ultimately make people move slower.
Researchers are realizing that people are the problem. They can solve every vehicular problem, but they can't solve the problem of pedestrians.
In regard to personal productivity, it's important to get back to people within 24 hours. If you can't get back to people within 24 hours, you have to make a effort to let them know.
Engineers are typically people who stay in their own shells. Learn to get out of your shell and communicate with people.
If you want to move up in an engineering organization, you've got to be able to sell. When you learn to sell and communicate well, you will be able to dictate your own future.
More details in this episode…
About Sam Schwartz
Sam Schwartz, PE, also known as Gridlock Sam, is President, and CEO of Sam Schwartz Consulting, LLC, a firm that specializes in transportation planning and engineering. He also writes columns on traffic for The New York Daily News and the NY Downtown Express. Previously Mr. Schwartz was New York City's Traffic Commissioner and was the Chief Engineer of the NYC Department of Transportation. He started his transportation career in the late 1960's as a NYC cabbie and joined the Traffic Department, as a junior engineer, in 1971.
Sam has received more than a score of awards for his work, including 2016 NYC Zoning Advisory Council Honor Award, 2014 AAA Traffic Safety Award, 2014 Brooklyn Technical High School Distinguished Alumnus Award, and a whole host more…
He obtained his Bachelor of Science degree in Physics at Brooklyn College and received a Master of Science degree in Civil Engineering at the University of Pennsylvania. He is a licensed Professional Engineer in New York, New Jersey, Pennsylvania, Connecticut and Florida
Sources/References:
Sam Schwartz Consulting, LLC
Gridlock Sam Website
Engineering Management Accelerator Workshop (Online) | 5 PDHs
TCEP 084: The Importance of Sustainable Infrastructure Featuring Kristina Swallow
This episode is brought to you by PPI, the leader of civil engineering FE or PE exam preparations. Use promo code TCE8 for a 20 % discount at ppi2pass.com/resources
Books Mentioned in this Episode:
Please leave your comments or questions in the section below that may you have in regards to Gridlock Sam Schwartz, PE.
To your success,
Anthony Fasano, PE, LEED AP
Engineering Management Institute
Author of Engineer Your Own Success