Podcast: Play in new window | Download | Embed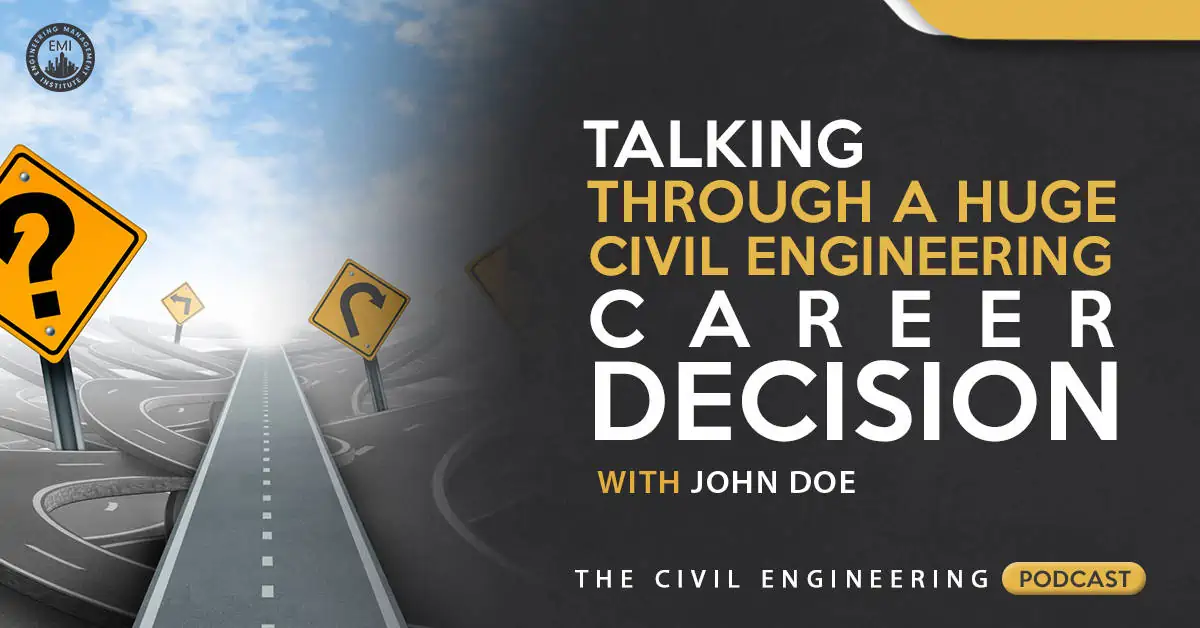 In episode 086 of The Civil Engineering Podcast, I talk with one of our listeners who is facing a difficult civil engineering career decision. He has to decide whether or not to stay in the private consulting sector or to move to a public career path.
Here are some of the questions I ask:
What discipline of civil engineering are you involved in and how long have you been practicing?
Are you considering government employment or working with a private contractor who is working for the government?
Where do you see yourself in your career 10 years from now?
What makes your work fulfilling?
What is the current breakdown of your department and what level are you at in at your department?
Engineering Quotes:




Here are some key points discussed on making a critical civil engineering career decision:
Look at the benefits and risks from each of your potential job opportunities. Make sure you have a very clear definition of each of them.
Consider creating a definition of what fulfillment means to you, because that might determine what your final decision would be.
Try to look at your career options in a 3 to 5 year window and outline the negatives and positives to each option.
If you have small children, consider the stability of the job, the salary, and the amount of hours you will need to put in at the company you're considering. When your children are older, it may be easier to take a more demanding job.
A lot of very successful engineering professionals started new departments at their firm and grew those departments. That is how they got to the top of their companies.
Talk to at least 5 civil engineering professionals that you know that made engineering career transitions and gather information from them about the process. Ask them what they would have done differently, if they could go back and do it all over again.
When it comes to making big decisions, get as much data as you can and put everything on the table.
At the end of the day, the most important things to aspire to, are the goals you have set for yourself in your career. As long as you put yourself on the path to reaching those goals, you are moving in the right direction.
Take your time when making important civil engineering career decisions. Too often, people make quick decisions based on a salary or titles, but they aren't the best decisions for them long-term.
More details in this episode…
About our Guest John Doe
John Doe is a Professional Engineer (PE) with over ten years of experience in transportation design as a Senior Engineer and Project Manager. He works on projects, large and small, for various municipalities throughout his state. They range from intersection modifications and resurfacing projects for cities and counties to major highway projects for the Department of Transportation (DOT) . He also has leadership and personnel management experience and is involved in the community.
Sources/References:
Engineering Management Accelerator Workshop (Online) | 5 PDHs
TECC 170: Big Picture Thinking Versus the Details in your Engineering Career
This episode is brought to you by PPI, the leader of civil engineering FE or PE exam preparations. Use promo code TCE8 for a 20 % discount at ppi2pass.com
Please leave your comments or questions in the section below on a civil engineering career decision you recently had to make or are planning to make.
To your success,
Anthony Fasano, PE, LEED AP
Engineering Management Institute
Author of Engineer Your Own Success