Podcast: Play in new window | Download | Embed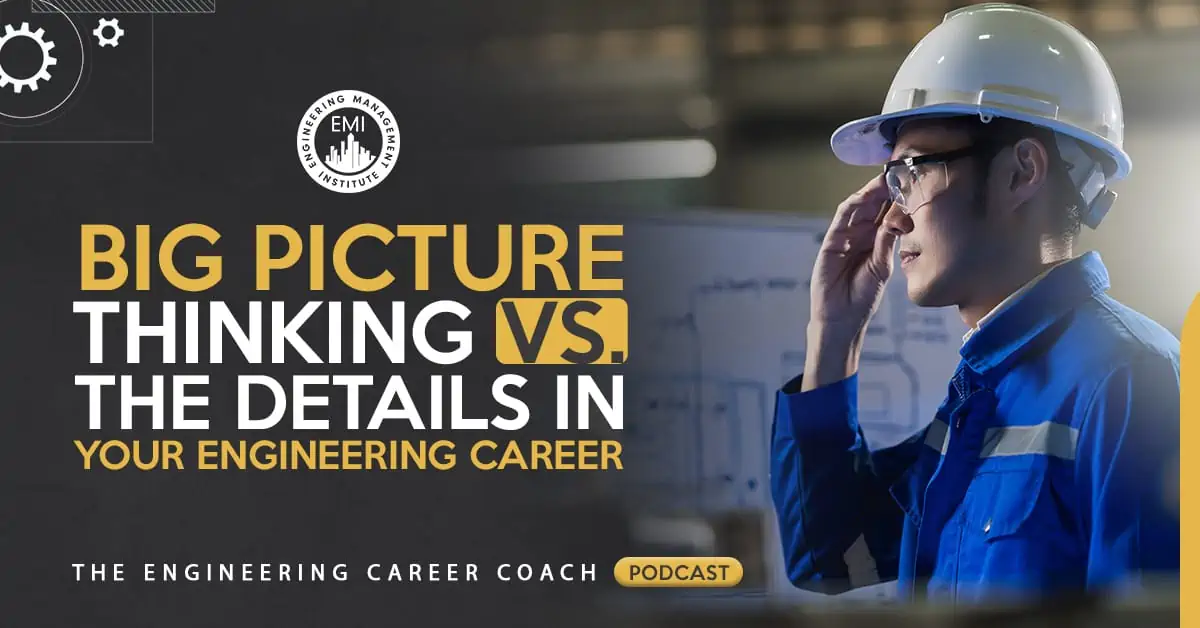 In this episode, I talk to about the difference between big picture thinking versus a detailed orientated mindset and how to benefit from both in your engineering career. I will detail the benefits of each of these thinking patterns and provide strategies for utilizing both effectively as a technical professional.
Engineering Quotes:




Here are some of the key points discussed in this episode:
As an engineering professional, you'll be faced with a wide variety of problems and challenges that will require you to think big and come up with solutions.
Engineers who value both big picture and detail-oriented thinking will have a greater opportunity to be successful in their careers.
Big picture thinking is when you look at the whole picture and all of the effects that the situation has on everything around it. Most big-picture thinkers do not get bogged down in the details of executing their plans.

Characteristics of Big Picture Thinking
If you are a big picture thinker, you will quickly be able to see patterns in problems.
Big picture thinkers also have a low tolerance for busywork and tedious errands.
They may be great at outlining what has to be done, but when they start to get into the small details, they might get tired quickly.
Big picture thinkers are often characterized as right brain thinkers or thought to be very creative.
Advantages of Big Picture Thinking
They are motivated because they see opportunities and have a lot of new ideas to work on.
They don't often dwell on problems and can quickly come up with solutions to potential obstacles, and are fast at solving problems.
Big Picture Thinkers can see the overall picture. They don't worry about the details that are floating around.
The end goal is usually very clear to them.
Things that may prevent Big Picture Thinking
Procrastination – By procrastinating you are wasting time and visionary people don't do that.
Thinking short-term too often – You will not see the big picture if you only focus short-term, try focusing on both the short and long term.
Coming up with different excuses kills big picture thinking.
Focusing on things that don't matter and that won't drive your success.
Over-analyzing things and wasting time and energy on small matters that are of little significance.
Seeking perfection – this approach can force you to get stuck on the details and prevent you from looking at the overall picture.
When you change the way you think, you can change the way you feel.
– David D. Burns
Characteristics of the Detailed Oriented Thinker
Detail oriented thinkers will often be more precise than someone that is visionary.  Detail-oriented people are not very good at visionary thinking but are very good at the execution sides of things. They will most likely over-think things from time to time.
They think about things in great detail and sometimes miss the bigger picture.
Detailed orientated thinkers enjoy optimizing something that already exists as opposed to creating new things.
Detailed orientated thinkers don't like highlighting study notes because they end up highlighting everything.
They may be described as people who are left-brained and are very analytical.
Advantages of Detailed Orientated Thinking
Detailed orientated thinkers have high standards. That is a good thing because they can produce very high-quality work.
They are very productive and efficient and can produce a solution to virtually any kind of problem being presented to them.
Detailed orientated thinkers present a polished result. Typically, fewer revisions of work will be necessary as they have a high standard of quality work.
They are great at organizing and have excellent analytical skills.
Disadvantages of Detailed Orientated Thinkers
They might not see the bigger picture.
Detailed orientated people sometimes struggle socially.
They tend to be inflexible and don't like things to change.
They sometimes have a fear of failure or not doing something the right way.
More in this episode…
In the Take Action Today segment of the show, I will give you a few steps that you can use to implement both of these thinking patterns in your career and life.
Resources and links mentioned in this session include:
Next Webinar – Developing An Entrepreneurial Mindset that will Drive Opportunity for You And Your Company
Big Picture vs. Detail-Oriented Thinking
What Is Big Picture Thinking in Business?
How can I become a big picture thinker with attention to detail?

This episode is brought to you by PPI, the leader of FE, PE, or SE exam preparations. Use promo code T-E-C-C-8 for a 20% discount at PPI2Pass.com/coach.
Books by Richard Koch:


Is it better to be a big picture thinker, a detailed orientated thinker, or both?
We would love to hear any questions you might have or stories you might share on big-picture thinking versus pondering the details in your engineering career.
Please leave your comments, feedback or questions in the section below.
To your success,
Anthony Fasano, PE, LEED AP
Engineering Managment Institute
Author of Engineer Your Own Success