Podcast: Play in new window | Download | Embed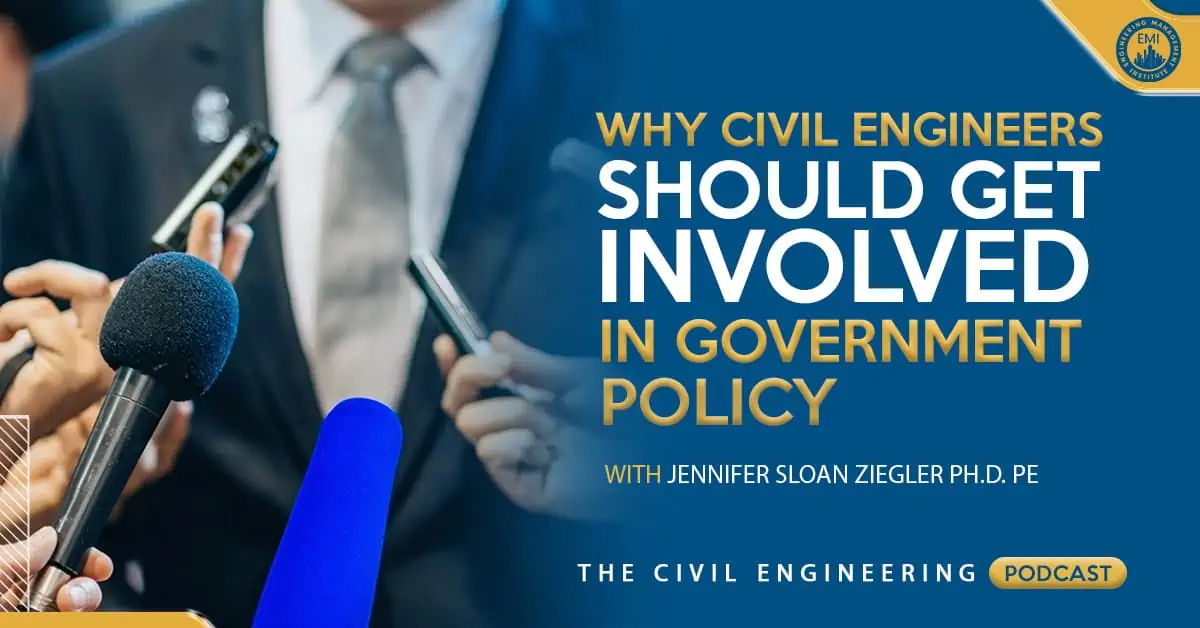 In episode 102 of The Civil Engineering Podcast, I speak with Jennifer Sloan Ziegler, a Project Engineer focusing on water resources, specifically watershed management and coastal restoration. We discuss government policy and its importance in civil engineering, and why all civil engineers should in some way get involved in policy.
Engineering Quotes:


Here are some of the questions I ask Jennifer
Why do civil engineers need to be involved in policy?
Why do you think politicians are not consulting engineers when creating these policies, if the policies are driving what engineers can and cannot do?
Since most political staffers aren't technical, how can engineers learn to communicate with politicians?
What if civil engineers don't want to get involved because they hate politics?
Why did you leave your position working in politics?
What is your perspective of women in civil engineering?
Here are some key points discussed in this episode about why Civil Engineers should get involved in government policy:
A lot of the policies that we have to follow as engineers are actually created and drafted by people that don't have a technical background. Engineers have technical expertise, but are being told by people that don't have technical expertise what they need to do.
Engineers need to establish relationships with the people that make decisions instead of complaining about the fact that the law requires them to meet unrealistic criteria.
It doesn't matter how knowledgeable you are, if you can't share that knowledge, your ideas will never get put into practice. It's important to share your knowledge in such a way that a kindergartener would be able to understand it.
You should ask yourself if you want non-technical people to continue making decisions for you, or if you want to get involved.
You can complain about all of the politicians, but if you don't take action, then you are also partly to blame.
There is room for all sorts of people in policy development. Get to know the people who are good at communicating. If you can communicate with them and you can form a team, then together you could be unstoppable!
If you are working somewhere and you feel that the job is not a good fit for you, then you need to make a change in your career. Do what you need to do to find where you fit.
It's really important to translate the things that you have learned and to give that knowledge to future generations.
Women in engineering often feel that they have to work so much harder than their male colleagues to get the same kind of recognition as they do.
More details in this episode
About Jennifer Sloan Ziegler Ph.D. PE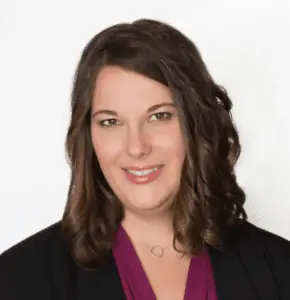 Jennifer works on bridging the gap between engineering and policy; her work is extremely interdisciplinary and she routinely works with scientists, engineers, managers, economists, lawyers, political scientists, and researchers. Jennifer is a registered Professional Engineer in Texas, Louisiana, Mississippi, Alabama, and Florida. Prior to her current firm, Waggoner, Jennifer worked for the Memphis District of the Army Corps of Engineers, was a Dean John A. Knauss Marine Policy Fellow in the U.S. Senate, and was a lecturer at Mississippi State University. Jennifer is active in ASCE and serves on the Mississippi Section Executive Board, the Environmental and Water Resources Institute Governing Board, the Committee on Younger Members, and the Energy, Environment, and Water Policy Committee.
Sources/References:
Engineering Management Accelerator Workshop (Online) | 5 PDHs
Jennifer's LinkedIn Profile
Waggoner Engineering
TCEP 069: The Involvement of Civil Engineers in Legislation
This episode is brought to you by PPI, the leader of civil engineering FE or PE exam preparations. Use promo code TCE8 for a 20 % discount at ppi2pass.com
Books Mentioned in this Episode:
Engineer Your Own Success: 7 Key Elements to Creating an Extraordinary Engineering Career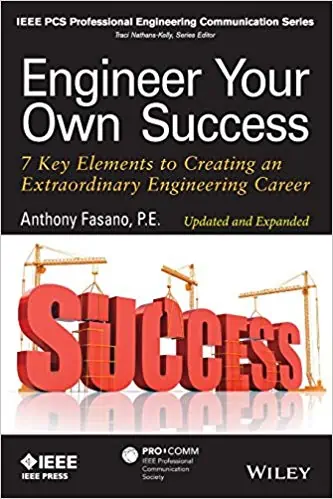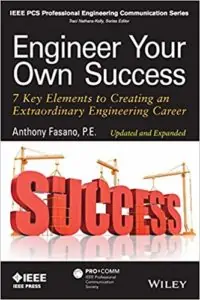 Please leave your comments or questions in the section below about why you think Civil Engineers should get involved in government policy.
To your success,
Anthony Fasano, PE, LEED AP
Engineering Management Institute
Author of Engineer Your Own Success