Podcast: Play in new window | Download | Embed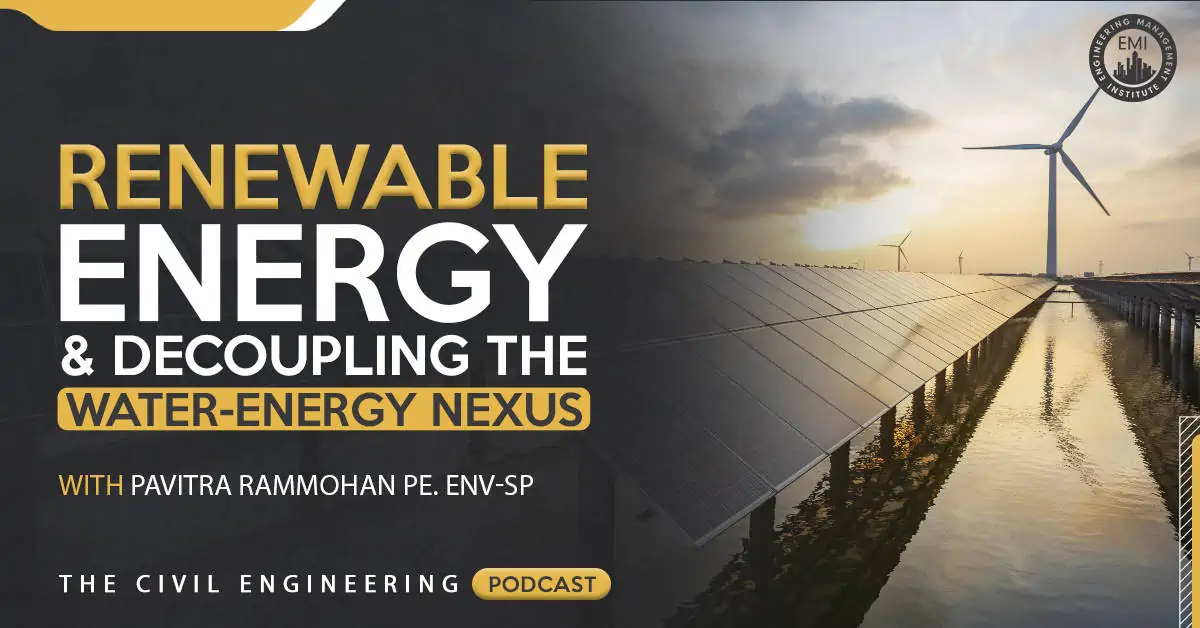 In episode 132 of The Civil Engineering Podcast, our seventh episode in our Women in Civil Engineering series, I talk with Pavitra Rammohan, PE. ENV-SP, the Region Manager at DeepRoot. Pavitra talks about renewable energy and specifically about decoupling the water-energy nexus. We also dive into her background as well as her journey from India to the United States. 
Engineering Quotes:

Here Are Some of the Questions I Ask Pavitra:
Could you please tell us about your journey from Chennai to Los Angeles?

Can you tell us more about decoupling the water-energy nexus?

What is renewable energy?

Can you talk about the importance of getting stakeholders involved in this process?

How did you develop such a high confidence level?

What are Silva Cells?
Here Are Some Key Points Discussed in This Episode About Renewable Energy and Decoupling the Water-Energy Nexus:
Coming from a diverse background in India provided me with a platform of interacting with people from different parts of the country, and also helped with comparison and contrast in the engineering world.  

When we talk about decoupling the water-energy nexus, we are referring to a basic inter-dependency between water and energy resources. It is really important to decouple the water-energy nexus; otherwise, the way in which you produce energy will suffer. 

There is already technology in place to decouple the water-energy nexus. 

You have to look beyond economics and enforcement's when considering decoupling. The stage where we are right now is about consistency and transparency. We need to know what the source of the energy is and what kind of credit can be obtained.

To be able to go 100% renewable energy, the price of power will have to drop by about 90% from what it is today. Engineering professionals will need to get creative in their approach to build momentum towards having these renewable energy resources coupled with energy storage, as that will be economically viable.  

The millennial generation has stepped up as a generation of engineers that can describe the pros and cons of the decisions they make. 

As you progress through your career journey, you become more confident because of the lessons learned. Having confidence in your career should be just as important as achieving success.  

Silva Cells are a modular suspended pavement system that serves as a vehicle to carry lightly compacted soils beneath the pavement. This allows you to maintain the functional aspect of pavement surface and at the same time, promote an environment that can help grow trees in addition to efficient stormwater management through underground bio-retention.
More details in this episode…
About Pavitra Rammohan PE. ENV-SP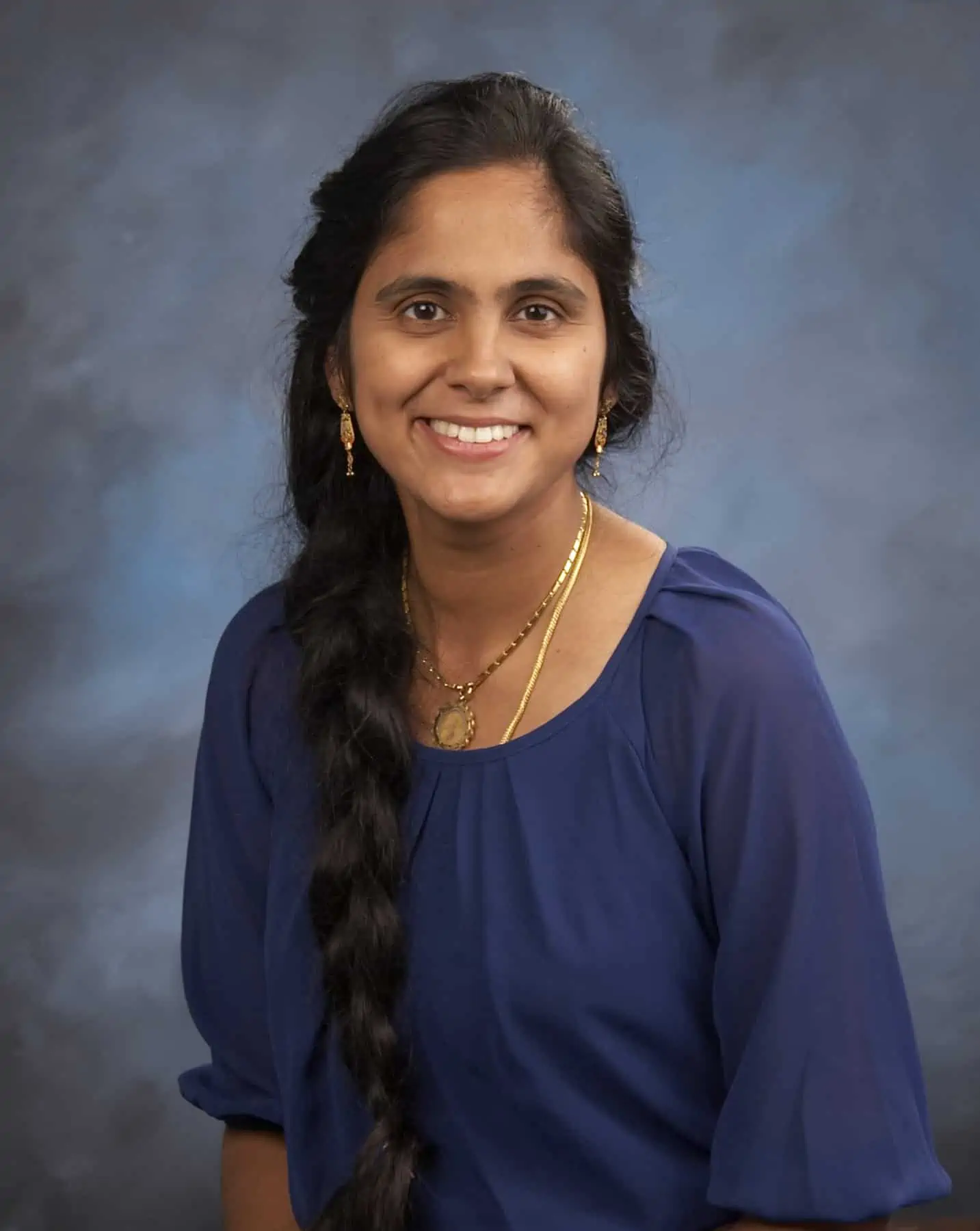 As a Region Manager at DeepRoot, Pavitra oversees the development, design, marketing, consulting and sales, and construction of projects involving Silva Cell technology. Silva Cells allow efficient integration of water, soils, and the tree roots and promote on-site stormwater management through bio-retention. She works with public and private agencies in the infrastructure sectors and brings over a decade of deep expertise in engineering consulting experience, leading complex projects that integrate water supply planning, stormwater quality, stakeholder involvement, multi-agency partnership, and financing. Pavitra is also a California Professional Engineer, ENV-SP, Certified Floodplain Manager, and a Certified Stormwater Professional.
Passionate about community engagement and social impact, she also serves on the Los Angeles County Metropolitan Transportation Authority (LA Metro) Sustainability Council. In this role, she actively promotes awareness of sustainability-related leading industry practices and best practices for inclusion in all public discussions and decision-making processes, and advises in the development of the LA Metro sustainability goals, established targets, and performance measures.
Sources/References:
Engineering Management Accelerator Workshop (Online) | 5 PDHs
Engineering Management Institute Professional Membership
Connect with Pavitra Rammohan
DeepRoot Green Infrastructure, LLC
TECC 216: Providing Engineering Career Growth Opportunities to Your Team
This episode is brought to you by CMB HR Consulting, a privately-owned full-service staffing and recruitment firm specializing in placing civil engineers including structural, bridge, water resources, and stormwater. If you need help filling your open positions or help with getting your organization off the ground, visit their website at http://www.CMBHRConsulting.com 
Books Mentioned in this Episode:
Tribal Leadership: Leveraging Natural Groups to Build a Thriving Organization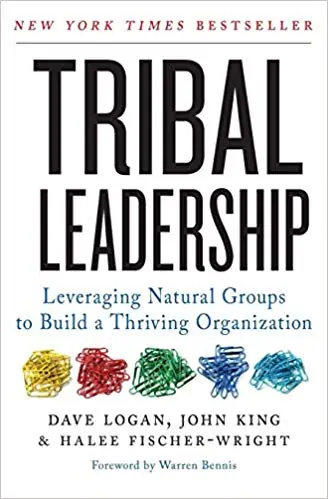 Please leave your comments or questions in the section below on decoupling the water-energy nexus.
To your success,
Anthony Fasano, PE, LEED AP
Engineering Management Institute
Author of Engineer Your Own Success