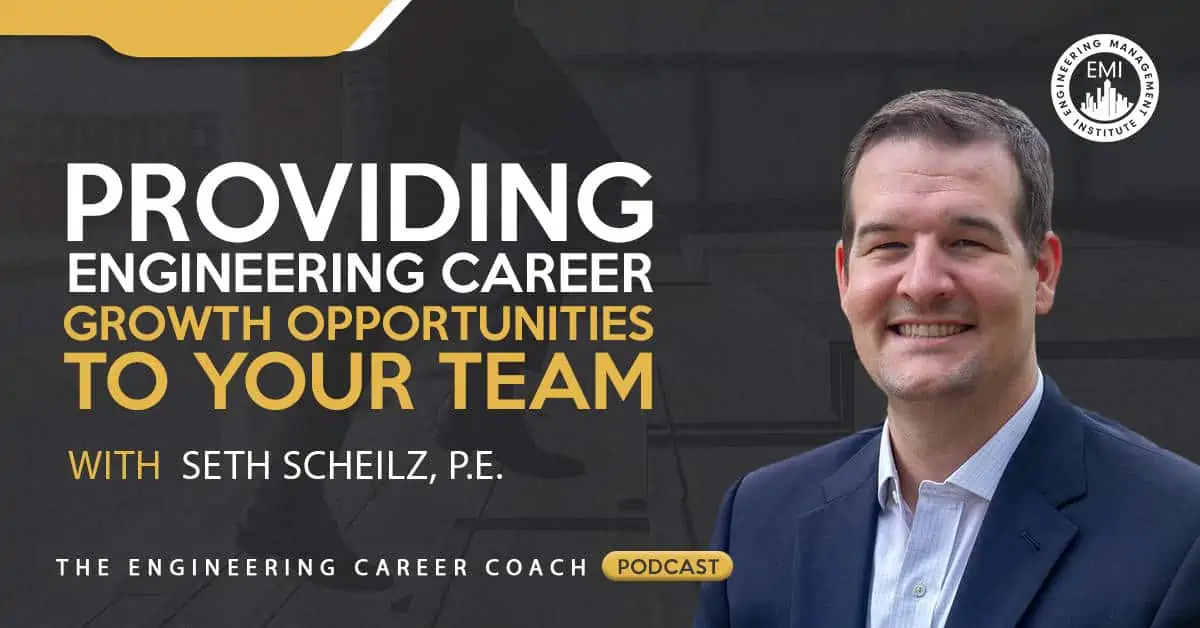 In this episode, we're kicking off a series where we will be diving into the four key drivers of great engineering managers. I talk to Seth D. Scheilz, Professional Engineer at Black & Veatch in Kansas City, about the first of these four key drivers: providing your team members with engineering career growth opportunities. Seth tells us about the things that he has done to facilitate the growth of the teams he has managed in his career.
The four key drivers of successful engineering managers, based on research we have conducted at the Engineering Management Institute, through the design of an diagnostic tool we are building called the CMAP (Current Management Ability Potential) Diagnostic Tool include:

C: Career Growth Opportunities
M: Management Style that's Inclusive
A: Ability to Manage Projects
P: People or Interpersonal Skills

Engineering Quotes:

Here Are 3 Points to Consider When Providing Engineering Career Growth Opportunities to Your Team:
1. How Biology Impacts Behavior
There are different hormones in the body that can be broken down into three groups, namely:

Independent hormones like endorphins and dopamine; 

Inter-dependent hormones like serotonin and oxytocin; and

Fight and flight hormones, like cortisol.
These hormones depict how we act and interact with each other. As a manager, you have to understand the environment people are working in and understand how these hormones will affect your team. This will help you to promote trust, increase accomplishments with your team, and make you understand your team better.
2. Leader-Leader vs Leader-Follower
Leader-Leader is teaching and pushing decision-making authority and knowledge down the chain of command, whereas Leader-Follower is where decisions are made at the top and then come down, but with input from the team.

Leader-Follower is based upon training people, educating them on the entire chain of command, and understanding their strengths and weaknesses. This provides them more freedom to make decisions.

Leader-Follower

is used to develop a system for long-term success by teaching everyone on the team leadership skills, enabling more leaders, and minimizing the overall risk of failure in the organization.
3. Feedback Process
Feedback can be given in three ways: Feelings, Behaviors, and Impact.

Feelings: Start with the person who is giving the feedback and consider how the situation makes them feel. This reduces argumentative conflict between individuals. 

Behaviors: This pertains to the behavior of the individual you are giving feedback to. You can use this to improve areas that may be lacking, or use it in recognition of what they are doing well. 

Impact: How behavior creates a positive or negative effect. 
Being specific with these three ways of feedback will show people areas where they need to improve and why. If the feedback shows them what they are doing well, it acknowledges their contribution. 
More in this episode…
In the Take Action Today segment of the show, Seth shares a story from his career on how he focused on providing career growth opportunities to his team.
About Seth Scheilz, P.E.
Seth Scheilz, P.E. is a Professional Engineer at Black & Veatch in Kansas City, where he builds teams to serve clients in the data centers, telecommunications, power, oil and gas, and water sectors. With a focus on building production teams and developing professionals, he solves challenging civil and geotechnical engineering problems.
He attended the Burke Civil Engineering Graduate Program and holds an MS in Civil Engineering from the Lyles School of Civil Engineering at Purdue University, where he researched and developed correlations for glacial till soils. He holds a BS in Civil Engineering from the University of Missouri.
If your manager is one that isn't engaged with your career development by offering frequent advice and guidance, it's time to look for greener pastures. ~ John Rampton
Resources and Links Mentioned in This Session Include:
Engineering Management Accelerator Workshop (Online) | 5 PDHs
Engineering Management Institute Professional Membership
Connect with Seth Scheilz, P.E.
Black & Veatch
Books Mentioned in This Episode:
How Can Managers Consistently Provide Engineering Career Growth Opportunities to Their Team?
We would love to hear any questions you might have or stories you might share on how you provide engineering career growth opportunities to your team. 
Please leave your comments, feedback or questions in the section below.
To your success,
Anthony Fasano, PE, LEED AP
Engineering Management Institute
Author of Engineer Your Own Success