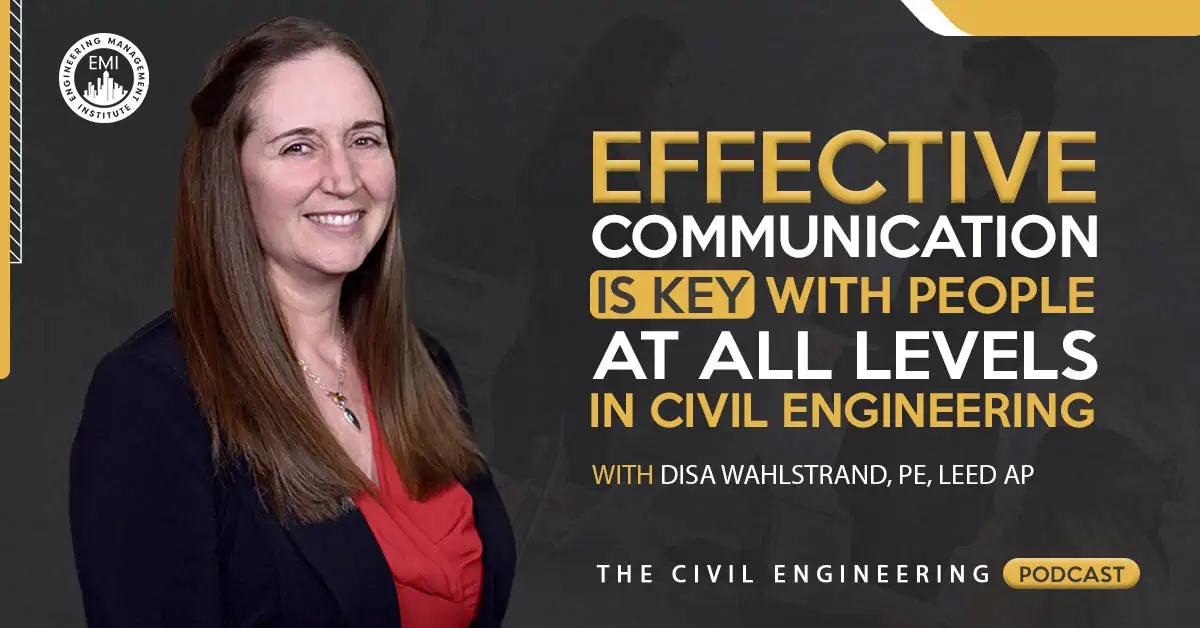 In this episode of The Civil Engineering Podcast, our tenth episode in our Women in Civil Engineering series, I talk to Disa Wahlstrand, PE, LEED AP, who is a vice president of municipal services and water resources operations for Ayres in Wisconsin. We will be talking about engineering in STEM, big picture mindsets, and why communication is key in multidisciplinary teams.
Engineering Quotes:


Here Are Some of the Questions I Ask Disa:
How can we influence the attitudes of students, especially females, about engineering and STEM in general?

Why do you enjoy doing campus planning?

Can you talk to us about your experience being a vice president in a mid-sized company?

What can you share with civil engineers out there about transitioning into their careers?

Why would you say communication is key for civil engineers?
Here Are Some Key Points Discussed in This Episode About Why Effective Communication Is Key for Civil Engineers:
The engineering profession needs to be intentional about how they operate and make engineers aware of STEM. 

You very often hear young women say that they are not good at math or science. In my opinion, girls can be better at math and science than boys if we challenge them to step up. And that is why we should encourage younger female engineers to become involved in engineering projects that males are more naturally drawn to. Equally important involving females in some of these hands-on activities is a great way to help them feel more connected to the things that relate to the math and science profession. 

Making people be aware of what the civil engineering profession is all about is important, as it will impact the future of our world. 

Working on on-campus projects is great because you bring so many different disciplines together for one project. It makes it a challenging project, but also provides an opportunity for engineers to step up and become an even better engineer. 

If you have the opportunity to get involved in the planning side of some of your projects that include a multidisciplinary team, you should definitely do it, as it will benefit your career in the long run tremendously. 

Something that I always aspired to is to see growth throughout my career. Adding new challenges as you grow in your career and finding new opportunities keeps you motivated and excited in your career. 

When transitioning in your engineering career, ask as many questions as you can because any information that you can take in will be helpful for you as you grow in your career.

Many engineers tend to focus too much on the technical details and forget about all the other pieces that make a great engineer. Effective communication is key to becoming a successful engineering manager. Being able to communicate effectively teaches you to listen to your clients and other disciplines, and also helps you to understand more about the needs of projects.
Here Are Some of the Projects Disa Has Worked on in Her Career: 
| | | |
| --- | --- | --- |
| Bush Brother Warehouse 6 Site | CVTC Energy Education Center | Mayo Clinic Health System Eau Claire aerial  |
| | | |
| CVTC West Campus aerial | Phoenix Park ground | Phoenix Park-Confluence aerial |
| | | |
More Details in This Episode…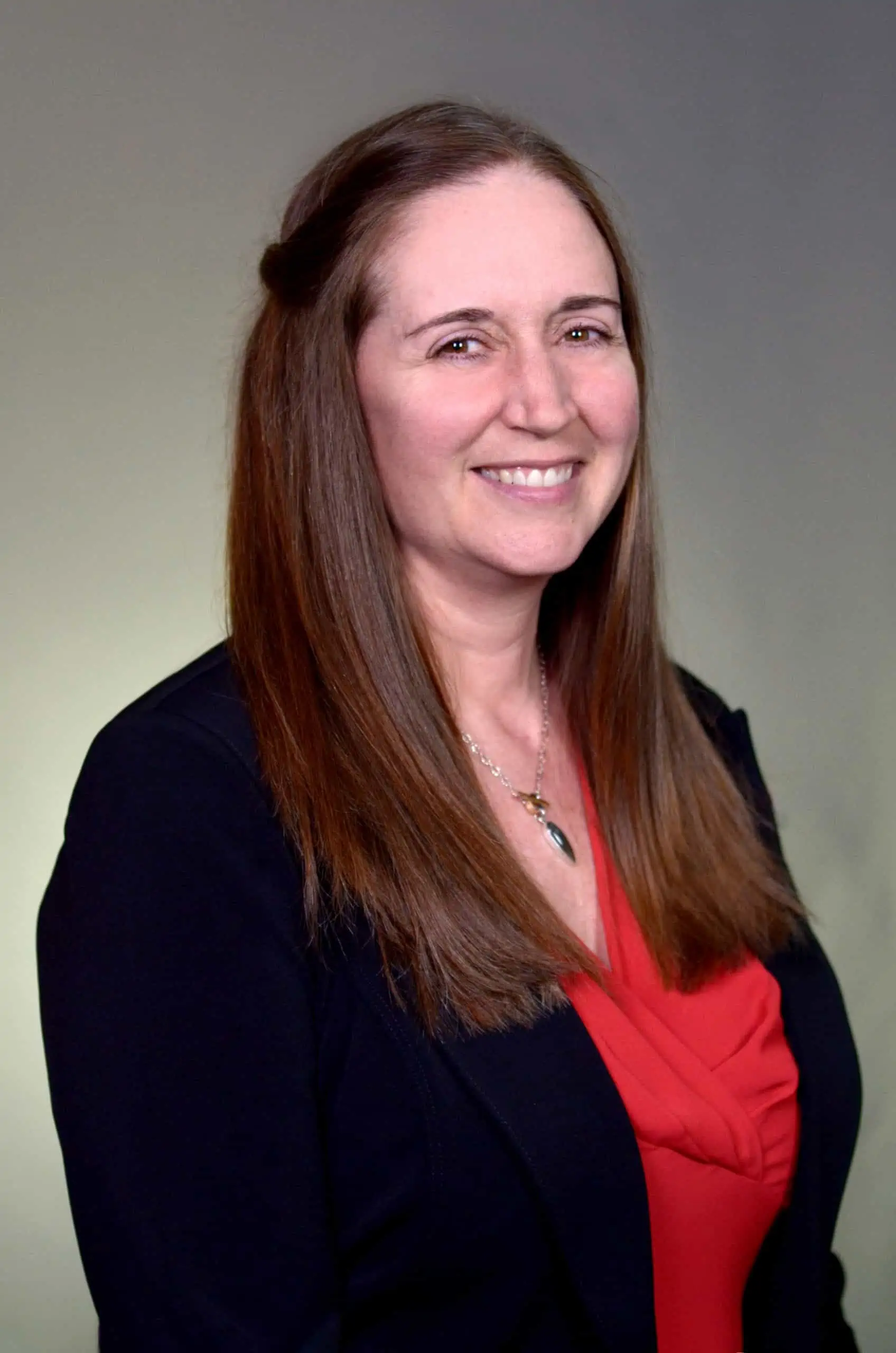 About Disa Wahlstrand, PE, LEED AP
Disa Wahlstrand, PE, LEED AP, is vice president of municipal services and water resources operations at Ayres, located in Wisconsin. She is a recognized champion and promoter of STEM careers, especially among girls. She is based in their Eau Claire, Wisconsin, headquarters.

Since joining Ayres in 1995, she has earned the respect of clients and staff through her excellent communication skills and insightful leadership. She managed the Eau Claire municipal services group from 2005 until 2015, when she became vice president of engineering services. In addition to her administrative duties, Disa leads projects for municipal, institutional, and commercial clients, including healthcare projects, educational and commercial campus development projects, and community development and municipal public works projects.

Among her past and present STEM-related involvements are the following:

• Ayres Career Expo event host since 2015. This is a career exploration event attended by 8th- through 12th-graders.
• Ayres "Hidden Figures" movie event host/guide.
• STEPs Camp (University of Wisconsin-Stout) industry volunteer.
• Junior Achievement involvement (classrooms, ethics, career success, career stations).
• Blugold Beginnings Career Day at University of Wisconsin-Eau Claire.
• UW-Eau Claire, UW-Stout, and Gustavus Adolphus College career presentations and panel discussions.
• Explore Engineering, Future Cities, Resume Workshop, and other STEM programs through Society of American Military Engineers (SAME). Disa also was an SAME board member.
• Ongoing student mentoring, job shadowing, etc., for local high school and college students.
• MathCounts judge.
• Former Indian Waters Girls Scouts board member.
• Former member of local STEM/Project Lead the Way committee supporting the Eau Claire school district.

Besides being a standard-bearer for women in engineering and other STEM careers, overall community and professional organization leadership and volunteering are also important to Disa. She has packed her full schedule with service to professional organizations as well as volunteering with the City of Eau Claire Police and Fire Commission, VP of Downtown Eau Claire Inc., Mayo Clinic Arts Committee Co-Chair, The Community Table, Bob's House for Dogs, and various Eau Claire area youth sports, including serving as a youth ski and soccer coach. Disa was awarded the Woman of Achievement Award in 2016 by the Eau Claire Area Chamber of Commerce, which presents the award to a candidate who assists women in reaching their full leadership potential and devotes time and energy to improving the community's quality of life.
Sources/References:
Engineering Management Accelerator Workshop (Online) | 5 PDHs
Engineering Management Institute Professional Membership
TCEP 128: Becoming a Well Rounded Civil Engineering Professional
ASCE SEI Structures Congress
A/E/C HR Summit
Connect with Disa Wahlstrand
Ayers Associates
Women in Civil Engineering Podcast Series
This episode is brought to you by Maser Consulting P.A., a privately owned, multi-discipline, consulting and engineering design firm with a unique balance of public and private sector experience. Established in 1984 by Richard M. Maser, PE, PP, CME, Chairman & Chief Executive Officer, the firm has an expert staff of licensed engineers, planners, surveyors, landscape architects, and environmental scientists with offices strategically located nationwide. Click here to learn more about Maser Consulting P.A. today.
Books Mentioned in this Episode:
Traction: Get a Grip on Your Business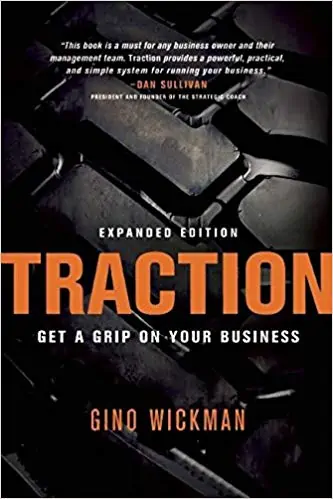 Please leave your comments or questions in the section below about why communication is key in your civil engineering career. 
To your success,
Anthony Fasano, PE, LEED AP
Engineering Management Institute
Author of Engineer Your Own Success