Podcast: Play in new window | Download | Embed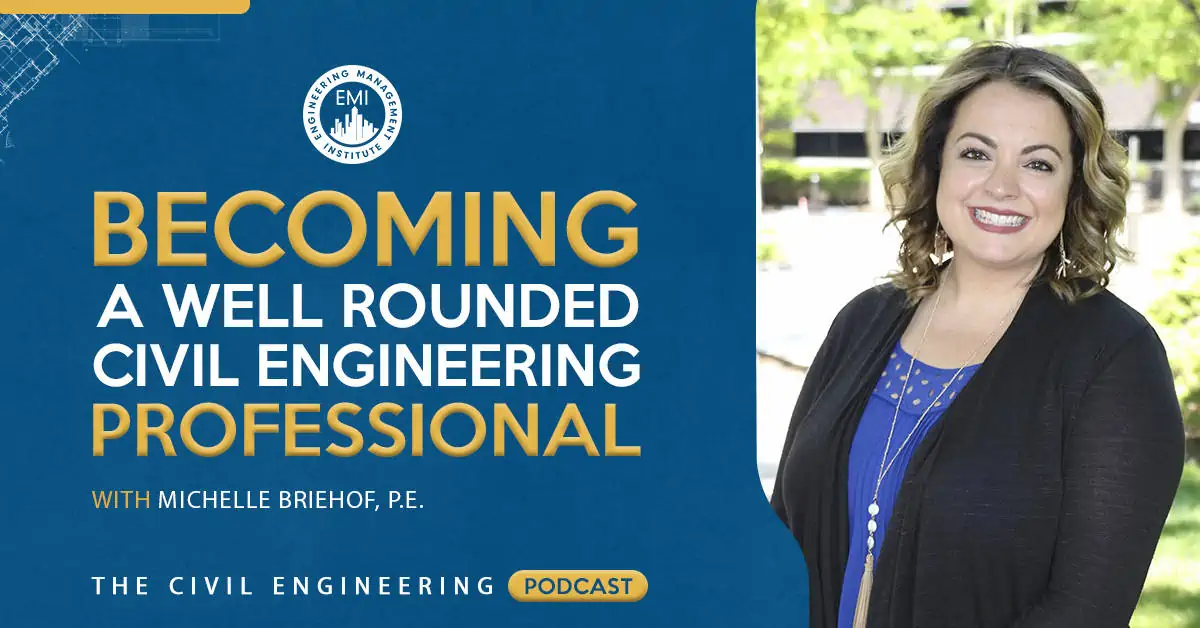 In episode 128 of The Civil Engineering Podcast, which is our third episode in our Women in Civil Engineering series, I visit with Michelle Briehof, P.E. who is a project manager at Maser Consulting.
Michelle talks about some of the non-technical aspects and actions you can take as a civil engineering professional to build confidence and equip yourself as a well rounded civil engineering professional. She walks us through her career journey, from the beginning of her career up to where she is now and the experiences that have helped her to attain her position. She also tells us about the Maser Women's Organization and how it has helped all employees at Maser, men and women, to build confidence and get the necessary exposure needed to become well-rounded engineering professionals.
Engineering Quotes:


Here Are Some of the Questions I Ask Michelle:
Tell us more about the Maser Women's Organization
How has the Maser Women's Organization impacted you?
How does being a mother impact your career?
Tell us about your involvement in the different disciplines at your firm?
Have you found that developing knowledge in different civil engineering disciplines has been helpful in your efforts?
How important is it to have confidence as a manager?
Here Are Some Key Points Discussed in This Episode About Becoming a Well Rounded Civil Engineering Professional:
The mission of the Maser Women's Organization is to allow women of all different experience levels and positions to be a part of something and to give women a space in the workplace to share their experiences and ideas and take on different leadership roles.
The Maser Women's Organization puts on events for all employees, men and women, where all employees attend and interact at these events. They also put on community events outside of Maser like "dress for success programs," diaper drives, and girl-scouts group STEM events.
By creating a pathway for women to share their skillsets and talents, the MWO hopes to leave a very positive impact on the company and clients, including younger engineering professionals.
Every day is different for women who are parents. You can try to plan and have everything in order, but things don't always turn out as planned. The same goes for civil engineers; you can't predict what will happen on your projects. You need to have excellent time management and organizational skills to ensure you are successful in what you do.
When dealing with different engineering disciplines it is important to make sure you are comfortable and confident on a technical level. Once you have established that confidence level, your conversations and interactions will become a lot easier and you will be well on your way to becoming a well-rounded civil engineering professional.
Having confidence in your career is one of the most important things for engineers. The more you practice your confidence and the more interaction you have, the better your confidence level will become.
More details in this episode…
About Michelle Briehof, P.E.
Michelle Briehof, P.E. is a Professional Engineer registered in the State of New Jersey with over 11 years of experience in Traffic Engineering. She is responsible for the preparation of various traffic studies, traffic signal design, NJDOT highway access plans, and maintenance and protection of traffic plans. As Project Manager, she has primary responsibility for preparing traffic impact assessments; parking surveys and studies; traffic circulation studies; traffic signal system designs; transportation feasibility studies and concept plans; and coordination with local and county planning and zoning boards. Additionally, she attends Planning and Zoning Board Hearings as an expert witness. Ms. Briehof received her B.S. Civil Engineering at Northeastern University in 2008 and is affiliated with the Maser Women's Organization (MWO).
Sources/References:
Engineering Management Accelerator Workshop (Online) | 5 PDHs
Engineering Management Institute Professional Membership
Upcoming EMI Webinar
2020 AEC HR Summit Registration
Maser Consulting
Michelle Briehof's LinkedIn Account
This episode is brought to you by Maser Consulting P.A., a privately owned, multi-discipline, consulting and engineering design firm with a unique balance of public and private sector experience. Established in 1984 by Richard M. Maser, PE, PP, CME, Chairman & Chief Executive Officer, the firm has an expert staff of licensed engineers, planners, surveyors, landscape architects, and environmental scientists with offices strategically located nationwide. Click here to learn more about Maser Consulting P.A. today.
If you are interested in taking our FREE CMAP Diagnostic Case Study, please email Betty at >>

[email protected]
Books Mentioned in this Episode:
Girl, Wash Your Face: Stop Believing the Lies About Who You Are so You Can Become Who You Were Meant to Be

Please leave your comments or questions in the section below on becoming a well rounded civil engineering professional.
To your success,
Anthony Fasano, PE, LEED AP
Engineering Management Institute
Author of Engineer Your Own Success