Podcast: Play in new window | Download | Embed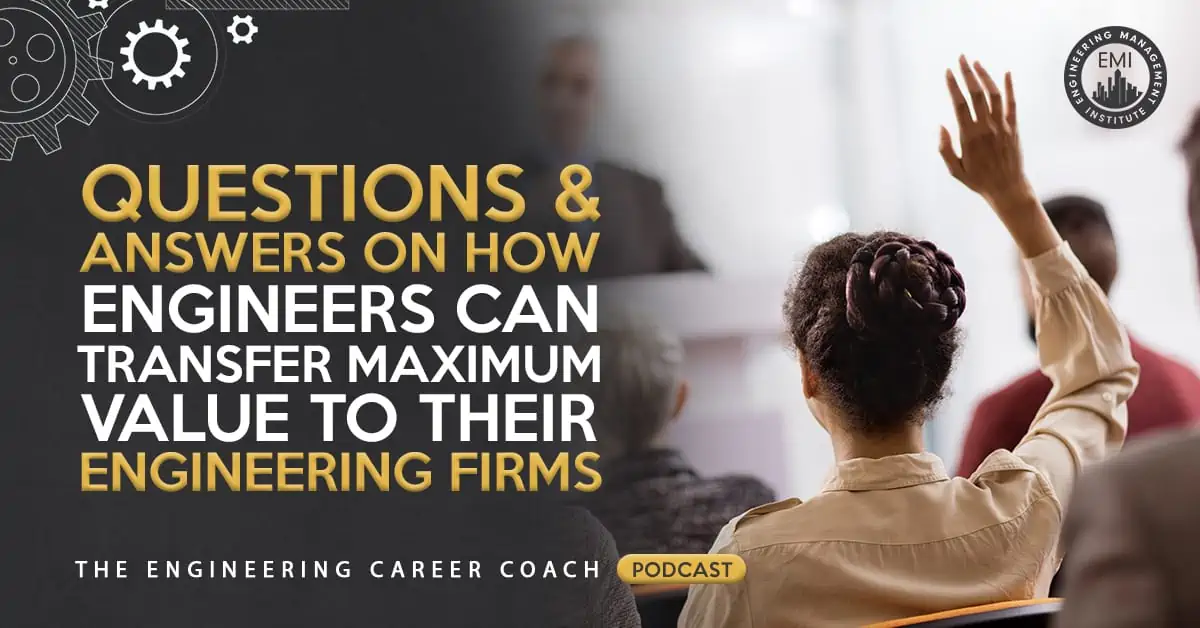 In this session of The Engineering Career Coach Podcast, I am going to answer questions from our listeners asking for advice on how to transfer maximum value to their Engineering Firms.
Engineering Quote to think about:


Here are the summary of the questions and answers I discussed in this session:
QUESTION:
I want to get back into my wastewater engineering field again and move near to the city. Being out of touch with wastewater, I am having a tough time getting back into the field. Can you please help me?
ANSWER:
Start simple and get into the wastewater field in any way that you can.
Show employers how your experience are with the your previous company will help them.
There are tons of wastewater companies in New York City. You may have to live very cheap and take lower pay to get your first wastwater job, but once you are in, then you can advance yourself by using the tools we talk about here on the podcast.
QUESTION:
As an engineering student, what is the best way to go about finding an engineering internship if I am not from a top tier university and have an average GPA? How should I go about contacting engineering companies I am interested in?
ANSWER:
Don't worry about the idea of not being part of a top tier engineering university.
Craft a resume that shows engineering companies how you can bring value to them.
If they think you will bring them value, they will take a chance on you and then you can shine.
Take part in extracurricular activities in order to show them that you stand out from other engineering students.
Use LinkedIn to build up relationships in your engineering industry.
QUESTION:
I'd like to figure out how to move forward in my engineering career in general, and determine how I can successfully incorporate my experience as a surveyor into my career as an engineer?
ANSWER:
Start your own engineering firm.
Leverage your difference which is the surveyor and engineer combination.
OR try to open a department for an existing firm with a long term idea of opening your own engineering and surveying company.
Learn whatever skills you need to know, in order to build your own engineering business.  

QUESTION:
I would like to establish a business in electronics and electrical. Please give me any advice to start a successful venture?
ANSWER:
Find a mentor who started a business in electronics and/or electrical engineering and learn from him.
Also check out our TECC Start Here page.
Work on your skills in order to build your electronics and/or electrical engineering business.
QUESTION:
How would you approach the task of identifying and increasing value creation in technical work?
ANSWER:
I would recommend looking for the revenue sources to start with.
If you can increase either the number of people who download the application or the value of the application, then you can increase the price for the app.
Increase the productivity in developing more applications.
Knowledge is power. Information is liberating. Education is the premise of progress, in every society, in every family – Kofi Annan
In the Take Action Today segment of the show, I give you actionable advice tips on providing value and how you can use it right away in your career to get some results.
Books mentioned in this episode:
Engineering Your Own Success: 7 Key Elements to Creating an Extraordinary Engineering Career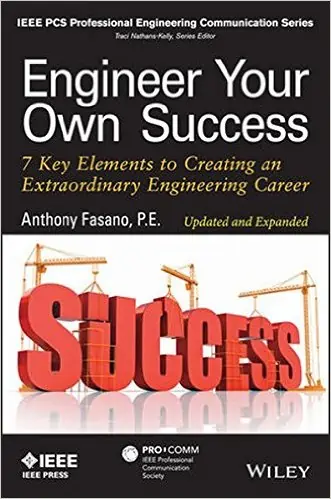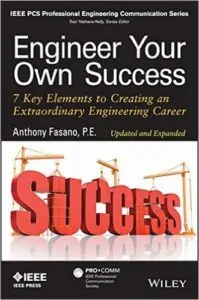 Resources and links mentioned in this session include:
Ask us – engineeringmanagementinstitute.org
TCEP 31: How to Use LinkedIn® Effectively as a Civil Engineer
Engineer Your Own Success: 7 Key Elements to Creating an Extraordinary Engineering Career
This episode is brought to you by PPI, the leader of FE, PE, or SE exam preparations. Use promo code COACH for 20% discount at PPI2Pass.com/coach. 
How can I provide value to the company I am working for?
We would love to hear any questions you might have or stories you might share on how this episode have helped you in your career decisions.
Please leave your comments, feedback or questions in the section below.
To your success,
Anthony Fasano, PE, LEED AP
Engineering Management Institute
Author of Engineer Your Own Success