Engineer Your Own Success: 7 Key Elements to Creating an Extraordinary Engineering Career – The Book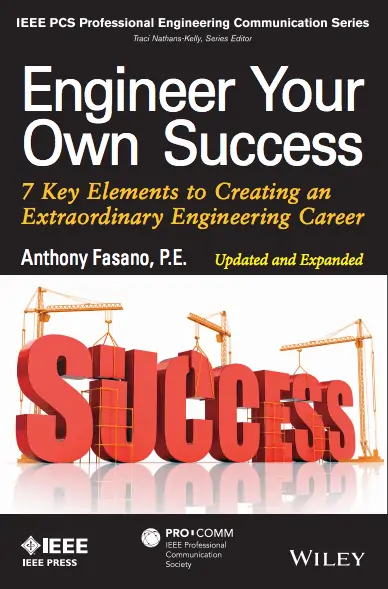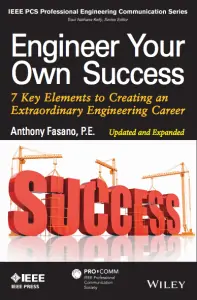 Engineer Your Own Success is a comprehensive, easy to read book, in which author and engineering speaker Anthony Fasano, P.E. provides strategies for improving the soft skills needed to advance your engineering career.  This book is based on Anthony's engineering career success, as he became a partner in a reputable engineering firm at the age of 27 using these soft skills.  Due to the success of the first edition, a new updated and expanded edition was just published by Wiley-IEEE Press.  Check it out.
Not just another engineering career book.
This book is filled engineering career advice that will help you to transition from a design engineer to a manager and ultimately transform you into an engineer leader!
In this career-building 'how to' guide you will discover ways to:
Set goals that are in alignment with your true desires,

Find the right mentor and get the most out of the relationship,

Obtain the credentials needed to easily reach your goals,

Become an effective communicator,

Network your way to impactful relationships,

Get and stay organized in a way that will increase productivity,

Be a confident leader as you rise up the ladder to success!

Build a winning resume (NEW in the updated Wiley edition)
Ace every job interview using proven strategies (NEW in the Wiley edition)
Integrate social media effectively in your engineering career (NEW in the Wiley edition) 
Engineer Your Own Success provides the answers to questions you have been asking yourself for years! Find out why goal setting is important; simple strategies to use to pass critical examinations (including the PE exam) the first time round; how to become a terrific public speaker and team leader, and so much more!
You can purchase this book at Amazon.com or through the Wiley website.  
Contact us for discounted pricing on bulk orders of the book for distribution within your engineering company or at training events/conferences.