Podcast: Play in new window | Download | Embed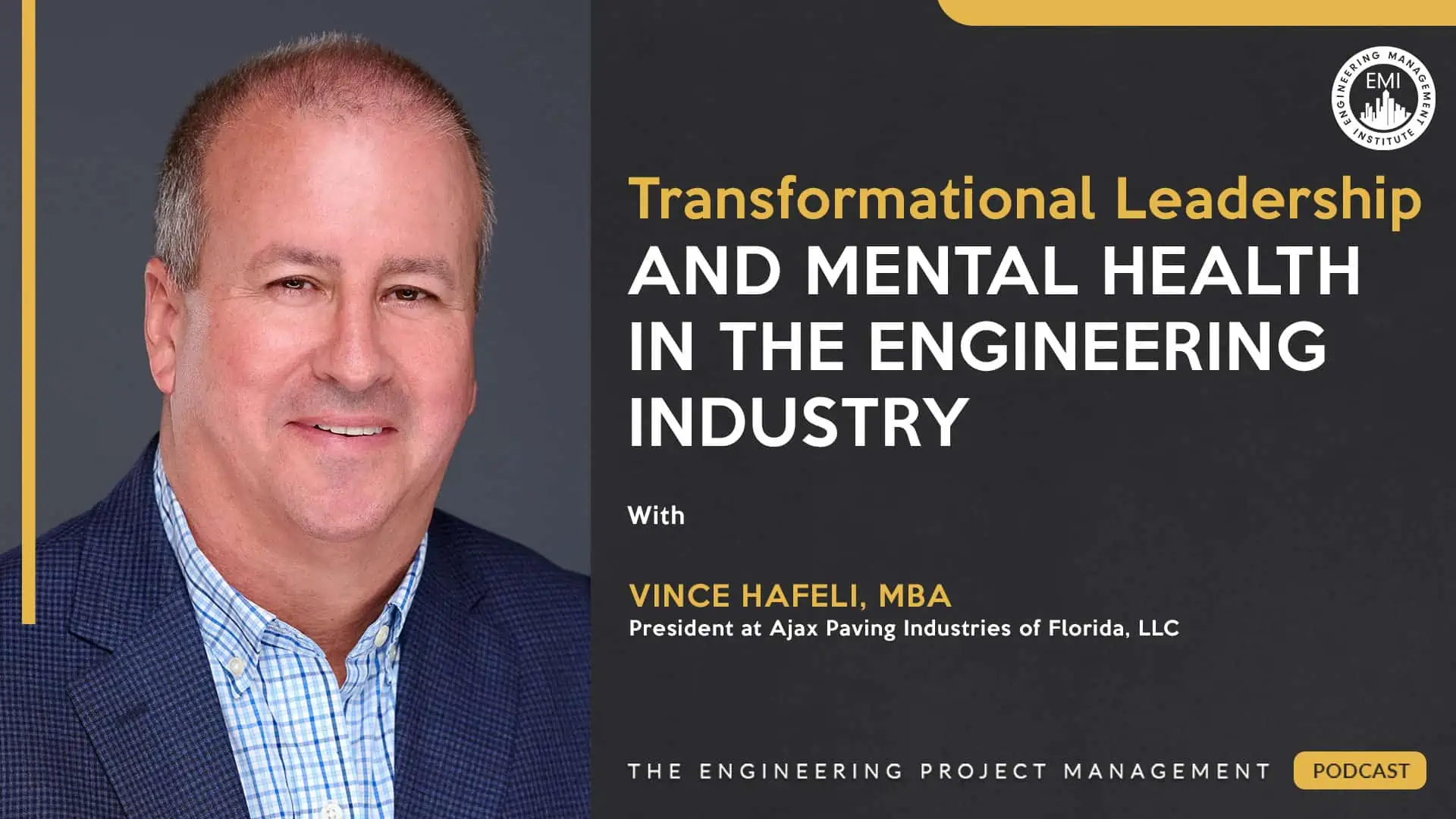 In this episode, I speak with Vince Hafeli, MBA, president of Ajax Paving Industries of Florida, about an often overlooked but critical issue: suicide in the construction industry. Sadly, construction workers have a suicide rate that is significantly higher than the national average, as highlighted by the Centers for Disease Control and Prevention. In our discussion, we examine the vital role that transformational leadership can play in addressing this issue and implementing preventive measures, such as creating a supportive work environment and promoting mental health resources. With leadership support, we can help to make a meaningful impact and improve the well-being of construction workers.
***You can view the video version of this episode here.***
Engineering Quotes:


Here Are Some of the Questions I Ask Vince:
Can you explain what transformational leadership is and how it differs from other leadership styles?
In what ways can transformational leadership improve the mental well-being of employees?
How does creating a safe and supportive work environment impact the mental health of team members, and why is it important?
What factors contribute to the high suicide rate in the construction industry?
Did you have a particular experience that motivated you to prioritize creating a safe and supportive work environment, or was it a gradual realization over time?
What steps do you propose to address mental health in the short and long term, and what message would you like to communicate?
Here Are Some Key Points Discussed in This Episode About Transformational Leadership and Mental Health in the Engineering Industry:
Transformational leadership is about transforming the organization and its people by taking them down a new path, different from traditional leadership. This includes prioritizing mental health as part of physical safety and encouraging employees to speak up about their mental health struggles without fear of criticism or ridicule. The goal is to create a culture that supports and cares for its employees, leading to a safer and more productive work environment.
Leaders can make a significant impact by addressing mental health in the workplace and creating a culture that supports and encourages employees to speak up about their struggles without fear of stigma or negative consequences. By sharing personal experiences and stories and providing resources and support, leaders can help employees seek help, improve their mental health, and ultimately lead to a more productive and fulfilled workforce.
Great leaders care for their people, listen to their ideas, and are willing to learn from people of all ages and backgrounds. They do not want yes-men or yes-women, but instead want people who can challenge them and make them think differently. It is important to nurture and support employees, rather than mistreat them, to retain a strong workforce. The future of industries like construction will be shaped by the ideas and perspectives of younger generations, so it is essential to give them opportunities to innovate and contribute.
The real issue with suicide in the construction industry is that nobody knows there's a problem. The industry needs to recognize the problem and have open and meaningful conversations about mental health and suicide to address and fix the issue. This can be achieved through transformational leadership and efforts to gather support for the cause.
Vince's main reasons for pursuing a doctoral program were to keep his mind sharp and to research frontline leadership in the asphalt industry. However, after his original research topic was deemed weak, he decided to focus on mental health in the construction industry and shared his personal story of attempted suicide with his colleagues. This led to a passion for making a difference in mental health in the industry and a desire to leave a mark not only in his company but in the entire industry. The problem of mental health is not unique to the United States, and Vince wants to encourage his peers to take action to address this issue.
People need to be more decent and caring toward one another and limit their time on social media, which can contribute to mental health issues, including the rise of teen suicide. It is essential to get involved in changing the industry by asking your boss or HR manager what can be done to create a safe and supportive work environment. The engineering community should also be involved in observing people's actions and asking how they are doing to address the issue of mental health. A national movement needs to be created to encourage people to talk about mental health openly.
More Details in This Episode…

About Vince Hafeli, MBA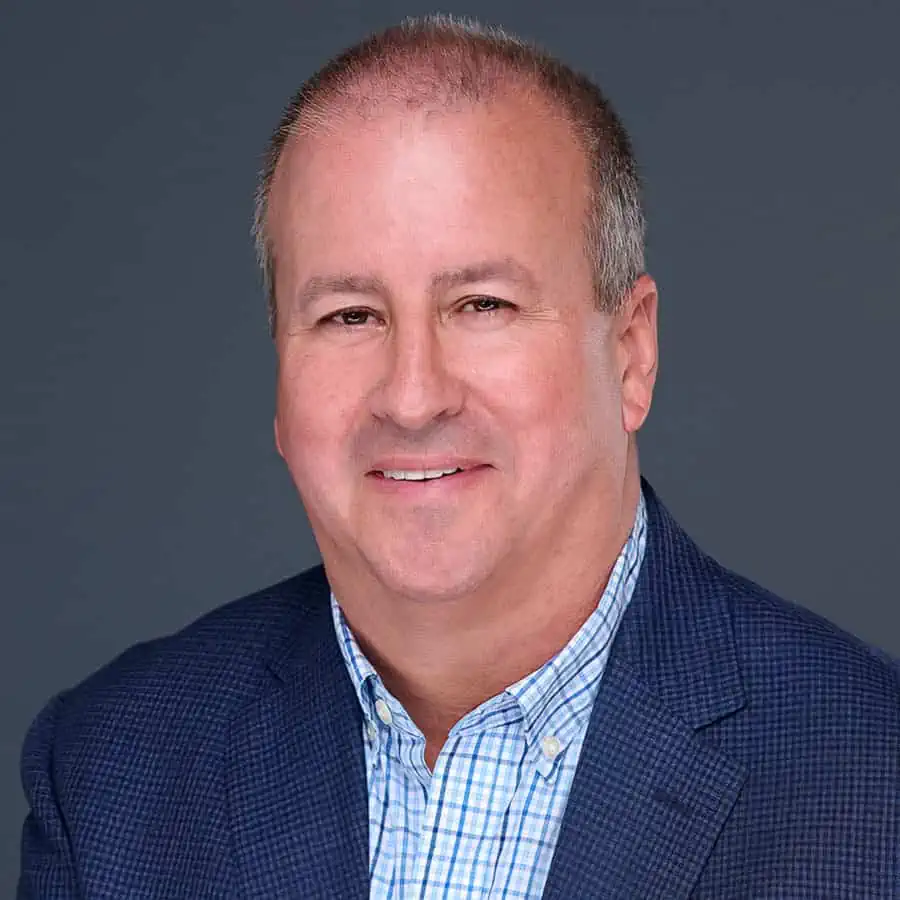 With over 37 years in the highway construction industry, Vince Hafeli, MBA, has a diverse background, holding positions including Field Quality Control and Inspection and Project Manager. In the most recent four years, he has been leading a team of 450+ employees as President for Ajax Paving Industries of Florida, LLC.
Vince is currently working toward his Doctorate of Business Administration degree to further his research and training skills related to suicide in the construction industry.
As a consultant and speaker advocate, Vince works with individuals and organizations to create open discussions around suicide prevention and mental health.
Sources/References:
Ajax Paving Industries of Florida
Visit Vince's Website: Man on a Mission
Suicide in Construction Awareness Proclamation
Connect with Vince Hafeli, MBA, on LinkedIn
We would love to hear any questions you might have or stories you can share on transformational leadership and mental health in the engineering industry.
Please leave your comments, feedback, or questions in the section below.
To your success,
Anthony Fasano, P.E., LEED AP
Engineering Management Institute
Author of Engineer Your Own Success