Podcast: Play in new window | Download | Embed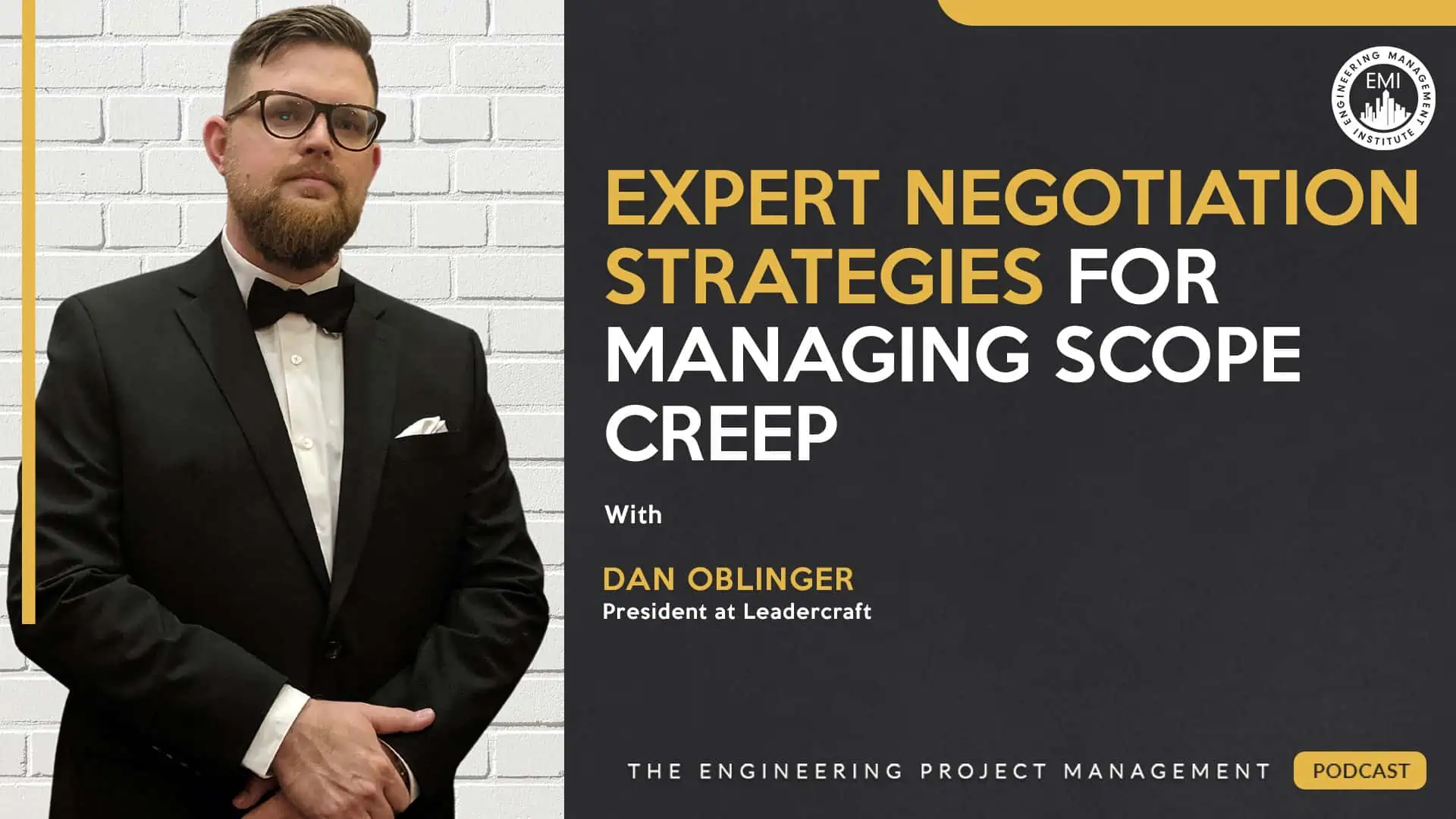 In this episode, I talk with Dan Oblinger, a commanding hostage negotiator, esteemed author, international keynote speaker, and skilled consultant specializing in business negotiation, about negotiation strategies for managing scope creep in engineering projects and how to navigate the complexities of forging robust agreements.
***The video version of this episode can be viewed here.***
Engineering Quotes:


Here Are Some of the Questions I Ask Dan:
What are the similarities and differences between negotiating with a hostage taker and negotiating with a client?
Within the realm of engineering project management, how can engineers strategically incorporate the element of time to enhance their negotiation position?
What are some of the most common mistakes that engineers make when negotiating?
How can engineers use negotiation to build stronger relationships with their clients?
From your perspective, what are some of the key skills that engineers need to develop to be effective negotiators?
What strategies can engineering managers employ to instill a culture of effective negotiation within their organizations and projects?
What are some of the challenges of negotiating in a relationship-based project delivery environment and how can engineers overcome these challenges and negotiate successful outcomes?
For those looking to improve their negotiating skills, what key advice or practices would you recommend they focus on?
Here Are Some Key Points Discussed in This Episode About Expert Negotiation Strategies for Managing Scope Creep:
Although hostage negotiation and project delivery are different in terms of stakes and context, the human dynamics and emotional elements are essentially the same. This means that the same skills and techniques can be used to successfully manage both types of situations.
Engineers can strategically incorporate the element of time to enhance their negotiation position by building relationships with their clients and partners. This is because relationships are based on trust and mutual respect, which can create a more cooperative and productive negotiation environment. Engineers can also use time to their advantage by carefully planning their negotiations and setting realistic deadlines. By being prepared and taking the time to build relationships, engineers can increase their chances of achieving their negotiation goals.
Engineers can improve their negotiation skills by managing their emotions and biases. They can do this by being aware of their emotions and biases and by taking steps to control them. For example, they can take deep breaths or count to 10 to calm down if they start to feel angry or frustrated. They can also challenge their assumptions and be open-minded to different perspectives.
In a relationship-based negotiation system, it is important to emphasize consent. This means giving the other party a sense of control over the negotiation process and allowing them to make decisions. This can be done by asking questions, providing options, and being transparent about your decision-making process. By emphasizing consent, you can build trust and rapport with the other party, which can lead to a more successful negotiation.
Emotional communication is the engine of a relationship-based negotiation system. This means interpreting and seeing the behavior and emotions of others as communication. By doing this, you can gain valuable insights into their perspectives, desires, and concerns. This can help you to build trust and rapport, which are essential for successful negotiations.
Companies that value communication should clearly define what it means to communicate effectively in their culture. This can be done by providing training in active listening, emotional communication, and other communication skills. By setting clear expectations, companies can help their employees communicate more effectively with clients and colleagues.
More Details in This Episode…

About Dan Oblinger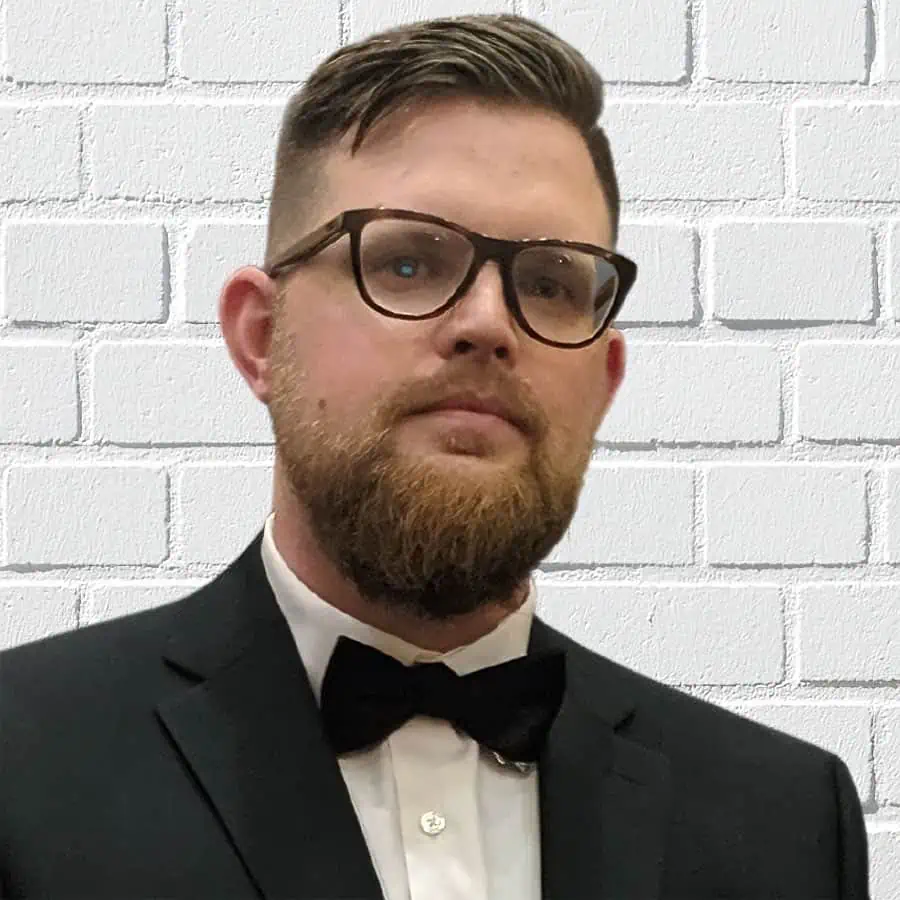 Dan Oblinger is a hostage negotiator commander, author, international keynote speaker, and consulting business negotiator. He specializes in working with architects, engineers, and construction managers. Whether speaking at conferences, facilitating workshops for active listening and negotiation skills, or coaching and consulting with companies to build strong agreements, Dan loves to share his craft and enhance culture.
As a workshop trainer, Oblinger is a cornerstone of emerging leader programs for American Council of Engineering Companies chapters in Kansas, Missouri, Nebraska, Michigan, Ohio, North Dakota, New Jersey, Iowa, and Georgia. He regularly speaks for NSPE, ACEC, AIA, SMPS, AGC, SEI Reunions, Surety/Risk Management, and other specialty design/build audiences.
Dan is a graduate of the FBI National Crisis Negotiator Course in Quantico, VA. His books, "Life or Death Listening," "The 28 Laws of Listening," and "Negotiation Mythbusters" are used for internal negotiation training programs for companies ranging from large, multi-national conglomerates to small design firms.
Dan Oblinger is first and foremost a husband and father. He lives at the foot of the Flint Hills in south-central Kansas on a small homestead with his amazing wife. Together, they have six children.
Books Mentioned in This Episode: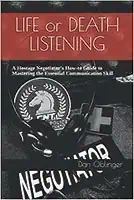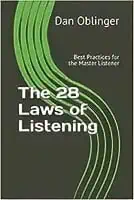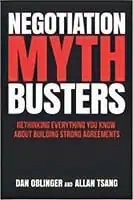 Sources/References:
Leadercraft
Oblinger & Tsang
National Tactical Officers Association
WSU Tech
Connect with Dan Oblinger on LinkedIn
We would love to hear any questions you might have or stories you can share regarding negotiation strategies for effectively handling scope creep in your projects.
Please leave your comments, feedback, or questions in the section below.
To your success,
Anthony Fasano, P.E., LEED AP
Engineering Management Institute
Author of Engineer Your Own Success