Podcast: Play in new window | Download | Embed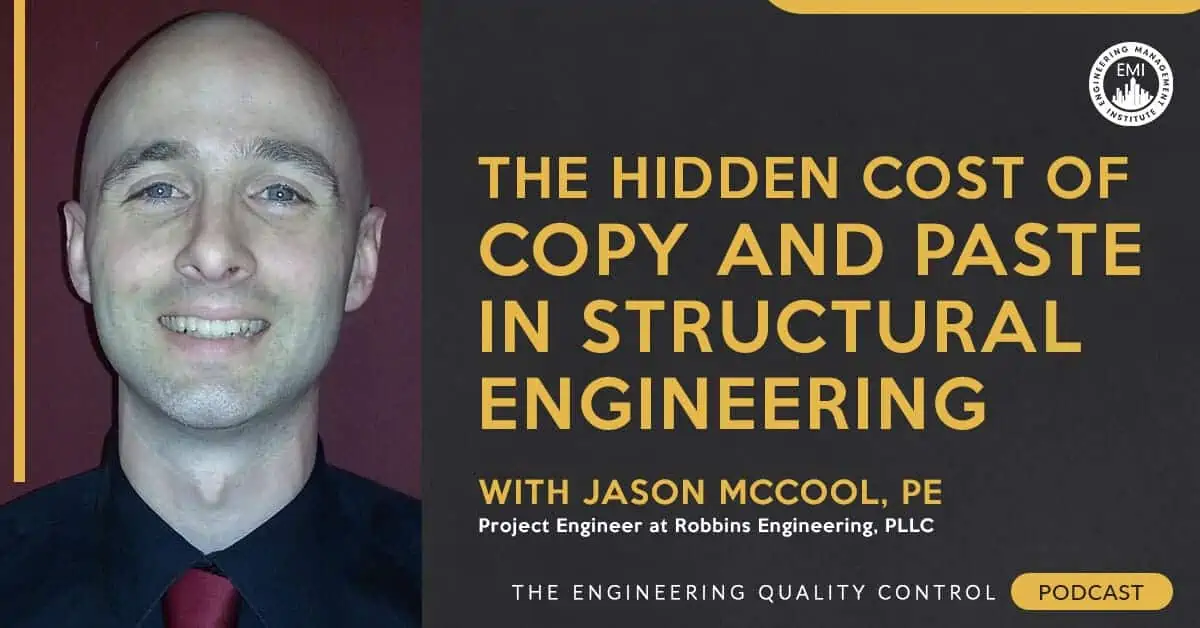 In this episode of The Engineering Quality Control podcast, we talk to Jason McCool, P.E., licensed professional engineering and project engineer at Robbins Engineering, PLLC, about the hidden cost of copy and paste and how it can negatively affect your productivity at work.
Engineering Quotes:


Here Are Some of the Questions We Ask Wayne:
For the past several months, you have had articles featured in Structure Magazine that outlined nine things you have noted in your career that could be categorized as a lot of things but many relate specifically to the finished quality of the design drawings. Can you give our listeners an overview of these concepts?

Jason McCool's professional career overview
Reusing past work
Inapplicable details
Contradictory specifications
"Just get something on paper!"
Incomplete connection information
Vague drawings
Misuse of AISC tables
Uncoordinated details

What do you think we as engineers need to do to be better to not fall trap to these things?
Here Are Some Key Points Discussed in This Episode About The Hidden Cost of Copy and Paste in Structural Engineering:
Reusing past work is a good way to speed up the design process — the problem is when it almost applies to the design you are working on.
Inapplicable details can creep into your design when you are using past work to speed up the process. It can cause the costs of a project to skyrocket because they can be viewed as unforeseen problems that needed to be rectified.
Contradictory specifications can cause the incorrect materials to be a specification that is not noted on the drawings. The engineer must coordinate between the drawings and the specifications to ensure the fabricator gets the correct information. Having the wrong specifications reflects poorly on us as engineers.
Do not work to just get something on paper with the mindset of being able to fix it later. There is a good chance that it will not get fixed.
Connection details are very important in a design. Incomplete connection information will cause incorrect cost allocations to be assigned to the project.
Clear drawings take time to create, but the "easy" way around it is to make the drawings vaguer. Vague drawings will confuse everyone using your drawings. The vaguer your drawing gets, the more likely it will be applied to a situation that you, as the engineer of record, never intended.
The AISC has strongly discouraged certain details in drawings for decades, but they are still found on structural drawings today.
Uncoordinated details between designs can result in no one addressing the issue of conflicting requirements, which results in RFIs.
There is no simple thing that engineers can do to not fall into these traps. Inspection is putting a second set of eyes on the product and is the only way to ensure that engineers do not fall into the trap of copy and paste in structural engineering. Licensed engineers often skip the review part of the design phase, which can cost them in the long run. Go through any work that you want to delegate to get an idea of the impact it has on the design, and review the work after it has been completed.
Changing course mid-career can be a tough journey, but it can be worth it and it diversifies your experience. Working with fabricators and erectors can give you valuable experience and a broader perspective that you can use in your design work.
Do not fall into the trap of thinking that leadership roles are the only way to move forward in your career. Do not feel pressured to keep moving up the corporate ladder and moving out of your experience and passion areas.
More Details in This Episode…
About the Guest: Jason McCool, PE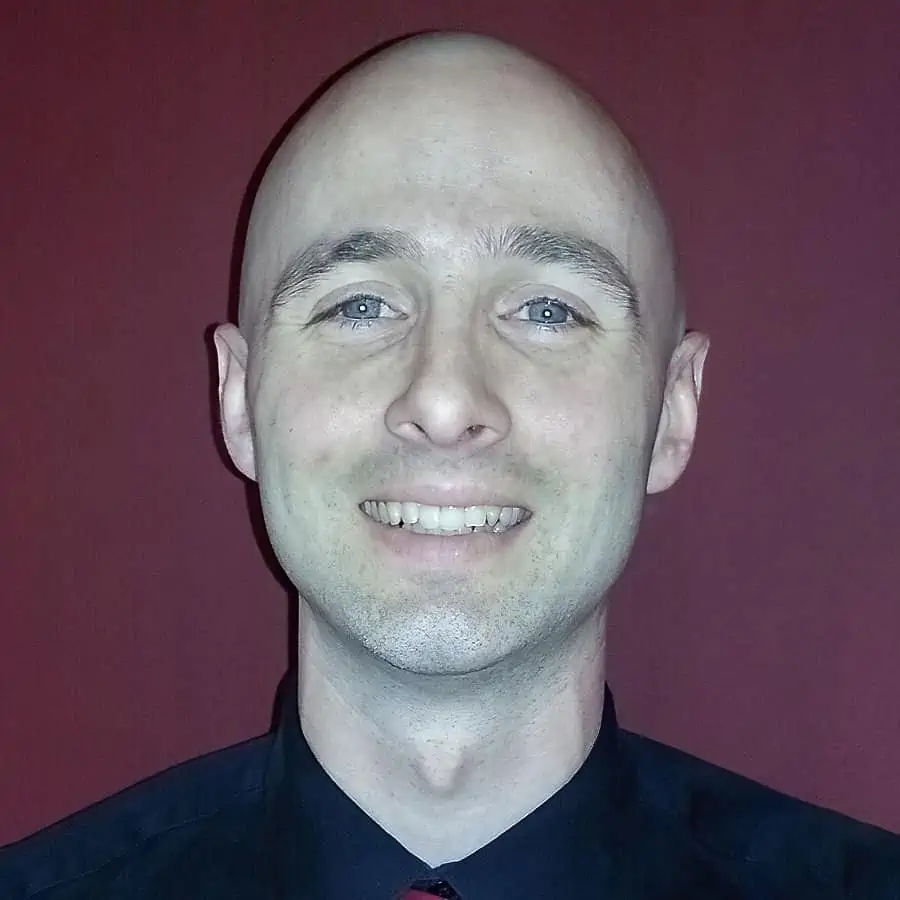 Jason has been a project engineer with Robbins Engineering Consultants for 11 years, primarily focused on delegated connection design and stair design for structural steel fabricators, but also working on in-house projects as needed. I'm a licensed P.E. in 20 states and was also a CWI for 18 years. Before Robbins, I worked for 10 years at SMI Joist, as well as a brief stint at a PEMB manufacturer. At SMI (later CMC Joist & Deck), I served as a design engineer, quality assurance manager, and engineering manager at their Nevada plant, and also completely rewrote their QA manual. I've been an active member of the Structural Engineers Association of Arkansas, serving as treasurer, vice-president, and president, and I currently volunteer on the Editorial Board for STRUCTURE Magazine.
About Brian Wagner, P.E.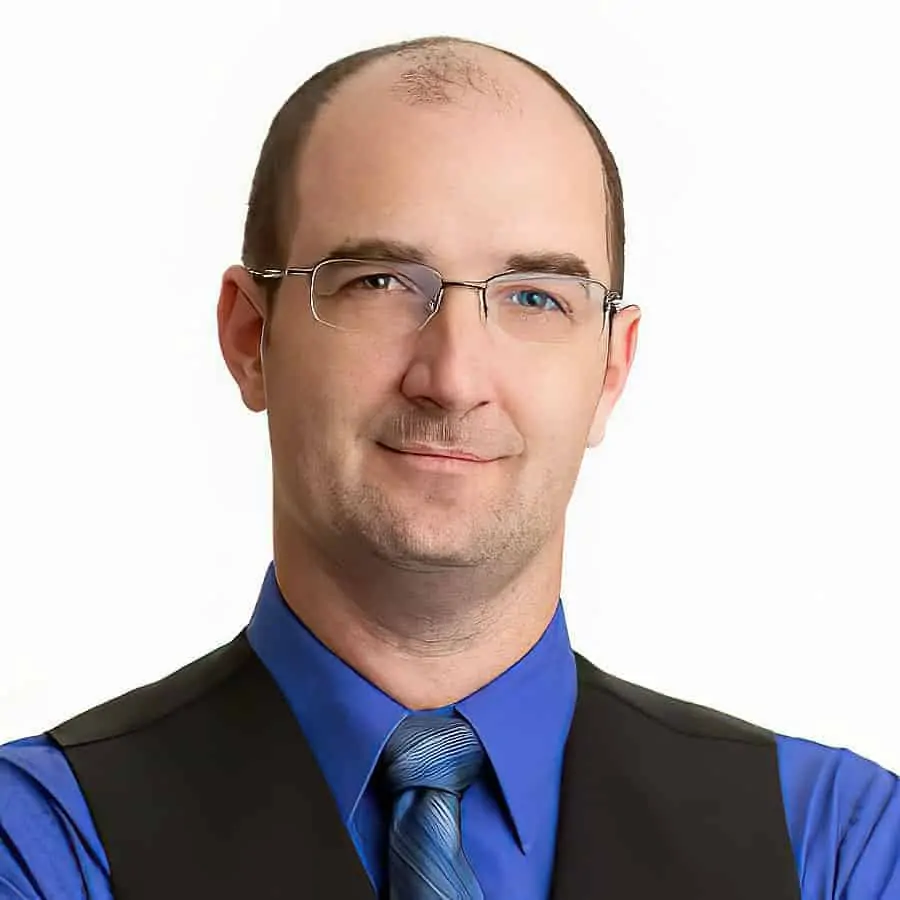 Brian Wagner, P.E., is an engineer who specializes in civil site design and plan implementation. In addition to a career spanning nearly two decades of civil engineering, he has experience in Emergency 911 Communications, law enforcement corrections, and fire/rescue services, including K9 Search and Rescue. This different and diverse range of experiences has not only prepared Brian for his career but also positioned him to be an excellent speaker with a wide range of valuable experiences. He strives to motivate others to change their world and wants to do the same for you.
Sources/References:
Robbins Engineering, PLLC
Structure Magazine Article: The Hidden Cost of Copy and Paste: Part 1
Structure Magazine Article: The Hidden Cost of Copy and Paste: Part 2
Structure Magazine Article: The Hidden Cost of Copy and Paste: Part 3
American Institute of Steel Construction (AISC)
Connect with Jason McCool, P.E., on LinkedIn
We would love to hear any questions you might have or stories you can share on the hidden cost of copy and paste in structural engineering.
To your success,
Brian Wagner, P.E.
Engineering Management Institute
Host of The Engineering Quality Control Podcast