Podcast: Play in new window | Download | Embed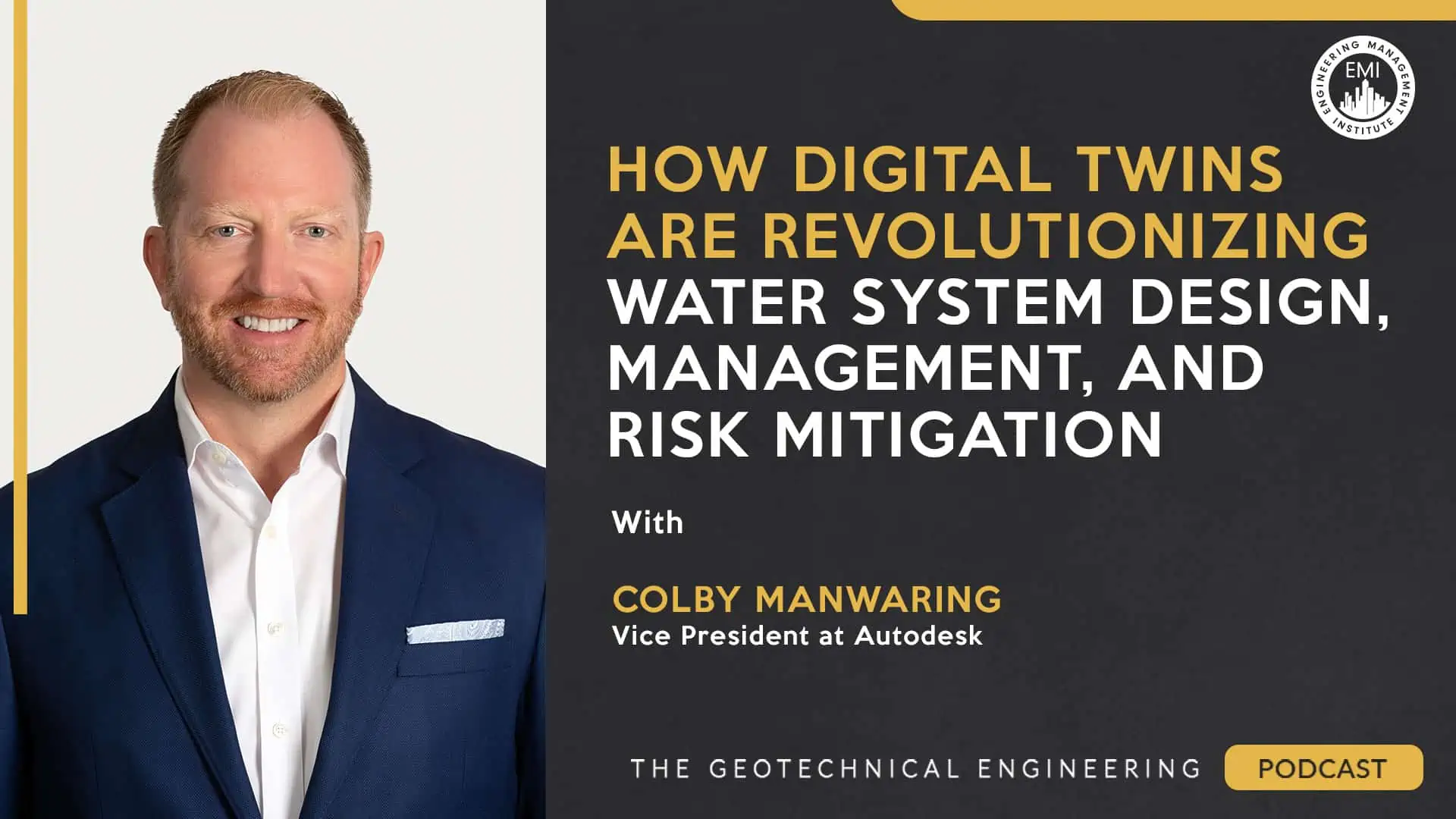 In this episode, we talk with Colby Manwaring, an expert in water management and Vice President of Innovyze at Autodesk about how digital technology is transforming the way water systems are designed, analyzed, simulated, and managed as well as how risks are mitigated. We also explore the advantages of using digital twins to enhance performance and decision-making across an asset's lifecycle.
Engineering Quotes:

Here Are Some of the Questions We Ask Colby:
Can you tell us more about Innovyze and its role in the water industry, and what aspects of the industry they focus on?
What are some of the biggest challenges facing the fresh water supply today?
How are water utilities utilizing digital technology to address the challenges facing freshwater supply?
How does the challenge of digitizing a water system compare to the challenge of digitizing systems in other industries?
What are digital twins and how can they be utilized to enhance decision-making processes and optimize performance?
Can you explain how your team's model of Jackson's water distribution network is being used to identify issues within the system?
What are some challenges that come with building these models, and how do you overcome them?
What technological advancements do you predict will be the most significant in the field of water management in the future?
How can geotechnical engineers ensure that the adoption of technological advances in water management is done ethically and sustainably to address water challenges?
Here Are Some of the Key Points Discussed About How Digital Twins Are Revolutionizing Water System Design, Management, and Risk Mitigation:
Innovyze has been empowering water experts worldwide with software solutions for over three decades. They have a global reach across 86 countries and serve thousands of water and wastewater utilities, engineering consultants, flood management agencies, and water infrastructure asset managers. While their initial focus was on water utilities, since joining Autodesk, they now can extend their expertise to all civil infrastructure assets. Innovyze is dedicated to improving the water industry and now has the resources to enable the same outcome across other infrastructure assets.
Freshwater supply faces challenges due to an aging infrastructure and workforce, inefficient distribution causing water leakage, and water quality issues from flooding and sewer closures. These issues need to be addressed to ensure a safe and sustainable freshwater supply.
Digital technology has been used in the water industry for decades, but there is a growing opportunity to use more advanced technology to address challenges like aging infrastructure, water leakage, and water quality. Water utilities typically use hydraulic modeling for proper management and operation as well as asset management to understand the condition of infrastructure assets. In recent years, there has been a trend toward merging hydraulic modeling and asset management with real-time data monitoring and analysis, creating a digital twin that allows for efficient and cost-effective solutions to water challenges.
The challenges of digitizing water systems include the loss of as-built data and the hidden underground infrastructure, which is unique to the water industry. The lack of willpower and funding to digitize systems is also a significant challenge.
A digital twin is a virtual representation of a real-world system that can be built in stages, including an asset model, performance model, and behavioral model. Each stage serves a different purpose and provides value, but the goal is to reach the behavioral model stage, which allows for real-time optimization and decision-making.
A basic digital twin of the water distribution system in Jackson, Mississippi, is being constructed using InfoWater Pro software, which will enable the understanding of intended system performance, troubleshooting of unexpected events, planning and design of system improvements, and testing of changes to see how they affect pressure and delivery across the system.
Building a digital twin involves challenges such as obtaining accurate and current as-built data for physical assets, as well as the ease of use and cost of the digital solution. The lack of funding and resources can make it difficult for water utilities to invest in a digital twin project, despite the potential benefits it can provide. Companies like Autodesk are working to reduce entry costs and make it more accessible for utilities to build digital twins.
Real-time operational management is seen as the next big step in water management, where water utilities can operate more like a power utility with high situational awareness, immediate reaction to events, and public knowledge of water usage and best practices in managing this resource. With the availability of sensors and less expensive software systems, this breakthrough will enable everyone from users to managers to public officials to understand what is happening in their water utility in real time.
Active and ethical management of data is key to improving infrastructure sustainability, especially in the case of digital twins. The data that drives technological advances forward is inherently valuable, and geotechnical engineers must ensure that this data is safeguarded and managed properly to ensure that technological solutions are used ethically and sustainably.
More Details in This Episode…

About the Guest: Colby Manwaring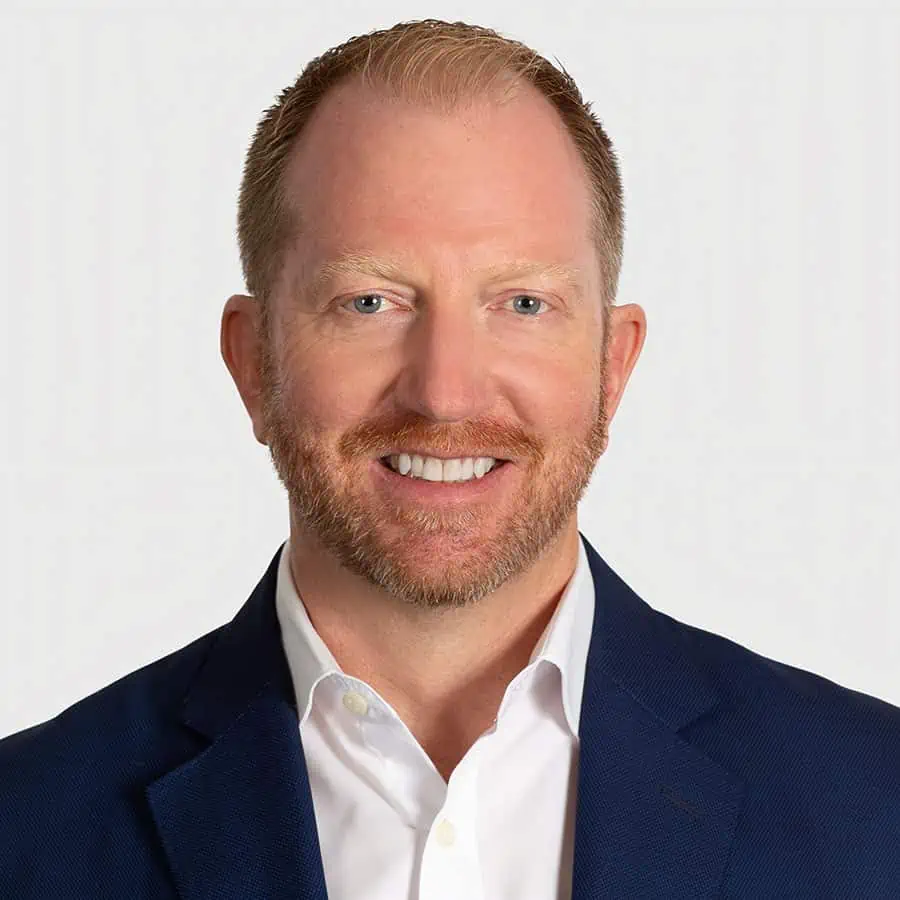 As vice president of Innovyze, Colby is building Autodesk's strategic vision for water, leading the development and growth of its portfolio of installed and SaaS applications.
Colby's roots in the water industry run deep, from building applications as a software developer to training professionals in the technical details of water management to building strategic business alliances through smart mergers and acquisitions.
His work with water and wastewater utilities, government agencies, and engineering organizations around the world has helped thousands of engineers design, plan, manage, operate, protect, and sustain complex infrastructure systems.
Colby is a licensed professional engineer who learned his trade in the U.S. but perfected his craft around the world, with assignments in Australia, Spain, and the UK. He holds a B.S. in Civil and Environmental Engineering, with a Spanish minor and International Emphasis from Brigham Young University, as well as a minor in Engineering Business Administration from the Brigham Young University Marriott School of Management.
About the Host: Jared M. Green, P.E., D.GE, F.ASCE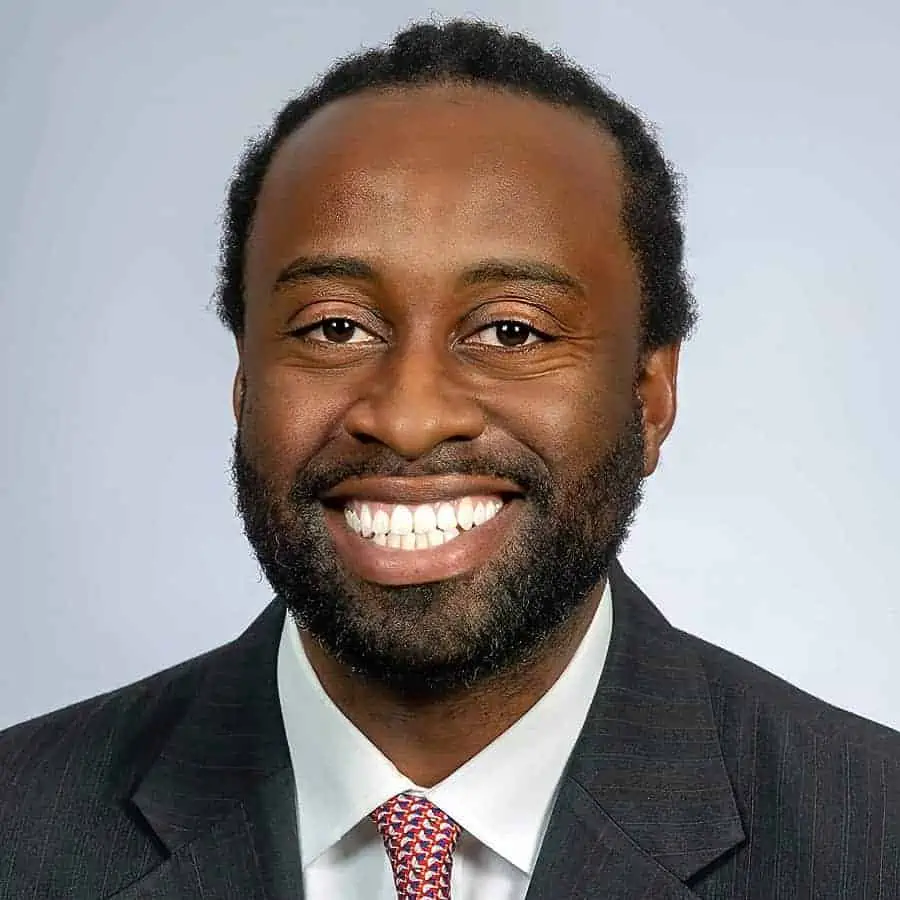 Jared, originally from southwest Philadelphia, Pennsylvania, graduated from Syracuse University's College of Engineering in 2001 with a B.S. in Civil Engineering. He later went on to attain his M.S. in Civil Engineering (Geotechnical Focus) from the University of Illinois, Urbana-Campaign, in 2002. In 2003, he began working in the New York City office of Langan. He has since become a Principal / Vice President and is one of the owners of this international land development engineering consulting firm. After 15 years at Langan, Jared moved to the Philadelphia office and is one of the geotechnical practice leaders in that office.
Jared is a consultant and team leader who also enjoys mentoring young engineers and first-generation college students. He has been instrumental in increasing the number of pre-college students who are interested in STEAM majors and fields. He strives to make complex engineering topics relatable and understandable to people new to the field and to people who are completely unfamiliar with engineering. Jared and his family currently reside in Flemington, New Jersey. He and his wife have three energetic, inquisitive, and awesome children. You can connect with Jared here.
Sources/References:
Autodesk
Innovyze
Jackson's Water Distribution Network
InfoWater Pro
Info360 Asset
Connect with Colby Manwaring on LinkedIn
Send Colby Manwaring an Email
This Episode Is Brought to You by Keller

Keller develops innovative, practical, and cost-effective solutions to geotechnical challenges, including deep foundations, ground improvement, groundwater control, liquefaction mitigation, releveling structures, slope stabilization, support of excavation, underpinning, and instrumentation and monitoring. Keller is the largest geotechnical specialty contractor in the world, with over 60 offices throughout the U.S. and Canada. For more information, visit keller-na.com.
Please leave your comments or questions in the section below on how digital twins are revolutionizing water system design, management, and risk mitigation.
To your success,
Jared M. Green, P.E., D.GE, F.ASCE
Host of The Geotechnical Engineering Podcast