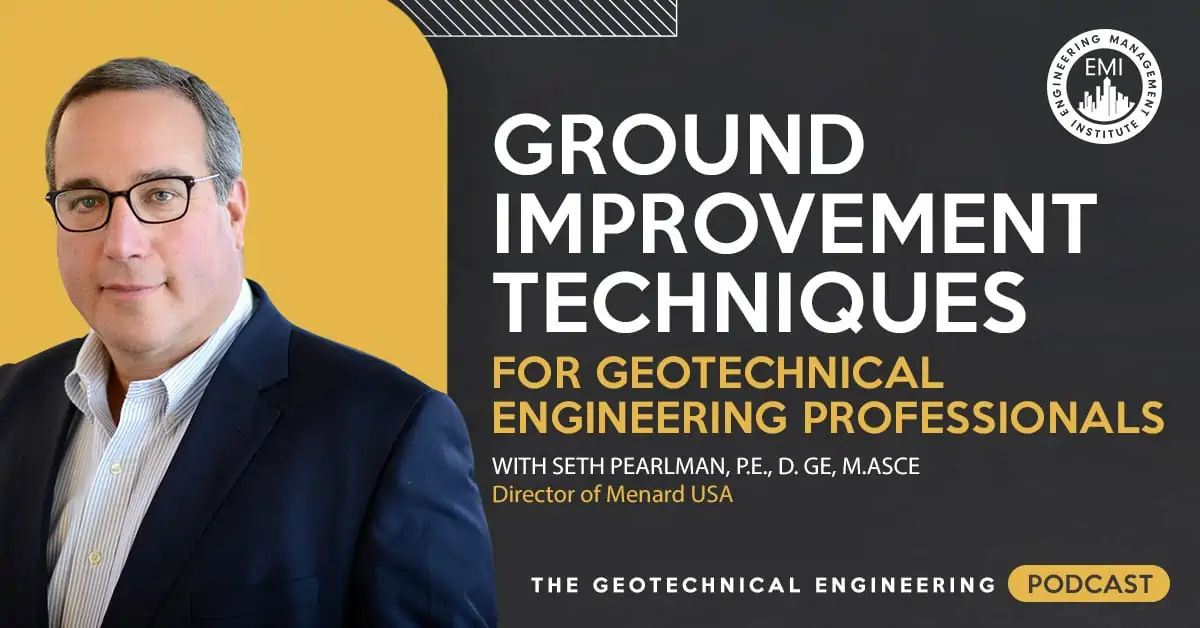 In this episode, we talk to Seth Pearlman, P.E., D. GE, M.ASCE, President and CEO of Menard Group USA, about ground improvement and the differences between ground improvement and piling. He also provides some great tips on how engineers can advance and grow in their careers.

Here Are Some of the Questions We Ask Seth Pearlman, P.E., D. GE, M.ASCE:
Who is Menard Group USA and what is the history of Menard?
What do you mean by ground improvement?
From doing nothing to doing piling is such a wide range; are there degrees within this range that meet this need?
In an era of dwindling government budgets – particularly for our critical, yet crumbling infrastructure – what are the implications for ground improvement?
One of our recent guests criticized ground improvement as not having to follow the same rules as piling. How do you respond to that?
How do strict building codes play into that?
Certain fields within specialty geotechnical construction, such as earth retention, align very well with the design-build approach. Where does ground improvement fall?
For a new engineer leaving college or even an experienced engineer looking to advance his or her career, what opportunities are there at Menard?
Some of the techniques you described sound like ground improvement, but some of it sounds like it resembles piling. Is there a difference?
Here Are Some of the Key Points Discussed About Menard Group USA and Ground Improvements:
Menard Group USA is a specialty ground improvement contractor that works nationally and internationally providing design-build ground improvement solutions. The company is named after an inventor named Louis Menard, who invented the Menard pressure meter and a tool called dynamic compaction. He then started selling these inventions across the world, and this is when the company started. The company's lead product today is control modulus columns.
Ground improvement is how different types of ground profiles are prepared for building structures on them. It can range from a normal foundation to deep foundations and even piling that is needed to keep the ground stable and to be able to carry the load of the structure that will be built. There are many ways to densify, consolidate, or reinforce the ground to make it suitable for the structure.
If design-build and trusted relationships are made between responsible design-builders, owners, and consultants, you can create huge savings, and that will enable you to build more with the same amount of money.
If people are not willing to create continuous improvement, then the pile specs are not going to bring value to the clients. There are places where piling should be used, but ground improvement is constantly trying to bring the best value.
As with any new technology, faults are bound to happen, but if you are never willing to take that risk, you will never be able to bring the value.
Ground improvement is not yet ready to be commoditized, but reasonable factors of safety, stresses, and other things are being set.
The ground improvement sector likes to work as a team with the project team, the owner, and the contractor. The earlier they are involved in a project, the more value they can bring into the project.
The Menard Group is in the process of expanding and is putting small to medium teams in their regional branches. Young engineers who move through Menard's system can move up fast because they keep a flat management structure. Even if they have only a few years of experience, they may be able to start their own office in another location if the Menard management thinks they are ready.
The Differences Between Ground Improvement and Piling Are:
Piling is codified, but this does not mean that the design cannot be changed because the total structure is the whole structure, including the piling. Just because a part of the structure is buried under the ground does not mean that it is not part of the structure.
With ground improvement, there is decoupling and you make the ground behave like a mattress. You can move on a mattress and it responds to your movement. The same goes for how the ground responds to the structure, and you can be more creative with the concrete work.
More Details in This Episode…
About Seth Pearlman, P.E., D. GE, M.ASCE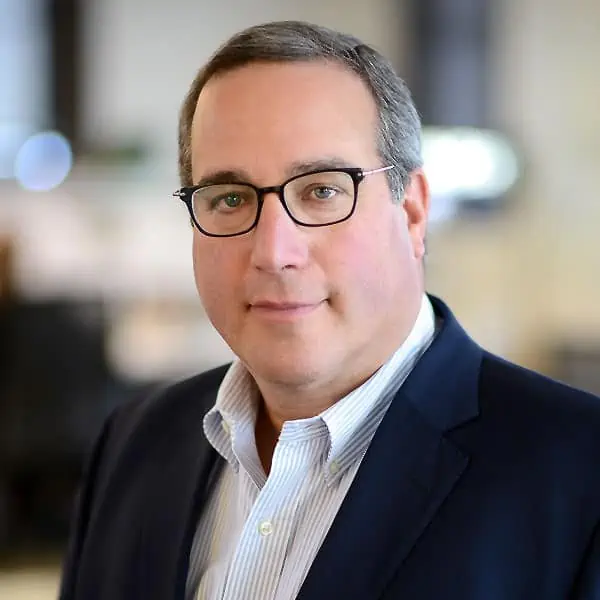 Seth Pearlman, P.E., D. GE, M.ASCE, is President and CEO of Menard Group USA. He has more than 40 years of engineering experience, with the last 34 being in the geotechnical design and build construction industry. He earned a BS and an MS in Civil Engineering from Carnegie Mellon University in Pittsburgh and is a registered professional engineer in Pennsylvania and Virginia. Seth is a member of the Geo-Institute, American Society of Civil Engineers (ASCE), American Concrete Institute (ACI), American Society of Highway Engineers (ASHE), Design-Build Institute of America (DBIA), Engineers Society of Western Pennsylvania (ESWP), The Moles, and past president for the Deep Foundations Institute (DFI). He serves on an Advisory Council to the Carnegie Mellon University Department of Civil and Environmental Engineering.
Pearlman was awarded the 2014 ASCE's Henry L. Michel Award for Industry Advancement of Research, the 2016 Alumni Service Award from Carnegie Mellon University, and the ASCE's 2020 Wallace Hayward Baker Award for Ingenious Innovation in the Field of Ground Modification
Pearlman has participated in some of the most challenging ground improvement projects in the United States. These include complex highway interchanges over very soft ground, such as Exit 14A on I-78 in Bayonne, New Jersey, and large warehouse support projects on both soft ground and highly contaminated landfills, such as the 900,000 sq. foot Pulaski warehouse in Jersey City, NJ.
Leading Menard in North America allows Pearlman to mentor and develop young leaders who service local markets in much of the U.S. and Canada. Pearlman says he enjoys developing these young managers by teaching them creativity and the fundamentals of geo-structural engineering.
Sources/References:
Connect with Seth Pearlman, P.E., D. GE, M.ASCE on LinkedIn
Menard Group USA
This Episode Is Brought to You by the Following Sponsors:
Menard Group USA

Do you have projects where you are faced with building on soft or lose ground? Does it seem like all of the good sites are taken and you are always building on poor soils that are a challenge for conventional foundation approaches? Menard may be able to help! As a specialty ground improvement contractor Menard works nationally and international providing design-build ground improvement solutions at sites with problematic soils. In many cases, ground improvement is less costly than traditional approaches such as removal and replacement or piling systems. Menard works closely with civil, structural, and geotechnical engineers to minimize foundation costs for wide ranges of soil conditions, structure types, and loading conditions. To learn more about Menard Group USA, or for help on your next project, please visit www.menardgroupusa.com
Aero Aggregates of North America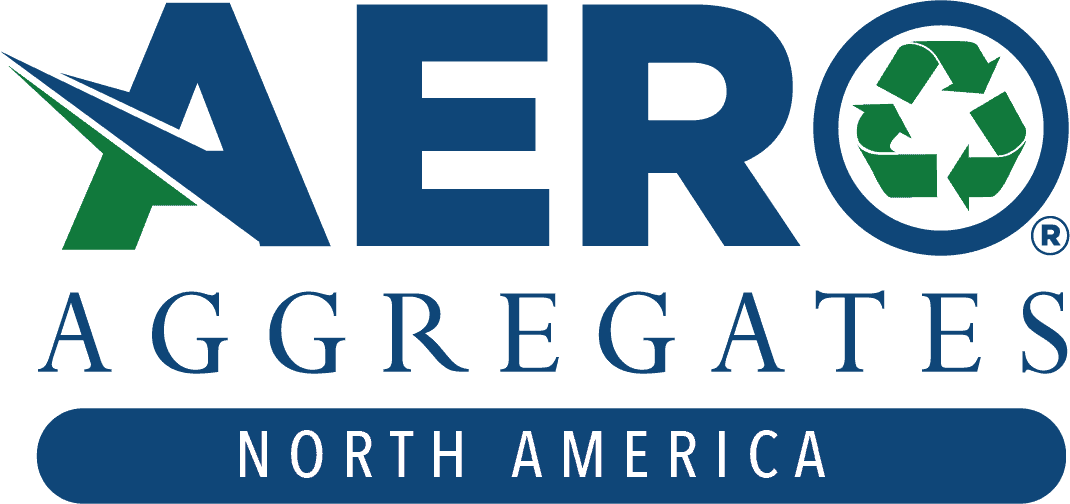 Aero Aggregates is the first vertically-integrated manufacturer of ultra-lightweight foamed glass aggregate in North America. This sustainable aggregate has bulk densities that are 80-90% lower than traditional fill, is free-draining and non-reactive, can be used to reduce lateral loads on walls or weight on roof structures, and it can also be used around building envelopes as an insulation material. Foamed glass aggregate can often accelerate construction, reduce project costs, and offer green credits for LEED and ENVISION programs. Visit www.AeroAggregates.com to learn about this unique construction material.
Please leave your comments or questions in the section below on ground improvement.
To your success,
Jared M. Green, P.E., D.GE
Host of The Geotechnical Engineering Podcast