Podcast: Play in new window | Download | Embed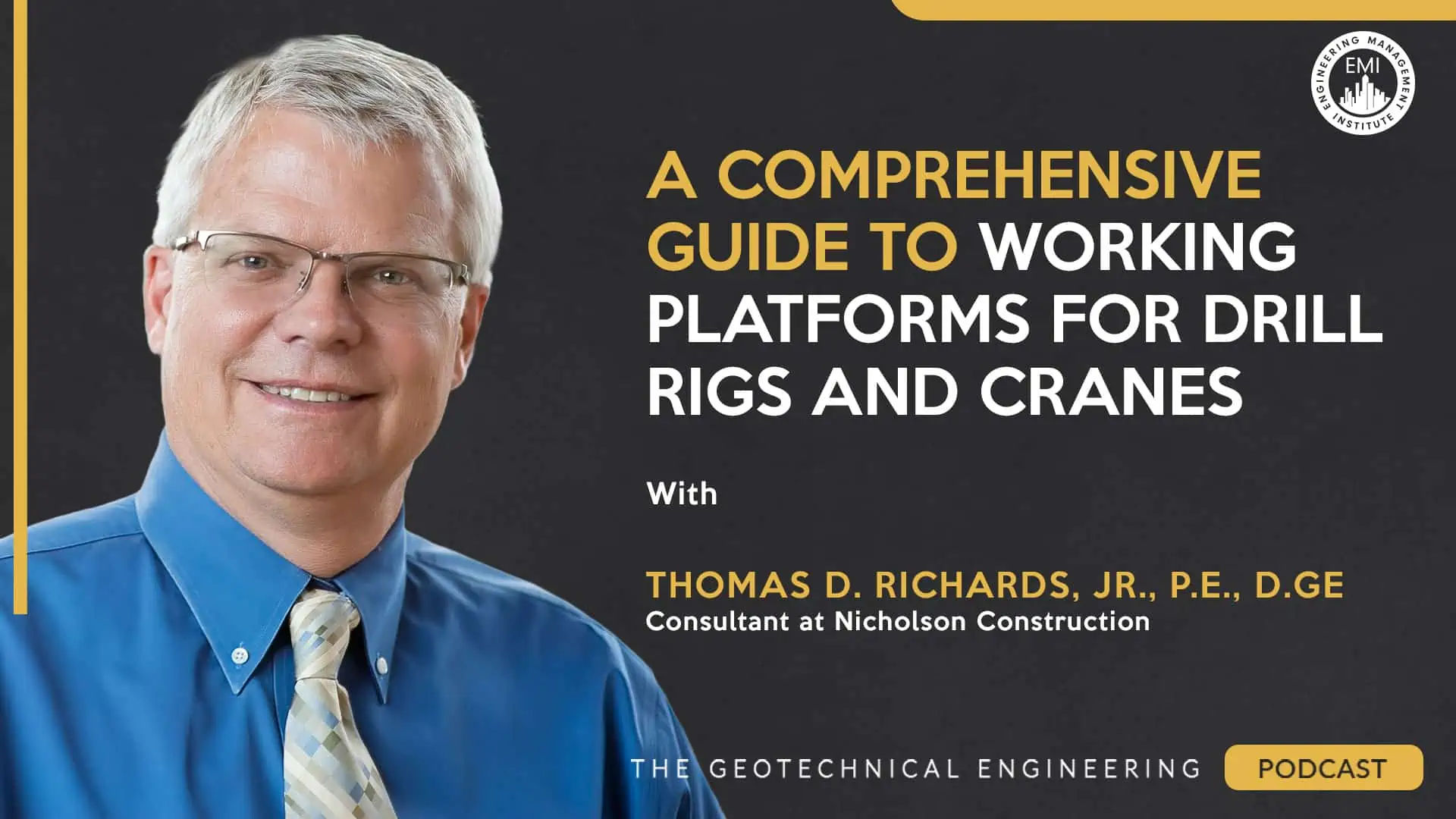 In this episode, we talk with Thomas D. Richards, Jr., P.E., D.GE, a consultant at Nicholson Construction Company, about working platforms for drill rigs and cranes. We delve into what working platforms are, why they are essential for geotechnical engineers, their utilization challenges, and how they can contribute to their effective use.
Engineering Quotes:


Here Are Some of the Questions We Ask Thomas:
What is the role of working platforms in geotechnical engineering and why are they essential for diverse construction projects?
Can you provide examples of construction projects where the use of working platforms significantly improved project safety, and what factors contribute to their effectiveness in such cases?
What are some of the common challenges and misconceptions that geotechnical engineers face when designing and implementing effective working platforms for drill rigs, cranes, and other large pieces of equipment?
What are the cost and logistical considerations when bringing material onto a site for ground improvement?
Could you elaborate on your role in committees and how it has influenced the development of guidelines and best practices for working platforms?
For those listening to this podcast and wanting to do the right thing, where can they find existing or upcoming resources to guide them?
What is the most challenging aspect of effectively utilizing a working platform, and what would be the correct approach to overcome it?
How is the modification of a constructed working platform managed, particularly when drilling through or alongside it?
How do you envision the future of working platforms in geotechnical engineering design, and are there any emerging technologies or trends that could significantly impact their design and usage?
Could you share some key insights or memorable moments from your travels and interactions within the geotechnical community?
What advice would you give to aspiring geotechnical engineers, particularly those interested in working platforms and enhancing safety on drill rigs and cranes?
Here Are Some of the Key Points Discussed About Working Platforms for Drill Rigs and Cranes:
Working platforms are important for construction projects, especially in geotechnical engineering. They provide a safe place to work with equipment. These platforms are often made of gravel on top of poor soil. This helps them stay stable and prevents accidents like overturned trucks.
In the early stages of rigging, smaller rigs were primarily used that didn't exert much stress on the ground, making them easy to stabilize. The use of larger rigs and foundation elements in later stages prompted a more analytical approach to prevent overturning.
In geotechnical engineering, understanding the scale of operations and allocating appropriate resources for ground preparation is crucial. This includes using more gravel than initially anticipated for large-scale projects. Such thorough preparation significantly enhances safety on the job site.
It's possible to strategically plan the grading and use of materials like a load transfer platform. This approach not only enhances site safety during the installation of elements like Controlled Modulus Columns (CMCs), but also ensures that the materials have a beneficial use after the completion of the work.
Committees play a crucial role in addressing technical challenges in the field. These challenges may arise from various sources and are discussed collectively within the committee. The first mention of working platforms, for instance, was at an ADSC meeting in 2005, where the Safety Committee was asked about their experiences with site conditions. While progress may take time, it is a natural part of the process of developing and implementing new guidelines and best practices.
The DFI website hosts a webpage dedicated to the task force addressing working platforms. This task force is a collaborative effort between DFI, ADSC, PDCA, and ASCE. The webpage provides numerous links to available documents, including a joint publication between the European Federation of Foundation Contractors (EFFC) and DFI. There's also a DSC-DFI document that outlines site conditions requiring analysis, defining cohesion, shear strength, and total rig weight. This document serves as a guide for when analysis should be conducted. Additionally, within the DFI, another task force is collaborating with the EFFC on several research studies. These resources provide valuable guidance for those interested in the subject.
Implementing safety measures such as gravel or geotextiles on sites can be challenging, especially when they seem excessive. However, these are crucial for risk reduction. The real challenge lies in understanding the geotechnics below the tracks, particularly for short-term loading. Ongoing research in the EFC DFI studies is addressing these issues.
Maintaining a working platform involves diligent clearing of spoils and ensuring that they do not fill up the pores, as this can affect future rainfall impacts. Despite any modifications, the stresses remain in the gravel due to the existing contacts. It's crucial to ensure proper water drainage on the site. These are standard site maintenance practices that should be implemented, regardless of the presence of gravel.
The future of working platforms involves understanding the load applied to the ground and validating design assumptions. Emerging technologies like dynamic cone penetrometers and lightweight deflectometers are being studied for subgrade proofing. Plate load tests can verify the working platform material and help determine the friction angle.
Receiving the award was a humbling experience, particularly considering the esteemed colleagues in the DFI activities. The traveling lecture provided an opportunity to connect with professionals in different areas of the country, with the recording on work platforms in California being particularly well received. Despite the challenges posed by COVID-19, webinars proved to be an efficient way to reach audiences. The most requested presentation was about Mandalay Bay, a compelling story with valuable technical lessons.
Finding a niche within geotechnical engineering that one truly enjoys is crucial. For some, it could be conducting pile load tests. Active involvement in industry committees is also recommended. These platforms provide opportunities to interact with a diverse range of professionals, including potential competitors and clients. Such interactions can lead to a better understanding of the industry and its players. It's also beneficial to engage in conversations with experienced professionals in the field, as they have valuable insights and stories to share.
More Details in This Episode…

About the Guest: Thomas D. Richards, Jr., P.E., D.GE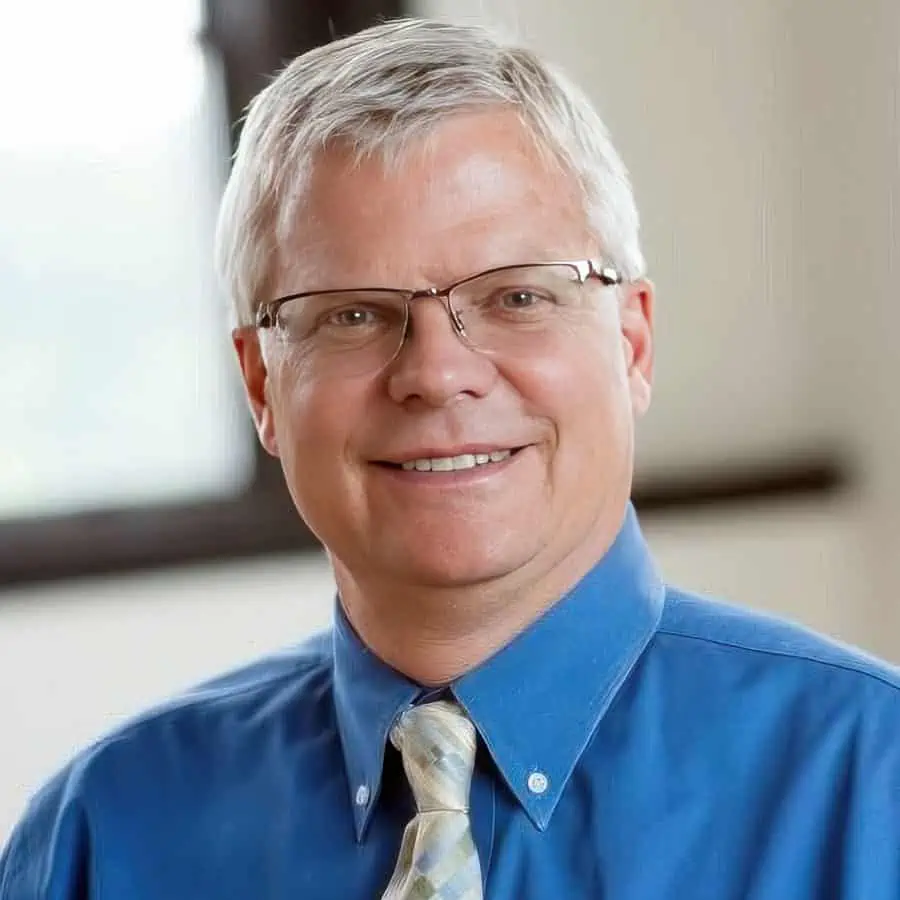 Tom Richards is a retired chief engineer who is now a consultant at Nicholson Construction Company. For over 30 years at Nicholson, he has dealt with the technical aspects of a multitude of specialized geotechnical projects using micropiles, anchors, soil nails, diaphragm walls, and numerous grouting techniques. Tom's responsibilities included design, quality control, research, testing, and instrumentation.
He was active in numerous Committees of DFI, ADSC, PTI, and ASCE, leading to frequent commenting on FHWA and other industry documents. He remains active on a few DFI and ADSC committees. He is also a member of the Moles. In 2019, Tom was awarded the Distinguished Service Award from DFI and is the 2021 DFI Travelling Lecturer.
About the Host: Jared M. Green, P.E., D.GE, F.ASCE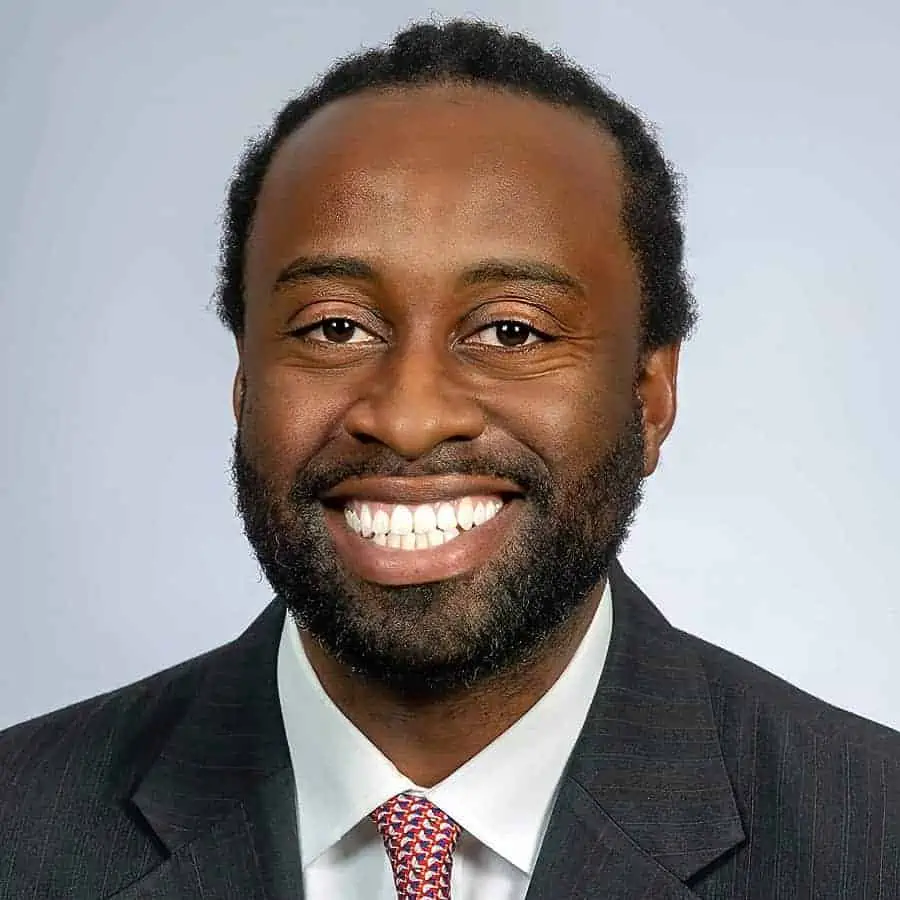 Jared, originally from southwest Philadelphia, Pennsylvania, graduated from Syracuse University's College of Engineering in 2001 with a B.S. in Civil Engineering. He later went on to attain his M.S. in Civil Engineering (Geotechnical Focus) from the University of Illinois, Urbana-Campaign, in 2002. In 2003, he began working in the New York City office of Langan. He has since become a Principal / Vice President and is one of the owners of this international land development engineering consulting firm. After 15 years at Langan, Jared moved to the Philadelphia office and is one of the geotechnical practice leaders in that office.
Jared is a consultant and team leader who also enjoys mentoring young engineers and first-generation college students. He has been instrumental in increasing the number of pre-college students who are interested in STEAM majors and fields. He strives to make complex engineering topics relatable and understandable to people new to the field and to people who are completely unfamiliar with engineering. Jared and his family currently reside in Flemington, New Jersey. He and his wife have three energetic, inquisitive, and awesome children. You can connect with Jared here.
Sources/References:
Nicholson Construction
University of Pittsburgh
GI Consultants
Central Artery Tunnel in Boston
Williamsburg Bridge in New York City
Mandalay Bay in Vegas
Deep Foundations Institute (DFI)
Bauer Equipment
International Association of Foundation Drilling (ADSC)
Post-Tensioning Institute (PTI)
European Federation of Foundation Contractors (EFFC)
American Society of Civil Engineers (ASCE)
Connect with Thomas D. Richards, Jr., P.E., D.GE on LinkedIn
Email Thomas D. Richards, Jr., P.E., D.GE
This Episode Is Brought to You by PPI: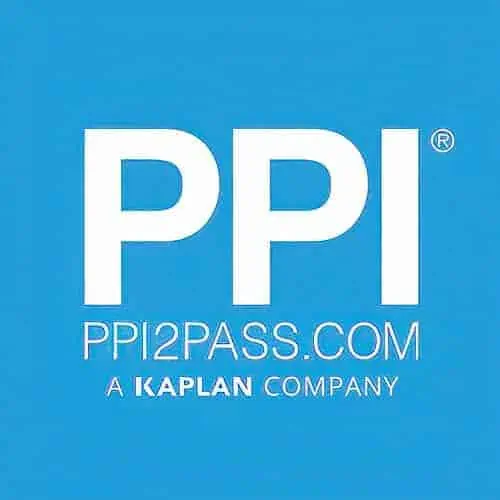 PPI has helped engineers achieve their licensing goals since 1975. Passing the FE and PE exams can open doors to career advancement and new opportunities. Check out PPI's wide range of prep options, including Live Online courses, on-demand courses, and digital study tools, to help prepare you to pass your licensing exam. Check out PPI today at ppi2pass.com to see all the options available for FE and PE exam prep.
Please leave your comments or questions in the section below on working platforms for drill rigs and cranes.
To your success,
Jared M. Green, P.E., D.GE, F.ASCE
Host of The Geotechnical Engineering Podcast