Podcast: Play in new window | Download | Embed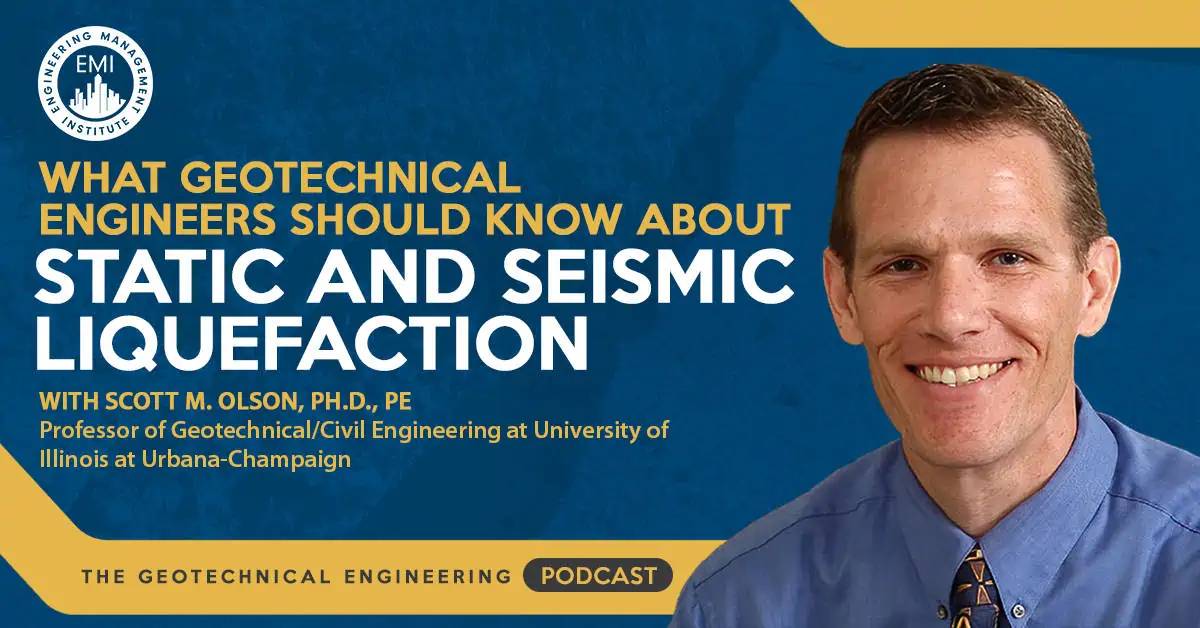 In this episode, we talk to Scott M. Olson, Ph.D., P.E., Professor of Geotechnical/Civil Engineering at the University of Illinois in Urbana-Champaign, about his career journey and about static and seismic liquefaction. He also provides some of the latest updates about the residual strength of liquefied soils.
Engineering Quotes:


Here Are Some of the Questions We Ask Scott:
How do you define success in your career?
How has teaching and researching in the COVID-19 era changed what you do and how you do it?
What are some of the latest developments in the residual strength of liquefied soils?
What got you started in this field of research?
How do you manage your time to take part in all the professional societies that you are a part of, and how have they benefited your career?
What are some of the aspects of liquefaction that geotechnical engineers need to be aware of?
What is one thing you wish you had known when you began your career?
Here Are Some of the Key Points Discussed About Static and Seismic Liquefaction:
As a professor, you define your success by the success that your students achieve after they are done with their studies, and by accessing how your research is impacting the practice.
During a pandemic, all the content and programs are put online and made accessible to the students. This approach has other benefits, like having the ability to have international students who are based all over the world. Doing things such as lab classes online do not provide the same experience for the students because they cannot touch things like the different soils.
Most research regarding earthquakes and liquefaction is about the study of how sands behave. Lately, how these concepts apply to intermediate soils, such as low- or non-plasticity silts, sandy silts, and clay silts that may be subject to cyclic softening, is researched. The studies are also done on man-made or industrial materials. With the transition from sands to fine grains and clay, the best way to evaluate them needs to be found, and we need to find a way to take these concepts and apply them in practice.
If you are thinking of teaching at a later stage in your career, consider getting a Ph.D. early, as this will open more doors for you at the right time in the future.
Geotechnical engineers need to remember that soil liquefaction is not a magical behavior. If you understand stress-strain and volume change of soil, then you can understand the liquefaction of soils. Understanding the basics of soil mechanics will take you a long way in practice.
If you have a busy schedule and you are deciding which activities to participate in, you need to look at it the same way you look at researching. Look at how you can best use your limited time to impact practice or society. Networking is important but look for the things that you are passionate about and places where you can contribute an impact.
The engineering profession is always changing, and you need to change with it, to keep up with it, and keep on learning new things.
New geotechnical engineers need to understand that there is a lot of uncertainty throughout the profession because you are working with natural materials and not man-made materials. A thorough understanding of different areas like geology, soil mechanics, and rock mechanics is needed. If all the uncertainty and variables do not scare you off, then geotechnical engineering is the right profession for you.
More Details in This Episode…
About Scott M. Olson, Ph.D., PE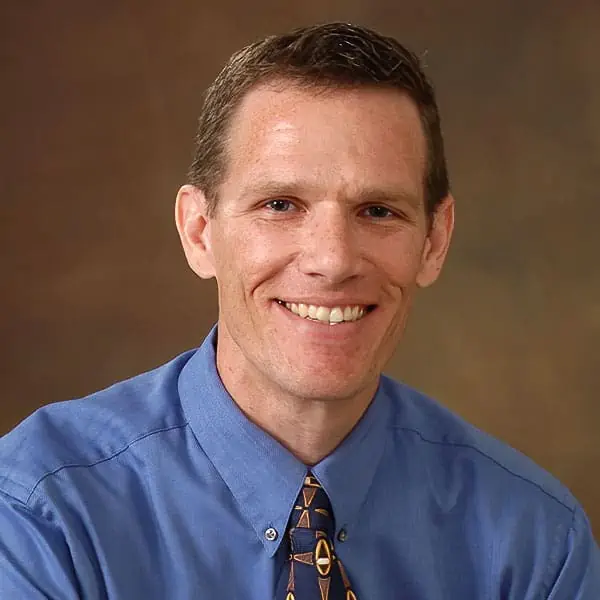 Scott M. Olson, Ph.D., PE is a Professor and Faculty Excellence Scholar in the CEE Department at the University of Illinois, where he joined the faculty in 2004. In Illinois, Prof. Olson has offered several Geotechnical Engineering courses. Before joining the faculty at Illinois, Scott worked in practice for over seven years for Woodward-Clyde Consultants and URS Corporation. Prof. Olson has researched static and seismic liquefaction for nearly 25 years, and was involved in dozens of research and consulting projects involving geotechnical engineering, geotechnical earthquake engineering, and tailings dam engineering. Dr. Olson's other research interests include laboratory/ centrifuge testing, paleo liquefaction, in-situ testing, geohazard analysis, and soil-foundation-structure interaction. From these activities, Scott has published over 140 journal papers, conference articles, and reports, and has received numerous awards for his research and teaching, including the ASCE Arthur Casagrande Professional Development Award, Walter L. Huber Civil Engineering Research Prize, and the Canadian Geotechnical Society R.M. Quigley Award. He is a licensed professional engineer in Missouri.
Sources/References:
Civil and Environmental Engineering
Scott Olson on Illinois Experts
Connect with Scott Olson on LinkedIn
This Episode Is Brought to You by Menard Group USA: 

Do you have projects where you are faced with building on soft or loose ground? Does it seem like all of the good sites are taken and you are always building on poor soils that are a challenge for conventional foundation approaches? Menard may be able to help! As a specialty ground improvement contractor, Menard works nationally and internationally, providing design-build ground improvement solutions at sites with problematic soils. Menard's techniques include Controlled Modulus Columns, wick drains, earthquake drains, vibro stone columns, dynamic compaction, rapid impact compaction, and soil mixing. Typical projects include warehouses, buildings, material storage piles, processing areas, embankments, roadways, port facilities, storage tanks, containment structures, and platforms. In many cases, ground improvement is less costly than traditional approaches such as removal and replacement or piling systems. Menard works closely with civil, structural, and geotechnical engineers to minimize foundation costs for wide ranges of soil conditions, structure types, and loading conditions. To learn more about Menard Group USA, or for help on your next project, please visit www.menardgroupusa.com
Please leave your comments or questions in the section below on static and seismic liquefaction.
To your success,
Jared M. Green, PE, D.GE
Host of The Geotechnical Engineering Podcast