Podcast: Play in new window | Download | Embed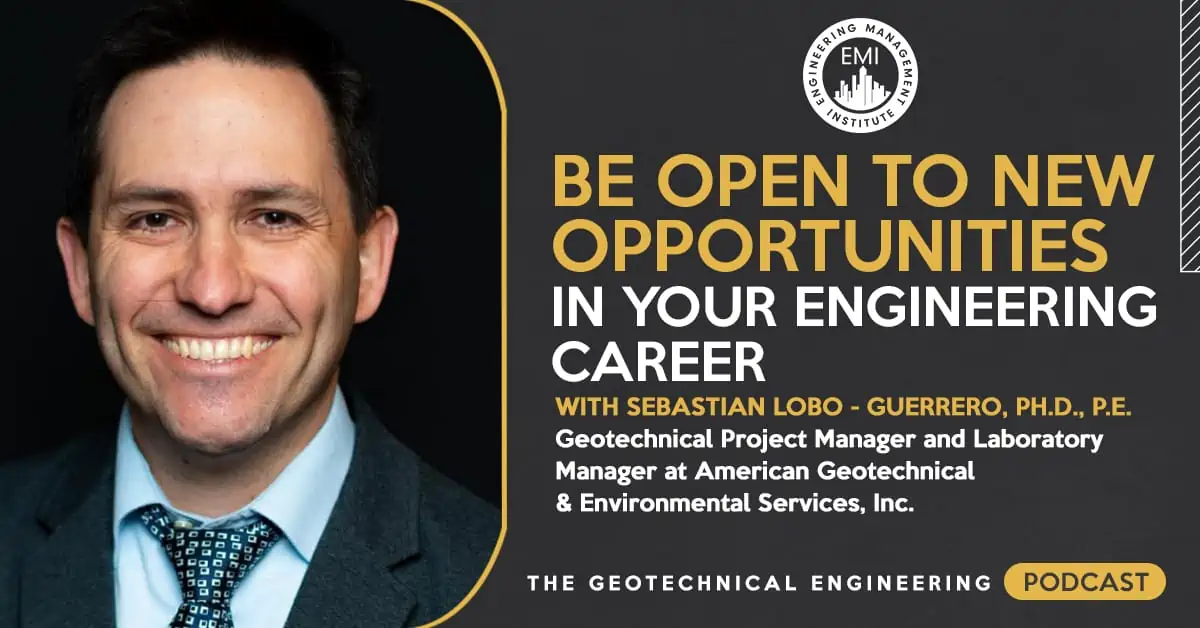 In this episode, we talk to Sebastian Lobo-Guerrero, Ph.D., P.E., a geotechnical project manager and laboratory manager at American Geotechnical & Environmental Services, Inc., about how you can be open to new opportunities in your engineering career, what geotechnical engineers can do in life, and what it means to be an engineer who attends conferences.
Engineering Quotes:


Here Are Some of the Questions We Ask Sebastian:
Why did you decide to come to the U.S. from Colombia?
What made you decide to get into geotechnical design rather than construction?
What are some of the technical tasks you perform in your career?
Can you tell us more about the bridge firm in Columbia that ended up picking your firm?
I know that your dad played an enormous role in your career and that something almost tragic happened to your dad while working on a geotechnical project. Can you tell us about that?
Can you tell us about your experience where you chaired the DFI annual conference?
Here Are Some of the Key Points Discussed About Being Open to New Opportunities in Your Engineering Career:
Always do your best while you are an engineering student because you never know when new opportunities will come knocking at your door. Never fear making changes that will help you in the future in your engineering career, and have the confidence in yourself to be able to make important decisions immediately.
When you put a lot of effort and calculations into making life decisions, many times what you experience is not what you calculated. If you work hard and focus on doing things correctly, good things will come your way. You always need to be on the lookout for new opportunities.
You should listen to everything and what everyone has to say when you attend conferences, because there is always a chance that you might learn something new.
If you are busy working in a certain kind of engineering and you are not happy with where you are, try researching other kinds of engineering and you will more than likely find what you are looking for. When you find a kind of engineering that you are interested in and have the feeling that this is what you want to become an expert in, this is the path that you should take.
If someone asks if you want to pursue a kind of career that will be a step up to what you currently have, you always answer with the words, "Yes, absolutely," even if you are not 100% sure what it is. You can always go back and research it afterward. Maybe that position is what you have been wanting to be all the time. If things do not work out for you in that position, see it as an important experience and knowledge gained and move on to your next goal.
Always be open to change the way that you do things in your work. Technology and research are forever changing, and you need to be at the forefront of learning new and improved ways. You may even open more doors for your career by doing this.
Going back to your home country to work on a high-caliber project can let you see your home country in a different light, especially when it involves working on a project that failed catastrophically. You could be treated as a celebrity by the government and the public. It will be a good experience for you, and you will learn how your home country does things.
Document your journey so that you can look back at the photographs and remember how many goals you had then, and realize how many of those goals you have achieved.
If you are involved in a dangerous situation, it might seem very traumatic at the time, but remember to always have hope and develop a mindset to see the funny side of it. This will help you to work through the situation on a personal level and will always make telling your story to other people more memorable. Use what you learned from your experience to help and educate others on what happens, and how it can be dealt with or avoided.
When chairing a conference, it is vital to have a good team that you can delegate tasks to and trust that the tasks get done. Never be afraid to try something new and let the attendees see things from another perspective.
More Details in This Episode…
About Sebastian Lobo-Guerrero, Ph.D., P.E.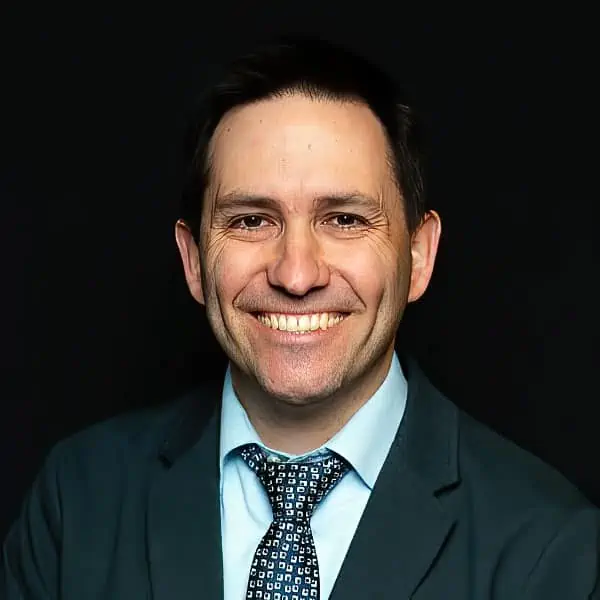 Sebastian Lobo-Guerrero, Ph.D., P.E., is a geotechnical project manager and laboratory manager at American Geotechnical & Environmental Services at their Pittsburgh headquarters. Born in Colombia, South America, Sebastian received his B.S. in Civil Engineering at Universidad de Los Andes in Bogota. He completed his M.S. and Ph.D. degrees in Geotechnical Engineering at the University of Pittsburgh. Sebastian has more than 18 years of experience in geotechnical engineering, specializing in the design of deep/shallow foundations, earth retaining structures, and landslide stabilization.
He is a former Chair of the American Society of Civil Engineers (ASCE) Pittsburgh Geo-Institute, a former Director of the Pittsburgh ASCE Chapter, and a current board member of the Deep Foundations Institute (DFI) Anchored Earth Retention Committee. He was the Conference Chair for DFI45, the 2020 DFI Annual Conference. Sebastian has authored more than 70 papers and presentations included in different geotechnical journals, magazines, and conference proceedings worldwide. He is also a co-author of the geotechnical sections of the State of Delaware Bridge Design Manual.
Sources/References:
Agescup
Connect with Sebastian Lobo-Guerrero, Ph.D., P.E., on LinkedIn
PE Exam Passpoint by EMI
Please leave your comments or questions in the section below on how you remain open to new opportunities in your engineering career.
To your success,
Jared M. Green, P.E., D.GE
Host of The Geotechnical Engineering Podcast