Podcast: Play in new window | Download | Embed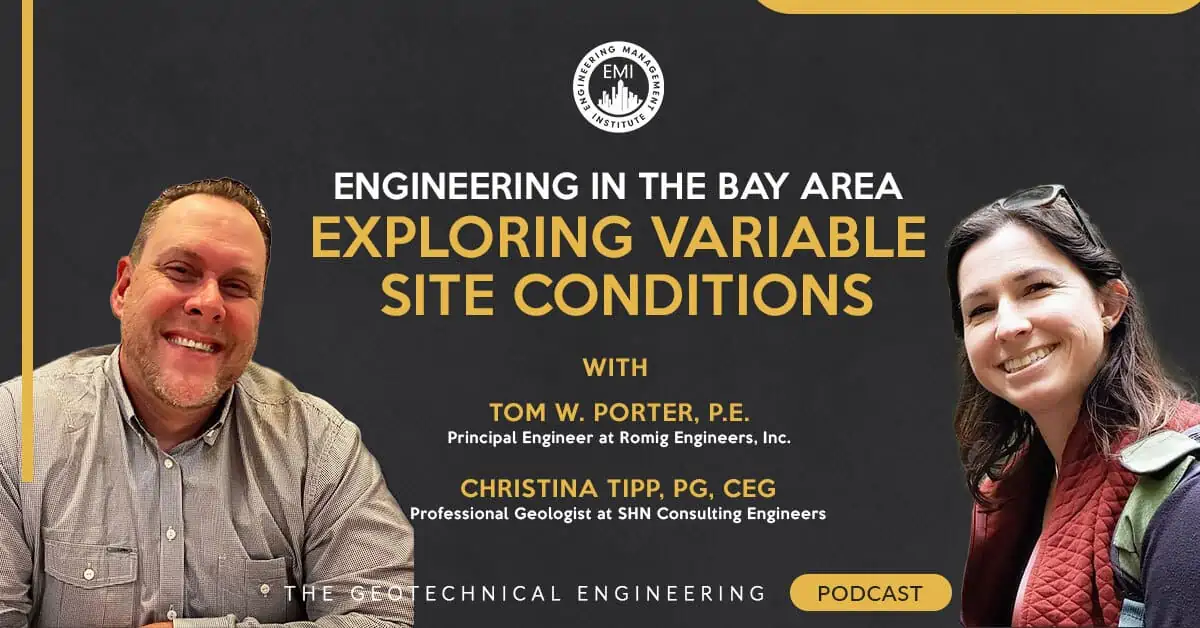 In this episode, we talk to Tom W. Porter, P.E., Principal Engineer at Romig Engineers, Inc., and Christina Tipp, PG, CEG, a professional geologist from SHN, about variable site conditions in the Bay Area. We also talk about what it is like to work for a small engineering firm and discuss some of the best methods of training entry-level staff.
Engineering Quotes:


Here Are Some of the Questions We Ask Tom and Christina:
What makes engineering in the Bay Area different from other areas?
What are some of the geological hazards that you have seen in the Bay Area?
How do groundwater conditions affect a project?
How do you test for groundwater levels in your projects?
Is the Bay Area more at risk of liquefaction during an earthquake than others?
What are some of the benefits you have experienced working in a small firm?
How do you work yourself up from a management position to being a principal at your firm?
What are some of the best methods of training entry-level staff, and what are some of your favorite parts of training new staff?
What advice would you like to give to our young engineers out there?
Here Are Some of the Key Points Discussed About Engineering in the Bay Area: 
The conditions in the Bay Area are extremely variable and diverse. The Bay Area is one of the most variable geologic areas in the country. Engineers must be prepared to see changing geologic from day to day and site to site.
The Bay Area has many different geological hazards, such as landslides, debris flows, rock falls, liquefaction, settlement, and tremors. It makes the area a fun place for engineers to work and find solutions to a diverse array of problems.
The groundwater conditions vary from shallow groundwater in the Bay Area to deep and perch groundwater conditions in the foothill and mountain areas. When designing projects, you must understand what the groundwater conditions currently are, and the potential for variability in the groundwater conditions in the future. Many building owners are putting in multi-level basements below their buildings in the Bay Area. It makes it essential to understand the groundwater conditions when designing the basements.
When groundwater is of concern in a project, monitoring wells and piezometers are used to monitor the static groundwater levels over a few months to more than a year. The fluctuation of the groundwater is measured from the dry to the rainy seasons. A database of the groundwater in projects close by is also used to determine the fluctuation in groundwater levels.
There is a lot of liquefaction around the Bay because there is a lot of ground fill placed along the Bay margins. They are making more areas to develop on, so they are pushing more ground fill further into the Bay. You cannot put anything onto the Bay mud and expect it to hold well in a seismic event. Wherever the groundwater is high and there are younger Bay deposits present, the chances are high for liquefaction to take place.
Everyone knows what everybody else is doing in a small firm because it has a team environment. Everyone must be on their toes and offer support where they can. It allows for more training, oversight, and mentoring for the younger staff.
To work yourself up from a management position to being a principal, you must work hard and put the hours in. Focus on getting your professional license and gain a lot of experience. Taking the opportunities that are presented to you will grow your experience level tremendously.
When training new staff members, show them what you want them to do, watch them do it, and then let them do it on their own. Check their work, keep communication open, and let them know what you expect from them.
If you communicate with people, they will want to work with you. Fewer mistakes will happen, and everyone will know what is going on.
Learn, be patient, and do not be in a rush to get to a certain place or level in your career. Put in your time and let your career unfold. Let things happen naturally and when you reach your career goals, you will realize it all happened correctly.
More Details in This Episode…

About the Guests:
Tom W. Porter, P.E.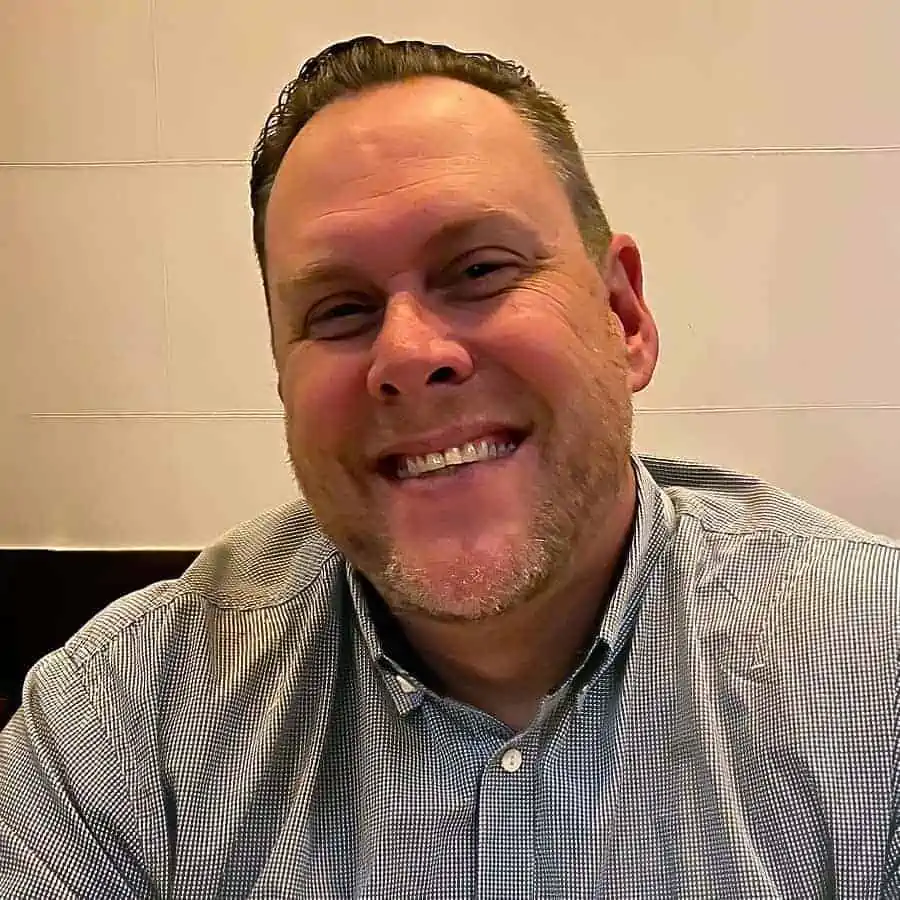 Tom has been at Romig Engineers, Inc. since 2006 and has over 16 years of experience in geotechnical engineering on over 100 commercial and over 500 high-end and smaller-scale residential projects throughout the San Francisco Bay and Peninsula. Tom manages projects from the initial proposal stage through the investigation and construction phases.
His projects have included the Station 1300 Mixed-Use Development in Menlo Park, consisting of two three-story office buildings and a four-story apartment building constructed over two levels of basement parking, the Fletcher Jones Audi of Fremont dealership, the 63-room Park James boutique hotel in Menlo Park, the 217,000 to 430,000-square-foot multi-story office buildings/parking structures at the NetApp Campus in Sunnyvale, a 280,000-square-foot manufacturing facility in Fairfield, the CS Bio Inc. building expansion project in Menlo Park, the Mercedes Benz Dealership facility in Palo Alto, the Rector-Audi building addition and renovation in Burlingame, the Woodside Priory School redevelopment project in Portola Valley, and the Home2 Suites Hotel complex project in Livermore.
He holds a B.S.C.E. and an M.S.C.E. in Geotechnical Engineering from San Jose State University.
Christina Tipp, PG, CEG
Christina is an engineering geologist with 14 years of experience in engineering geologic consulting and geotechnical engineering. She successfully performs geologic studies to evaluate geologic risk, including investigations for active fault lines and slope instabilities. Christina is skilled in a multitude of subsurface exploration techniques, as well as geologic mapping, review of LIDAR and aerial photography, project and site research, and preparation of geologic reports. Her subsurface exploration experience includes fault trenching investigations in earthquake hazard zones, mapping active fault lines, soil and rock profiling exposed in test pit excavations, logging exploratory geotechnical borings to assess liquefiable sediment in Bay environments and rock coring rocky hillsides, explorations of inactive landslides, hiking into sites where helicopters lowered the drill rig into sensitive environments, installation of slope inclinometers and monitoring wells, and being lowered down large diameter borings into a deep-seated landslide.
About the Host: Jared M. Green, P.E., D.GE, F.ASCE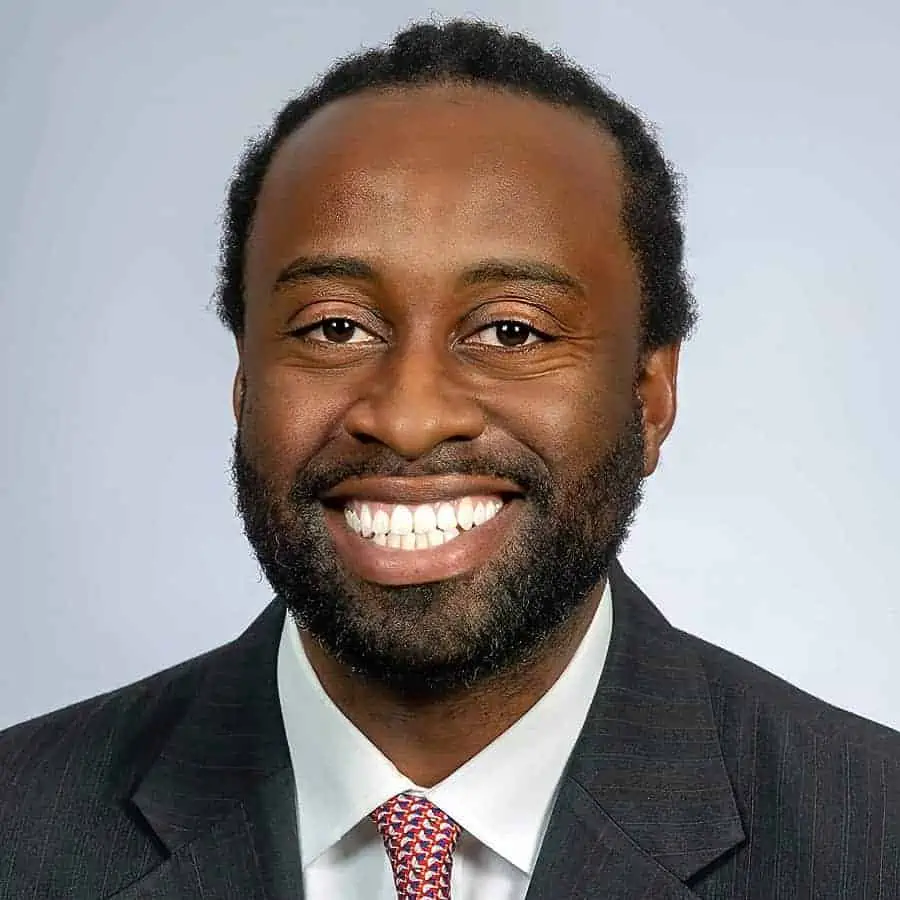 Jared, originally from southwest Philadelphia, Pennsylvania, graduated from Syracuse University's College of Engineering in 2001 with a B.S. in Civil Engineering. He later went on to attain his M.S. in Civil Engineering (Geotechnical Focus) from the University of Illinois, Urbana-Campaign, in 2002. In 2003, he began working in the New York City office of Langan. He has since become a Principal / Vice President and is one of the owners of this international land development engineering consulting firm. After 15 years at Langan, Jared has moved to the Philadelphia office and is one of the geotechnical practice leaders in that office.
Jared is a consultant and team leader who also enjoys mentoring young engineers and first-generation college students. He has been instrumental in increasing the number of pre-college students who are interested in STEAM majors and fields. He strives to make complex engineering topics relatable and understandable to people new to the field and to people who are completely unfamiliar with engineering. Jared and his family currently reside in Flemington, New Jersey. He and his wife have three energetic, inquisitive, and awesome children. You can connect with Jared here.
Sources/References:
Romig Engineering
TGEP 42: The Relationship Between Geological and Geotechnical Engineering
Connect with Tom W. Porter, P.E., on LinkedIn
Connect with Christina Tipp, PG, CEG, on LinkedIn
This Episode Is Brought to You By:

Tensar

With Tensar, you can design and build with confidence because we empower you to achieve cost-effective, engineered site solutions. Our industry-leading geogrid technology and other innovative products solve the toughest soil stabilization, earth reinforcement, and site development challenges. Through these innovations, you can create a more resilient future because our technology is backed by decades of research and proven performance. From project start to project completion, we're not afraid to get our boots dirty. No matter where you are, you can depend on the international Tensar team and our network of distribution partners to provide support and advice. Whether you're building roadways, retaining walls, railways, or foundations, we are the partner you can depend on. To learn more about Tensar, visit www.tensarcorp.com.
Menard USA

Menard USA is a specialty ground improvement contractor that works nationally providing design-build ground improvement solutions at sites with problematic soils. Menard works closely with civil, structural, and geotechnical engineers to minimize foundation costs for a wide range of soil conditions, structure types, and loading conditions. To learn more about Menard USA, or for help on your next project, please visit www.menardusa.com.
Please leave your comments or questions in the section below on engineering in the bay area: exploring variable site conditions.
To your success,
Jared M. Green, P.E., D.GE, F.ASCE
Host of The Geotechnical Engineering Podcast