Podcast: Play in new window | Download | Embed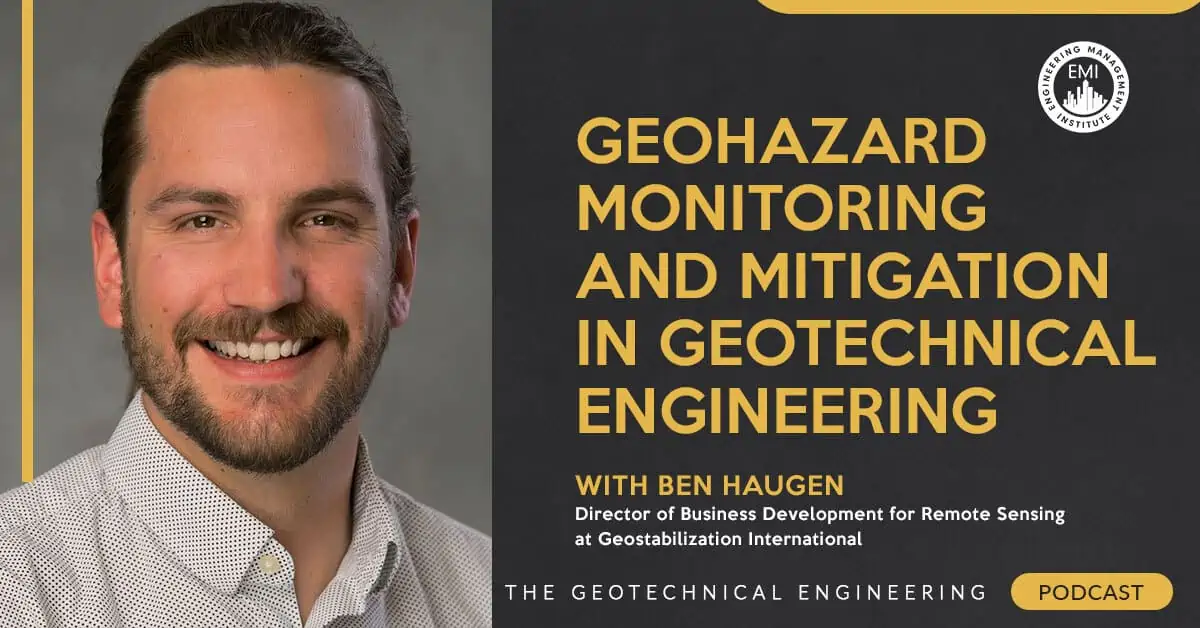 In this episode, we talk to Ben Haugen, Director of Business Development for Remote Sensing at GeoStabilization International, about geohazard monitoring and mitigation, how it benefits the community, and some of the things that engineers can do to prioritize the mitigation of geohazards.
Engineering Quotes:
Here Are Some of the Questions We Ask Ben:
What is geohazards monitoring and mitigation, and why is it important in engineering?
What are some of the main causes of geohazards?
In what way does geohazard monitoring benefit the community?
What are some of the types of geospatial data that are collected, what collection techniques are used, and how important is it to accurately interpret these critical geospatial data monitors in at-risk areas?
How can analysis of natural hazards in real time provide a better understanding of risk and preparation for geohazard potentials?
What are some of the things that engineers can do to prioritize the mitigation of geohazards?
What advice would you like to give to our young engineers?
Here Are Some of the Key Points Discussed About Geohazard Monitoring and Mitigation:
Geohazards are caused by geological features interacting with water, wind, and other natural processes. It causes the movement of slopes in the form of landslides and rockfalls. Monitoring and mitigating entail working with transport departments and private companies to find potential geohazards before they happen.
The largest triggering cause for most geologic hazards is water. Heavy rains in high fire zones can cause debris flows. With the absence of vegetation and the fires prohibiting the ground from absorbing water, high rainfall causes mudflows as it runs off these areas. In turn, a high water-absorbing soil area absorbs a lot of the water, which causes an increase in core pressure, weakens the slope, and causes a landslide. Freeze-thaw cycles can trigger an event by expanding cracks in rocks, which eventually causes rockfall.
Geohazard monitoring benefits a community by being able to detect where there is a geological movement with sensors and technologies. Sometimes detected small events will indicate that a bigger event will be happening soon. Plans can be made to prevent the larger event from occurring or ensure that the people close by will be kept safe from the event.
There are many ways that you can get geological data. Some of the commonly used ways are remote sensing by using cameras, lidar sensors, and satellite radar. Other technologies include robotic total stations, regular total stations, inclinometers, and piezometers.
Geohazard monitoring and mitigation are often dispatched because of an engineering project that will take place in an area, or someone has discovered a potential hazard. Data is collected so that the proper decisions can be made to mitigate the hazard or get people to safety.
Engineers can prioritize mitigating a geohazard by ensuring they have the correct information, characterizing the hazard, understanding the severity of the hazard, and adding on consequences and exposures. It is a risk equation that is developed across many industries and engineering disciplines. Ensure people know about the hazard and how it can affect them for some time to come. Considering all the factors together with the data collected allows you to rank the risk of the hazard.
Find and listen to mentors. Finding people who are willing and able to provide you with good advice will tremendously benefit your career. Keep an open mind toward others and remember there is no project that you will not need a team of people to be successful.
More Details in This Episode…
About the Guest: Ben Haugen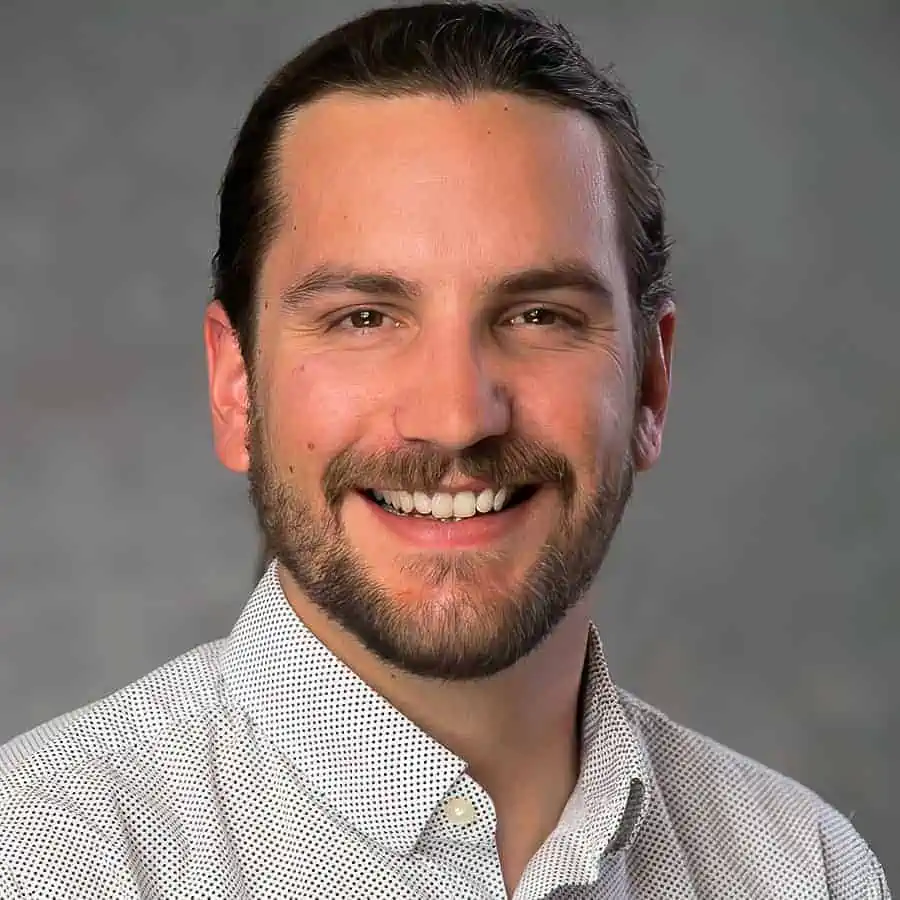 Ben leads GeoStabilization's efforts to drive customer awareness and project development in the remote sensing, instrumentation, and monitoring business market. A geological engineer with extensive experience in landslide and rockfall hazard monitoring, analysis, and mitigation, Ben's expertise and knowledge is crucial for success in this market. In addition to his success in developing customer relationships and new business in the geohazard mitigation industry, Ben brings analytical, sales, and leadership skills to this role. Ben earned a master's degree in Geological Engineering from the Colorado School of Mines and a bachelor's degree in Geology from the University of Colorado at Boulder. Ben is currently located in the beautiful Black Hills of South Dakota and has roots in the Denver area.
About the Host: Jared M. Green, P.E., D.GE, F.ASCE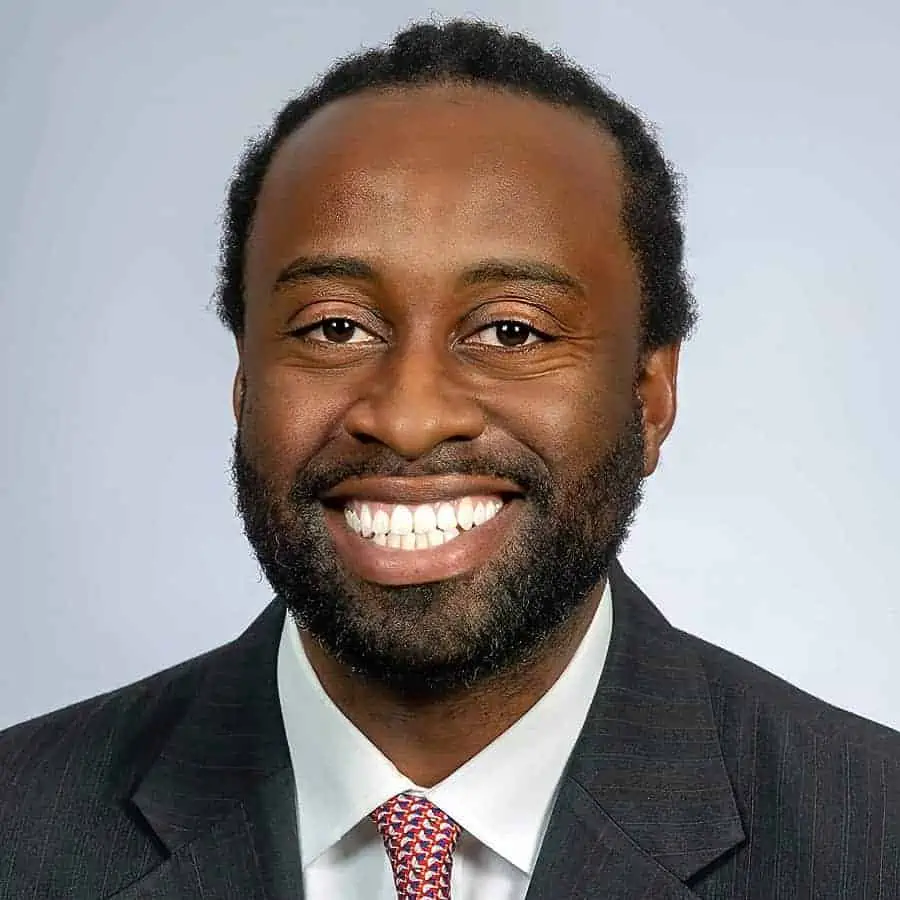 Jared, originally from southwest Philadelphia, Pennsylvania, graduated from Syracuse University's College of Engineering in 2001 with a B.S. in Civil Engineering. He later went on to attain his M.S. in Civil Engineering (Geotechnical Focus) from the University of Illinois, Urbana-Campaign, in 2002. In 2003, he began working in the New York City office of Langan. He has since become a Principal / Vice President and is one of the owners of this international land development engineering consulting firm. After 15 years at Langan, Jared has moved to the Philadelphia office and is one of the geotechnical practice leaders in that office.
Jared is a consultant and team leader who also enjoys mentoring young engineers and first-generation college students. He has been instrumental in increasing the number of pre-college students who are interested in STEAM majors and fields. He strives to make complex engineering topics relatable and understandable to people new to the field and to people who are completely unfamiliar with engineering. Jared and his family currently reside in Flemington, New Jersey. He and his wife have three energetic, inquisitive, and awesome children. You can connect with Jared here.
Sources/References:
GeoStabilization International
Connect with Ben Haugen on LinkedIn
This Episode Is Brought to You By:

Menard USA

Menard USA is a specialty ground improvement contractor that works nationally providing design-build ground improvement solutions at sites with problematic soils. Menard works closely with civil, structural, and geotechnical engineers to minimize foundation costs for a wide range of soil conditions, structure types, and loading conditions. To learn more about Menard USA, or for help on your next project, please visit www.menardusa.com.
Tensar

With Tensar, you can design and build with confidence because we empower you to achieve cost-effective, engineered site solutions. Our industry-leading geogrid technology and other innovative products solve the toughest soil stabilization, earth reinforcement, and site development challenges. Through these innovations, you can create a more resilient future because our technology is backed by decades of research and proven performance. From project start to project completion, we're not afraid to get our boots dirty. No matter where you are, you can depend on the international Tensar team and our network of distribution partners to provide support and advice. Whether you're building roadways, retaining walls, railways, or foundations, we are the partner you can depend on. To learn more about Tensar, visit www.tensarcorp.com.
Please leave your comments or questions in the section below on geohazard monitoring and mitigation in geotechnical engineering.
To your success,
Jared M. Green, P.E., D.GE, F.ASCE
Host of The Geotechnical Engineering Podcast