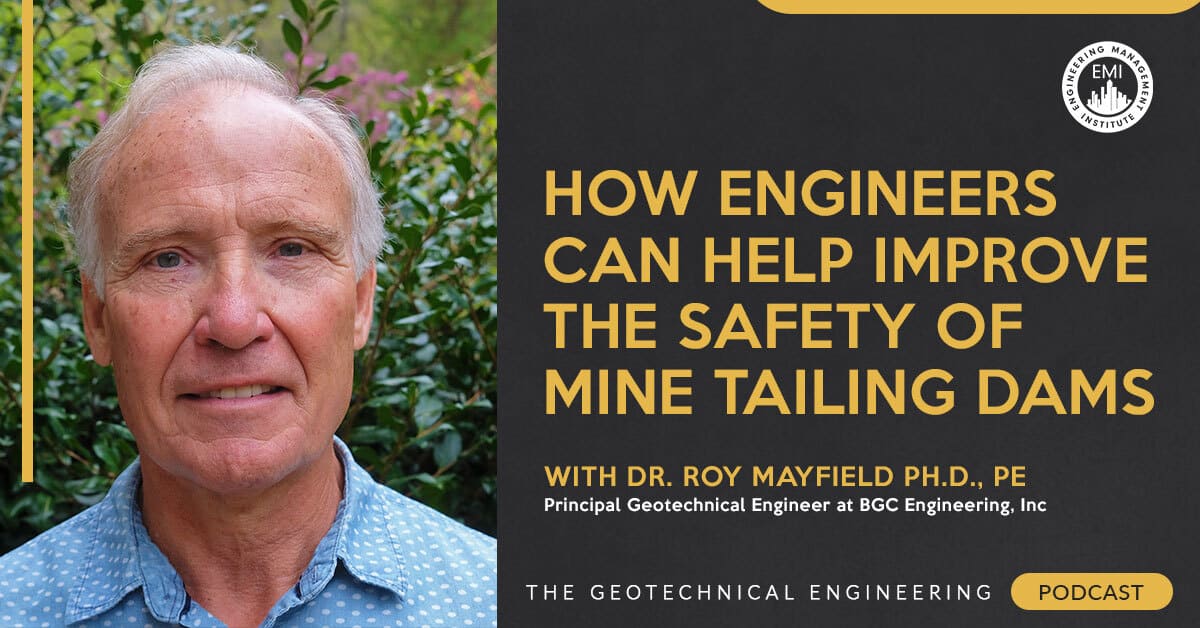 In this episode, we talk to Roy Mayfield, Ph.D., P.E., about mine tailing dams, how we can help improve the safety of these dams, and why having sound engineering judgment and expertise is crucial in your engineering career.
Engineering Quotes:


Here Are Some of the Questions We Ask Roy:
What are mine tailing dams, and what are they used for?
When mine tailing dams fail, the results can be catastrophic. Should we be worried about it, and what are some of the consequences of a collapse?
What can be done to improve tailing dam safety?
Can you talk to us about one project that stood out to you in your career, and what you learned from it?
How can engineers develop sound engineering judgment and expertise?
What final piece of advice would you like to give young engineers when dealing with uncertainty in their careers?
Here Are Some of the Key Points Discussed About Mine Tailing Dams:
Mine tailings are what is left over after the target mineral is removed from the ore. Removing the target mineral produces a slurry of sand and silt that must be stored and impounded. The sand in this slurry can be removed and used to build the embankments that impound the tailing slurry. Sand and water do not interact well, so great care must be taken when building the mine tailing dams.
Mine tailing dams are some of the largest man-made structures in the world. If the mine tailing dams fail, the consequences can be catastrophic. The sheer volume of the contents flowing out of the failed dam can bury a large area of the surrounding ground and, in some cases, can also cause chemical contamination. The downstream effects of mine tailing dams failing are very apparent and tragic.
Water is the cause of most geotechnical failures. To improve the safety of mine tailing dams, geotechnical engineers must be highly integrated with hydrologists, hydraulics engineers, and hydrogeologists to understand how the water is behaving in the mine tailing dams. Geotechnical engineers must better understand the undrained behavior of sand because it can undergo liquefaction and behave in an undrained manner and flow. Understanding all the behaviors is important to making a robust design.
The Global Industry Standard on Tailings Management has released documents about the processes that must be followed when working with mine tailing dams. It focuses on the integration and systems that are required to improve mine tailing dam safety.
What geotechnical engineers do is only a small part of the client's bigger picture he has in his mind. If a client starts acting unreasonably, know something is causing their behavior that you must understand and incorporate it into your work.
You learn through your mistakes, but in this kind of industry, you cannot afford to only learn from your mistakes. Study case histories to build your understanding of what went wrong and how it can be avoided. You can also develop your engineering judgment by thinking of what you do daily in a more rigorous way. Before you do any analysis of a design, mark where you think a problem will be and what you think the factor of safety will be in the analysis. If your prediction is very different from the analysis, go back and understand why you were different from the analysis. Repeating this will increase your understanding and help you picture in your mind which things are important for different situations. Developing these mind images is the foundation for developing your engineering judgment.
Engineers operate on a very slim data set. Being humble about what you know and doing the extra work and analysis will help you to understand how robust your design will be in a case of unexpected circumstances.
More Details in This Episode…

About the Guest: Roy Mayfield, Ph.D., P.E.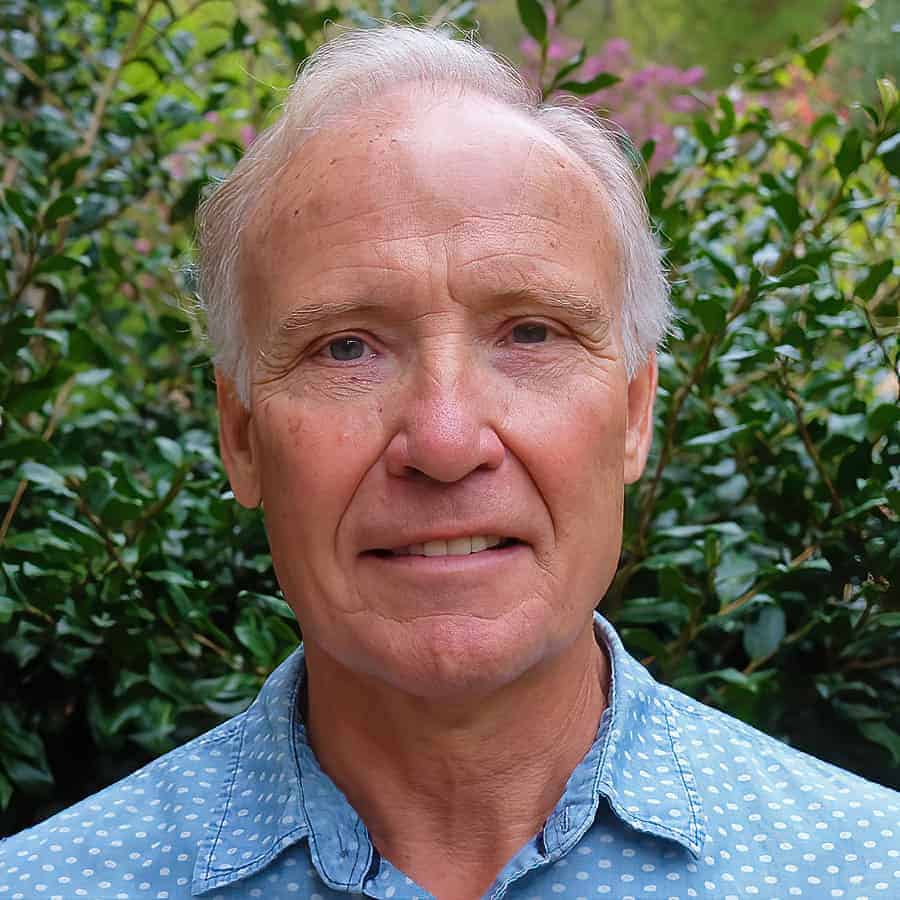 Roy Mayfield is a principal geotechnical engineer with BGC Engineering, Inc., a consulting company focused on geosciences. Dr. Mayfield has worked on design and construction related to foundations, earth dams, embankments, reservoirs, and man-made and natural slopes in the U.S., Canada, South America, Australia, and Asia for the government and the private sectors. Most of his experience is projects for natural resource development, particularly mine tailings dams. He has directed large geotechnical projects, from siting studies and conceptual design through subsurface investigation, laboratory testing, final design, construction drawings and technical specifications, and construction support.
Roy specializes in geotechnical earthquake engineering with a focus on soil liquefaction. He has authored several papers on this topic, and his work on the performance-based assessment of soil liquefaction earned the American Society of Civil Engineers' Norman Medal. He chaired the Site Amplification task group in the Special Committee for Earthquake Design, National Building Code of Canada from 2015 to 2020. His work now is mostly on external review boards for tailing dams in the U.S. and South America.
About the Host: Jared M. Green, P.E., D.GE, F.ASCE
Jared, originally from southwest Philadelphia, Pennsylvania, graduated from Syracuse University's College of Engineering in 2001 with a B.S. in Civil Engineering. He later went on to attain his M.S. in Civil Engineering (Geotechnical Focus) from the University of Illinois, Urbana-Campaign, in 2002. In 2003, he began working in the New York City office of Langan. He has since become a Principal / Vice President and is one of the owners of this international land development engineering consulting firm. After 15 years at Langan, Jared moved to the Philadelphia office and is one of the geotechnical practice leaders in that office.
Jared is a consultant and team leader who also enjoys mentoring young engineers and first-generation college students. He has been instrumental in increasing the number of pre-college students who are interested in STEAM majors and fields. He strives to make complex engineering topics relatable and understandable to people new to the field and to people who are completely unfamiliar with engineering. Jared and his family currently reside in Flemington, New Jersey. He and his wife have three energetic, inquisitive, and awesome children. You can connect with Jared here.
Sources/References:
BGC Engineering
Global Industry Standard on Tailings Management
Brumadinho Tailings Dam Disaster
Send Roy Mayfield, Ph.D., P.E., an email
This Episode Is Brought to You By:

Colliers Engineering & Design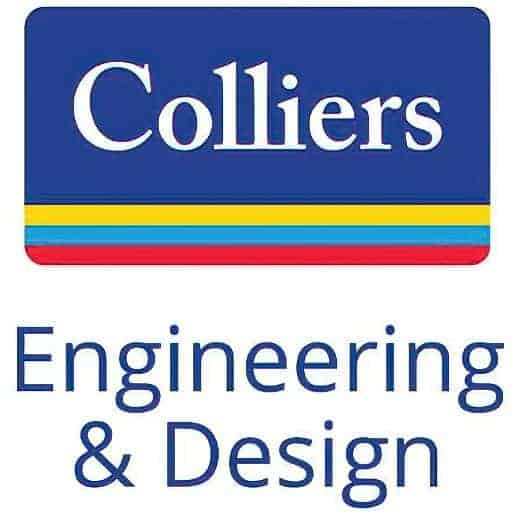 Colliers Engineering & Design is a multidiscipline engineering firm with over 1,800 employees in 63 offices nationwide — and growing fast! Colliers Engineering & Design maintains an internal culture that is nurtured through the promotion of integrity, collaboration, and socialization. Their employees enjoy hybrid work environments, continuous career advancement, health and wellness offerings, and programs and projects that have a positive impact on society. Colliers Engineering & Design stays on the cutting-edge of technology, and their entrepreneurial approach to expansion provides personal and professional development opportunities across the firm. Leadership's dedication to the well-being of their employees and their families is demonstrated throughout the wide range of benefits and programs available to them. For more information, visit the career page on their website at colliersengineering.com.
Menard USA

Menard USA is a specialty ground improvement contractor that works nationally providing design-build ground improvement solutions at sites with problematic soils. Menard works closely with civil, structural, and geotechnical engineers to minimize foundation costs for a wide range of soil conditions, structure types, and loading conditions. To learn more about Menard USA, or for help on your next project, please visit www.menardusa.com.
Please leave your comments or questions in the section below on how engineers can help improve the safety of mine tailing dams.
To your success,
Jared M. Green, P.E., D.GE, F.ASCE
Host of The Geotechnical Engineering Podcast