This is a guest post by Nader Mowlaee
STEP 1: Identify the Outcomes You Want to Create or Contribute To
Align your mission with a company's mission that motivates you. It is tough to come up with innovative ideas by yourself, especially if you are starting to set new goals or changing your engineering career and you do not know where to start.
If this sounds like you, then you're not alone. Many engineers have been making career transitions this year and certainly last year in 2020, and I have been there guiding them along the way. I know how it feels to come up short and feel like there is no future for you, and in this article, I want to give you a simple 2-step process to setting powerful goals that can contribute to you successfully changing your engineering career in 2021.
Let's start by accepting that the world is our playground and we can get to play with our own rules, especially as an engineer. We are a special breed of people who can acquire new skills on demand and can pivot whenever it's necessary so that we can create better outcomes in our careers and lives. However, you do not have to create your own job from scratch. Just join an existing team, follow their footsteps, and enable them to achieve their grand vision. Then you can branch out later to create your own unique results.

Here is an example: When I decided to leave an engineering career behind and get into technical recruiting, I had no idea what I was getting myself into. All I had was a role model and an attractive staffing company I had just joined. So all the goals I set were fully aligned with that company's vision and core values.
When I decided to branch out and start my own business, I began to set the rules myself. I was not going to be "just another recruiter." No, I was also going to be a career coach who worked hand in hand with engineers, never letting go of them until they got a new job and became successful in their new position.
I encourage you to do the same. Let us say you are a mechanical engineer who is interested in continuing your career in the field of healthcare. Begin by choosing a niche — let us pick medical devices for this example. Then go to an online search engine and look for the top 10 medical device companies in your city or state.
I conducted the same search right now and found a comprehensive list of medical device companies in Crunchbase. I noticed that Terns Pharmaceuticals focuses on discovering therapies that will improve the global disease burden. That mission statement really grabbed my attention, and I found a deep desire to support them in their vision.
When you view goal setting from the point of view of an established business, you enable yourself to hop on their mission and contribute to the outcomes they seek to create. Now, your next step is to explore and identify the process this company follows to manufacture their product so that you can help overcome them through designing better automation solutions and robotics systems.
STEP 2: What Problems Stand in My Way?
Now that you have identified a significant mission that can drive you forward in your career, you are one big step closer to setting life-changing goals for your engineering career in 2021. Next, you must identify your skill gaps so that you can set a goal to fill them in and ensure you are capable of successfully contributing to the above-mentioned mission in the company or niche identified above.
Begin by searching for job advertisements from other leading pharmaceutical companies in the same field that have an established presence in the market along with a successful product or solution, and look at their efforts to attract mechanical engineers like yourself. Study their needs, job descriptions, and the required qualifications mentioned on their postings.
For example, you will notice that an average mechanical engineer who works within a medical device manufacturing or pharmaceutical productions environment will require knowledge in continuous process design and project management, as well as product testing.
Now, let's say you lack hands-on experience in the product testing, verification, and validation process. Set a goal to improve your overall knowledge on what mechanical equipment exists in a medical device manufacturing or pharmaceutical production environment so that you can improve your candidacy in successfully securing such a job.
In this example, you may need to learn more about HVAC systems, fan vibration, airflow, and unit casing leakage and deflection, as well as troubleshooting the fabrication process. Keep a detailed record of all the areas you lack competency in and start eliminating those weaknesses.
When setting goals for your engineering career in 2021, filling in your skills gaps should take a big spot on your priority list. Try your best not to get distracted by your strengths, as they will look you in the eyes and speak in your ears, telling you to further improve them. Stop! You don't need that big shot of dopamine, the "I feel good about myself" hormone — not right now. Do not be fooled by that.

Further developing your top skills will not help you much. Instead, identify the areas where you are weak and eliminate those weaknesses.
Be aware that you may realize that your opportunities to grow are not among the technical skills, but rather the soft skills that may halt your growth. For example, this could be acting as a liaison between design engineering and the production team, or serving as a technical resource to production, customer service, and sales teams. This is your chance to improve your communication and collaboration skills.
When I coach engineers on their career growth trajectory, I only look at what remains to be built in their technical and personal skills toolbox and I go about helping you fix them. This will allow you to strive for excellence by continuing to invest in yourself and end up a better, stronger, and happier version of yourself.
If you are interested in how I help engineer achieve this new level of success, visit www.engineeryourmission.com
About Nader Mowlaee: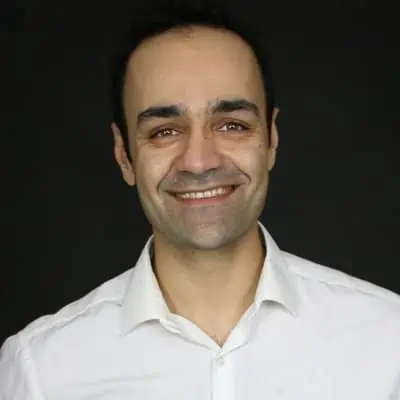 Nader is a career coach who believes you can get everything you want in life if you just help enough other people get what they want. He is inspired by motivating confidence in engineers and helping them take calculated actions to move forward towards their career and life goals. His mission is to enable engineers to break away from their fears and create the ideal lives and careers they desire. You can learn more about Nader through his LinkedIn account.
We would love to hear any questions you might have or stories you might share about setting goals for changing your engineering career in 2021.
Please leave your comments, feedback or questions in the section below.
To your success,
Anthony Fasano, PE, LEED AP
Engineering Management Institute
Author of Engineer Your Own Success