Podcast: Play in new window | Download | Embed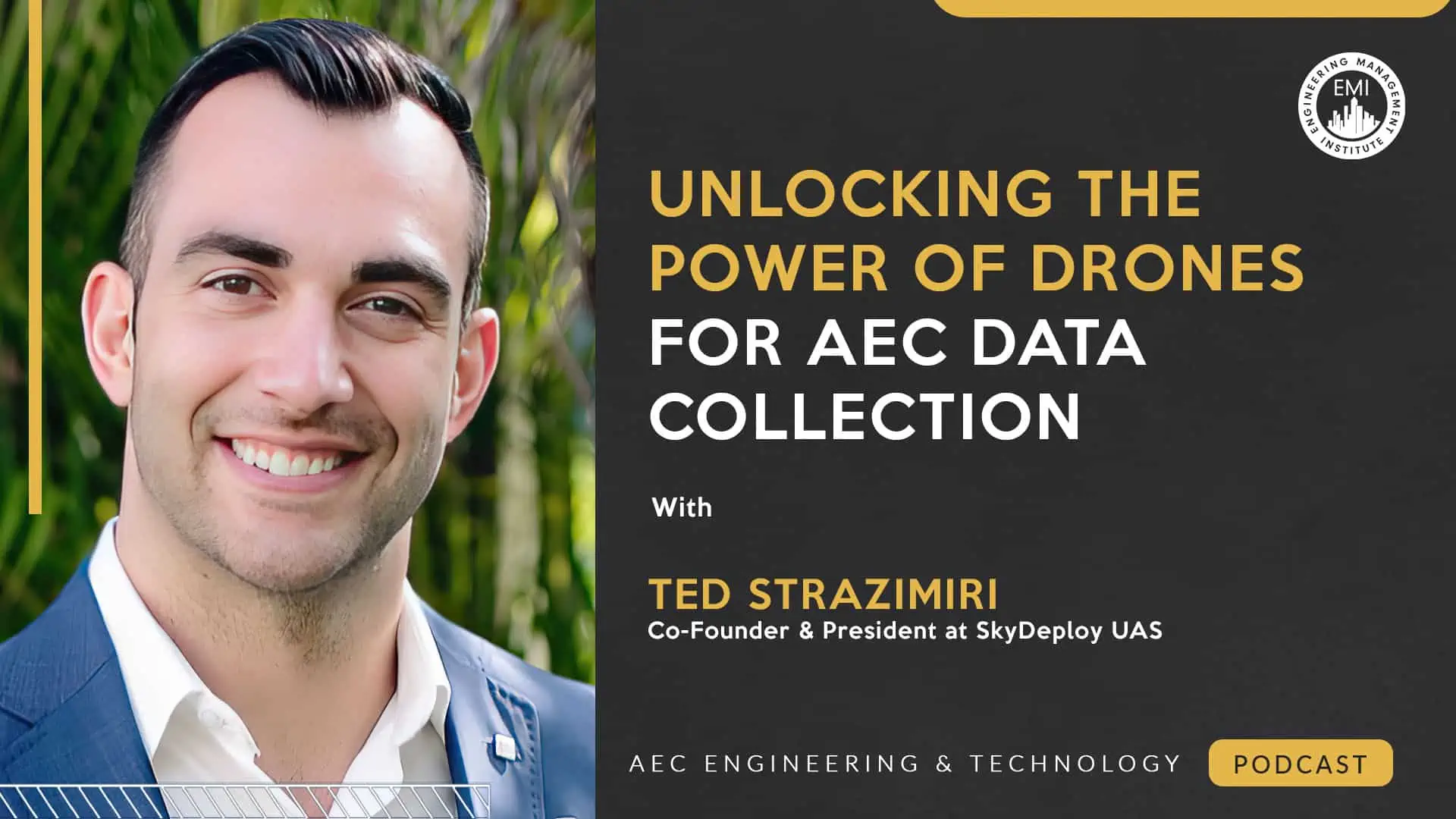 In this episode, I talk with Ted Strazimiri, the president of SkyDeploy, a drone service provider based in Canada about his experience and involvement in drone data collection for the architecture, engineering, and construction (AEC) industry. Ted sheds light on the challenges encountered in this field and the ad industry's adoption of drone data collection and shares his insights on parking utilization analysis.
***You can view the video version for this episode here.***
Engineering Quotes:

Here Are Some of the Questions I Ask Ted:
In the past five to six years, how has the usage of drones impacted the challenges and methods of data collection?
With all the advancements and improvements in drone technology and data collection, do you think the next five years will be an interesting period of convergence for the industry?
Where have you observed the AEC industry fully embracing the utilization of drones for data collection, and what factors do you think have contributed to this point of acceptance?
Do you believe that the scalability of drone technology, and not having to worry about the technical details, ultimately benefits the end consumer, specifically the AEC professionals who use drones for data collection?
What skills are necessary for a drone operator to perform complex tasks like façade or bridge inspection in the AEC industry?
What is the importance of having a technology consultant in an AEC firm who can bridge the gap between the firm and the service provider when it comes to data collection using tools like drones, 360-photography, or LIDAR?
What is the growing gap between high-fidelity 3D data and the actual ability of service providers to provide it, and what are some of the trends related to this issue?
What is hindering the adoption of high-fidelity 3D geospatial products, and how can the industry improve the sharing and viewing of high-bandwidth data for better accessibility and user-friendliness?
What are some effective ways to improve parking utilization and how can technology assist in this task?
What are some potential benefits of using predictive analytics for asset maintenance in parking lots, and how can this data help owners with maintenance planning and decision-making?
What other insights and discoveries have been made beyond the ones already discussed in the conversation, and how has the initial idea about the project changed as the work has progressed?
Can you explain how the concept of paralytics encompasses all the insights and data you've discussed so far?
How does the "bring your own data" approach in Paralytics enable the expansion of use cases and help more people compared to the previously limited approach?
What are some other potential applications for drone data capture that you have observed in the AEC industry?
How can the use of drones in the AEC industry help technical professionals focus on their core tasks and make data collection more accessible in terms of time and cost?
How do you envision the future of drones and data collection in the AEC industry?
Here Are Some Key Points Discussed in This Episode About Unlocking the Power of Drones for AEC Data Collection:
The accessibility of off-the-shelf aircraft like the Phantom 3, Phantom 4, and Mavic Pro in 2017-2018 was a major turning point in the usage of drones for data collection, but technical issues and software limitations created challenges in making it profitable and scalable. Despite these challenges, the industry has made rapid improvements in both fieldwork and post-processing, leading to a convergence of scalable solutions for data collection using drones.
The price point is a crucial factor in the success of the drone technology and data collection industry as it needs to provide value by achieving more with less. While the latest and greatest technology can be expensive, the industry needs to keep cost in mind when approaching customers to truly save them money.
The AEC industry's familiarity with geospatial data and core competencies in working with 3D and large amounts of data makes it a natural fit for utilizing drones for data collection. This has helped drive the industry's adoption of drone technology.
Adopting scalable methodologies for drone technology helps to get people started with data collection. But some aspects of data collection, such as photogrammetry for detailed inspections, still require expertise and specific training.
Internal drone programs in large consulting firms can be challenging to set up for success due to the rapid pace of technological advancements and the need for specialized training. As a result, many firms are switching to a subcontractor model for drone services to ensure project success.
Trial and error in the field of drone technology can be expensive, and it is important to get guidance and support to get the project started. Driving adoption and awareness is crucial for the success of the industry, and it can benefit everyone involved.
The ability to create high-fidelity 3D geospatial products exceeds the demand for them, and one of the major hindrances to their widespread adoption is the difficulty in sharing the large amounts of data they require. The industry needs to improve the sharing and navigation of high-bandwidth, high-fidelity 3D data for the demand to match the capabilities of creating it.
The industry needs to focus on making high-bandwidth data more accessible and user-friendly for companies and end users by providing a simple and easily accessible way of sharing it, such as the use of links, which would enable users to access the data from any device, anywhere.
There is a lot of potential in using technology to optimize parking utilization in large shopping centers, which can lead to improved planning, forecasting, and intensification.
Neglecting asset maintenance and underutilizing space can result in missed profits, and having access to empirical data can help drive decisions and increase profitability. The trend toward decreasing parking spaces per square footage due to changing transportation methods is expected to continue.
The parking data collected is on a stall-by-stall basis and includes utilization, traffic, drive-throughs, turnover, and even vehicle transit, providing insights into where shoppers are coming from and where they go after visiting the center. The data is temporal, ranging from a few days to a week, and can be analyzed using AI, machine learning, and computer vision to detect parking turnover and duration. This data can be useful for asset owners and firms at different points in their life cycles.
The development of Parkalytics, a cloud-based website for traffic analytics, stemmed from the team's internal work with hackish tools that gained interest from traffic engineers and consultants. The goal was to make traffic analytics more accessible without resorting to subscription services, and Parkalytics is intended to be a bring-your-own-data type solution that provides the same type of analytics as the team's previous work.
The team behind Paralytics designed the solution with simple and accessible data collection in mind, using the sub-250-gram drone market, which is affordable and does not require licenses or certification in many countries. This approach allows for a bring-your-own data type solution, which can be easily adopted by drone service providers and others, leading to more widespread use of the solution and its value-added reports.
The fieldwork in drone data capture is set to see significant changes in the next few years with the advancement of autonomy and drone-in-a-box solutions. Making the process of data collection easier and removing the need for human piloting will allow for more affordable and accessible drone use, leading to increased adoption and growth of the technology in the AEC industry.
The use of technology like ChatGPT and drones in the AEC industry should not be feared, as it can make professionals more efficient and give them more time to focus on other important tasks, ultimately making their skillset more valuable to the project.
Predicting the future of drones and data collection in the AEC industry is uncertain and there are geopolitical factors that may impact the industry's growth. Reliable supply chains are crucial for specialized components such as semiconductors, which are essential for drone technology. It is important to be cautious and not rush into adopting new technologies without careful consideration and making sure they align with one's goals.
More Details in This Episode…

About the Guest: Ted Strazimiri
Ted is the president of SkyDeploy, a drone service provider based in Canada. Ted has gained hands-on experience from difficult, drone-based inspections over the past six years. He has become an expert in the procedures required for successful collection and most importantly, the value-added analysis of drone-collected data. He is currently also a college professor and teaches these subjects at the post-graduate level at the Norton Wolf School of Aircraft Aerospace Technology. He is currently involved in various academic research projects on the topic and is passionate about the trajectory of this technology.
About the Host: Nick Heim, P.E.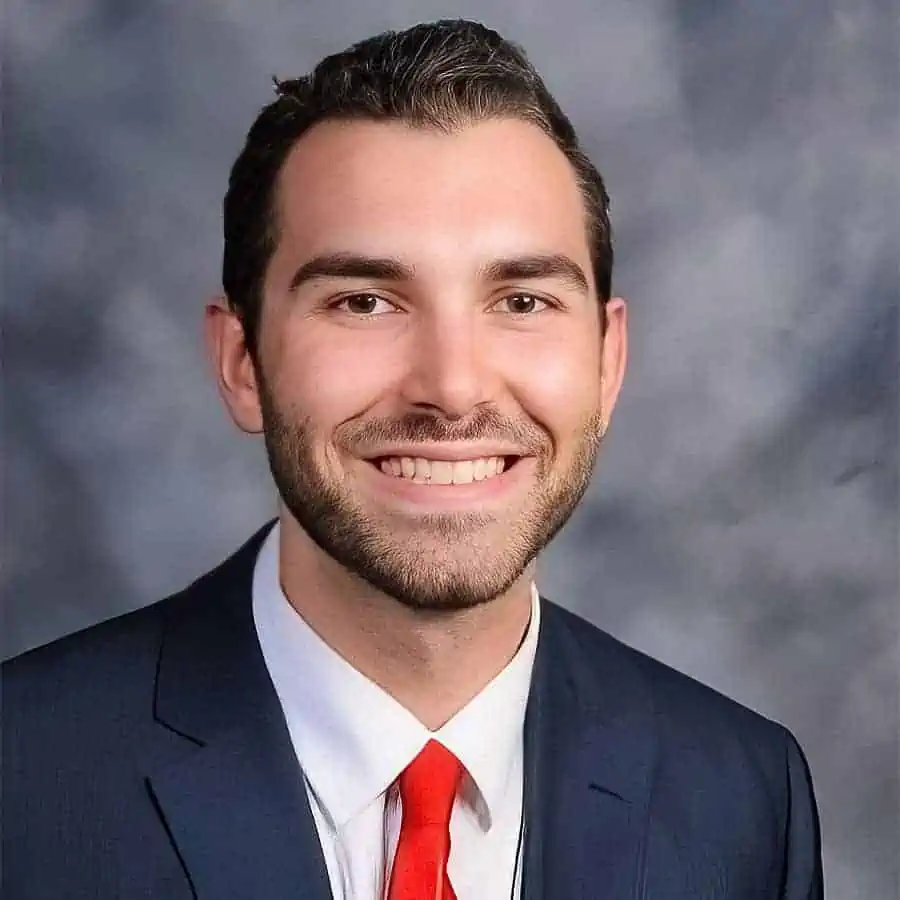 Nick is a field and VDC engineer at StructureCare, owner of Green House Property Management, and the host of the AEC Engineering and Technology Podcast. Nick's interests lie at the intersection between the built world and technology, and he can be found looking for the ever-changing answer to the question, "How can we do this better?" He can be found on LinkedIn, producing content about the use of technologies in his civil engineering career and small business.
Sources/References:
SkyDeploy
Parkalytics
ChatGPT
Connect with Ted Strazimiri on LinkedIn
We would love to hear any questions you might have or stories you can share on how you use drones for AEC data collection.
Please leave your comments, feedback, or questions in the section below.
To your success,
Nick Heim, P.E.
Host of the AEC Engineering and Technology Podcast