Dressing for Success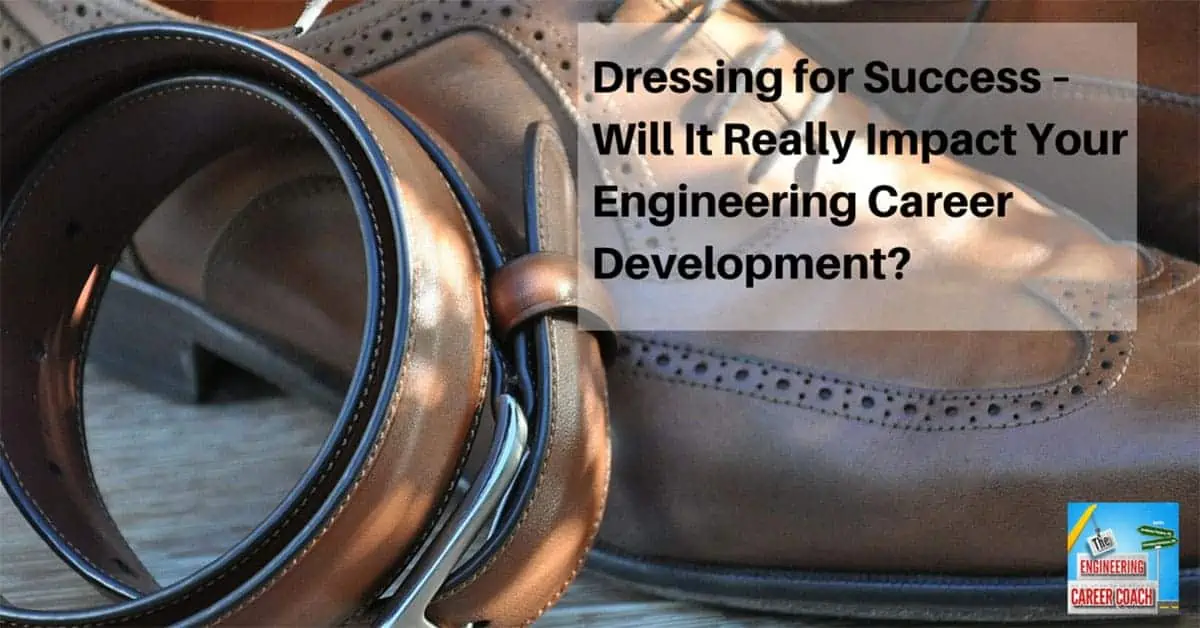 An engineer recently asked me – How important is the way you dress in respect to your reputation and credibility?  I thought it was a great question and one that many people don't ask themselves often enough.  I believe that the way you dress does have an impact on your reputation, and ultimately your engineering career development, however your specific workplace situation may control how much of an impact dress code has.
Before I get into specific workplace situations and recommendations, let me just discuss dress code in general for those of you reading this that might be recent engineering graduates.  Most engineering companies (not all) maintain a business casual dress code, which might consist of a nice pair of khaki's and a long sleeve dress shirt for a man and a nice skirt and blouse for a woman.  I have seen more and more engineering companies moving away from the business professional dress code, which consists of suits and ties, except of course if client meetings are taking place.  I personally like the idea of business casual in the workplace as I feel I am much more productive when I am comfortable and wearing a suit for 8 to 10 hours is anything but comfortable; however that's just my opinion.
All right, in thinking about dressing for success as an engineer, let's discuss how your specific employer situation might impact your dress code:
Larger Engineering Companies:  If you work for a larger company, you will most likely be dressing in business casual attire at a minimum, and if you hold a managerial position, you may find yourself in a suit.
Mid Sized Engineering Companies:  For mid-sized engineering companies, business casual will be the norm and you may even get to wear jeans on Friday's (yeah!).  In my experience, managers in mid-sized companies usually dress the same as the other employees with the exception of the very high-ranking executives.
Small Engineering Companies:  One of the biggest benefits to working for a small engineering company may be the laid-back culture and mentality that the company maintains.  I know of several smaller engineering companies where the engineers wear jeans on a daily basis.  I know; now you want to go work for a smaller company right?
That's what you can expect as far as requirements go, however here are my recommendations on how to dress, keeping in mind that regardless of what's required, your appearance will have an impact on you reputation and development:
Regardless of the requirements, be sure that whatever you wear is always neat and presentable and not dirty or wrinkled.  Looking unkempt can give people the perception that you are disorganized and possibly even incompetent.  Look presentable at all times!
When you have a meeting with other consultants and/or clients, never be underdressed, in fact you should aim for being the best dressed in the meeting.  So if you know that one person is going to wear a suit, you wear one.  If you think the most dressed up person will be in a sports jacket, than at a minimum wear a sports jacket.  In meetings, people tend to assume the best-dressed person is the most knowledgeable or the highest ranking; sounds crazy I know, but it's true.
Invest in nice clothes that are also comfortable.  Being comfortable is important and can affect your productivity, however you shouldn't use that as an excuse to wear shorts and a t-shirt.  Take the time to find high-quality clothing that is comfortable.  Even if it costs you some more money, you'll make it up with your productivity, and the clothes will probably last longer than the cheaper ones.
Don't dress sloppily or super-casual just because your boss or supervisor does.  Many engineers gage their dress code based upon what their boss is wearing.  While this sounds like it makes sense on the surface, it is not a good rule to follow.  Dress presentably regardless of what your superiors are wearing, you never know who's watching or whom you will be meeting with at any given moment.
So for those of you either preparing for your first engineering job or getting ready to start with a new employer, please remember that your dress code is a direct reflection upon yourself and your reputation.


It is always better to air on the safe side and dress for success in your engineering career!  You're better off dressing for success.
Helpful products related to this content:
| | | |
| --- | --- | --- |
| | | How to Get Dressed: A Costume Designer's Secrets for Making Your Clothes Look, Fit, and Feel Amazing |
| | | |
We would love to hear any questions you might have or stories you might share on dressing for success.
Please leave your comments, feedback or questions in the section below.
To your success,
Anthony Fasano, PE, LEED AP
Engineering Management Institute
Author of Engineer Your Own Success
https://www.amazon.com/Pathfinder-Lifetime-Satisfaction