This is a guest post by Dr. Rae Taylor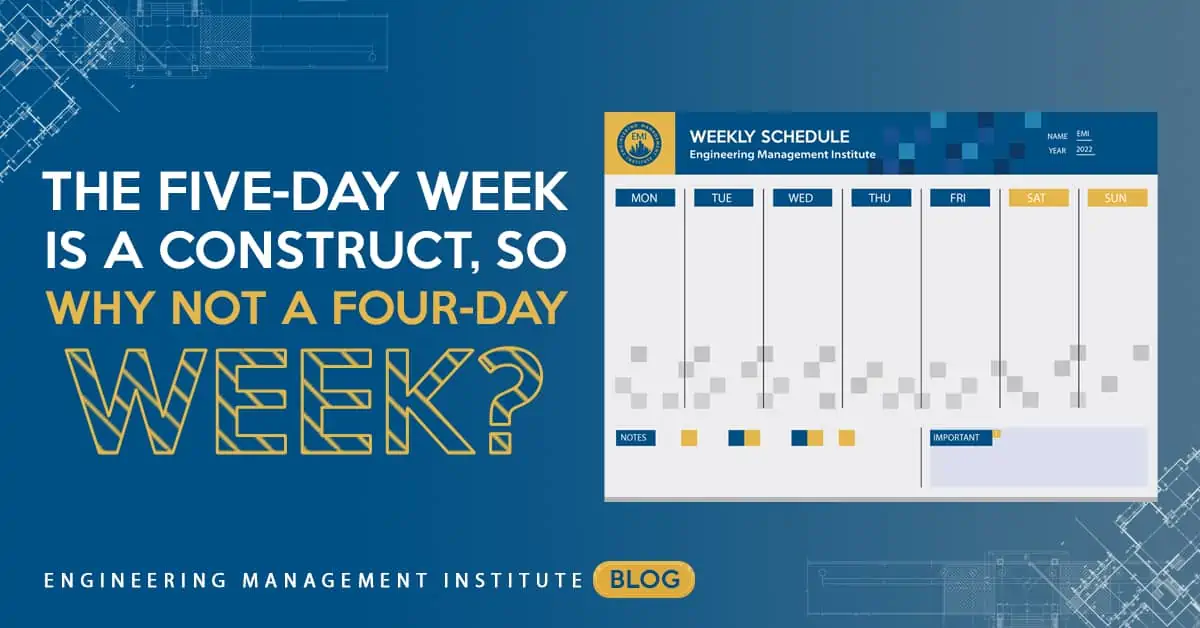 Maybe I should start by saying that I am all for the four-day workweek/three-day weekend. If that makes it sound like I'm trying to get out of work, I'd like to point out that I have been called a workaholic by three different bosses. In fact, one of those bosses refused my request to go part time because "part time would mean I start working 40 hours a week. And that's still not right."
Now, you may be thinking to yourself, "Isn't this the person who just reminded us about the shortage of engineers? And now she wants to let them work less?" Yes, I did just do that, and thank you for reading and remembering, but maybe this new topic could be one step in helping solve that problem. If engineers are retiring early, leaving to change careers, or not entering the workforce at all, then maybe we need to rethink fundamental things like the standard workload.
I've been thinking long and hard about this, and it's a real concern that I think keeps getting overlooked. And frankly, this highlights the relatively shortsighted nature of business. Engineering, no matter the subdiscipline, requires a lengthy training process. I remember sitting through talks at university on how to gain chartership and being a little crushed to think that after all these years of school and exams, I would finally get to go out into the world of work, but would still have to do school and exams for yet another three to … infinity years. If we can't get engineers trained faster (which we can't), then we have to try our best to keep the ones we have. We need ways to keep people motivated and productive, and ways to reduce the burnout rate.

So from the woman who brought you "Networking Is Hard, but Chatting Is Easy", we now get "The five-day week is a construct, so why not a four-day week?"
Before we talk about research and numbers, I would like to add some anecdotal evidence. My husband went back to work part time after the birth of our first child. He had time to spend with the baby, time to do housework, and time to rock climb, and said he was still doing as much work as he used to in full-time hours. He was just more efficient in his limited time, spending less time sitting and chatting with coworkers and deleting useless/distracting emails.
There are many posts on the EMI site talking about increasing productivity, all of it valuable stuff, but as of yet I haven't seen anything about using a four-day work week to increase productivity. So here is my sell.
There is a measure of labor productivity called "GDP by hour worked." The higher this is, the more productive the workforce of that country is assumed to be. The Organization for Economic Co-operation and Development (OECD) collects and publishes this data, along with the average annual hours actually worked. If you compare the two data sets, you see (with the exception of Ireland) that the countries with a higher productivity rate also have shorter work weeks.
The table shows the 10 countries with the least hours worked and the 10 with the most, along with the USA and the UK thrown in, because, you know, I'm sitting in the U.S. and the UK just started a trial in this.
| | | | |
| --- | --- | --- | --- |
| Country | Average Work Week (hrs) | GDP per Hours Worked | Productivity Ranking |
| Germany | 25.9 | 67.56 | 11 |
| Denmark | 26.2 | 75.41 | 5 |
| Luxembourg | 26.6 | 107.43 | 2 |
| Netherlands | 27.2 | 68.47 | 10 |
| Norway | 27.4 | 86.18 | 3 |
| Iceland | 27.6 | 64.91 | 13 |
| Austria | 27.7 | 69.76 | 13 |
| Sweden | 27.8 | 70.53 | 8 |
| France | 28.7 | 67.11 | 12 |
| Belgium | 28.7 | 74.49 | 6 |
| United Kingdom | 28.8 | 61.47 | 16 |
| United States | 34.4 | 73.37 | 7 |
| Croatia | 35.3 | 33.40 | 36 |
| Romania | 35.4 | 33.12 | 37 |
| Greece | 36.0 | 34.26 | 35 |
| Russia | 36.0 | 27.68 | 39 |
| Malta | 36.2 | Unknown | Unknown |
| Korea | 36.8 | 41.81 | 29 |
| Chile | 36.8 | 30.43 | 38 |
| Colombia | 37.8 | 16.36 | 44 |
| Costa Rica | 39.9 | 25.25 | 41 |
| Mexico | 40.9 | 20.22 | 45 |
As such, there is no suggestion that society as a collective is more productive the more hours it works in a week.
However, there is a mountain of evidence that people are feeling burnout, that work/life balance is a catchy phrase that just gets thrown around but can't be achieved, and that things need to change.

From my viewpoint, it would be great to work a four-day week. This would give me extra time to clean, do laundry, do meal prep, study for my CAPM that I've been putting off, research new mountain bikes I will never buy, and sleep! I would call it an "admin day."
I think the biggest disadvantages I can see are mostly cultural. How would a company handle the change? Would it be a move to add an extra day to the weekend, Monday, or Friday? What about the companies that already work weekends? And the general stubbornness of the higher-ups to review the data and change their ways. But again, if engineering as a profession can see the staff retention issues it has, then it can see that big changes are needed and efforts should be made to overcome cultural issues.
There is the suggestion of environmental benefits of a four-day work week, but as we have found from the bounty of data gathered during the sudden global trend of working from home that was thrust upon us in 2020, that assumption isn't as clear-cut as we had all assumed. Mostly because humans are not as predictable as we think we are. As ever, I would be very interested to know your thoughts, suggestions, and constructive feedback on the issue.
Note: I started writing this blog in a talk-to-type app on my phone while driving. Maybe if we had a four-day week then I could sit at a computer and type a blog. I mean I wouldn't, but maybe?
About the Author: 
Dr. Rae Taylor is an Engineer with extensive experience in advanced techniques for materials characterization. She received an award-winning Ph.D. in Materials Science, which focused on the analysis of microstructures using electron microscopy. Prior to her research in Materials Science, she worked in the clean and wastewater industry. Over her career, Rae has gained extensive experience in project management and lab management, including team building, process engineering, construction oversight, safety management, and quality assurance. She has over ten years of experience designing, developing, and testing experimental procedures. Rae is team-oriented and has extensive experience teaching and tutoring, both in the work environment and in the classroom. She has presented her work to a wide variety of audiences, ranging from academics and industrial specialists to the general public and holds a particular interest in the development of resilient whether it is in materials or infrastructure as a whole.
We would love to hear any questions you might have or stories you might share on working a four-day week.
Please leave your comments, feedback, or questions in the section below.
To your success,
Anthony Fasano, PE, LEED AP
Engineering Management Institute
Author of Engineer Your Own Success