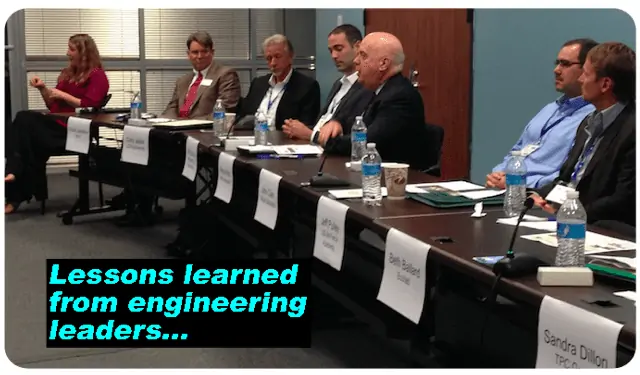 A few days ago, we put on our annual Institute for Engineering Career Development (IECD) meetup in Austin, Texas. The event consisted of three days of intensive learning sessions from over 15 accomplished speakers, engineering leaders, several social outings, and interesting tours. Of course, I can't forget to mention the more than 50 motivated engineers who attended the event from all over the US—all of whom walked away with career- and life-changing information and friendships.
This post will provide some lessons from this event in hopes that you can utilize the information to better your performance and results, both personally and professionally.
Lessons from Engineering Leaders
During the event, attendees had the opportunity to ask questions of some of the most successful engineering presidents and CEOs, and here are some key takeaways.
In order to become a partner in an engineering firm or an engineering leader, consider doing the following:
Be fiscally responsible and start to learn about project budgets and billing as early in your career as possible.
Figure things out yourself and get them done.
Take some non-engineering courses—specifically on writing.
You must think of engineering beyond just math and science; think of the project, whom it will affect, and how it will affect them.
Add value for your company and your clients as often as possible.
Find ways to get out of the office and see projects and meet people—that is where you really learn.
Practice leading by influence by taking on a leadership role in your professional association.
Become a great presenter.
Take business seminars.
When bringing a problem to your boss, also bring a proposed solution.
In order to become an effective project manager, consider doing the following:
Focus on putting out the highest quality of work—and have a strong definition of what quality means to you.
Build a strong reputation in your field.
Be honest.
Get comfortable dealing with adversity and diversity.
Exhibit a can-do attitude.
Be responsive.
Be flexible and learn from your mistakes.
Quotes from the Speakers
"Most engineers can do engineering very well, but it's all the other things that are really important." – Gary Jaster, JQ Engineering
"Bring in more than you take out of the company." – Will Schnier, Big Red Dog Engineering
"Put company first, but not ahead of family." – Wayne Klotz, Klotz Engineering
"Communication is EVERYTHING in ownership." – Wayne Klotz, Klotz Engineering
"If you are a good communicator, I will hire you today." – Wayne Klotz, Klotz Engineering
"Ownership does not equal leadership." – Gary Jaster, JQ Engineering
Books the Speakers Recommended (Affiliate Links)
Do What You Are, by Tieger and Barron
Made to Stick, by Chip Heath & Dan Heath
Speed of Trust, by Stephen M. R. Covey
The Five Laws that Determine All of Life's Outcomes
The keynote speaker was Brett Harward, author of The 5 Laws that Determine All of Life's Outcomes (affiliate link). Brett's session was long and detailed, but here are some main points:
Only VISION can cause people to change.
Motivated people care about where we are headed.
Execution is key to improving something or someone.
If you are going to spend $25 for something or more than 15 minutes on it, have a vision.
Start off conversations by telling people where you want to be at the end of the meeting—for example: "In 30 minutes, I want to know whether or not we should have another conversation about this topic."
When you get clear on people's visions and know your own, you can combine the two, and your communication and conversation will be much more meaningful.
When you feel like you have no balance in your life, instead of trying to do more or less of something, engage more deeply in the time you do spend on things.
Be careful—technology may prevent you from being able to focus on one thing.
The key to being successful in life is to give value.
Many people are focused on completing the minimum amount of work they must get through. How about focusing instead on the most you can do?
Affirmations make you focused and aware of things, but you still need to act.
All that matters is what others think—if you can envision that, you will be successful. Ask questions. Don't assume or tell people anything.
Most people see themselves as above average—get opinions from others about your thoughts, ideas, and actions.
Videos from the sessions will be accessible from within the IECD network for members, along with detailed forums discussing the sessions, like this one.
To your success,
Anthony Fasano, PE, LEED AP
Engineering Management Institute
Author of Engineer Your Own Success