This is a guest blog by Mike Burns, PE, PgMP, DBIA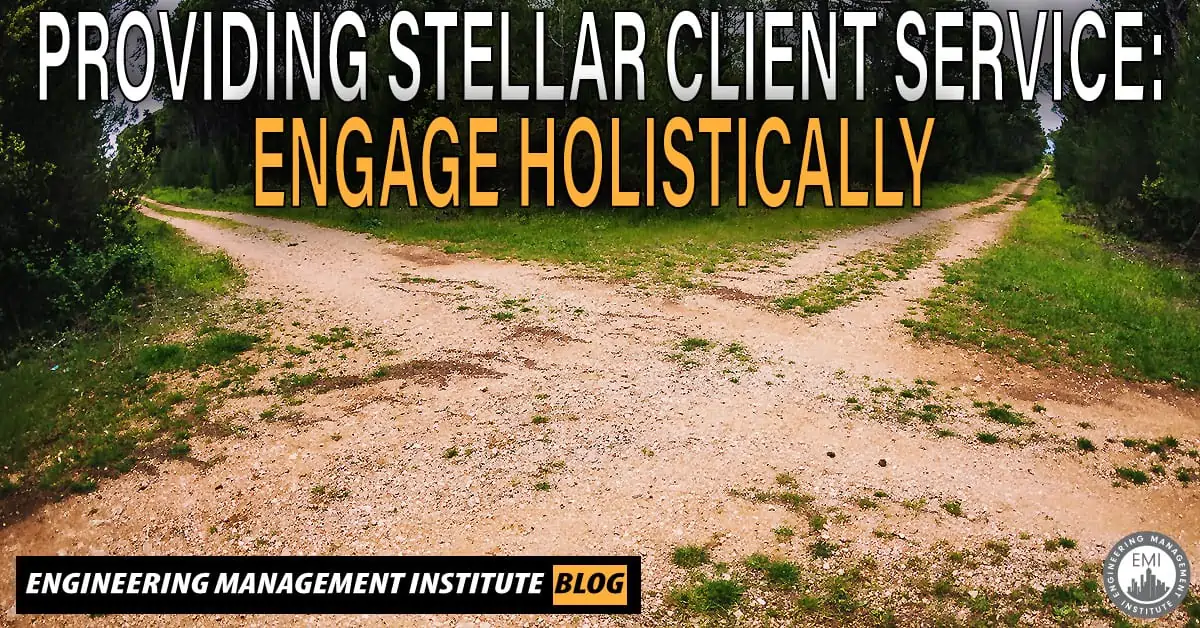 As we commence a discussion about client service, I find myself reflecting on my first Engineering Management Institute (EMI) blog, "Think Big, Be Mindful." Serving our clients and growing market share should create synergies with our individual goals and personal lives. Again, allowing us to evolve our vision as intentions, setting direction — not prescribing a destination. In this instance, we are going to set intentions by broadening our client perspective. This broader perspective allows us to avoid boundaries that might erode our individual and collective paths to success.
I thoroughly enjoy considering and discussing the complex programs and projects that AEC professionals serve. Like many of you, this enjoyment has allowed me to grow from technical roles into leadership positions with increasing business development (BD) responsibilities, realizing along the way that I am not a natural salesperson. Yet, I benefit from and continue to enjoy working with exceptional marketing, BD, and operations colleagues, who help me to refine my approach to winning work and providing stellar client services. Along the way, one of these wonderful colleagues introduced me to Heidi Gardner's book.
Mrs. Gardner's extended title necessitates a deeper read: "Smart Collaboration: How Professionals and Their Firms Succeed by Breaking Down Silos." I would not suggest taking on silos as a path toward exceptional client services. However, I wholeheartedly support her guidance, which promotes zippered relationships, allowing us to avoid cross-selling gaps as we orchestrate collaborative selling objectives. Silos emerge for reasons that we need to understand, especially where Wall Street-driven performance metrics and commercialization of our products create onerous metrics for hit rates, profit, loss, and utilization. We must explore ways to incrementally feed these metrics, concurrently exposing colleagues whose breadth of knowledge and desire to grow create mutually beneficial opportunities — opportunities where our collective experiences provide a premium experience for our clients.
Like any dynamic problem, the complexities associated with artfully incentivizing internal and external clients necessitate an elegant approach. I believe that sustained stellar client services starts with a people-centric program management approach, marrying a comprehensive stakeholder assessment with dynamic communication loops throughout the project delivery lifecycle.
Step 1: Understanding and supporting your internal and external clients
One way to avoid artificial boundaries is by taking time to reflect on the wide array of people who we provide services to and with. These regular reflections allow us to empathetically explore the individual and collective capabilities, wants, needs, and biases of our:
organizations,
partners,
markets,
project stakeholders, and
clients.
As your team engages across what can be an expansive group of business decision-makers and influencers, seek to find an area of mutual interest where you can build lasting relationships. Put yourself out there with peers from this group of stakeholders and join a forum where you can enjoy working, volunteering, or playing together. Industry associations, chambers of commerce, economic development councils, and volunteer positions are natural choices. Less formal options can be equally rewarding: a book club, exercise group, cooking class, etc.
Step 2: Engage across the project lifecycle
Broadly engaging professional stakeholders, particularly when this occurs in a formal industry setting, will expand your perspective. This is critical for business development pros and technical sellers, as our clients' organizations own and operate the infrastructure assets we serve. Garnering a deeper understanding of their challenges, from project inception through the assets' operational life, broadens our ability to define solutions aligned to specific needs.
This broader perspective positions us to engage holistically with our peers, maintaining an open dialogue as our teams serve their projects. This intelligence strengthens our voices as a trusted internal adviser and as a client confidant. This is most effective when we marry our stakeholder communication rhythms across our collective business processes, including:
strategic planning,
defining and refining campaigns and offerings,
developing project pipelines,
positioning,
deep-diving opportunities,
facilitating go/no go's,
proposals,
interviews,
wins and debriefs,
project delivery, and
project close-out.
operations
Step 3: Enjoy these shared experiences
Business is competition. We are measured on wins, losses, growth, and profitability. Business is a subset of our lives, which, unlike athletic seasons, don't typically provide an off-season to recover, reflect, and train. So we must find ways to nurture ourselves and our teams, allowing business to provide broader meaning in our lives.
Adam Grant's "Give and Take: Why Helping Others Drives Our Success" is an excellent read for AEC industry pros. Our industry makes sustained winning inherently hard, particularly where public procurement rules necessitate spreading awards across providers. This reality forces us to constantly explore new client opportunities and build new teams as our technical experts follow a client's work. A taker's perspective will, in my opinion, quickly erode one's ability to patiently work across this dynamic business landscape. A giver's perspective allows us to concurrently enjoy positioning for work and engage community stakeholders, as these relationships become rewarding parts of our daily lives.
From my perspective, deep enjoyment stems from relationships where we truly:
Connect: Take personal risks, reach out, find commonalities, and build and maintain professional friendships.
Collaborate: Openly exploring solutions across our stakeholder networks without transactional expectations.
I appreciate your time this month, firmly enjoying these moments when our paths cross. Moments where our shared experience accelerates continuous learning. Moments that flow naturally across time, deepening our curiosity and creativity. Moments, when shared with our vested stakeholder groups, lead to sustained stellar client service as we deliver projects that make the world a better place.
About the Author Mike Burns PE, PgMP, DBIA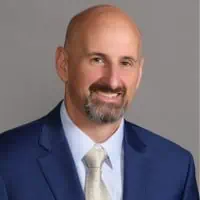 Mike's 27-year career has included planning, design, construction, and finance roles across a broad set of public and private development projects. His empathetic leadership style and program management experiences honed his understanding of complex governance and economic models, deepening his enthusiasm for leading teams delivering sustainable infrastructure in our communities.You can learn more about Mike here. 
"Seeking synergies for sustained success."
We would love to hear any questions you might have or stories you might share about providing stellar client service.
Please leave your comments, feedback or questions in the section below.
To your success,
Anthony Fasano, PE, LEED AP
Engineering Management Institute
Author of Engineer Your Own Success