Let's Rewrite Your 2019 Career Goals is a guest post by Nader Mowlaee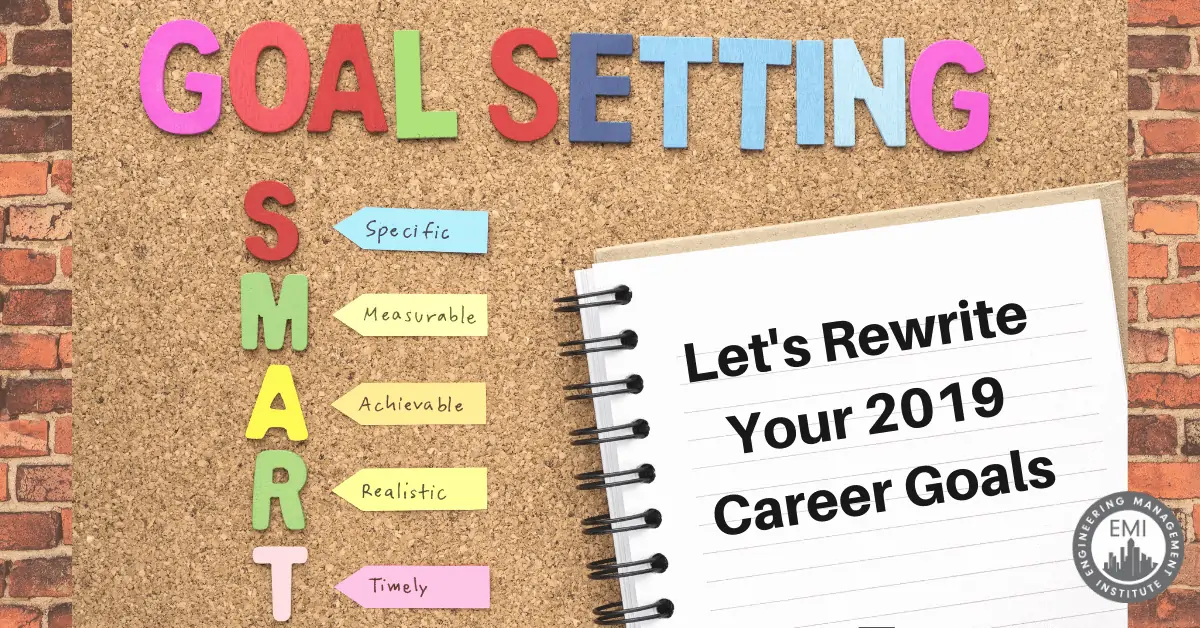 It's been five weeks since we returned from the holidays. We went quickly back to our jobs, the same old routines, the same old molds. Some of us have already transitioned to a new job or a new company in January, but some still haven't achieved what they aimed for regardless of how much they tried. If that sounds like you, then this article is for you. Before we get started though, remember that there is nothing wrong with your big 2019 career goals and dreams, so don't ever lower your expectations. Lowering the target won't make it easier to hit if you lack the fundamental skills. Your goals aren't too big; they are not the problem. If you haven't achieved them yet consider the possibility that there are still other ways that you can persist and pursue your goals. It's what you deserve.
Career success principles never change. There will always be winds of hardship as you grow your engineering career, so to become a successful engineer what's still required is your willingness to show up and perform. You must continuously improve and transform your skillsets. While this is what is required of you, remember that we all have our own journeys to complete in order to gain the new skills we desire. This is why 10 years after graduating engineering school, class members end up working in various different industries and job fields.
Data from the Census Bureau shows exactly where college graduates work. This data is focused on Science, Technology, Engineering and Math disciplines. It shows that nearly 75% of those with bachelor's degrees in STEM fields don't work in STEM jobs. This survey reaches millions of homes to discover that most of those who dedicate their college and university years to STEM subjects work in other fields.
Here are a three tips to help you hit your 2019 career goals by the end of the year:
Re-Evaluate Your Goals
Don't give up, instead, just set smarter goals. Like SMART goals, SMARTER goals stands for: Specific, Measurable, Attainable, Relevant, Timeliness, Evaluation, and Re-evaluation. As you go on your job search journey gathering industry knowledge, learning new skills, and pursuing your goals, you will often see many people who still haven't achieved their goals. The problem partly is because they didn't have a solid plan to achieve their goals and take the right amount of action. But many who do make a plan and take action still fail or struggle, and that's because they don't take time to find out what's working and what isn't.

Take a short break on a weekly or monthly basis to evaluate your job search process and progress, and see what needs to be changed or improved next, what ideas worked and which tactics didn't. By setting smarter career goals and taking enough action you can make the impossible come true. This also allows you to completely transform your skills and accomplish new heights in your career. Whether it's a new job you want or a totally new role at a entirely different company, you can just visualize it and them make it happen by setting smarter career goals and pursue it persistently through to the end.
Mentors vs. Books
If you're having a tough time finding the right mentors or a coach that fits your needs and budget well, then the library should be your next pit stop. Books can provide you all the invaluable knowledge for days on end. For this purpose, Audible is an excellent service that allows you to build your own digital library. The app has several cool features where for example you can check out your Listening Level and even Collect Badges. You can listen to audio versions of books as you drive your car, take the bus, walk to work, lift at the gym, or during any other time where you can maximize your learning experience. Books are especially crucial for your personal development journey, especially if you decide to allocate some time to building your professional network in 2019.
Get started with The Alchemist by Paulo Coelho. It's an easy one to read or listen to and has lots of tips embedded within the story. I recommend this book to everyone because it is a novel you'll be able to understand genuinely. It's the story of Santiago, a shepherd boy, who dreams of a prophecy of some kind. He finds a fortune-teller and asks her to help; She sees a treasure in the pyramids of Egypt that shepherd boy should unearth. The book continues to tell us about personal legends. Everyone knows what their own legend is from the time they were a kid. The Alchemist tells the story of how when you want something, all the universe conspires in helping you to achieve your dream.
There's No Shame in Failure
Just as to attain new goals one must take new risks, to reach more success one must FAIL more. A history of Failure is necessary for success to be formed. Most of us get distracted and forget to take enough action in pursuit of our dreams. Let's not get deterred by failing, instead, let's fall in love with failing because every time we fail we experience one new thing and identify one new thing to avoid next time around. This allows us to gather more experience, develop a thicker skin, and ultimately overcome adversity.
Don't let anyone or anything make you feel ashamed of yourself either, regardless of how many times you failed a test or an exam, didn't ace a job interview or promotion meetings fell short. Shame triggers many of our self-image struggles and mindset challenges. If you feel alone, afraid, rejected, or if you just have some trouble communicating with your boss or recruiters during job interviews, if you feel lost or stuck in your career, getting rid of shame can be hard to do on your own so reach out to me and I'll help you as best as I can.
Final Thoughts
When it comes to achieving brand new goals, it's important to consider how our personalities evolve and assist us in achieving our SMARTER goals. Any time you lose momentum, think about what is causing you to slow down, and how you can improve your performance to reach new levels. Rather than criticizing yourself, take an honest look at how you can change your daily habits and routines to be more successful.
Create affirmations to boost your energy on the spot. There are always times that you may feel like you're not making any progress. When you face those times, remember that major change can be overwhelming for all of the human beings, which is why it's important to create affirmations for times of doubt and remind yourself that "It is OK, Just Keep Going". An affirmation is basically a sentence or mantra that you can repeat to yourself whenever negative thoughts arrive in your head. Here's one I like: "Suffer the pain of discipline or you will suffer the pain of regret".
Finally, remember that in order to successfully implement long-term career goals, you must be gentle with yourself. Not every day will be productive, and you're allowed to make mistakes. Whenever you fail or get off- track, take a moment to remind yourself of all of the progress you have made so far, and keep moving forward one step at a time.
About Nader Mowlaee:
Nader is a career coach who believes you can get everything you want in life if you just help enough other people get what they want. His mission is to enable engineers to break away from their fears and create the ideal lives and careers they desire. You can learn more about Nader through his LinkedIn account.
We would love to hear any questions you might have or stories you might share on what you think about rewriting your 2019 career goals?
Please leave your comments, feedback or questions in the section below.
To your success,
Anthony Fasano, PE, LEED AP
Engineering Management Institute
Author of Engineer Your Own Success