This is a blog post by Nader Mowlaee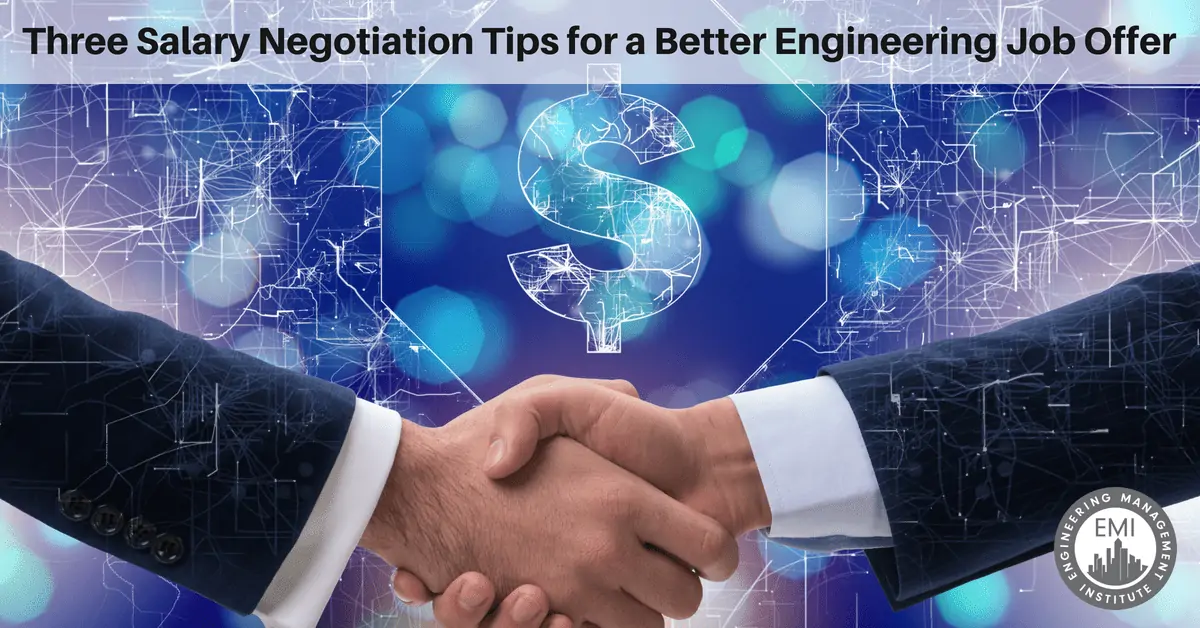 Regardless of your job title, or what kind of engineer you are, at some point in your career, you will likely engage in a salary negotiation. Asking for more money or a better job is a daunting prospect. What if your employer says no? What if you lose your job?
Calm down and don't panic — salary negotiations happen all the time.
Before you ask for a pay increase or talk about your salary expectations in a new job interview, follow these 3 steps. I promise they will significantly boost your chances of success.
1. Timing is Everything
Choose the right time to ask for a raise. If you're currently training to improve your skills, wait until you've finished your program. You'll have more leverage when you approach your employer. Have you started a new job in the last three months? Forget it. Wait for at least six before you ask for more cash.
Once you've updated your resume with your new skills, talk to your boss. Choosing the right day of the week to do so could land you a salary increase. "Believe it or not, there are actually good and not so good times to talk money in the workplace," says Ginger Dean, writing for Forbes magazine. "Mondays are bad, Fridays are good and mornings are always better. Who knew?"
It seems, therefore, that asking for a pay increase is all about timing. This is accurate also when you're unemployed and interviewing for a new job. Never negotiate salary until the hiring manager answers at least two of these questions:
What do you expect me to accomplish in the first 30 to 90 days?
What are the biggest technical or business challenges involved?
What needs to be done first? and what resources are available?
2. Make the Right Offer
Asking for a pay raise is like a game of blackjack. If you go too high, you could lose out on that wage hike. Go too low and, well, you won't have accomplished much, either. That's why you need to know your limits and go into the negotiation with all data you can possibly gather.
Before you approach your boss, do your research. Find out how much you're worth by checking salary data on Glassdoor and LinkedIn — the only two websites you'll need. Are there people out there getting more money for the same job? Use this as the framework for your salary negotiation, but don't completely compare yourself with another person; you will never be comparing apples to apples.
We are all engineers and unique professionals; although our engineering skills may be the same or similar, the way we perform and utilize our skills will be different from other engineers. Each of us is unique and the employers know that.
3. Learn to Say No!
This one is tough, but learn to say no if you don't get the offer you want. After all, not everyone can afford you, so if you don't like the salary, don't take the job. Know your worth — you'll get the wage you deserve someplace else.
Politely rejecting a salary offer will pay off in the end. If the hiring manager really sees value in having you on their team, they will come back with a better offer. I know from experience that while recruiting new candidates for a job, employers engage in the salary conversation just so they know your expectations ahead of time; this is the best time to set the expectations and make sure it's clear what your bottom line is for the base salary, and how you're willing to sweeten the package if the base salary was lower than you had expected.
These three tips will help engineers negotiate better salaries and job offers. Before you ask for that pay raise or base salary, be patient and wait for the right time, find the right resources and decide exactly what a fair base salary is, and learn to say no, don't compromise unless you're getting something valuable and tangible in the long run. Good luck!
About Nader Mowlaee:
Nader is a career coach who believes you can get everything you want in life if you just help enough other people get what they want. He is inspired by motivating confidence in engineers and helping them take calculated actions to move forward towards their career and life goals. His mission is to enable engineers to break away from their fears and create the ideal lives and careers they desire. You can learn more about Nader through his LinkedIn account.
We would love to hear any questions you might have or stories you might share on how to get ahead in your engineering career.
Please leave your comments, feedback or questions in the section below in regards to salary negotiation.
To your success,
Anthony Fasano, PE, LEED AP
Engineering Management Institute
Author of Engineer Your Own Success