Podcast: Play in new window | Download | Embed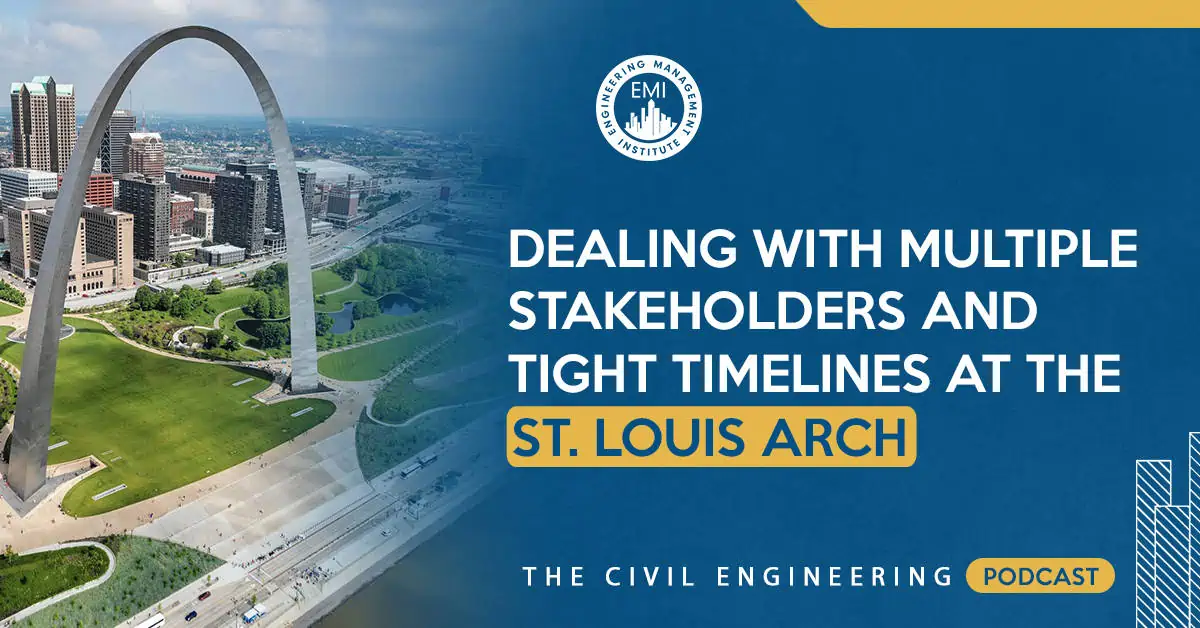 In episode 011 of The Civil Engineering Podcast, Chris Knutson interviews Kathy Schneider, PE, a Civil Engineer who is also the National Park Service's park centered project manager for the $200 million CityArchRiver 2015 redevelopment project at the Jefferson National Expansion Memorial (Gateway Arch), aka the St. Louis Arch, in St. Louis, Missouri.
How Kathy and Her Team Managed the Challenges of Dealing With Multiple Stakeholders and Tight Timeline:

Organized a core team group early on that meets periodically to sort out the responsibilities and communicates with the concerned department or organization.
Used the right means of communication. Email is good for documentation but personal meetings (face-to-face meetings, Webex, gotomeetings, conference calls) are better to prevent misunderstandings.
Documented all the discussions in the meetings and utilized a solid methodology to manage the documentation all the way throughout the project.
Took the opportunity that involves non-traditional civil engineering work because it might open up new career opportunities in the future.
Tweetables 
"You can't communicate too much…" – Kathy Schneider Stay tuned in Ep 011 of #TCEPodcast
What other opportunities have you taken in your career as a civil engineer? Learn more on #TCEPodcast Ep 011.
"Communication skills are the number one requirement you'll need to work in this environment" More on Ep 011!  #TCEPodcast
Project Name: CityArchRiver Project at the Jefferson National Expansion Memorial (St. Louis Gateway Arch)
Project Overview:
The St. Louis Gateway Arch is a 630-foot tall monument clad in stainless steel. Construction was done in 1965. The monument sits on a 90-acre parcel, adjacent to the Mississippi River in downtown St. Louis. After 50 years, city leaders started to look at downtown St. Louis and pondered how to reinvigorate and connect the city to the arch and to the river. They came up with the CityArchRiver project with the purpose of revitalizing the arch grounds. 
Project Budget (Construction):
The project price tag is $380 million, funded in three ways since it's a public/private partnership.  $69 million from federal grants and other federal, state and local sources; $90 million from supported bond levy; and the remaining $221 million from private donations, gifts and grants to the City Arch Foundation, a non-profit, which will also raise an additional $29 million to help maintain and improve the project over its lifecycle. 
Project Completion (Month/Year or Expected Completion Date):   
The CityArchRiver project began with a ribbon cutting on August 2nd, 2013 and is targeted to end on October 28th, 2015 – the 50th anniversary of the Arch.
Benefits to Society:
Visitors and locals in St. Louis will enjoy an amazing venue with one of the civil engineering, and architectural, wonders of the world.
Please leave your comments or questions in the section below on your strategies when faced with challenging projects as a civil engineer.
To your success,
Anthony Fasano, PE, LEED AP
Engineering Management Institute
Author of Engineer Your Own Success
Sources/References:
Park website:
http://www.nps.gov/jeff/index.htm
http://www.nps.gov/jeff/getinvolved/planning.htm (park planning documents may be of particular interest)
CityArchRiver website:
http://www.cityarchriver.org/
http://www.cityarchriver.org/construction/webcam/ (don't miss the webcam)
Great Rivers Greenway:
http://greatriversgreenway.org/
NPS – Denver Service Center (construction project managers):
http://www.nps.gov/dscw/index.htm
Photo by CityArchRiver 2015