Podcast: Play in new window | Download | Embed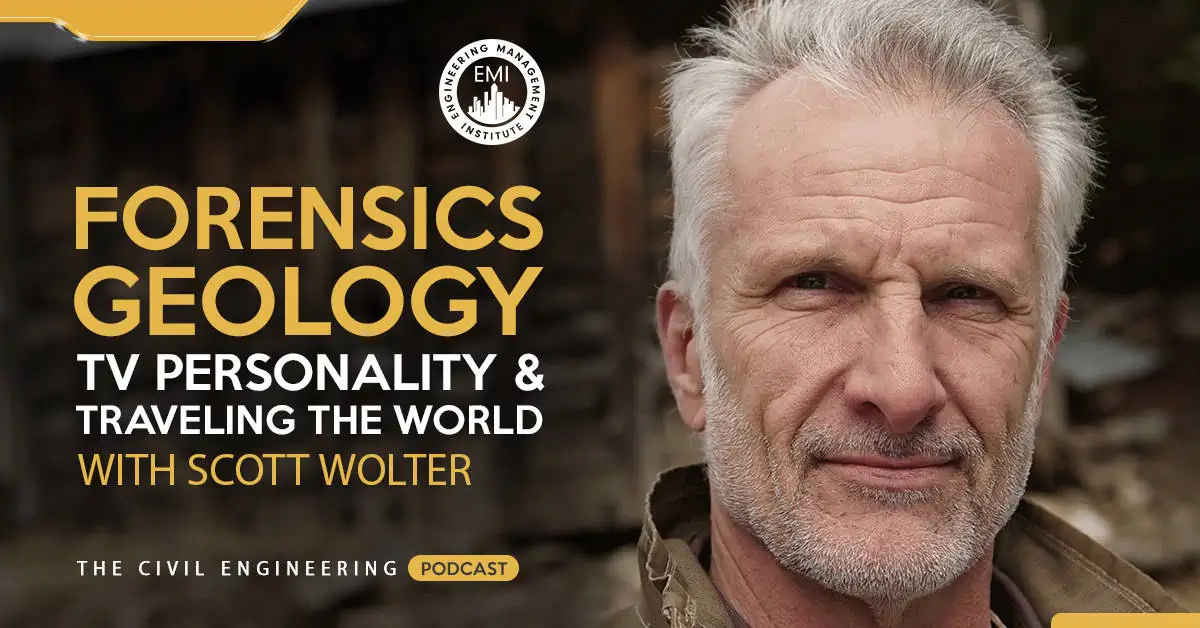 In episode 012 of The Civil Engineering Podcast, Chris Knutson interviews Scott Wolter, professional forensics geology, author and the host of History's H2 network's hit show America Unearthed. He has been the principal petrographer in more than 7,000 material forensic investigations throughout the world, including the evaluation of fire-damaged concrete from the Pentagon following the attacks of September 11, 2001, which is our Civil Engineering Project of the week. Here are some key points in this episode:
What a petrographer is: a person who does microscopic analysis on inorganic materials like concrete, mortar, grout, and rock.
Investigations involving failed concrete structures – need to know what happened and whose fault it is
Typical issues encountered by Scott:

Scaling of concrete during spring time
Miscommunication between the suppliers and contractors

Importance of communication to successful careers
Stay involved throughout the process on your project to increase your experience and fulfillment
How Scott got called to evaluate Pentagon's columns after the 9/11 attack if certain temperatures have been reached
Scott's journey from writing a book to being a host of America Unearthed
Don't always accept everything at face value, there's always more to the story
How to handle criticism – know the root problem, take out the emotional aspect and search for the truth
Tweetables 
Ensure that your vision is as close as you want it to be – More on this in Ep 012 of #TCEPodcast
Host of America Unearthed Scott Wolter is in #TCEPodcast Ep 012.
There will always be problems of human conditions but we need to work on our ability to communicate " More on Ep 012!  #TCEPodcast
Project of the Week:  The Pentagon
Project Location:  Washington, D.C., USA
Project Overview:   
The Pentagon is the headquarters of the United States Department of Defense, located in Arlington County, Virginia. As a symbol of the U.S. military, "the Pentagon" is often used metonymically to refer to the U.S. Department of Defense.
Project Cost:  The project was originally budgeted at $35M, but ended up costing nearly $70M.
Unique Project Aspects and Challenges: 
The Pentagon's shape was dictated by economic and functional factors.  Economically, a circular structure would have driven costs and time to construct up significantly.  The pentagon shape permitted rectangular construction of the sections.  A single long building wasn't feasible, as the offices at the opposite ends would have been nearly a mile apart!  As it is, no two offices are more than 1/2 mile apart on the same floor.
Books Mentioned in This Episode:
The Goddess, The Grail and The Lodge
The Kensington Runestone: Compelling New Evidence
Please leave your comments or questions in the section below if you have questions or comments on these topics.
To your success,
Anthony Fasano, PE, LEED AP
Engineering Management Institute
Author of Engineer Your Own Success
Sources/References:
Photo of Scott Wolter by History H2