Podcast: Play in new window | Download | Embed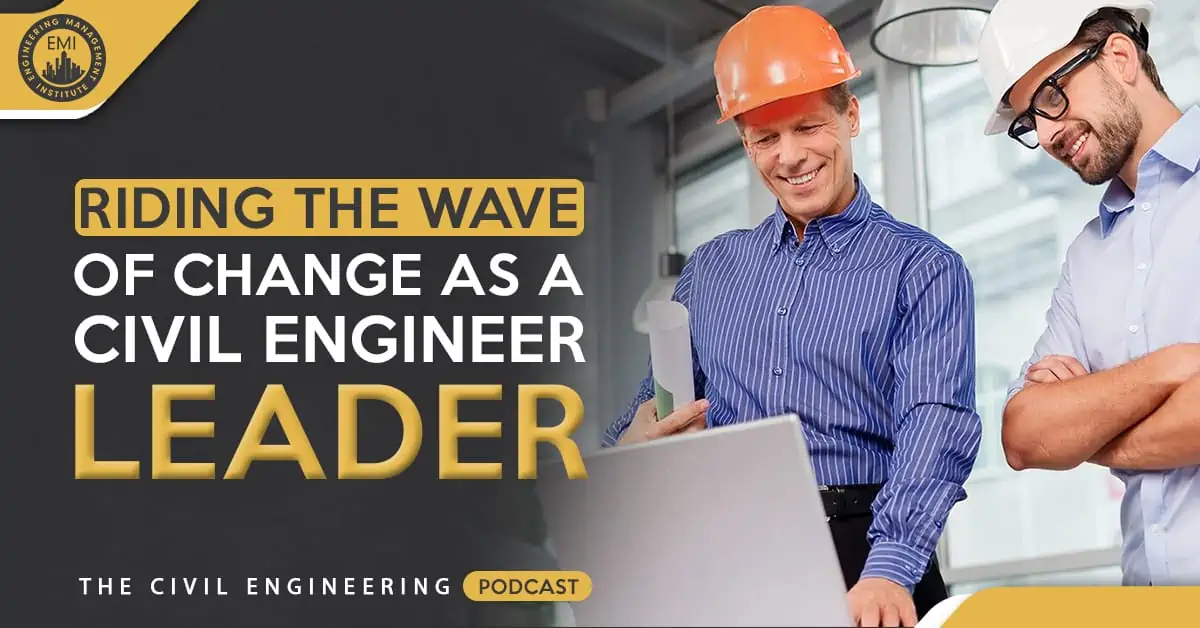 In episode 019 of The Civil Engineering Podcast, Mickey Addison, a career military officer, author, civil engineer and senior leader, teaches us what it takes to lead in a senior level position, how to handle organizational changes, and the role of mentoring and coaching in civil engineering leaders.
Here Are Some Key Points Discussed About Riding the Wave of Change as a Civil Engineer Leader:
On time management:

Block time off to allow yourself to get off the desk
Be present to the people around you
Take personnel actions (things that affect one's career)

The more energy that you put in to being present to the people that you lead and work with, the higher performing team it becomes.
When the leaders are engaged, the people are engaged.

The most successful leaders make it a priority to become more focused on the people they work with.
Regardless of where you work, leadership presence is the kind of thing people appreciate and respond to.
Put people in the right position to get the job done.
Give employees a sense of mission and not just that they are there to have a paycheck; encourage innovation.
Engagement allows people to be fulfilled in their career.
Low cost ways to develop your employees:

Leadership programs within your organization
Professional societies
Partner with local colleges
Give an hour off to attend college classes
Brownbag seminars

Demonstrate that you care for the people, and they are going to respond and develop enthusiasm for the company.
Being present to the people around you is important.
A firm that is perceived to be engaged not only internally but also in their community gets more business and becomes more successful.
Comparison of surfing with navigating and implementing organizational change
There is a difference between mentoring and coaching
Senior or mid level leadership should have mentors or coaches who act as a sounding board external to organization to ask for advice, it is the key to success.
And many more…
Mickey Addison is a successful civil engineer, a career military officer, a blogger and author, and is a frequent contributor to military newspapers and journals, including Air Force Print News, Armed Forces Journal, and The Military Engineer. Mickey is a contributing author at GeneralLeadership.com, and founded his own hobby publishing company: Lead the Way Media. Read more about Mickey Addison at www.mickeyaddison.com
Sources/References:
Mickey Addison's website
7 Tips for Professional Engineering Organization Leadership
5 Simple Ways to Develop Your Employees–And Why You Should
TECC 017: 3 Major Benefits of Professional Associations and How to Realize Them, with SHPE National President Barry Cordero
Books mentioned in this episode:

Please leave your comments or questions in the section below on how you can get the people you work with more engaged.
Onward,
Chris Knutson, PE, PMP
Co-Founder
Engineering Management Institute